By Mike Rice.
As the South American World Cup Qualifiers came to a close, Peru secured the playoff spot by finishing 5th in the Conmebol standings, though they will have to wait to find out their final opponent in their bid to reach the final tournament in Qatar.
They are due to face the Asian representatives who are still to be determined. With two groups of six teams in the AFC's second phase of qualifying, the two third-place sides — the United Arab Emirates and Australia — will meet in a one-off tie for the chance to face Peru and qualify for the World Cup.
The UAE finished behind Iran and South Korea in their group, scoring just seven goals in 10 games and also conceding seven. They finished with 12 points, with Iran on 25 and South Korea on 23.
In Group B, Australia finished behind Saudi Arabia and Japan, scoring 15 goals in 10 games and conceding 9. They finished with 15 points, Saudi Arabia had 23 and Japan 22.
Australia have been competing in the Asian Qualifiers since their final World Cup Qualifying campaign in the Oceanian federation in 2006, in which they did beat Uruguay in a playoff. Their decision to switch to the Asian Qualifying system for 2010 was due to the lack of an automatic place at the World Cup in OFC.
The winner of UAE & Australia will meet 🇵🇪 Peru in the AFC-CONMEBOL Intercontinental Play-off in June!#WCQ | #WorldCup | @CONMEBOL | @theafcdotcom pic.twitter.com/MfUHRe469Z

— FIFA World Cup (@FIFAWorldCup) March 30, 2022
They have progressed to the World Cup every time since making the switch, now challenging for their fifth consecutive appearance since.
This will be their second consecutive campaign in the playoffs, having defeated Honduras to reach the 2018 World Cup in Russia.
The level of competition in Asia is undoubtedly stronger than Australia were used to, which was part of the reason for their decision to switch and get more experience at a higher level and hopefully be better prepared for World Cups.
New Zealand have breezed through the 2022 OFC Qualifiers once again and will go on to face Costa Rica in their playoff this time around.
Australia, though, are showing concerning signs regarding their future after this campaign.
Questions have been asked following the call up of Bruno Fornaroli. It is not that his ability is in question, as much as the lack of competition from younger players.
He's a Uruguay-born, 31-year-old striker, who recently became eligible to represent Australia. He has been among the most prolific strikers in the A-League in Australia since joining Melbourne City in 2015 and is now in his third season with Perth Glory.
Former players are concerned that each generation coming through is getting further from the quality of the golden generation which featured the likes of Tm Cahill, Harry Kewell and Mark Viduka.
The FFA Centre of Excellence that helped create these players has long since closed and the national team look to the domestic clubs to produce the next big stars, though it just doesn't seem to be happening.
Interest in the league at home appears to have been disappointing if you consider the average attendance. Taking into account every side in the league, the average attendance was at its highest in 2007-08 with 14,610, though it dropped dramatically in 2010-11 to just 8,429.
Interest slowly rose again over the next three seasons back up to 13,041 in 2013-14 though has consistently dropped year on year since even to just 10,411 in 2018-19.
The numbers after this have a rather large caveat, though this consistent gradual decline in attendance figures over those five seasons tells a telling tale.
Former Wigan Athletic and Stoke City midfielder Josip Skoko claims the league is going nowhere while there is no relegation. He accuses sides of having a lack of passion and that you need a second league to introduce promotion and relegation.
There is the National Premier League which consists of a number of state-based leagues which go on to compete in finals each year.
Though bizarrely, this league is not run concurrently with the A-League and there is a crossover in dates for start and finish.
There is no progression to the A-League or relegation to the NPL, which can make it hard for young players at A-League sides to get experience in these leagues.
This is in some ways similar to the system used in Major League Soccer. The United States national side have qualified for the 2022 World Cup and their young players look to be reaching higher levels, moving from MLS to Europe — something the A-League is desperate to do.
Graham Arnold, Australia's current manager, knows his job will only last if they reach the World Cup. The side he has is of what's available, and the former Sydney manager knows what it is like for other managers in the A-League.
They have their own jobs to be concerned about, maybe more so than looking at how to develop young players further to supplement the national side. Foreign players can be signed that compete at the desired level immediately, and they do not have to risk their futures, as well as those of the young players, by putting them in too soon.
The men's A-League needs to look at how it will bring the fans to the stadiums as well as provide a more entertaining and higher quality product.
The development of young players can't solely be left to the clubs and the FFA [Football Federation Australia] needs to look at a long-term plan of how they will address this slump.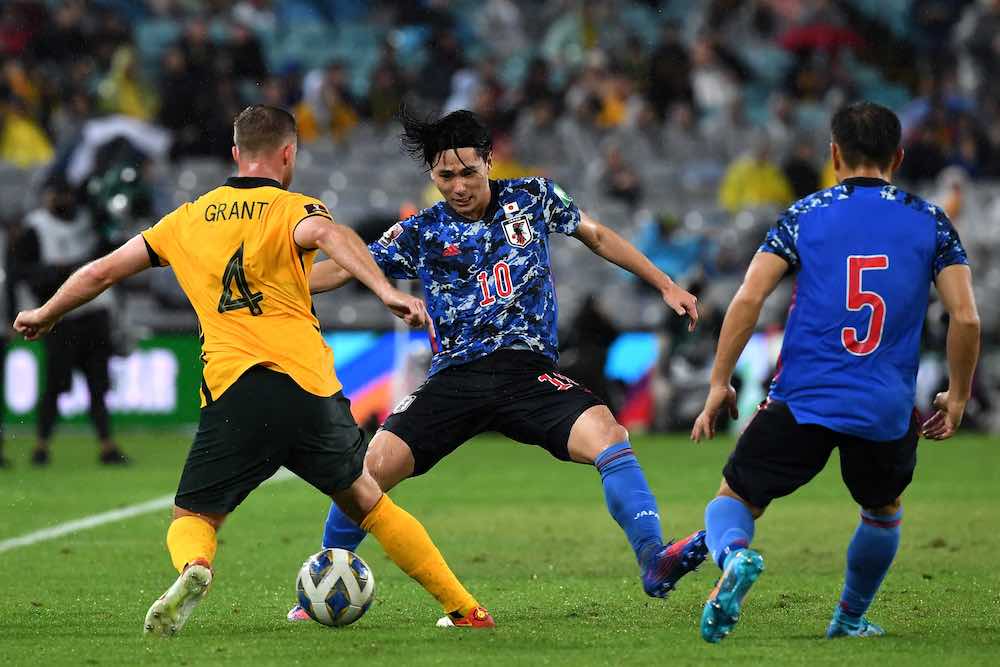 Japan, whose 2-0 win over Australia confirmed their direct route to Qatar, have spent decades building their J-League into what they want it to be.
After bringing in big stars in the past, such as Gary Lineker at Nagoya Grampus Eight and Arsene Wenger as manager, Japan suffered an economic crisis in the 1990s which left the J-League having to restart and rebuild.
They did this by creating opportunities at grassroots level to help produce players and develop clubs to go on to compete.
The vision was backed by a second and then a third tier of the J-League, with 58 professional teams currently competing.
There is the Japan Football League below the third tier, and regional leagues below them, all with promotion and relegation as part of a pyramid.
It appears Australia have some thinking to do with how to get back to the optimism there once was around the Socceroos.
They have MLS and J-League football to use as guides for player development at a domestic level, and time will tell what routes they take.
For now, though, a playoff with UAE, who defeated them in the 2019 Asian Cup, is next.
If they are successful, a meeting with Peru beckons, who knocked their neighbours New Zealand out to gain their place in the 2018 World Cup.