By Mike Rice.
As the dust settles on the World Cup Qualifying campaign and Major League Soccer starts back up, questions continue to go round regarding some of the personnel in the United States men's team.
Gregg Berhalter led his nation to third place in the CONCACAF qualifiers which has since seen them drawn with England, Iran and the to be determined European Playoff winner, either Ukraine, Scotland, or Wales.
While there are some good selection headaches, like how to set out his midfield and wide players, there is one position which will be debated up to, during, and after the World Cup in Qatar later this year.
The centre forward position is still, it seems, very much up for grabs. The issue for Berhalter is the lack of many players forcing his hand.
In the final round of qualifiers, a 0-0 draw in Mexico, a 5-1 win over Panama and a 2-0 defeat in Costa Rica saw a mixture of players used.
Ricardo Pepi received two starts, in Mexico and Costa Rica, but was once again unable to find the back of the net. Since his big-money move to Augsburg in Germany, Pepi has been without a goal since October in club and national side games.
Jordan Pefok is the oldest of the three strikers in the group at 25 and is in fantastic form domestically for Young Boys in Switzerland. He had a great chance to give the USMNT a winner in Mexico though spurned his chance and this seems to have highlighted how he is currently not fitting into Berhalter's system.
Jesus Ferreira came away from the games with the most to be happy about. Prior to the three games, he scored a hattrick for his club side FC Dallas against Portland Timbers in MLS and he showed how dangerous his movement can be as well as bringing the wide players into more dangerous positions.
Berhalter will now be looking at who he has available and what his squad will look like for the World Cup. Usually, a World Cup squad will contain 23 players, but there could be a decision made soon that may raise this to 26.
With a squad of 23, Berhalter may be tempted to just select two strikers, probably Ferreira and Pepi, knowing that if forced he could play one of his more attacking midfielders in the centre forward role.
If the squad size is increased this could give Berhalter the option of bringing in another striker to provide competition for that starting role, as well as a difference maker from the bench.
Brandon Vazquez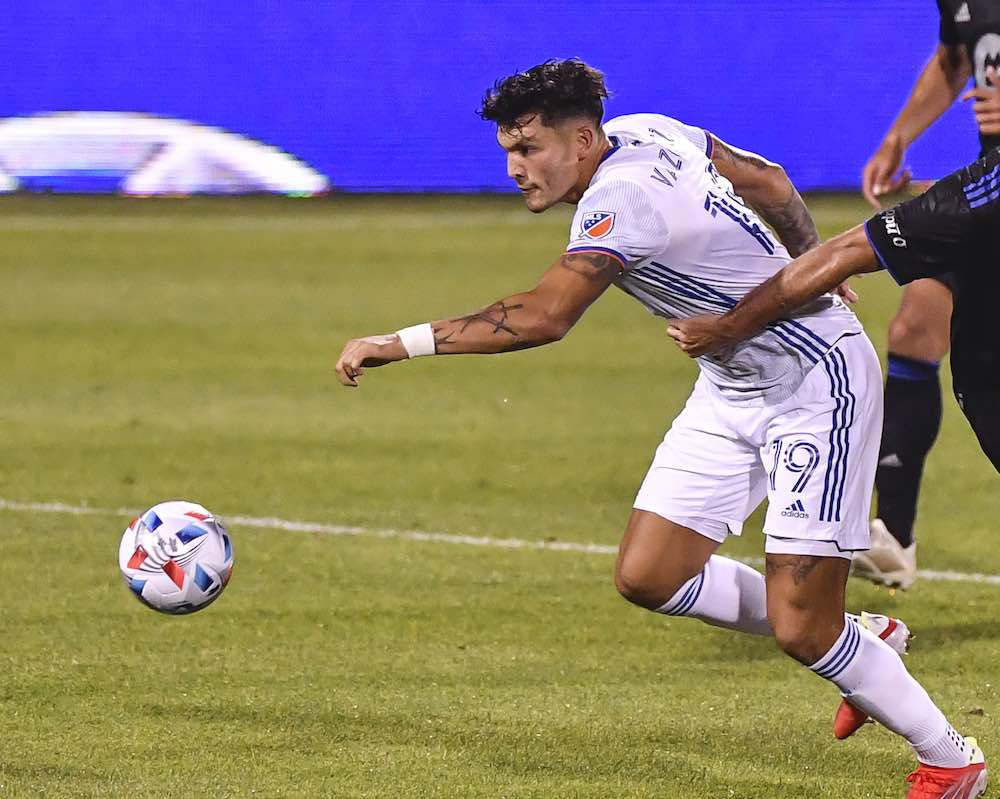 The FC Cincinnati striker is six games into the season and already has his highest return of goals in a professional season.
Vazquez has five goals and one assist so far this season after six games and is giving FC Cincinnati fans a lot to be confident about as they aim to not finish last in MLS for the first time in their history.
His latest goal opened the scoring in a 4-3 defeat at home to CF Montréal which showed the quick feet and confidence he is oozing in the early stages of the season.
A low cross from right wingback Alvas Powell saw Vazquez pounce on a loose ball and move it with his left across and away from the near post and goalkeeper before finishing quickly with his right from a tight angle.
It was another example of his newfound confidence and consistency in front of goal which leaves him joint-top top of the goalscoring charts in MLS.
What may hold Vazquez back though is FC Cincinnati's system. Using wingbacks and a front two is very different to the style of play and formation Berhalter uses with the USMNT.
Dominique Badji has not scored so far this season, but his work rate and combination with Vazquez has really helped his teammate find his goalscoring form.
Vazquez could be considered a more traditional style number nine than Ferreira and Pepi, which may give him an edge to finding a call up if he continues to impress throughout the season.
Brian White
White was Vancouver Whitecaps leading scorer last season with 12 goals and five assists in 2021. Injuries have delayed his return to the field this season, though he returned for his first start at home to Sporting Kansas City recently to help his side to their first win of the season.
Not only a goal scorer, White is also the first line of defence in Vancouver. His work rate off the ball to press high and has found a dangerous partnership with Ryan Gauld which helped Vancouver to a playoff spot last season.
In possession he links well with his side to help break lines and bring others into the game while also being a potent finisher. Berhalter will no doubt be keeping an eye on White's performances, though it could be considered that barring injuries to players ahead of him, the USMNT could be a step too far.
Gyasi Zardes and Jozy Altidore
On the more experienced end of the scale, Zardes and Altidore provide Berhalter with comfort of knowing their abilities in the final third from previous experiences.
Zardes has 68 caps with 14 goals, Altidore has 115 caps and 42 goals. They are experienced players who could be dependable role models for the young squad that Berhalter has put together.
Zardes is currently serving as a backup centre forward at Columbus Crew behind Miguel Berry with both having a goal each in the early stages of the season.  Zardes still has the ability he has shown as well as his club playing a similar style to the USMNT on the pitch.
Altidore arrived at New England Revolution in the offseason from Toronto and has one goal in five games like Zardes. Playing backup/rotation with Adam Buksa he was brought in to support the side in competing in the Concacaf Champions League as well as MLS.
Both players at this early stage of the season look to be playing limited minutes, though continuing to be very much involved with their clubs.
Should this continue to the end of the 2022 MLS season then both will have match practice though still be fresh for the tournament which will be the shortest World Cup since the current format with less rest time between games.
Daryl Dike and Josh Sargent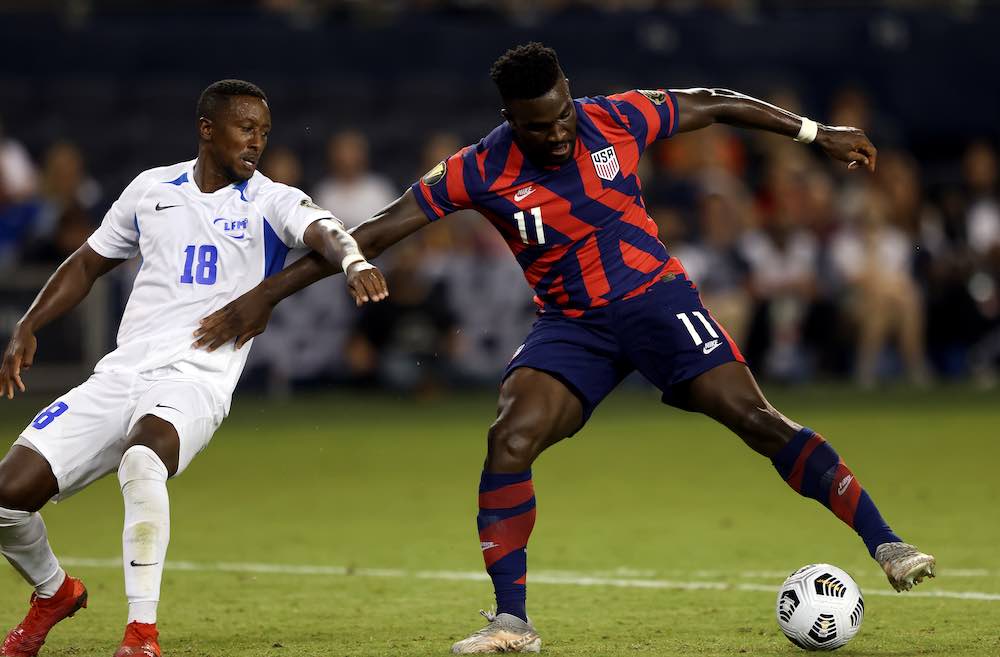 The two forwards in England are not having the best of times for differing reasons. Dike's move to West Bromwich Albion was seen as a big opportunity to build on the successful time he had in the Championship previously with a loan move at Barnsley. Injuries though have kept his appearances to a minimum. He has only made two appearances for the Baggies since his arrival and this latest setback is more bad news for the striker.
With the continual injury woes and reports he may not play again this season, it is difficult to see Dike playing himself back into the team by the time the World Cup comes around.
Josh Sargent's issues come with being at a struggling side, Norwich City, and not playing in the strikers role. He has made 25 appearances this season scoring twice, both coming in a 3-0 win over Watford in January. He works hard in wide roles though will not be able to compete with the competition in those areas in the USMNT, while being unable to challenge Teemu Pukki for a role as the main striker.
Both players have plenty of time to develop in their careers, Dike is 21-years-old and Sargent 22. This cycle is probably out of their sights but there is still the opportunity to find form, as well as return to fitness for Dike, and challenge for places in the following squads after Qatar 2022.
Conclusions
Having a different option off the bench could be of interest to Berhalter and it will be interesting to see what friendlies the USMNT arrange in preparation for the World Cup to try out any new players.
Having a larger squad will help with the quicker turnaround of games and the USMNT will be going into the group games with the confidence to progress to the knockout rounds.
It is likely that barring injury or a dramatic change of form, Pepi and Ferreira will be the two first picked strikers in the group. It is important to remember the role these players will be asked to play. They are not just judged on goals but the way the link play and create for the wide players and midfielders making late runs.
Olivier Giroud was a vital part of France's performance in the 2018 World Cup in Russia without scoring a single goal. Didier Deschamps saw him as a vital part of their attack with how he brought other players into dangerous positions and how he occupied the defence.
So Pepi and Ferreira may not be the most prolific goal scorers, but it is important to remember to take into account their work off the ball and how it suits Berhalter's style.
For the third spot, should he bring a third centre forward, Vazquez is setting the early attention for consideration. His movement and physicality can be a useful weapon in the final third and a strong target in the box.
Zardes and Altidore though could be ahead of a new, young prospect without the experience amongst the squad. They both know the pressure that comes with representing their country as well as the experience to support younger players at the top level of international football.
There is still time for each of these players, and others to show they are ready to step up, though with the squad evolving and taking on Berhalter's ideas, it will be difficult to see too many changes going into the World Cup later this year.