An interview with David Edgar, by Callum McFadden for WFi.
---
You came through the academy system at Newcastle United. How do you reflect on the early years of your time at the club?
"I remember the buzz around the place because Sir Bobby Robson was the manager and he put together a strong squad.
"I was aware of 'The Entertainers' under Kevin Keegan while I was growing up in Canada so to be in at Newcastle was a great feeling.
"My time in the youth system was everything I dreamed it would be. The club had just built new academy facilities and it was a great place to be.
"It was amazing to be able to work my way up to the first team and play and train alongside top players like Alan Shearer, the late Gary Speed and Craig Bellamy at that time."
---
What were the aforementioned established first team players like with you as a young player coming through?
"I learned so much from them and they taught us a great deal. I don't think the relationship between older professionals and young aspiring players is the same anymore like it was back then.
"They taught us how to be a first-team player by example. If you tried your upmost and put a shift in every day then you earned their respect."
---
The late Glenn Roeder gave you your Premier League debut against Bolton Wanderers on Boxing Day, 2006. You then followed that up by scoring against Manchester United early on into your first team career. What are your memories of Glenn and playing for the first team?
"I was lucky to work with so many top coaches and I enjoyed working with Glenn because he was a centre half just like I was.
"I was going well in the reserves and I was promoted to the first team under him. He was never afraid to give young players a chance and Paul Huntington and Matty Pattison made the first team around the same time that I did.
"He had the courage to give us our opportunity and I wanted to do all that I could to repay that faith."
---
Can you talk me through your goal and overall performance in the 2-2 draw against Manchester United?
"I have great memories of that day. Funnily enough, I did not watch the full 90 minutes back until around five years later.
"It was better upon watching back than I actually thought. Sometimes you have games that you think went well but upon reflection weren't as good as you think. However, this one was.
"United have a great team that day: Van der Sar, Neville, Ferdinand, Vidic, Evra, Ronaldo, Fletcher, Scholes, Giggs, Rooney, Saha.
"When you list that team, it was a great feeling for me to play well against them. Even taking away my goal, I still felt I have a strong game which was the main priority for me.
"I was marking Nemanja Vidic on corners and I remember thinking, 'What am I supposed to do to stop him?' (Laughs).
"I embraced the opportunity that day because I had worked my whole life up to that point to play in a game of that magnitude.
"I marked Cristiano Ronaldo for the first 15 minutes of the game then he changed wings. It was only Ryan Giggs who he swapped over with… another easy opponent (laughs).
"Paul Scholes scored two for them that day and to have played a big part in that game with my performance and a goal of my own was a great moment for me in my career."
---
You were at Newcastle when Kevin Keegan returned to the club as manager in 2008. That must have been a special moment?
"That was another unbelievable time at the club. The buzz around the place was extraordinary.
"He came to watch us play before he took the job and even though we hadn't even played a game under him, you could hear the ovation from the fans as he took his seat in the stadium that night.
"It showed just how much he meant to them and you could feel how big a moment this was for the club.
"The weeks then go by when Kevin takes charge and I'm in the team enjoying my football under him. It was surreal. He was a great man to work for.
"I remember one day after training I stayed back to do some extra training with Andy Carroll. I was crossing balls into the box for him and Kevin Keegan and his assistant Terry McDermott came to join in.
"Both of them are football icons and I remember thinking to myself, 'I am just a kid from Ontario, Canada. How have I ended up in this place learning from two true footballing legends?'
"Stuff like that will stay with me forever."
---
You left Newcastle for Burnley in 2009 even though Newcastle wanted to keep you. Why did you make the move to Lancashire at that time?
"I was offered a contract and I thought that Alan Shearer would be staying on as manager at the club.
"However, I did not agree terms with Newcastle and all I wanted to do was go and play every week and Burnley offered me the chance to do that.
"They had just been promoted to the Premier League so I made the move there even though I never wanted to leave Newcastle because they were my boyhood club and still are to this day.
"I have a lot of family from Newcastle so it was a decision that was not taken lightly to leave in the end."
---
You had ups and downs at Burnley with a few managerial changes during your time at the club. How do you reflect on your time at Turf Moor as a whole?
"I worked with Owen Coyle and Brian Laws in the Premier League season then Eddie Howe arrived when we were in the Championship.
"Working with Eddie was the first time in my career that I realised that there was a different way of playing the game and that I was being coached at a really high level.
"Eddie had fresh ideas and it is easier to remember the good things about a manager when he plays you every week but I honestly think we'd have the same conversation about Eddie if he didn't play me.
"He was very impressive and playing expansive football was fun for me and for the fans too.
"I knew he'd go on to big things and to see what he achieved at Bournemouth and what he is now doing at Newcastle is pleasing."
---
You won over 40 caps for Canada. What was it like to represent your country at senior level?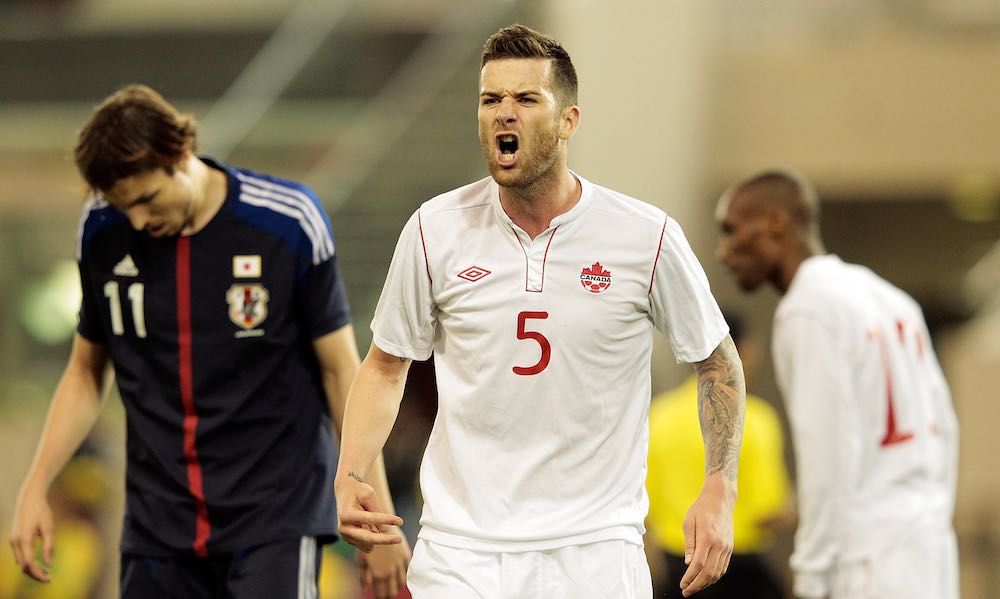 "To me, outside of playing for Newcastle, playing for Canada is my greatest achievement.
"It did not matter if we were playing against El Salvador or playing at Wembley, I was proud every time I pulled on that jersey.
"We did not achieve much success as a team during my career but to see what the nation has achieved now with World Cup qualification is special.
"I was involved in the first cycle of this qualification campaign so that makes it even sweeter. We are also one of the hosts in 2026 so football in this country is going to go from strength to strength going forward.
"Add to that the Canadian Premier League which is growing as well and our national game is in good health at this moment."
---
You are assistant manager at Forge FC in the Canadian Premier League. How much are you enjoying working in that environment?
"I am loving every minute of it. Living in football is a great life. There is no better job in the world.
"Football is a part of me and I don't ever want to not be involved in football.
"I am grateful to the club and to our manager, Bobby Smyrniotis, for the opportunity especially so close to home because the football infrastructure just did not exist when I was growing up which meant that I had to leave to make it."
---
Finally, David, do you want to become a manager in your own right in the future?
"Absolutely, I do. I knew when I was young in my career that I wanted to go on to become a coach and a manager.
"I am very happy with my role as an assistant to Bobby and I am learning a lot from him because he has a wealth of experience from Greek football.
"I am in no rush to become a manager because I am in a good place at the moment working in Canada and with the links that I have in England.
"Coaching and management is the second chapter of my life and I am enjoying every minute at the moment."