Group A
Algeria easily advanced to the quarter-finals, winning all three of its Group Stage matches 1-0. USM Alger's Mahious scored the winner in crunch matches against Libya and Ethiopia, while Paradou AC defender Hocine Dehiri knocked in their most recent victory over Mozambique.
Algeria's most recent match, where Dehiri became the difference-maker against Mozambique, starred a weakened side resting their star players. The Fennec Foxes still looked strong and healthy in their final matchup, and although the slim scoreline will worry some, Algeria look poised to make a big run into the latter competitions. Although they are not the gold standard for good football, as they have not really kickstarted their offense, Algeria are the favorites to lift the trophy in February.
The key player will be, of course, Mahious. Why wouldn't he be? In both of the matches he's started, he's scored. Not only that, Mahious is a clinical finisher who can not only score but also create. He'll likely play a pivotal role up top as a number nine alongside Rangers and Celtic target Ahmed Kendouci and Meziane Bentahar, a chaotic winger who shreds defenses left and right.
Algeria will play the Ivory Coast for a semifinal spot on Friday.
Mozambique are the shock runners-up in the group stage. They started their continental campaign by holding Ethiopia, a dark horse to take it home, to a scoreless draw.
A comeback 3-2 win over Libya followed, meaning Mozambique only needed a point against Algeria or a Libya win against Ethiopia. Despite the valiant efforts of Os Mambas, Algeria narrowly triumphed 1-0. Thankfully, Libya beat Ethiopia, meaning Mozambique was through to the quarter-finals.
This Mozambique team is hard to figure out, especially with the somewhat inconsistent performances of their players.
Melque, a lethal Black Bulls attacker, scored once and assisted once off the bench to rally 3-2 against Libya, but was unimpressive when handed a starting spot against Algeria. Nenê, who also scored off the bench, seemed average against Algeria.
Look out for Martinho, a Black Bulls center-back who has started all three matches for Mozambique. He's excellent at best, and mediocre at worst. He'll be the key to a Mozambique victory on Saturday.
Mozambique will play Madagascar for a semifinal spot on Saturday.
Ethiopia and Libya were the two eliminated teams in Group A. Libya had a rocky time in Algeria, losing 1-0 to the hosts and 3-2 to Mozambique to become the first team eliminated in the tournament.
They kept some shred of their dignity with a big 3-1 win over Ethiopia, but long time Mauritania manager and Libya gaffer Corentin Martins left the Libya post after the tournament.
Libya's Anis Saltou, who scored twice in the tournament, was their best player at the tournament. Ethiopia planted seeds of doubt with a 0-0 draw to Mozambique and placed their CHAN dreams in danger with a 1-0 loss to Algeria.
Needing a three-goal win and a Mozambique loss to Algeria to progress, Ethiopia lost 3-1 to Libya to end their campaign winless. Ethiopia's Gatoch Panom, having scored once and playing a key part in the squad's tournament, was their best player at the tournament
Group B
Senegal finished in first place of Group B in CHAN, winning two matches and losing one to get into the lucrative first-place spot.
A hard-fought match between Senegal and the Ivory Coast ended with a Moussa Ndiaye goal coming from a Lamine Camara free-kick, finishing the game 1-0.
The Lions of Teranga stumbled against Uganda, losing 1-0 thanks to a deflected Milton Karisa strike. Although Senegal may have deserved the three points against Uganda, they put that aside to wallop DR Congo 3-0.
Senegal, thanks to the reliability of Lamine Camara, have more or less dominated Group B. He's not a high-flying, goal-scoring menace like Mahious or Kendouci, but fills the role of a creator who can unleash his attack weapons perfectly.
Pape Sy has been great this tournament, conceding just one in three games. Cheikh Diouf has led the Senegalese front line for all three matches, and he could definitely score in their incoming quarter-finals match.
Senegal will play Mauritania for a semifinal spot on Friday.
Following Senegal as runners-up was the Ivory Coast, who won one, drew one, and lost one. They started their campaign with a tough 1-0 loss thanks to a late second-half winner from Moussa Ndiaye.
The Ivory Coast continued their mediocrity with a stale, gruesome 0-0 draw against DR Congo. Despite resting in last going into the last matchday, the Ivory Coast stunned Uganda with a 3-1 lead. That, combined with other results elsewhere, put them in the quarter-finals.
I previously doubted the clinicality of Ivorian number nine Vignon Ouotro, but he proved me wrong with a solid performance against Uganda, and he will be the key to the Ivory Coast's success.
But the player to watch is Sankara Karamoko, who scored one and assisted another in their match against Uganda. Karamoko, an ASEC Mimosas teenager who is attracting attention from everyone watching the African Nations Championship, can involve himself in even more goals going into the knockout round. Keep an eye on him, as his explosiveness and clinicality could help the Ivory Coast mount a deep run into the finals.
The Ivory Coast will play Algeria for a semifinal spot on Friday.
Uganda and DR Congo were left in the dust as they bounced out in the group stages. Uganda held DR Congo to a tight 0-0 draw, and even won a 1-0 duel with Senegal thanks to a Milton Karisu goal.
They were first in the group with four points in two games, but could not seal qualification in the final matchday as they fell hard to the Ivory Coast in a 3-1 loss. Their best players in the tournament were the always-consistent Milton Karisa and impassable keeper Nafian Alionzi.
DR Congo drew 0-0 with Uganda and could not find the net in another 0-0 draw, this time with the Ivory Coast. The DR Congo remained scoreless as Senegal dismantled them 3-0 in the final matchday.
It was not a great time for the DR Congo, but a shimmer of light in an otherwise-depressing tournament was Guy Magema(despite being benched against Senegal, he was semi-decent in the limited time he had).
Group C
Madagascar shocked many when they topped a Morocco-less Group C, winning both of its matches with some flair and brilliance.
They started their campaign by frustrating Ghana in a chaotic 2-1 win to go top of the league. Their most recent match against Sudan ended yet again with a dominant 3-0 victory where Solomon Razafindranaivo and Lalaina Rafanomezantsoa both scored and had an assist.
They've been better than many experts (and I) predicted. This tiny island nation somehow stunned the footballing power Ghana 2-1 and manhandled the Sudan side.
It's been Razafindranaivo who has impressed the most, scoring two and assisting one in just two games. They have a golden opportunity to put themselves on the map with a quarter-finals win, which would launch them into the global spotlight.
Madagascar will play Mozambique for a semifinal spot on Saturday.
Ghana follows Madagascar into the knockout rounds. The surprising 2-1 loss to Madagascar invited doubt into the minds of many Black Stars fans who expected sheer dominance in their group, but a quieting 3-1 win over Sudan not only qualified them for the last eight but brought back hope into Ghana fans.
Fans should count on either key defender Konadu Yiadom or core midfielder David Abagna to ground out a win in the knockout round. Yiadom not only scored against Sudan to start a comeback win, and he is near impenetrable on a good night. Abagna is Ghana's key to starting offense, but he's also expected to stop any impending attacks. He has been good about both responsibilities against Ghana and Sudan, but he will need to step up even more in the quarter-finals.
Ghana will play Niger for a semifinal spot on Saturday.
Sudan had a disappointing CHAN campaign, scoring just once and conceding six. First came a 3-1 loss to Ghana where Sudan lost a one-goal lead. Needing a win in their last game, they were thoroughly humiliated by an in-form Madagascar side, eliminating them from the tournament.
Al-Merrikh's teenage prodigy Al-Golozi Nooh was the team's best player, as he scored his side's only goal of the tournament.
Group D
The tournament's first three-team group saw Mauritania progress with one win and one draw to make it to the last eight. Mauritania held Angola to an even 0-0 draw first, and secured progression to the quarter-finals with a 1-0 win over Mali thanks to a Mamadou Sy header that snuck past the Malian keeper.
Namori Diaw has been great, if not perfect in the past two games. Diaw has two clean sheets, four total saves, and holds one of the best keeping records this tournament.
Diaw is not the eleventh outfielder that coaches favor nowadays; his mind is solely on saving, with good results. Diaw has a good chance to keep his clean sheet record going if he and the Mauritanian backline continue their impeccable form.
Mauritania will play Senegal for a semifinal spot on Friday.
The group's African giants in Angola and Mali both bounced out in the group stage disappointingly, as both looked good in their opening match. Angola, led by Depú's brace and assist, tied 3-3 with Mali in one of the games of the tournament.
Despite their scoring proficiency, they could not open the floodgates going into their crunch match with Mauritania, as they drew 0-0 and all but eliminated themselves. Angolan forward Depú was the team's best player, although Gilberto and Alem were both decent.
Mali also had a tough time, although they made up a two-goal deficit in their 3-3 thriller against Angola. Mali hit a stumbling block against Mauritania when Mali could not overcome a one-goal lead, as Mauritania narrowly beat Mali 1-0. Ousmane Coulibaly, who came off the bench to create two goals against Angola, was Mali's best in the tournament.
Group E
Niger stole the first-place spot from Cameroon with some last-day heroics and with it, the only quarter-finals spot. Niger drew their first match against Congo and knew that a win would be the only possible way to go through to the quarter-finals. Sure enough, they pulled out a 1-0 win, narrowly securing qualification to the last eight.
Niger will play Ghana for a semifinal spot on Saturday.
Niger's dream would not be realized without the heroic efforts of the back line, especially the expert shot-stopper Mahamadou Djibo and the defensive doggedness of fullback Adamou Ibrahim Djibo. Both were consistent in the two matches. M. Djibo's two clean sheets opened the floor for what can be a legendary run to the semifinals, while A. Djibo crushed opposing attacks and offered some consistent possession.
Cameroon and Congo were eliminated in the group stage. Cameroon started the campaign by beating Congo 1-0 thanks to a goal from Jerome Mbekeli(who assisted the infamous Vincent Aboubakar goal at the World Cup).
Despite needing only one point, Cameroon flopped in the final stages of the group stage, losing 1-0. Mbekeli, radiant when he gets the chance, was Cameroon's best player.
Congo began their African Nations Championship campaign by losing 1-0 to Cameroon. Needing a positive result in their final outing, Congo offered little to nothing offensively, settling for a scoreless stalemate with Niger. Congo's best player was Janard Mbemba.
CAFOnline.com's Best Eleven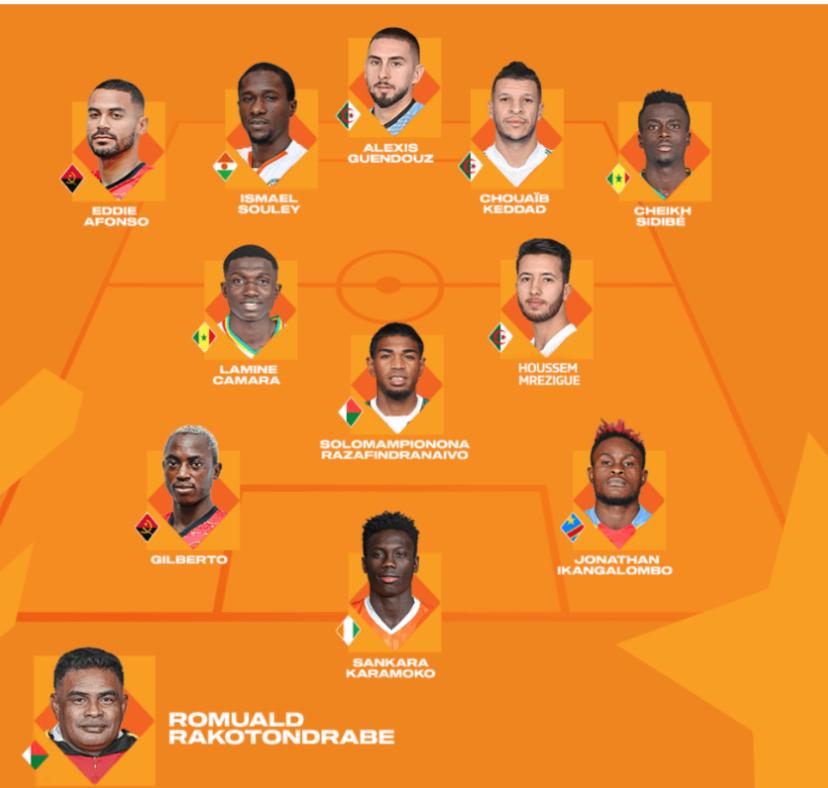 Algeria, Alexis Guendouz(GK): Guendouz has been great this tournament, but I would put someone like Afionzi or Mahamadou Djibo, who's faced more shots.
Angola, Eddie Afonso: Afonso is a solid pick for one of the center-back positions. He plays as a wingback, but he can defend and tackle when needed. However, I would consider some other players for the role, like Yiadom.

Niger, Ismael Souley: Great player, one of the best defenders in CHAN.
Algeria, Chouhaib Keddad: He's a great center-back, but again, I would consider other players like Zineddine Belaïd or Mokhtar Belkhiter.
Senegal, Cheikh Sidibe: Quietly dominant as a wingback. Strong choice.
Senegal, Lamine Camara: Great player, a candidate for Player of the Tournament if Senegal gets far enough.
Algeria,Houssem Eddine Mrezigue: Great midfielder, accurate passer, lethal on both sides of the ball.
Madagascar, Solomampionona Razafindranaivo: Two goals and an assist in two games? Sign me up!
Angola, Gilberto: Gilberto is great, but would I choose him? Personally, I'd pick Depù or Karisa for the position.
DR Congo, Jonathan Ikangalombo: A lot of journalists love Ikangalombo, but personally, I would not choose him over, again, Depú or Karisa.
Ivory Coast, Sankara Karamoko: Thrilling player, can't wait to see what he can do against Algeria.
Best Eliminated Players:
Ethiopia: Gatoch Panom
Libya: Anis Saltou
Uganda: Milton Karisu and Nafian Alionzi
DR Congo: Guy Magema
Sudan: Al-Golozi Nooh
Angola: Depú
Mali: Ousmane Coulibaly
Cameroon: Jerome Mbekeli
Congo: Janard Mbemba
Best Players So Far:
Aimen Mahious(Algeria)
Lamine Camara(Senegal)
Solomon Razafindranaivo(Madagascar)
Ones To Watch:
David Abagna(Ghana)
Namori Diaw(Mauritania)
Ismael Souley(Niger)