By Mike Rice.
Minnesota United 1-1 Vancouver Whitecaps
The Vancouver Whitecaps are still searching for their first win of the season in MLS after a late equaliser from Simon Becher secured a third draw from five games for the Canadian side.
A move to a back four rather than the use of wingback for last season has seen the Whitecaps look to congest the centre of the field and force play wide.
This is putting a lot of pressure on their attacking midfielders to provide width in attack as well as support their fullbacks when the opposition look to switch play from one side of the pitch to the other.
The midfield three work as a tight group try to restrict the opportunity for the opposition to play through them.
This resulted in Minnesota fullbacks being a key part of their attack in this match, which was also made more dangerous by Adrian Heath opting to use both Luis Amarilla and Ménder García in a 4-4-2 formation rather than his usually preferred 4-2-3-1.
Positioning Errors for the Goal
Sartini has his players playing very centrally and compact which encourages the opposition's full-backs higher up the field.
Minnesota played with a 4-4-2 formation which gave the full-back the chance to find space in the Vancouver half while in possession.
The goal comes from Zarek Valentin being open on the right wing while Minnesota worked the ball across the pitch.
What we can see from the following image in that the attacking midfielders, Ryan Gauld and Cristian Dájome, are responsible for dropping deep and defending the wide areas while out of possession.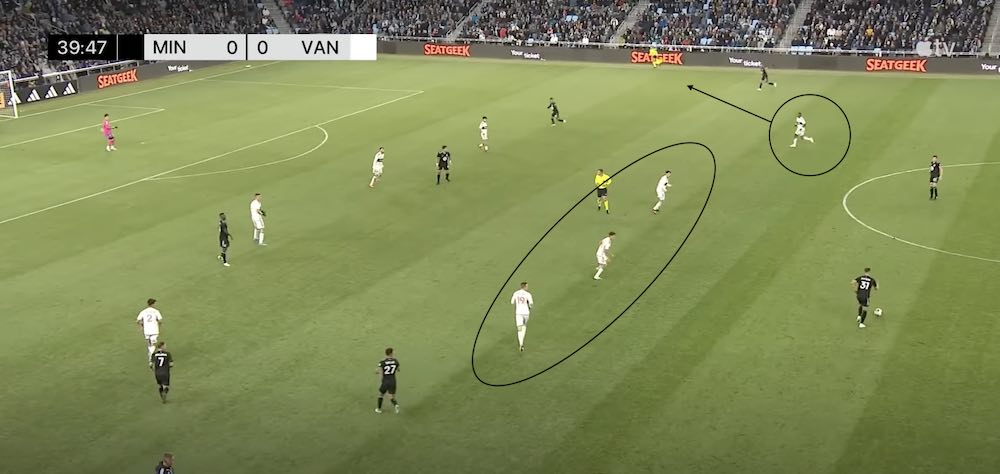 The three central midfielders are working closely to try and block Minnesota playing through and finding space centrally. Dájome here is dropping but Valentin has moved up past him while identifying that left-back Ryan Raposo already has an opponent occupying his attention in the final third.
It should be noted just how big a gap has formed between the defensive and midfield lines. If they are only applying a mid-block rather than pressuring the player on the ball, Vancouver needed to bring these lines close together. As Dájome was caught up field, in this case, dropping back closer to the defensive line would have made them more defensively resolute to deal with this attack.
As the ball is worked out to Valentin on the right, Ryan Raposo is forced to leave his opponent and push out to close down the cross. This has left Tristan Blackmon needing to cover Luis Amarilla (9) who is now unmarked on the near side of the box.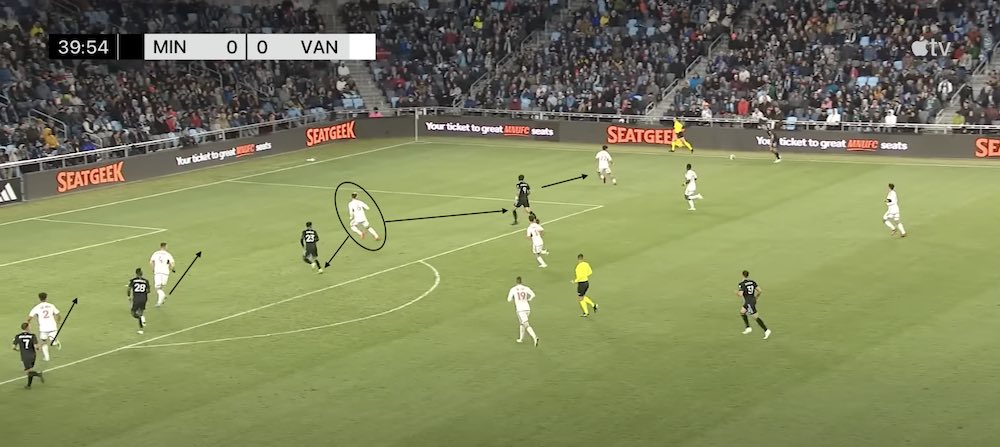 Tristan Blackmon (circled) now loses the runner from midfield behind him to cover Amarilla who has now been left unmarked by Raposo needing to push out wide and the centre of midfield dropping too slowly to assist.
The chain of events sees Ranko Veselinović move across to help Blackmon as he identifies the runner from midfield as being the biggest threat. Mathias Laborda then needs to leave Franco Fragapane and engage Ménder García but is too late and García heads Minnesota ahead.
It can be noted that two key issues led to the defence scrambling to gain a positional dominance and strength in their defensive third.
Dájome allowing Valentin to get so high up the pitch without blocking off the passing lane. By being too slow to drop and force Valentin to halt his progress up the field, Vancouver were in a position where they would be forced to rush across the field as Minnesota changed the direction of the attack in the Whitecaps half.
The midfield was too slow to drop and a large gap between the defensive line and the midfield line existed. By staying compact and closing down as a group, if the midfield gets pulled across to one side of the pitch and the play is switched to the other flank, it can be hard to move across with the ball.
Imbalance in attack
When Vancouver looks to attack, Gauld and Dájome will try to create width and Sartini needs his fullbacks to be effective in these areas too.
As the midfield three are often very central and compact, full-back support is vital in creating overloads on the flanks to provide crosses to target man strikers, in this case, Brian White.
Ryan Raposo is a winger turned full-back so has the confidence in getting forward, though is a right-footed player playing on the left-hand side. He did well in the opening 40 seconds to provide a cross which White hit the bar from but on the other side, there is an issue in getting productivity in the opposing half.
Mathías Laborda got forward but he has traditionally been a central defender for his previous side in Uruguay, Nacional. He will look to receive and deliver a cross quickly, he won't look to get to the line and cut the ball back or run at the opposition fullback with the ball. On the other side, Raposo will often cut inside onto his favoured right foot which leaves both sides quite uneven.
Vancouver's 23 shots with just five on target highlight the woes they are having in the final third.
Playing into White's feet to lay off to runners from deep had some successes and the movement from Alessandro Schöpf, especially in the first half, gave the team the chance to run at defences but they were often far too narrow.
This left the Minnesota defence in ease to stay compact and block the direct shot to goal or a through ball between them to runners in behind.
Could two strikers help?
Simon Becher came on and got the goal deep into stoppage time. His inclusion was due to chasing a goal in the second half rather than anything else.
While he added a goal threat and Minnesota had to then adapt to deal with two strikers rather than one. This was fine with this system when the opposition are sitting deep and protecting a lead, but if this was used earlier in the game there would have been even more space for Minnesota fullbacks to get forward.
The argument is that those fullbacks may have been less inclined with getting forward if they knew the transition with two strikers could be difficult to deal with.
Out of possession, it could lead to more of a 4-4-2 formation with the attacking midfielder dropping left with Gressel moving slightly more to the right. This though would lose the three-man-block Sartini is using with this midfield in front of the defence to force attacks away from the box.
Composure
While there is a lack of composure in the final third highlighted by the sheer number of shots off target as well as rushed transitions which lead to a lack of clear-cut chances; defensively Sartini has found a good balance.
New goalkeeper Yohei Takaoka has proved to be valuable in sweeping up long balls forward as well as receiving and distributing with his feet, giving Vancouver a solid base to build from.
Blackmon and Veselinović are building a strong partnership which has forced young central defender Laborda to be used as a fullback. They are both very strong in the air as well as being good with their feet, which should improve their xG against this season after a difficult time in 2022.
Where do Vancouver go from here?
 Vancouver welcome CF Montréal to British Columbia this weekend and Hernan Losada's side managed to secure their first win of the season last weekend against Philadelphia Union.
With a back three being used by Montréal, the full-backs for Vancouver will be aware of the danger they provide, though they can focus themselves on their compact positioning and move out when the wingbacks begin to progress up the pitch.
Sartini needs more movement from his attacking midfielders and striker. Three centre-backs behind a defensive midfield duo which will likely include Victor Wanyama will be tough to beat. Runners in behind the striker will be vital in moving the defence around and creating shooting opportunities which has not been a strong point from the Whitecaps this season. Too often, players across the attack are in a line across the field, there is no depth or vertical threat which makes it easy for defending sides to remain organised and in control.