By Neel Shelat.
The end of the season is fast approaching in many parts of the world as April draws to a close. That means many stories are close to completion — some with their final chapters effectively already written, and others with a lot more up in the air.

As ever, we will be focusing on the ones where the writing is on the wall in this month's edition of the Frantic Football Column, which features stuff from the world of men's, women's and youth football.

---
🇷🇸 Serbia: Champions Crvena Zvezda Set For Invincible Season
The Serbian SuperLiga season will go on till the last weekend of May, but the title has already been decided. Crvena Zvezda have won the league for the sixth straight season, and this time, they have done it in some style.
At the time of writing, Crvena Zvezda are still unbeaten in the league having won 26 and drawn four of their 30 games. That makes them the only side in all of the men's European winter leagues to have not tasted defeat domestically in the 2022/23 season.
Should they manage to preserve their unbeaten record in the final few fixtures, this will be the first time Crvena Zvezda win the Serbian SuperLiga with an invincible record in its current format. They have managed to go unbeaten twice in the past, but the split league format was temporarily suspended due to the COVID-19 pandemic in 2020/21, and they finished behind Partizan in 2007/08 when the split had not been introduced.
That should keep them motivated for their remaining fixtures, which will still have quite a bearing on the table. The battle for the European spots behind Crvena Zvezda is quite intense, especially as their eternal rivals Partizan are having a very disappointing season.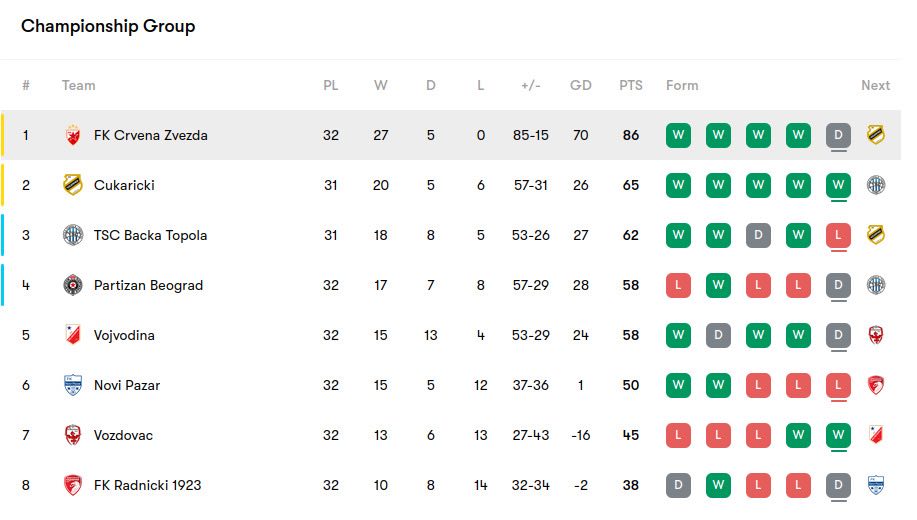 🇩🇪 Germany: Fallen Giants Turbine Potsdam Set To Suffer Relegation
Women's football is firmly on the up in Europe, especially after the success of the most recent Euros. But, there always are downsides to major changes, and this case is no exception.
While it is good to see major men's clubs setting up and investing in women's departments (although the level of involvement is still far from satisfactory), one of the consequences of this is that independent clubs have been blown out of the water.
Germany is rightfully seen as an exemplar of good football club ownership models and practices in Europe, but this problem prevails there too. In the 2010s, Wolfsburg and Bayern Munich emerged as the dominant forces in the Frauen Bundesliga, displacing independent clubs such as 1. FFC Frankfurt, FCR Duisburg and Turbine Potsdam.
These clubs' financial capabilities could not remotely rival the emerging forces, so they were faced with two options: merge with a more financially powerful men's club or start slipping downwards. 1. FFC Frankfurt found themselves unable to compete with the European challengers from 2015 onwards and ultimately decided to merge with Eintracht Frankfurt. Duisburg's case was different, as they went bankrupt in 2012 and had to merge with 3. Liga outfit MSV Duisburg, meaning their financial capabilities remain restricted.
Turbine Potsdam have remained independent, but that does not look like it is going to end well for them. They were able to keep up with the top three till last year, but amidst some mismanagement in a small budget, it was clear that one bad summer would spell big trouble.
That is exactly what happened in 2022, and the consequences of that are quite clear to see in the league table. The six-time Bundesliga champions and two-time Champions League winners have been plump last throughout the campaign, well adrift of the real relegation battle. In fact, they only had a point on the board till the 21st of March, after which they managed a draw and a couple of wins.
That probably was too little too late, though, as Turbine are still six points from safety with only four league games left. Given the fact that all of their remaining fixtures are against sides in the top five, only a miracle can take them to safety.
The speed at which this has occurred has been shocking but not that it has happened. Emblematic of the changes in woso that Leipzig are getting promoted while an independent club is going down. Ultimately tho they have themselves to blame for years of mismanagement and stagnation

— Tom Weber (@tomalexweber) April 23, 2023
🏆 UEFA Youth League: Hajduk Split's Historic Run
Since its inception in 2013, the UEFA Youth League has been a hub for talented youngsters in the continent to showcase themselves with the world watching. The likes of Diogo Costa, Curtis Jones, Tammy Abraham, Borja Mayoral and many other now-senior stars have featured in this competition.
The nature of such youth tournaments is such that most of the stories that emanate from them focus on the players — particularly those that impress and start to feature at the highest levels of the game. Given how pervasive youth scouting has become, these players almost always tend to play for the biggest clubs, so the previous finalists have been sides like Barcelona, Chelsea, Real Madrid, Benfica and RB Salzburg.
This year, though, we got to see something different. Both finalists came through the domestic champions path, meaning their senior teams did not make the group stage of the UEFA Champions League. AZ went on to become the first Dutch club to lift this trophy — an impressive achievement indeed, but what Hajduk Split pulled off was perhaps a little more special.
After beating Shakhtar Donetsk at home in the preliminary knockout round, they hosted English giants Manchester City and knocked them out with a battling 2-1 win in front of thousands of supporters. The Hajduk fans then travelled in great numbers to Germany to watch their boys get the better of Borussia Dortmund on penalties.
With that, Hajduk qualified for the final four. The last three matches are traditionally held close to the UEFA headquarters in Nyon, but this time they were moved to the home ground of Servette FC in Geneva to accommodate the thousands of Hajduk fans who had come to Switzerland. There, they watched their side beat Milan to become the first team to fly the Croatian flag in a major continental final at any level.
Although they ultimately lost 5-0, Hajduk Split will surely go down as the best-supported UEFA Youth League team.
This is Split! This is Hajduk! 👏👏👏 @UEFAYouthLeague ❤️💙 pic.twitter.com/mdkDZNyBtD

— HNK Hajduk Split (@hajduk) April 25, 2023
🇧🇭 Bahrain: Mahdi Abduljabbar Firing Manama To Their First League Title
The Bahraini Premier League title race is one to watch in the next couple of weeks. With just two rounds of fixtures left, Manama Club are leading the way and will lift their first league title in their 77-year history if they avoid dropping points.
Their star player certainly is 31-year-old striker Mahdi Abduljabbar, who will feel he deserves this title after his work for them over the last couple of years. He joined them from Al-Riffa in 2020, after which he has been the league's leading goal scorer in every campaign.
In 2020/21, he netted 12 times as his side finished third. In the subsequent season, he scored 17 goals but his side still missed out on the title by three points. This time around, Abduljabbar has 13 goals to his name after 18 rounds of fixtures, so he is leading the way in the golden boot race once again.
Will Abduljabbar finally manage to fire Manama to their first league title? We will find out on the 6th of May.
---
Stats courtesy of Transfermarkt and FotMob.