Anyone in America with access to the internet or television that possesses even a mild interest in soccer knows the name Christian Pulisic.
"17-year-old kid from Hershey, Pennsylvania" is a mainstay phrase for commentators and pundits whose beat revolves around the U.S. Men's National Team – or, for that matter, American coverage of the German top-flight, the Bundesliga.
Everyone, everyone is talking about the legacy of rising star Pulisic.
Just…just hold on.
The most polished 17-year-old in the history of American soccer
Undoubtedly, the American attacking midfielder has the footballing qualities required to be a good player, even a great one. His quick feet and intelligent running patterns allow him to get in behind even the best "match-reading" defenders. His creativity knows few bounds as Pulisic reads both the development of play and player movements – for both his side and the opposition – very well.
Pace is considered overrated at times, but Pulisic uses his wisely. He times his runs well and uses a start-stop bursting of his speed and acceleration to glide between other players. Pulisic finishes off counter-attacks superbly; he maintains possession well with simple passing and calculated movement. He has a flair to his game that is both sexy and dangerous, depending on which side of the ball one stands.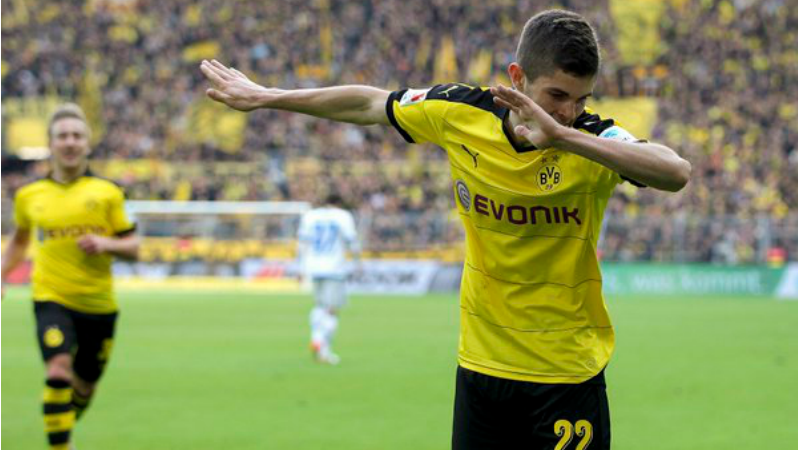 He has practiced weighted passing since he was five years old. Pulisic has learned how to use his body to his advantage, despite his size, since he stopped getting taller three or four years ago. He, through the coaches over Pulisic throughout his youth career in the United States, has learned how to take on and dribble past opponents faster, taller, stronger than he is.
During his training in the States, his parents, Mark and Kelley, encouraged Pulisic playing in higher-age divisions. From age ten onward, their son was always registered to play one or two age groups higher than his own. Bill Belcher, a family friend and head coach of Harrisburg City Islanders in the United Soccer Leagues, would invite 14-year-old Pulisic to train with his squad of adults as a guest.
Pulisic quickly ramped up the level of competition at age fifteen, jumping right into the fray of the Borussia Dortmund U17 squad.  The rest, of course, is recent history, provided in a sequence of skills and highlights YouTube videos that follow someone else bringing up the "savior" of U.S. soccer.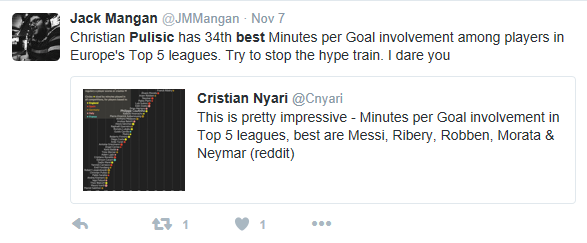 Pulisic might be U.S. Soccer's best young talent ever.
But what is a savior in football? What must be done to qualify? The term is used both broadly and gratuitously, so it can be hard to parse what kind of savior American fans are referring to.
Sometimes, it has very little meaning, or simply pertains to a singular instance. Mario Balotelli has been called the savior of OGC Nice in their high-flying, table-topping start to the 2016-2017 season. Ashley Barnes, aging English forward for Burnley who's struggling for Premier League minutes, was hailed as a savior of three points with his last ditch scramble goal at the weekend. This writer was once considered a savior for a classmate in high school for letting someone look at his essay before they took the same test later in the day.
Savior can be as meaningless at times as the adjectives "amazing" and "incredible," which have been ridden of substance by modern-day language.
But there's another definition – one more impactful, long-lasting, and, for better or worse, consequential.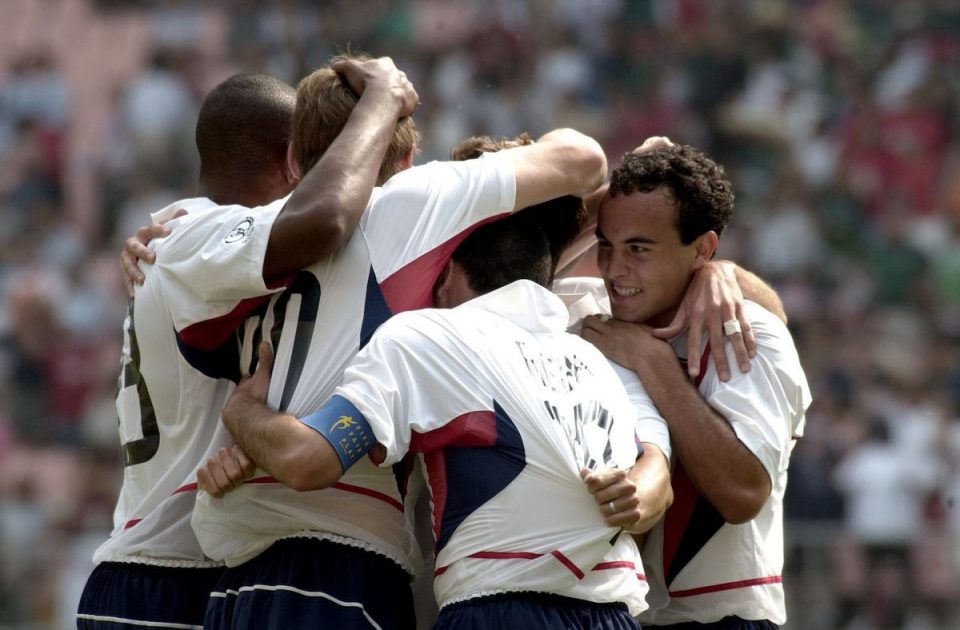 In American soccer, "savior" has been attached to a selection of players over the course of the last two decades that had the perceived ability to put the United States on the world stage. For some, their importance is clear for all to see – the likes of Landon Donovan and Brian McBride, for instance, are revered for their goal scoring prowess in times of desperation for the Men's National Team. In periods of near-anonymity in world football, they are but two examples that kept the United States in the conversation of outsiders that could, potentially, drag their countries into relevance.
A slew of goalkeepers have also proven to be immense for U.S. soccer: Tim Howard, Brad Friedel, Kasey Keller, and, perhaps to a lesser degree, Marcus Hahnemann were solid for both club and country. Rarely fielding a solid defense, the USMNT have, until recent times, kept a first choice goalkeeper on the roster capable of pulling the country out of sticky situations. Even casual U.S. soccer watchers are able to reference Howard against Belgium in the 2014 World Cup.
Something these players have in common is the massive clout granted to them by fans, either from an early age or early in their international careers. After some diminutive performances in 2001 during World Cup qualification, Donovan played a key part in getting out of the group stages of the tournament in 2002. McBride scored in his first appearance for the USMNT, and again shortly after in a less successful 1998 World Cup. Heroes from then on.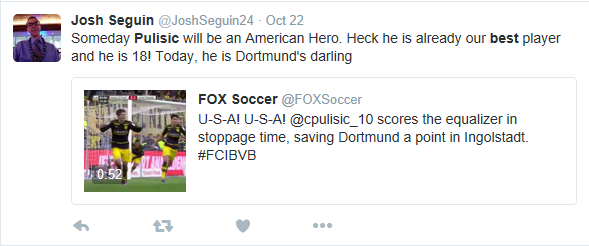 Pulisic is going to be the best player the U.S. has ever produced
This is the line that Christian Pulisic, 17-year-old from Hershey, Pennsylvania, toes in the eyes of American soccer supporters. Here lies the short, thus far unsubstantiated legacy of a kid lighting the footballing world on fire in the black-and-yellow of Borussia Dortmund.
Considering the forced comparability of Pulisic to figures like McBride and Donovan, there's a discussion here that, to date, there's been no willingness on behalf of American soccer fans to partake in.
How little is needed in American soccer to become a hero, soccer's Messiah – a savior?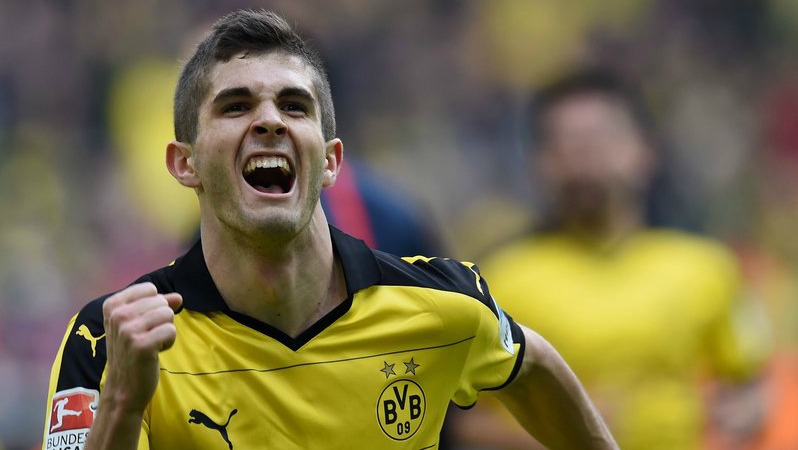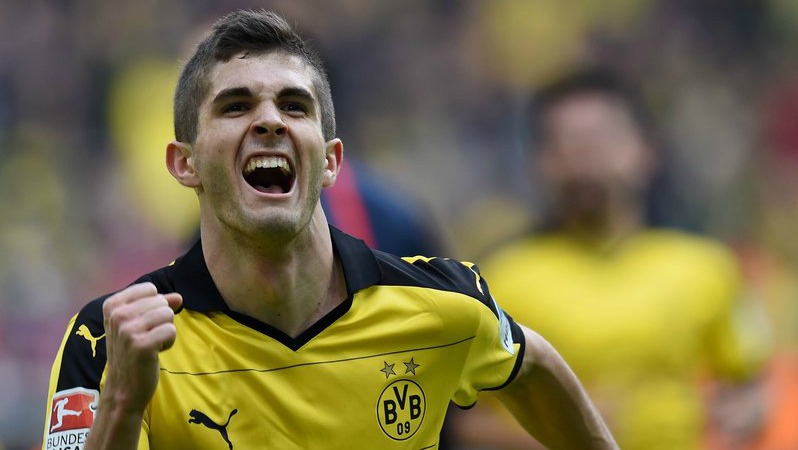 Based on recent holders of the very same title attributed to Pulisic, very little indeed.
Donovan is the MLS top scorer, a post that will be held for at least a few more years. Clint Dempsey is the rugged, "by any means necessary" scorer of late World Cup goals while struggling to compete in Seattle. Jozy Altidore couldn't cope in the Premier League, but plays well for Toronto. Jermaine Jones was briefly in conversation for Defender of the Year in the 2015 MLS season. Michael Bradley played in Italy once.
And yet, these players are revered in the United States. Not much to go by, which may seem harsh until they are compared to the 17-year-old kid from Hershey, Pennsylvania.
There have been moments, of course. The last-gasp 1-0 victory via Donovan against Algeria in South Africa. Howard's brilliance against Belgium in 2014. Keller against Italy in 2006. The Yanks against Mexico and Portugal in 2002, as well as Slovenia in 2010. But these are moments – well-remembered, emotional, powerful, and in most cases, contextually meaningless.
Crashed out of the quarter-finals in South Korea. Unable to record a win in Germany. Scraped through the group stages in South Africa. Nearly kicked on in Brazil, but  ultimately gave out in in the round of 16.
Christian Pulisic, for all his talent, promise, and expectation, cannot fix this. He's drawing eyes from across Europe at Dortmund, but Pulisic can't shift and dribble the Men's National Team into a major final.
He's already scored some international goals, but he can't singlehandedly bring the United States silverware on the biggest stages by himself. He cannot right the ship for American coaching, training, development, or the systemic incongruences of the U.S Soccer Federation because he's a 17-year-old kid from Hershey, Pennsylvania just enjoying his football.
Pulisic is, or at least he could be, the first, the uninhibited, the one to get the ball rolling for U.S. Soccer.