Part of the #WFIFriday series, written by @JDNalton. 
---
Paris Saint-Germain 4 (four), Barcelona 0
18' Á. Di María
40' J. Draxler
55' Á. Di María
71' E. Cavani
Manel Estiarte has a theory on why when big teams finally meet their match, they often get trounced.
Estiarte is a Spanish former international water polo player and long time confidant of ex-Barcelona manager Pep Guardiola.
As detailed in Marti Pernau's Pep Guardiola: The Evolution — the author's second insight into the workings of one of football's most philosophical managers — Guardiola's personal assistant speaks about why when formerly dominant teams collapse in a one-off game, they do so in a big way.
"For a long time a worrying theme has been gnawing away at me when I analyse the patterns of elite sport.

"When you look at the top teams it seems to me that their own greatness can actually become an Achilles heel.

"Not everyone will agree but I reckon that, having achieved so much, they can no longer conceive of being beaten.

"Suddenly you're one or two-nil down, unexpectedly, possibly unjustly, and on the canvas without knowing why or how.

"So, instead of just hanging on to the rival, grabbing them round the neck and not letting go until you can breathe again and regain your composure, like boxers do, you carry on playing the way you'd do normally and that's when they really hammer you."
Paris Saint-Germain shouldn't be, and probably aren't four goals better than Barcelona, but at the Parc des Princes on Tuesday 14th February 2017, they could have been six or seven goals better.
Against PSG, were Barcelona a victim of the phenomenon of which Estiarte speaks, or were Unai Emery's side merely better than them?
It's probably a bit of both.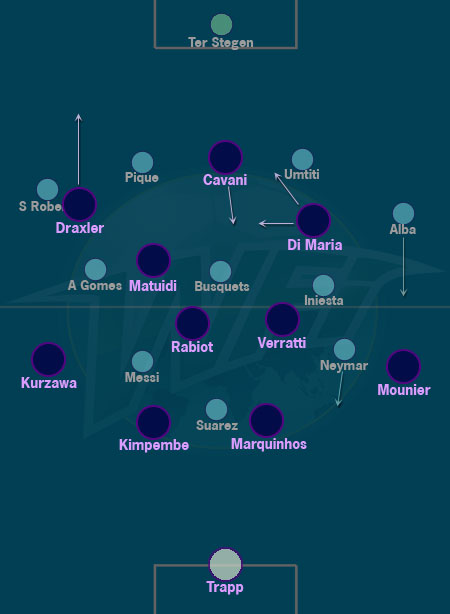 While there was very little in the way of a response from Luis Enrique's side when they went one, then two goals down in the first half of their first-leg tie, there was also little initiative used in moments of parity.
Sergi Roberto was the most blatant of targets on the right side of Barcelona's defence as the home side set new signing Julian Draxler free to run at him repeatedly.
The Spanish midfielder turned right-back didn't perform as badly as was made out during or after the game, but the fact he was so alone and so exposed meant that he could have had the game of his life and still fail to prevent the PSG onslaught.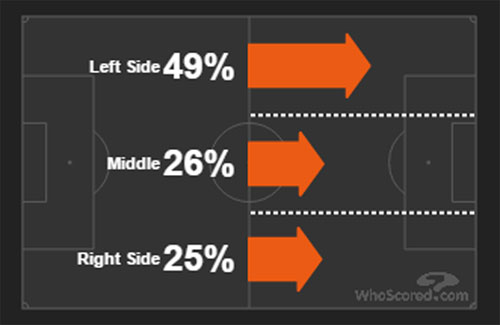 Unai Emery knew that Sergi Roberto wouldn't have the support on his side that Jordi Alba would have from Neymar on the other, so they targeted him.
He duly received little in the way of help from the ineffective Lionel Messi and the hopeless Andre Gomes, but though this effective use of their left flank made PSG appear on top, their goals all came from the centre or from the right.
Sergio Busquets is usually statuesque in the complementary sense of the word as he towers above the rest, dictating play and blocking opposition attacks, but here he was a rigid, fixed structure; cemented into Parisian soil as attack after attack passed him by, leaving Roberto et al fighting a losing battle.
The problems were obvious, but there was no response from Luis Enrique as his charges were hung out to dry, apparently left to work it out for themselves. Many of this Barcelona side could go on to become good managers one day, but here they needed direction as they began to veer out of the Champions League.
As Estiarte theorised on 10 September 2014 in Munich, Barcelona carried on playing the way they normally do, and got hammered.
But PSG would have taken some stopping even if their opposition had regained their composure.
Marco Verratti and Adrien Rabiot dominated the middle of the park even though the Catalan side came out of the game having had more possession.
Remarkable how well Rabiot has played when you think he has probably been opening Valentines cards for about eight hours solid today

— Sam Wallace (@SamWallaceTel) February 14, 2017
Verratti, Rabiot, and the near infallible Blaise Matuidi (who had 98% passing accuracy) proved that possession doesn't always equal domination.
In the attacking third, Angel Di Maria was everything his countryman Messi wasn't. Involved, determined, and most importantly, on the score-sheet, twice.
On this form Di Maria can take some stopping as he buzzes and darts around the pitch with an unmatchable quickness, while his two goals were left-footed curlers out of the top drawer.
It's difficult not to list every other PSG player not yet mentioned when looking at how they managed to beat Barcelona
Kevin Trapp, Thomas Meunier, Marquinhos, Presnel Kimpembe, Layvin Kurzawa, Edinson Cavani, Javier Pastore, Lucas Moura, Christopher Nkunku.
See.
Barcelona may have been shell-shocked, but this was only because Emery's men were sent out with a clear set of instructions which they executed perfectly.
PSG had already beaten Barcelona before Barcelona had chance to beat themselves, but the overwhelming loss with little in the way of resistance once they were on the ropes fits with what Estiarte says.
He adds:
"I'm not saying that any of this is the fault of the players, or coaches, or their tactics.

"It's just that teams nowadays have reached such an elite level that they cannot countenance failure.

"The 'greater' our football teams get, the less able to imagine or deal with a shock setback they become.

"So that when things do go wrong, they don't always have the resources to claw and fight their way back into a contest."
No team has ever overturned a four goal deficit going into the second leg, but if any attack can score the five, maybe six goals needed to progress, then its one made up of Messi, Luis Suarez, and Neymar, at the Camp Nou.