World Football Index spoke this week with Watford's new Colombian U20 international defender Jorge Segura.
The player was in Italy to meet with representatives from Watford's Pozzo ownership and to finalise details of the move which will see the dominant defender join the English side in June 2017.
The 20 year old Colombian is most suited to a central defensive role, but has also played well at full back.
Segura is a product of the famous Envigado youth academy, which has launched the careers of over a dozen Colombia internationals in the past decade including James Rodriguez, Juan Fernando Quintero and Dorlan Pabon.
The young defender established himself as a first team regular at the age of 18, and has played with great consistency and maturity over the past year.
He's extremely calm in possession and dominant in the air, the powerful defender has all the ingredients to do very well in Europe.
Segura was a starting defender for the Colombia U20 side at this year's South American championships.
He will complete his move to Watford in June, but the expects to move on loan elsewhere in Europe while the club work to circumvent the UK's notoriously difficult work permit process.
The club hope that in the coming years Segura will break into the Colombian national side and qualify for a work permit, while the 'exceptional talent' exemption is another option.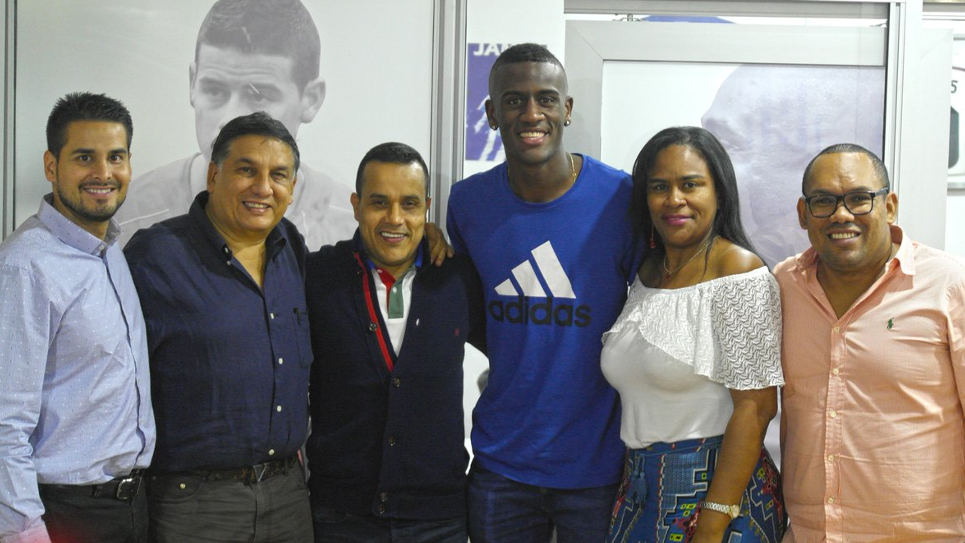 Simon Edwards spoke to Segura about his footballing influences, style of play, career development and professionals aims for the coming year. Full audio (in Spanish) is also available below.
---
Jorge, first of all, congratulations! How do you feel? What is the plan for the next few years of your career?
Thank you very much for the invitation. I am happy with what is happening, I am really grateful for this and for the blessing of being able to play in English football. For now, just keep working and being conscious that for now this is the most important thing.
Can you tell me a little about your experience in Envigado and during your development as a player?
I arrived at Envigado when I was fifteen years old in 2012. First with the under 15's, I had my first training session, the manager said I was going to continue with the youth team. Step by step, next with the under 17s then with the Primera C, the Primera A, continuing with the process.
The manager Juan Carlos Sanchez also gave me the chance to play a game in the Cup, it was a very difficult game in tough conditions. I then had the chance to play all of the games, I also played for the under 20s. I enjoyed it a lot, I had a lot of support on the pitch, talking a lot on the pitch – always trying to do the right things.
Thank God, I now have the opportunity with another chapter in my life to play in a difficult league, but with work I am going to do things the right way.
Who have been your footballing influences and which players have you looked to emulate?
Footballers I have always admired, there are so many. Europe has always had so many great players. I like Sergio Ramos for his aggression and the way he plays.
I like what Pique does, for his personality; this unique personality that he has. Rio Ferdinand, with his pace, he did well, not the best technique but always very strong in his position. What [Javier] Mascherano does for Barcelona.
These are some of the players I have admired since I was young.
With these influences, what type of player is Jorge Segura?
A player who is very calm on the ball, genuine. I like to always play it out from the back, I am a very quick player, strong in the air, a player who tries to approach on the field duels intelligently, I try to be a danger from dead ball situations.
I am a player who tries to maintain high concentration for 90 minutes. On the pitch I am very serious, but when I am off it I like to laugh and enjoy everything I do.
Obviously discussions are still ongoing, but I understand you are in Italy right now, no? What is the plan for the next year?
Well, yes, I am here in Italy, happy to be here in Udinese. In the middle of the year I will arrive at Watford. I will then probably move to another team on loan, while we arranged the papers for me to continue playing with Watford. With God's help everything will go well, and we will see what follows.
So, how are you preparing for this important step in your career?
Teach myself English! I need to learn English, it is a little complicated for me but I know I need to learn some English.
What do you know about English football, what is your opinion of it?
There are no easy games, everyone can beat everyone. There are very strong teams, very dangerous teams. The football is very strong, very physical.
It is a very competitive league, anyone can win, many teams have chances to win trophies. There are lots of important games, you can see how much it means to the people and I am looking forward to getting a chance to play alongside these important figures.
Thank you very much Jorge, we are going to follow your development and your career in Europe. I really appreciate your time.
No no, it is with pleasure and thank you for the invitation.
---
Full audio from the interview is available below, in Spanish.