I like Leicester.
From rescuing them in the Championship, to returning them to Premier League at the first time of asking, we've grown together.
We have a few cracking English prospects that I have very high hopes for, but sentimentality has no place in this series, so unless they can offer me the big bucks, I'm outta here.
With that said, one of the Premier League's big boys comes knocking with a big, juicy contract.
It's Tottenham Hotspur, languishing in mid-table, with an ageing squad, personified by the thirty-eight-year-old Hugo Lloris, who is a year ahead of the decrepit Jan Vertonghen.
Both are still regulars in the squad.
Dele Alli and Harry Kane, both showing the levels of their ambition, are still in the first team as they enter their thirties.
It's a squad very much in need of a shake up, but first we have the last few months of the season to contend with – after all, the last of the Europa League spots is still up for grabs.
I should point out that my contract with Tottenham is £55k p/w – a massive increase on the £21k Leicester were paying me.
With the final Europa League spot sewn up thanks to a late season run, it's time to set about transforming the squad:
Out go Lloris, Vertonghen, Lamela (32), Icardi (32), Javi Martinez (36) and James Rodriguez (33) for a combined £62m, £40m of which comes from Juventus, a fee that – while he's still a useful player – is mental for a player Icardi's age.
In come Wilfred Ndidi and Alex Grimaldo – real-life players still in the game – along with the Argentine duo Gaston Tus (a striker) and Pablo Morales (a central midfielder), both of whom are world class players.
The new season starts well.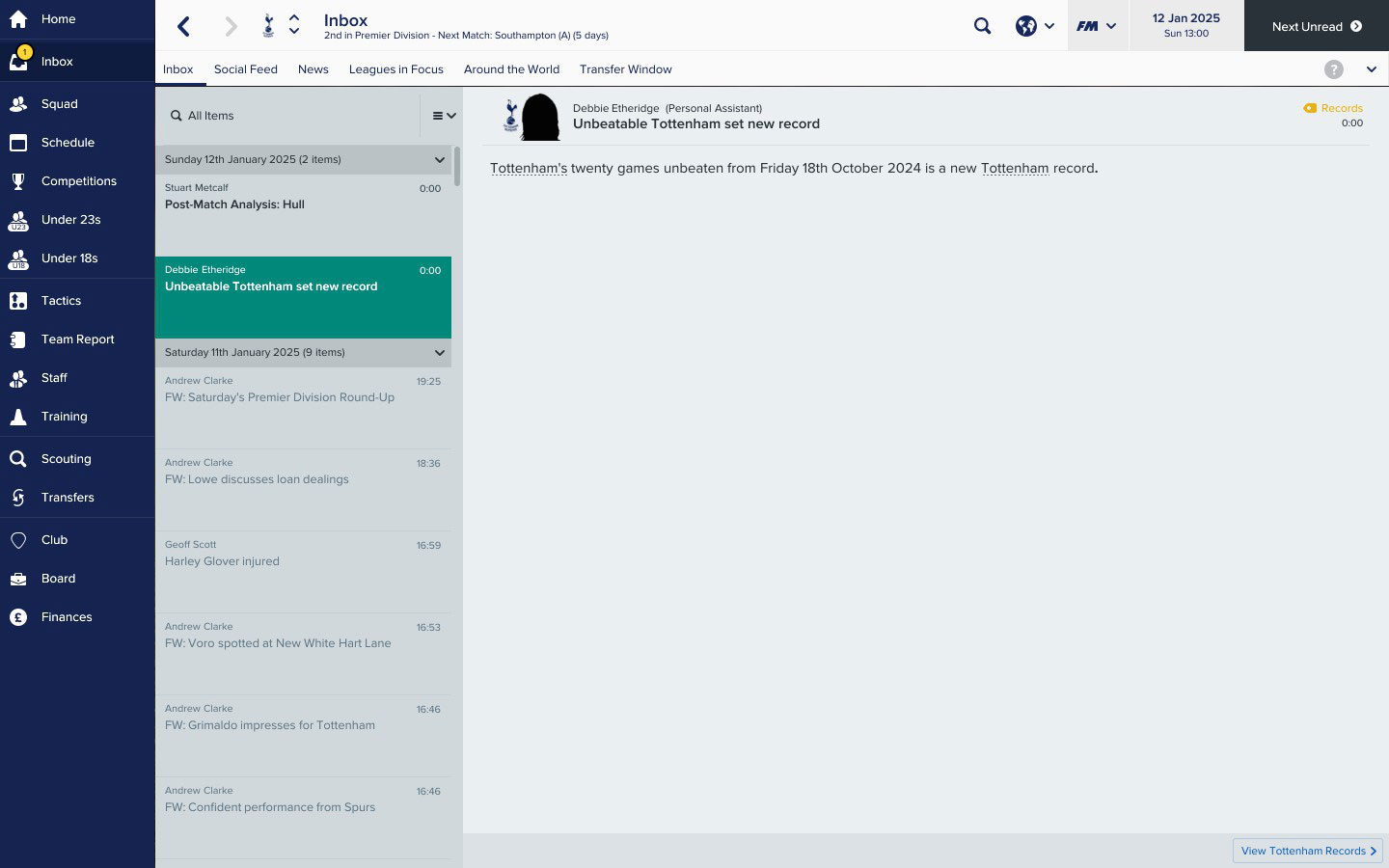 We breeze through the group stages of the Europa League, and come mid-January, just as I'm celebrating my first calendar year as Spurs boss, we sit second in the league behind the seemingly invincible Manchester United.
Confidence is high; we have just reached twenty games unbeaten. However, anything is possible this season – the FA Cup, the Europa League and the Premier League are all there for the taking.
Can we keep this form going?