Friendly matches have always been part of football, and tournaments like the Audi Cup are still useful exercises.
By James Nalton in Munich
---
International friendlies at both club and national team level have existed far longer than any organised competitions. The earliest encounters weren't given the term "friendly" though, and some were far from it.
The matches were merely a natural product of the sport's growth, as teams sought new competition and new adventures in an increasingly global game. They were games of football played for no other reason than an enjoyment of the sport (or sport in general) and a desire to see it grow.
National teams played each other long before the first World Cup, which took place in Uruguay in 1930. The first ever international saw England face Scotland at Hamilton Crescent, Glasgow, in 1872; while the first non-European international clash was between the United States and Canada in Newark, New Jersey in 1885.
While the rules of the latter game were sketchy and it's not recognised as an official international, it shows that soccer in North America dates back further than the World Cup in 1994 and the creation of MLS around the same time. Reports of a fight, and "reckless kicking and rough and tumble play" in a 1-0 win for Canada shows how competitive these matches were.
OTD 1885: The United States hosted Canada in the first international match to be played outside the United Kingdom. https://t.co/gSlhCBa2fk pic.twitter.com/hm7dwmMs2E

— Brian Seal (@BrianSeal) November 28, 2016
Club sides, meanwhile, embarked on tours of far-flung lands and, especially in the case of English sides, would leave behind certain traditions, team names, and sometimes even players.
"Club teams developed connections abroad, as Southampton did on its first tour of South America in 1905," says Frank J Lechner in his book, Globalization: The Making of World Society.
"Celtic's 2-1 defeat by a Copenhagen team in 1907, the first British team loss on the continent, showed that its inventors were already encountering tougher opposition.
"Many clubs began to play such international matches, creating new ties and a common soccer culture."
To this day, international club friendlies are still played so that teams can make new connections and gain new fans, improving their profile abroad.
Perhaps surprisingly, their purpose isn't too dissimilar to those played in the early part of the 20th century, even if the games are now eclipsed in terms of prestige and importance by now age-old, highly regarded organised domestic and international competitions.
Even today some are far from friendly, as was evident in the Audi Cup match between Napoli and Atletico Madrid at the Allianz Arena in Munich. The game saw Atleti defender Diego Godin sent off after receiving two yellow cards, each of which might have seen red during the season proper.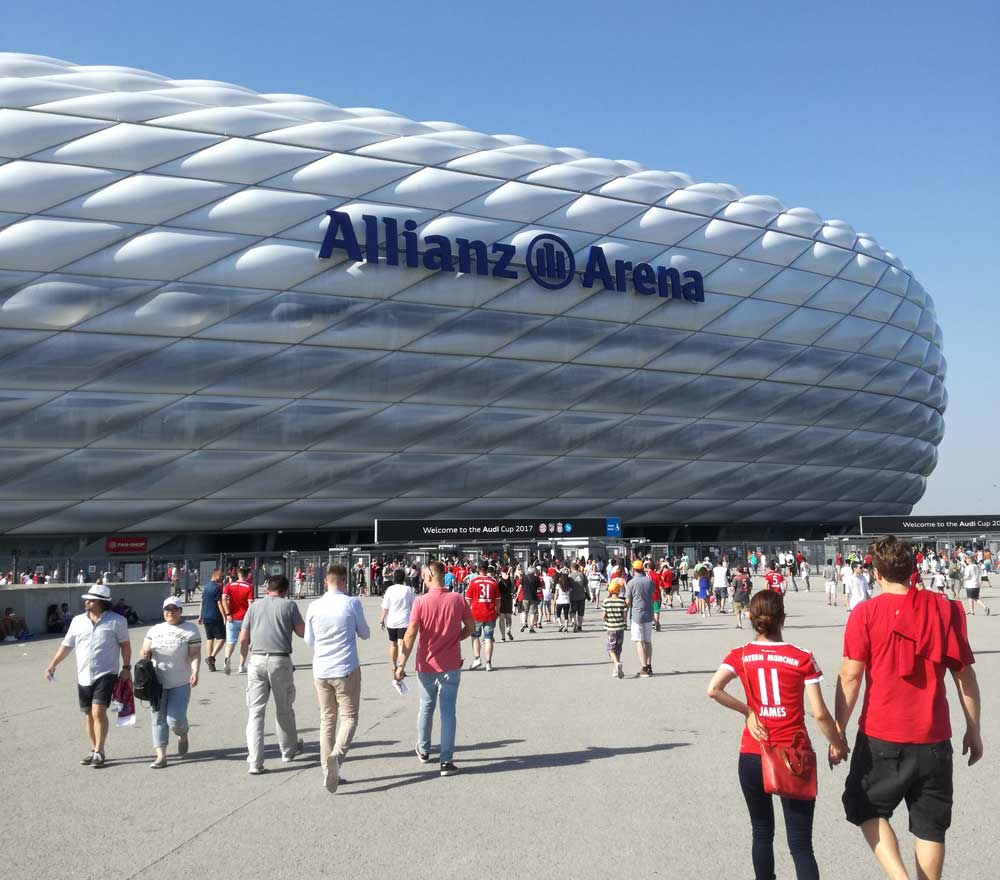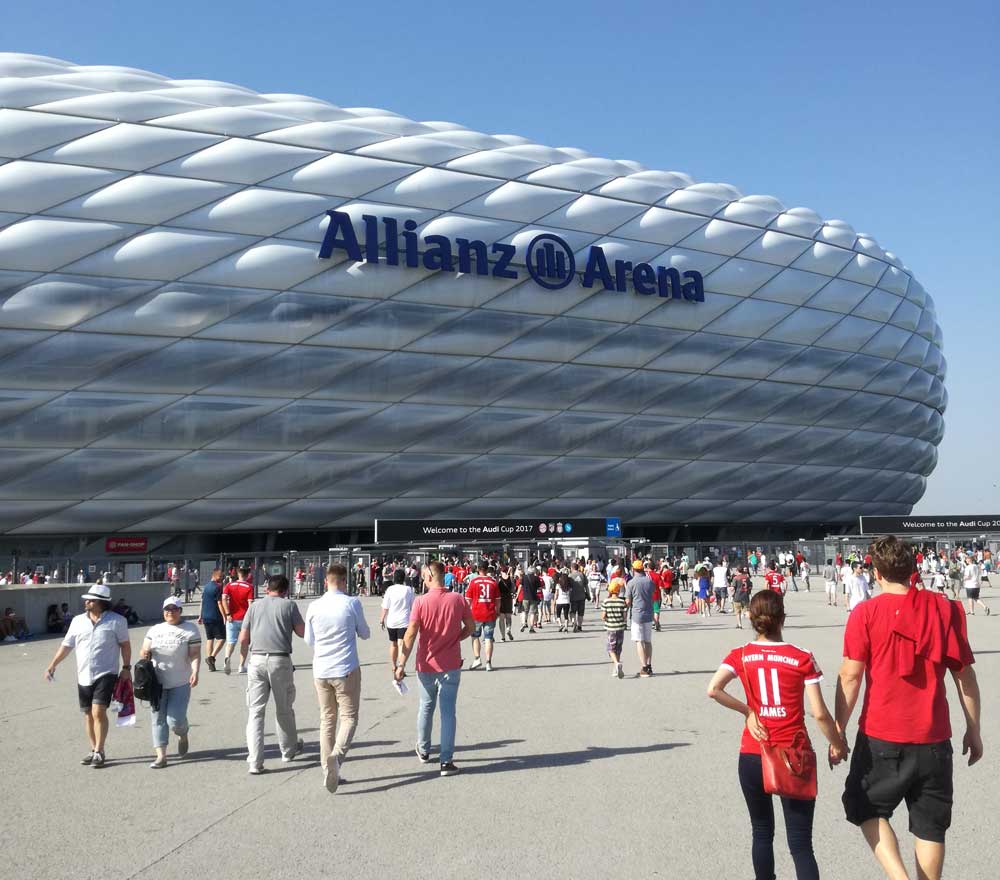 Tournaments like the Audi Cup provide teams with a cross between a friendly match, an exhibition match, and a training exercise. The exhibition element is handy when it comes to gaining new fans, as potential new supporters watching at the stadium and on TV around the world will be looking to be entertained.
To some extent, all four teams put on a show in Munich, in a tournament which is as much about enhancing Audi's brand as it is those of the teams, but Liverpool and Napoli especially can be pleased with the brand of football they played.
Liverpool manager Jurgen Klopp alluded to the balance between winning and entertaining after his side's loss on penalties to Atletico Madrid in the final.
"Atletico wanted to win the cup," he said. "We did also, but we also wanted to play football, Atletico only wanted to win the cup.
"You could not have a more difficult job against a team like Atletico. They get results and results and results. It was offence against defence. It doesn't make life easy.
"It was a completely different job to do from the Bayern game. Atletico left the game to us and said 'come on'."
This isn't to say that the tactics of Diego Simeone's side aren't entertaining in their own way, but his style is more likely to be appreciated by students of football as opposed to the casual fan.
As hosts of this tournament, Bayern Munich have little to gain on the pitch and everything to lose, and in his second post-match press conference of two days you got the impression that Carlo Ancelotti was glad to get the whole thing over and done with.
Bayern lost both their games to impressive Liverpool and Napoli sides, but the nature of these matches means that it isn't time to worry just yet.
Just as Atleti's celebrations will be tempered by the fact that it isn't an esteemed trophy, the Bavarians can largely ignore the results and focus on preparing for upcoming games in other more prestigious competitions.
This isn't to say that teams get nothing from such fixtures, though. They provide a chance for new players, and maybe even new tactics, to embed themselves into the team, and the games always provide a good indication as to how a manager will set his side up in the coming season.
In fact, lots can be learned from the friendlies themselves in football terms, but trying to glean something from their results is pointless and even perilous, especially after a run of convincing pre-season wins.
Players get the opportunity to improve their fitness in a competitive match environment, and the penalty shootout practice which Liverpool and Madrid experienced should serve them well in the cup competitions to come.
These tournaments may be overhyped by the organisers, but they can also overly derided by fans,. The idea of them is nothing new, and as long as the teams are able to train in the right conditions while based away from their home, they're useful.
Atletico Madrid may not count the Audi Cup in their honours list at the end of the season, but the familiar manner in which Simeone set his side up to win it will be the blueprint for the rest of their season in a league where they will need all their stubbornness and guile to succeed.