In last week's edition of the Bundesliga Zeitung, I wrote about how important it was for the overall benefit of the Bundesliga that Borussia Dortmund were able to step up to the challenge of Bayern Munich in 'Der klassiker' and defeat the reigning champions.
The importance of that would not only be to Dortmund's title challenge, but also to other teams hoping to mount one. Perhaps more significantly though, the league itself needed it, both domestically and from an international stand point.
Instead, we got what many of us expected: a comfortable Bayern victory and a title race becoming an all too familiar canter towards the finishing line.
I say this, not because of my affinity to Borussia Dortmund and my ties to that city, but as an avid fan of the Bundesliga and an advocate of the quality of football on show every week and the famous "unsterilised" atmospheres that German football enjoys.
In a few short weeks, Dortmund have gone from being five points clear at the top, to six points off the pace. That's an alarming drop off in anybody's book. The loss at home to Bayern came off the back of a defeat away to Hannover, a disappointing draw against Frankfurt and that home defeat to Leipzig.
That's just one point from a possible twelve, and on the back of a disastrous European campaign, questions are already being asked of Peter Bosz. Much like his predecessor, the former Ajax coach has seen a positive start to the season quickly evaporate. Though for Bosz, the undesired downward trend is occurring much quicker than it did for Thomas Tuchel.
Marc Bartra's late goal brought scant consolation and little respect to the 3-1 score line. Bayern's early season implosion is now a distant memory and those questioning the decision to dismiss Carlo Ancelotti so swiftly are currently being forced to eat their words.
Jupp Heynckes has quickly picked up where he left off, some four years ago, and got the champions sailing in the right direction on all fronts. The humiliation away to PSG was the final nail in Ancelotti's coffin as Bayern coach and it will be interesting to see just how they perform when the two sides meet again for their final group game in early December.
When Jupp Heynckes took over Bayern, they were five points behind Dortmund.

Four Bundesliga games later and Bayern are six points ahead ✊ pic.twitter.com/dJ53wHwoy9

— Goal (@goal) 5 November 2017
Whilst Bayern are now faring better in the Champions League and looking assured of qualification, the same cannot be said for the rest of the Bundesliga sides in Europe this season. As I alluded to earlier, Dortmund have seen their Champions League campaign end disastrously. Although not yet mathematically eliminated, that will surely come as their only points in a tough group have come from draws against Apoel Nicosia – humiliating results for a club the stature of Borussia Dortmund and the quality within its squad.
RB Leipzig are also in danger of exiting the competition at the group stages and probably need to win their final two group games to stand a chance of qualifying. However, this is Leipzig's first ever Champions League campaign, so will likely not be chastised the same way Dortmund, quite rightly, will be for their performance in the competition.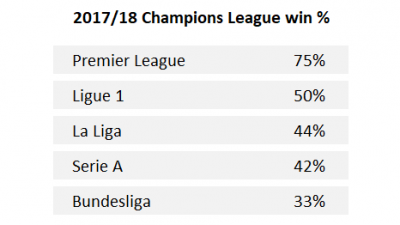 Looking at the table above, comparing the win percentages of teams from Europe's top five leagues in this season's Champions League group stage. Of course, it is only a snap shot of data and perhaps at a later date, I might take a more in depth long-term study of performance data for the top five leagues over a ten year period to see what trends exist. The other point to consider is the effect of seeding and the quality of group opponents in some results for some of the teams included in those statistics at this point in time.
However, even if you believe in a degree of extenuating circumstances that may provide some variation in results, there can be no excusing just how poor this campaign has been for Bundesliga sides in Europe. That goes beyond a disappointing return in the Champions League to an arguably even worse performance in the Europa League.
In that competition, the Bundesliga currently has a pitiful 25% win percentage in the group stages this season. Hoffenheim, Hertha Berlin and Köln all have one solitary win apiece. When you look at their respective groups, it's a very disappointing return; there's no way of dressing it up.
Joachim Low on the Bundesliga: "The weak performances of German clubs in Europe is hopefully just a momentary blip but it is alarming." pic.twitter.com/CNedo7qRoo

— Squawka News (@SquawkaNews) 5 October 2017
All of this impacts upon how the Bundesliga is perceived to casual observers. Some may think that as an unfair way to judge a league from afar, but it is what it is. Since the all-German Champions League final at Wembley in 2013, the competition has been dominated by La Liga – producing all four winners since then and six of the eight finalists. Bayern were regular semi-finalists under Pep Guardiola, but unable to take the next step. More importantly for the Bundesliga though, only Dortmund have occasionally threatened to match their representation of the Bundesliga at that level.
There is little doubt that PSG changed the landscape of football in the summer, with their 222 million Euro purchase of Neymar, and the manner in which it was conducted. Whilst Dortmund arguably capitalised on this with the deal they negotiated with Barcelona for the sale of Ousmane Dembele, their reinvestments remained at a sensible level of spending. Aside from Bayern Munich, Bundesliga clubs cannot spend the amounts of money regularly seen in the Premier League or by the Spanish elite.
Part of what keeps German football special is its protection from takeovers the like of Chelsea, PSG and Manchester City, followed by disproportionate spending. Supporters still proudly hold the keys to their clubs and the game. The unfortunate thing is that modern is ruled by money, so the best way for the Bundesliga to hike its revenue will be overseas broadcasting rights.
This brings us right back to where we started and the marketability of a league that deserves to be much more popular worldwide than it is. The Bundesliga needs increased competition for Bayern. Add competitiveness to the exciting football and incredible stadium atmospheres and the Bundesliga becomes a higher demand product. The increased revenue that would bring would perhaps allow more Bundesliga to keep their emerging stars and maybe even attract others.
Sadly, it's all easier said than done and the question of how the rest of the Bundesliga catch up to a monster like Bayern is likely to remain unanswered for the foreseeable future.