The start of any Premier League season always comes with its own special brand of excitement and enthusiasm and this season is no different.
But for Liverpool fans in particular, there's an extra buzz in the air. Last season's Champions League exploits enthralled everyone until the very end, despite its heartbreaking conclusion. But the run had Reds everywhere daring to dream.
There was a widespread consensus among the fanbase that Liverpool were only a few players short of building a team that could challenge Manchester City in the league, and challenge for trophies in cup competitions.
A fine 4-0 win over West Ham at Anfield on Sunday afternoon added fuel to the fire that Liverpool could achieve much this season.
Here are five talking points from the match.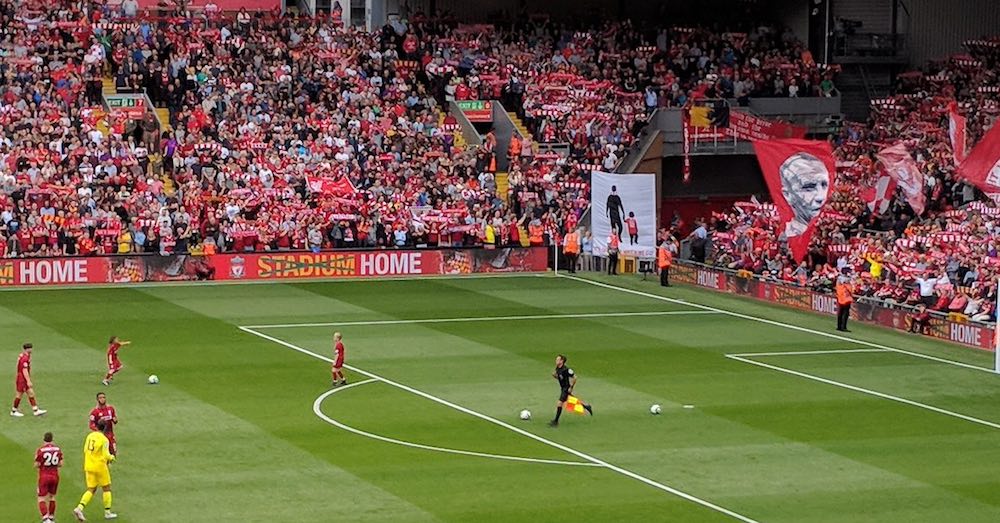 New Signings
With Naby Keita already wrapped up last year, Fabinho, Xherdan Shaqiri and Alisson Becker were added this summer.
All of these players addressed key issues that had plagued Liverpool for a number of years.
The defensive midfield position has been the source of much angst for fans over the years, and Klopp identified Fabinho as his man for that role.
Shaqiri's versatility could prove to be key in unlocking stubborn defences, and provide a strong option from the bench. And the acquisition of goalkeeper Alisson from Roma has addressed a hugely problematic area for Klopp. It remains to be seen how the Brazilian number one does in his first season in the Premier League but, so far, all the signs are looking good.
However, only two of the four new Reds started against West Ham at Anfield on Sunday afternoon –Keita and Alisson.
Keita shone in midfield alongside James Milner and Georginio Wijnaldum. There has been much praise thrown the Guinean's way since Klopp signed him from RB Leipzig last summer, and he took no time at all to show why the manager wanted him.
He knows how to pick out a decisive pass for the forward players and can hustle when needed, too.
This was evident in Liverpool's first goal when Keita collected the ball from near the halfway line, running to the edge of the box before finding Andy Robertson on his left who crossed precisely for Mohamed Salah to tap the ball in.
Keita seems to be the missing link in Liverpool's midfield, where creativity was sometimes lacking. With someone who has the vision to look forward and the ability to initiate attacks, it's possible Klopp could have found a gem in the middle of the park. He could well herald the return of the Fab Four.
Alisson, in contrast, had little to do but was solid when called upon. He has an uncanny knack of accurately finding a red shirt in the most advanced areas of the pitch, making him a more complete goalkeeper than we have seen at Liverpool for some time.
Klopp commented on his calmness in the pre-match press conference which will further stabilise the defence after Virgil Van Dijk's addition last January.
Stellar team performance from #LFC today. Alisson barely called upon on his league debut.

Thought midfield trio were very good. Graft, composure and dynamism. Keita outstanding, and great to see 21 and 19 year olds in a defence which was led superbly by Van Dijk.

— Neil Jones (@neiljonesgoal) August 12, 2018
Salah, Mané and Firmino
The most potent attacking trio of last season looked to continue where they had left off. It took the Premier League golden boot winner, Salah, only nineteen minutes to start his new goal-scoring campaign.
Sadio Mané added to Liverpool's tally with a brace, further cementing his place as a force upfront.
Roberto Firmino did what Roberto Firmino often does. The silent assassin quietly went about his business creating space for his teammates to wreak havoc, pressing and winning the ball back.
The Brazilian was often misunderstood in this vital team role when he first joined Liverpool, but the footballing world has now come to recognise his input in this team, and why Klopp rates him so highly.
It appears these three will continue to terrorise defences and captivate football lovers the world over.
Super Sub Sturridge
Much has been made of Daniel Sturridge's Liverpool resurgence in pre-season, maybe prematurely so, but the striker looks to be hungrier and more motivated than ever to succeed.
His unsuccessful loan spell at West Bromwich Albion last season looks to have reignited his love for Liverpool, with him making the analogy of a "girlfriend (Liverpool) giving him a second chance at love".
His five minute cameo at Anfield against West Ham resulted in a goal just twenty-four seconds after his famous backwards entrance onto the hallowed turf.
Milner's corner found him lurking at the far post which he leapt at and struck past Lukas Fabianski.
The dance immediately followed as Sturridge announced that he's back in business. Injuries permitting of course…
James Milner
We're not sure whether James Milner would have started on Sunday had Fabinho been fully fit and ready to start. The newcomer had been ill in the past week, making Klopp's decision a little easier.
Jordan Henderson was also on the bench after his late return from the World Cup following England's semi-final exploits in Russia.
This left only Wijnaldum, Keita and Milner to start. Despite having fifteen stitches across his forehead last week, the thirty-two year old Yorkshireman, sporting a rugby style headband, battled in midfield, setting up Manes first goal with a fantastic effort, keeping the ball in play whilst simultaneously crossing it into his team-mate's path.
He didn't lead the assist chart in the Champions League last season for nothing.
He won't get many mentions, what with Keita's debut, Alisson "Wonder hands" (I'm copyrighting that nickname 😉), Salah scoring (again) and a Mane brace (so far)…

… but @JamesMilner has been bloomin' superb today, as per!#LFC #LIVWHU #YNWA pic.twitter.com/DO3r4Sd4mQ

— Samantha Quek (@SamanthaQuek) August 12, 2018
Strong Bench
Much of the time, Liverpool's downfall in certain games has been their bench. Particularly last season, the substitutes saw a massive drop off from the level of the starting eleven.
World class players, Mané, Salah and Firmino were deputised by the likes of Dominic Solanke and Danny Ings; good players in their own right but nowhere near good enough to fill the boots of the aforementioned players in huge games.
In the latter stages of last season, Wijnaldum, Milner and Henderson were the only three senior midfielders available to Klopp. Admittedly, there were injuries to key players Alex Oxlade-Chamberlain and the recently departed Emre Can, but depth was a major thorn in Klopp's side. One that almost certainly cost him dearly.
In the Champions League final, Real Madrid brought on eventual match winner Gareth Bale whilst Klopp could only call upon Adam Lallana, who hadn't played for the majority of the season through injury.
Imagine the difference an explosive player like Shaqiri could have made in that final.
Fast forward a few months and Liverpool's bench was bolstered by some real quality. On Sunday, Henderson, Shaqiri, Fabinho, and Sturridge graced the substitutes bench. All potential game changers. One less headache for Klopp if things aren't going his way during matches.
There is much expectation around Klopp's Reds for the coming season, and Sunday's 4-0 win will have only reinforced those expectations. Especially as Liverpool looked as though as they were barely out of second gear against the Hammers.
Sterner tests lie ahead, but Klopp could not have asked for a better opener than that.