By James Nalton.
81 Bundesliga appearances, ten goals and 16 assists. Seven German Cup appearances with two goals and four assists. Eighteen Champions League appearances: three goals and two assists.
These don't sound like the statistics of a player who has only just turned 20, but Christian Pulisic is no ordinary player.
For promising young players from the United States, the Freddy Adu Maxim usually applies — overhype them at your peril — but for Pulisic it's been a different story.
Adu didn't dub himself the next Pelé, it wasn't his fault, it was the fault of a nation giddy at the possibility of its first true world soccer star, but since then there has been more caution.
That was until Pulisic arrived.
Dortmund Development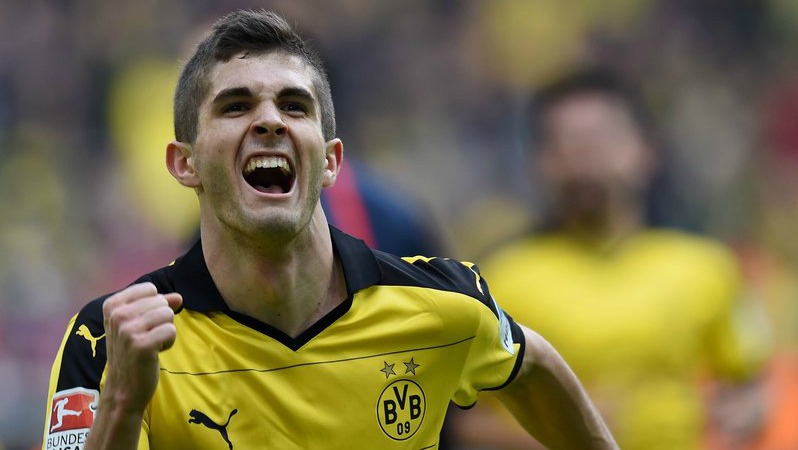 It's easier to attach hype to Pulisic as in one sense he has already made the first big step, even though there are plenty more to climb.
He's already appearing for one of the biggest clubs in world soccer – Borussia Dortmund – and isn't merely a youth or reserve player for them.
As the appearance statistics show, he's a regular in the senior side. During the 2016/17 season he played 1,545 minutes in the league, and this rose to 2,312 in the last campaign.
He was part of the Champions League "Breakthrough" XI in 2016, and played a part in Dortmund's DFB Pokal (German Cup) winning side a year later.
The current campaign has been one of his most challenging so far, but even though it has been interrupted by irksome injuries, he has still made 12 appearances in all competitions, scoring three goals and adding four assists.
Style Counsel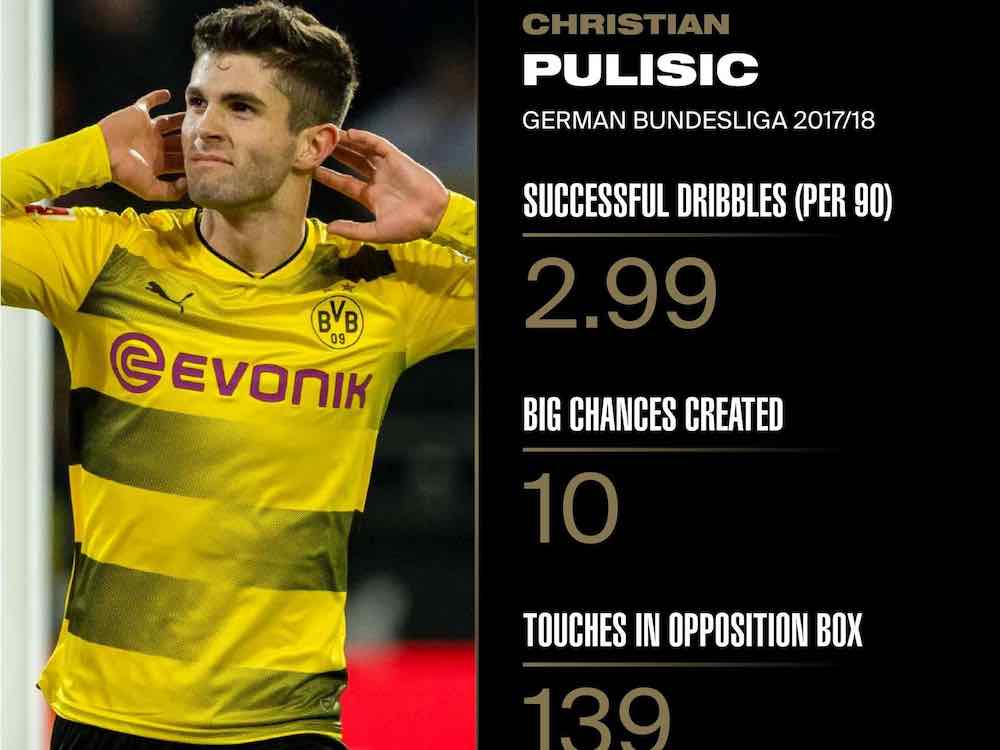 Pulisic's success to date has been partly down to his ability to adapt to modern-day tactics at such a young age.
He falls into the versatile attacking midfielder category, having played on either flank as well as No.10, and is able to work defensively from these positions.
Pressing or defending from the front is an important part of modern-day soccer, and being a part of the club which became famous for it during Jurgen Klopp's time at the helm between 2008 and 2015, he had a head start.
Pulisic's time at the club overlaps with Klopp's for just three months, and even though the American was then with the youth team, it's likely that he will have had some experience of the Klopp style, even if not from the man himself.
In terms of statistics the 2017/18 season gives us the biggest sample size, so using the Football Whispers Lab to look at those, we see that he was:
5th in the Champions League for successful take-ons (dribbles) per 90 with 5.05
1st in the Bundesliga for total successful take-ons (77)
3rd in the Bundesliga for total big chances created (10)
5th in the Bundesliga for expected assists (xA) with 6.49
These stats match the eye test which tells us he's a quick-minded player with good acceleration, boasting the combined skillset of a winger and a No.10.
You could see him playing in several roles, from traditional winger to playmaker, or an inside forward. In the future, he may be able to operate as a false 9.
US Soccer Star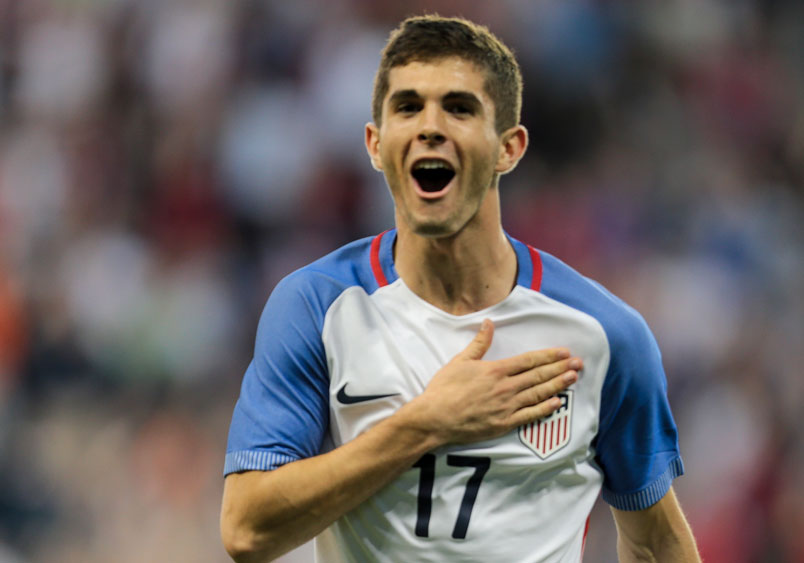 The next challenge for Pulisic is to transfer this to the international stage or, rather, it's the challenge of those in charge of everything United States Men's National Team to help him do so.
Despite reaching the heights of the Champions League and winning a domestic cup for his club, he is yet to truly shine for the USMNT.
Ahead of the end of year international fixtures against England and Italy, he had only made one appearance for his country in 2018. Injuries have played a part, but there have also occasions when club soccer has taken prominence.
This is a familiar problem in international soccer, but it's one the US needs to nip in the bud. The next generation of American soccer players need to be playing alongside Pulisic and gelling with him as part of a team, not waiting for him to turn up and run the show.
Another part of the problem has been finding the best role for him when he has played at international level, and finding the formation which suits him best.
Rather than build it around Pulisic, the USMNT should formulate a plan which suits all of their strengths and then allow Pulisic to shine within it – just as he does for his club.
He's good, but he's not yet "pass it to Messi" good – a ploy which doesn't even work for Argentina with one of the greatest of all time.
This season has taught us that there is still work to be done with regards to Pulisic's development, and the USMNT games against England and Italy will be part of that work.
However, even though he's just turned 20, he's almost beyond the status of rising star, which says a lot for how far he progressed during those important teenage years which hold many US players back.
Pulisic was included in a recent book by influential American soccer writer Grant Wahl, entitled Masters of Modern Soccer.
He took his place alongside the likes of Manuel Neuer, Javier Hernández and Xabi Alonso — all legends of their respective nations. It was further pressure on young shoulders, but so far it appears he can handle it.
At club level, where he'll be able to play with players of a similar standard, he could go all the way to the top, but it's at international level where the true test lies.
If the USMNT play their cards right they could have peak Pulisic alongside a more than capable supporting cast, and more importantly a coherent strategy, by the time the World Cup returns to their shores in 2026.