In 2013, Aston Villa's U19 team won the last ever final of the NextGen Series against Chelsea. Now, the members of the talented Villa team that won aren't really flourishing in senior football, besides two players: Jack Grealish and Daniel Crowley, the latter of whom was just fifteen – yes, fifteen – at the time.
Crowley went on to play for the U16 and U17 teams of both England and Ireland. Soon enough, Arsenal signed him. The youngster, who stands at 5'9", was constantly compared to Jack Wilshere, which is an obvious comparison given… well, Arsenal, and the fact that they're both fairly small, technical, agile midfielders, who can pick a pass and take a man on well.
Flash forward a few years, and after a few seasons in the lower divisions of England's Football League, Crowley is now flourishing in the Netherlands at Willem II. He is far from unknown though, with his performances now attracting a decent bit of attention from elsewhere. Even though there's the general caution people have when talking about hot Eredivisie prospects, he deserves more recognition than he gets, writes Ashwin Raman.
Everybody follow @danielcrowley24 trust me when I say this kid is a player! Big future….

— Jack Wilshere (@JackWilshere) October 31, 2013
How does he play, and what's to like about him?
First, let's talk about Willem II for a bit. They're a mid-table side that don't look to keep the ball all the time; they play the 9th-fewest passes in the league, but at the same time, 66% of their shots come from inside the box — the third-highest in the league.
What this means is, while they're not a possession-based side, they still make a point of getting into high-quality shooting positions.
While a lot of the responsibility on moving the ball forward into those aforementioned shooting positions is on Crowley, he doesn't do things that others like him do, such as passing it around a lot (he plays just forty passes a game, which isn't a lot) because of the system he plays in.
Crowley is the most advanced midfielder in Willem II's midfield trio. He's the team's most influential passer, practically controlling the middle third and the attacking third for them when they are in possession. In terms of passing quantity, he plays 11.3% of his team's passes, which is by far the highest in the team.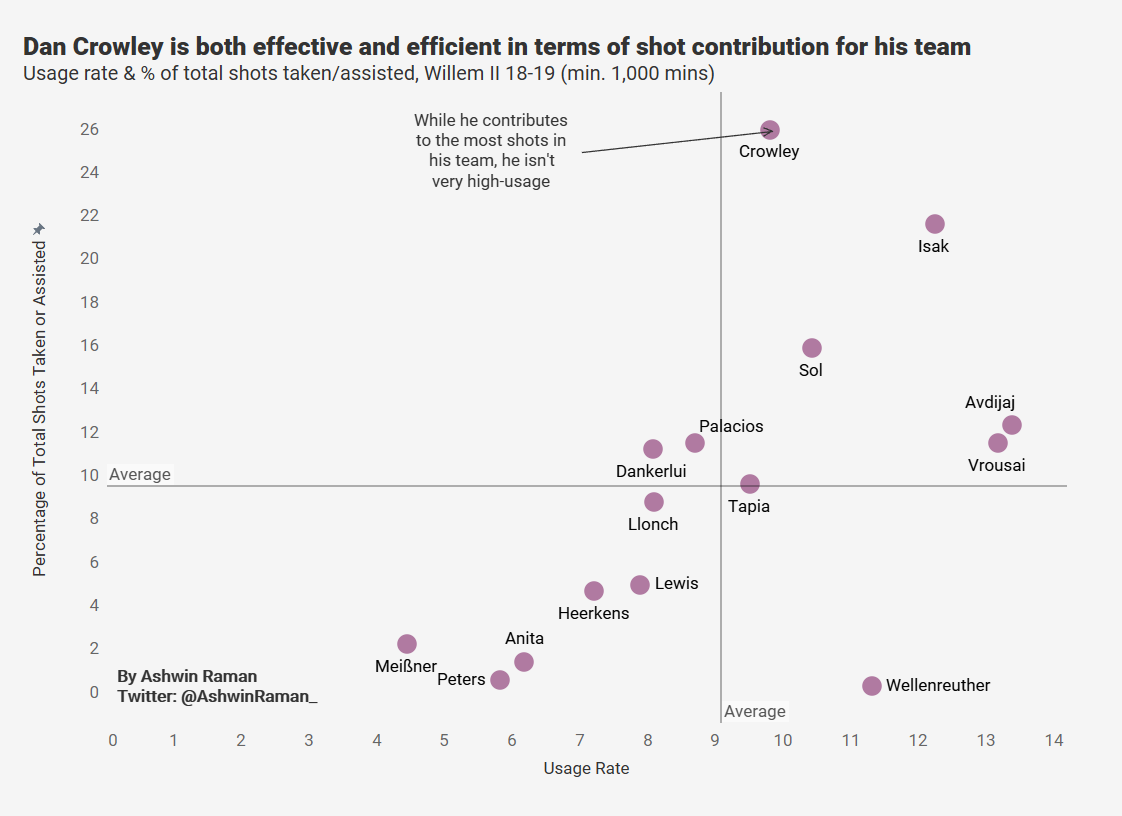 Borrowing a concept from basketball analytics – and Martin Hawkes-Teeter, who's been applying it to football for quite a long time now – Crowley has the 6th-highest usage rate (the percentage of team possessions ended by a single player) among all Willem II players that played at least 900 minutes in the 2018-19 season. But at the same time, he either takes or assists 26% of his team's total shots, the highest in the team.
What this means is, while he's effective in the final third for his team — directly contributing to close to 30% of his team's shots — he's efficient, too.
When players make a jump in team quality, sky-high-usage players sometimes end up contributing less when they get less opportunities to use the ball in the final third (think Philippe Coutinho at Barcelona and Memphis Depay at Manchester United). But it doesn't look like that's going to happen for Crowley when he moves to a bigger club.
Just stats-wise, he's impressive for an attack-oriented player at a team that takes the third-lowest shots in the league. His shot assist numbers and his dribbling volume stand out in particular.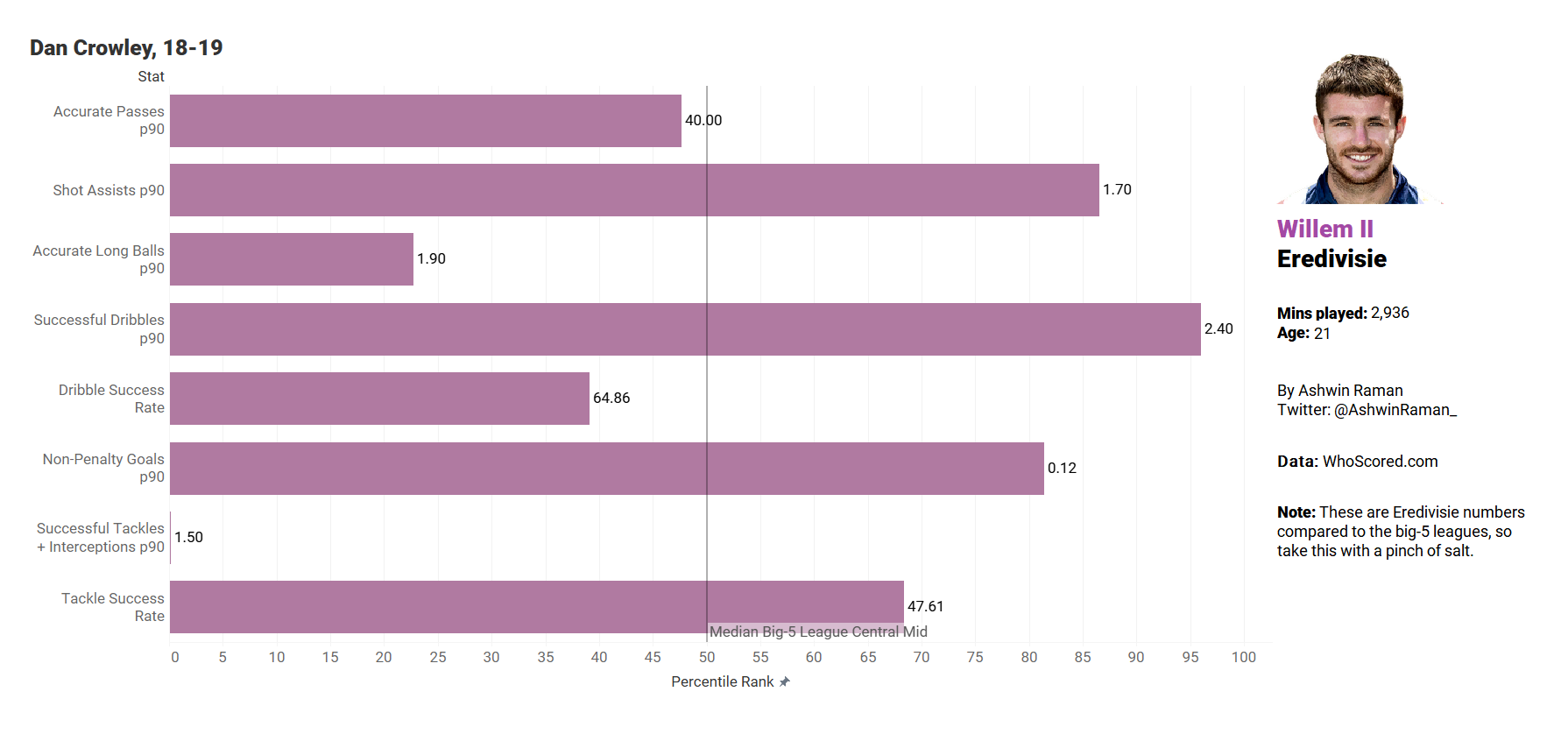 The first thing you notice about Crowley when he gets the ball is, well, how he gets the ball. His first touch under pressure is excellent, and he usually finds a decent solution to any pressure around him when getting the ball.
Crowley might be one of the best passers in the league. Even in a team that doesn't keep the ball a lot, he's one of the highest-volume passers in the attacking third in the Eredivisie. Not only does he seem to have very good vision while often applying the correct weight on the ball, it looks like he consistently knows which pass to play, too. And his final ball is usually a risky one that comes off wonderfully. Here's an example against Groningen.
He's delivered assists like this at Cambuur in the second division too. Huge thanks to Connor Rowden for showing me this assist.
Another example is this pre-assist from him against NAC Breda.
Crowley is precise with his passing, too. His pass completion percentage is 85%. Pass completion percentages are bad, unimportant stats that aren't indicative of much without context, but here, for an attacking midfielder tasked with playing difficult passes in advanced areas in a team that doesn't look to keep the ball all the time, this is a hugely positive stat.
It means he completes far more passes than what most players would do if they were to attempt the same passes.
His dribbling and general press resistance is his other attribute that stands out. Just in terms of dribbling volume, his 2.4 successful dribbles per 90 minutes is the third-highest in the league for his position, with only the much-vaunted pair of Hakim Ziyech and Martin Ødegaard beating more players on the dribble than him.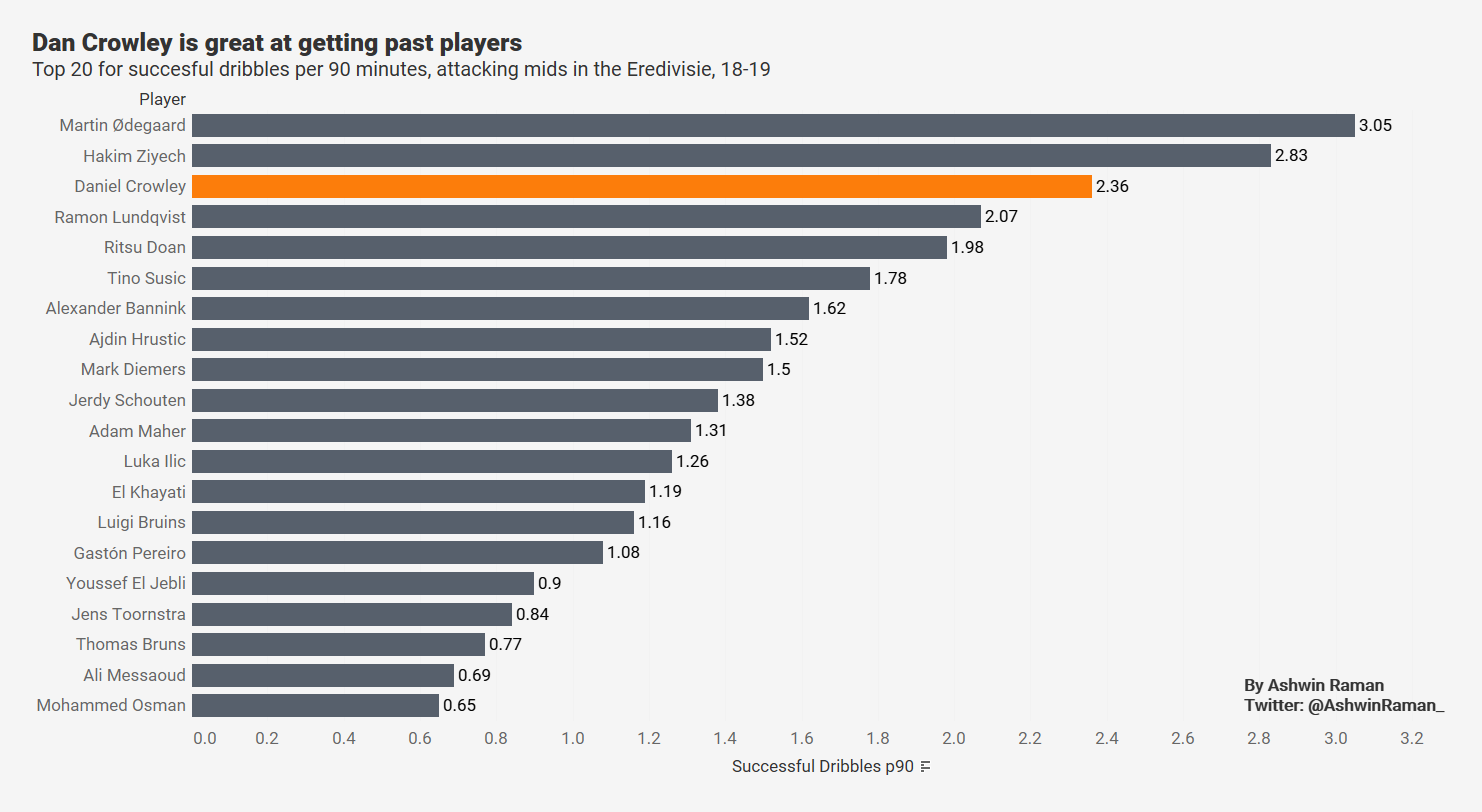 Crowley usually carries the ball forward in central areas and attracts space for him and others in his team to move the ball into, and he is a great zone mover.
It looks like he's well-coordinated on the ball, and modulates his speed, direction, and body shape on the ball wonderfully to get past defenders. Here's an example of his trickery with the ball at his feet leading to a goal for him against Fortuna Sittard.
In this goal, he takes a heavy first touch that baits the defender into going for the ball to early, which lets him move it into space for a shot.
When his team is in possession and he doesn't have the ball, he usually comes deep towards the ball when the ball is around the middle third, but when it's close to goal, he either stays outside the box or arrives late.
This isn't a surprise considering that Willem II often use crosses when it's not going through the middle, and Crowley, who is 5'9", is far from an aerial threat.
Finally, Crowley is a more-than-adequate set piece taker. He is the team's go-to guy for the dead ball, and he's assisted three goals from set pieces. He can cross the ball well too, with him assisting fifteen shots and three goals from crosses.
What should clubs looking to sign Crowley be cautious about?
For starters, Crowley is fairly light and could probably look at getting stronger – some of his dispossessions are a result of him simply being muscled off the ball. But this is a standard issue that people have with most skilful number tens like him, and it might not be that big a problem.
As good as Crowley is when his team has the ball, he doesn't do much to win the ball back when his team lose it. This is usually his positioning in relation to his teammates when Willem II don't have the ball.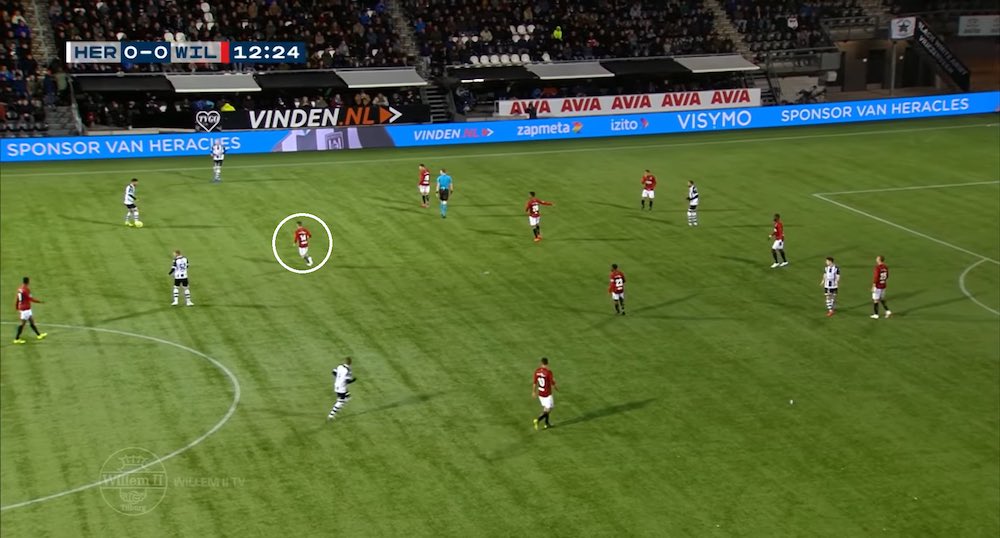 He wins the ball back a mere 1.5 times p90, which is low, even for attacking midfielders. It's also clear while watching them that he simply isn't a very hard worker off the ball.
However, there's a good chance that winning the ball back isn't his role in a team that allows the second-most passes against them in the league.
Another issue is that the better teams don't seem to have a place for advanced midfielders of his type anymore. Players like Mesut Özil, James Rodriguez, Isco, and Coutinho all have trouble getting into their teams nowadays. This raises a question on how he fits into the systems of most high-quality attacking teams.
His one-footedness might be another concern. He took no shots from his left foot in the 2018-19 season, and he almost always uses his right foot to pass the ball, too. Sure, players like James Maddison and Nabil Fekir thrive while being dependent on one foot, but one-footedness can lead to predictability.
Finally – and this is an obvious, slightly overstated point – not everything an attacking player does in the Eredivisie translates very well to the big five leagues.
This fact could particularly apply to Crowley, for whom it may be more difficult to find space either in front of or behind any backlines he could face in a different league.
All in all, Crowley is nothing short of a gem, and he wouldn't be prohibitively expensive. There are parts of his game that he could improve in order to reach the next level as a player, but don't be surprised if he turns out for a big five club bordering on Champions League qualification in the next few years.
---
Featured image: @willemii
Data from WhoScored