By Daniel Lucci.
How Important Can Belotti Be To Italy?
With another International break looming and two more important matches for Italy for their hopes of qualifying for Euro 2020, there are many aspects needed to make this team click.
The most important of these might be finding a first choice striker that can lead their line.
With limited striking options, the most rational and talented option to fill the position is Andrea Belotti.
Belotti, like many others, just needs time to build the chemistry to prove himself for Italy, just like he has done for Torino during the past few years.
Belotti is undobtedly the most important player for Torino, and the captain continues to lead by example year after year.
Having already collected five goals in seven Serie A matches this season, Belotti has contributed to 50% of Torino's goals, and it is safe to say they would not be where they are today without him.
Now the 25-year-old striker needs to be just as lethal for the Italian national team as he is for his beloved Torino.
The Azzurri clearly lack talented depth in the striker position, and that is why Belotti needs to step up and deliver. Italy will rely on him just as much as Torino do. Right now, Belotti is Italy's best out and out striker and if he is unable to perform, the lack of depth would hinder the Azzurri's chances.
No disrespect to the likes of Kevin Lasagna, Ciro Immobile or even Fabio Quagliarella, who are all wonderful players, but they do not possess the same skill or grit Belotti has up top.
Belotti has good pace, is a solid finisher, good in the air, athletic, and his holdup play is great — something which Italy needs.
If he is able to hold the ball up and distribute it to one of the midfielders or wingers, this would hold possession and help generate scoring opportunities for the team.
The chemistry between Belotti and the wingers will be crucial to Italy and their success, and if they are able to build this chemistry, things would really begin to click.
Italy manager Roberto Mancini already has this team playing much better football in comparison to Gian Piero Ventura before him, but it seems the one thing still missing is a consistent striker. As Belotti only has six goals in 24 matches for the senior team, that is not nearly good enough, but we all know he is capable of much more.
The Other Options 
Italy have had trouble getting their strikers to score goals. Some of the other options Mancini has used instead of Belotti include the likes of Immobile, Lasagna and Quagliarella, but they are not the answer.
Immobile
Immobile who has been lights out for Lazio this season, but cannot seem to do the same for Italy. He only has eight national team goals in 36 appearances, and is far too inconsistent at international level, or even playing against big clubs with Lazio.
Lasagna & Quagliarella
Lasagna is good for Udinese, but he has no senior team goals for the national team. 36-year-old Quagliarella, meanwhile, who had an outstanding year last year at Sampdoria, has only eight goals in 29 appearances for Italy.
With Quagliarella's best days behind him, it makes sense for the Azzurri to look elsewhere. All these attackers may be decent substitute options for Mancini, but they should not be considered as the main option for this team.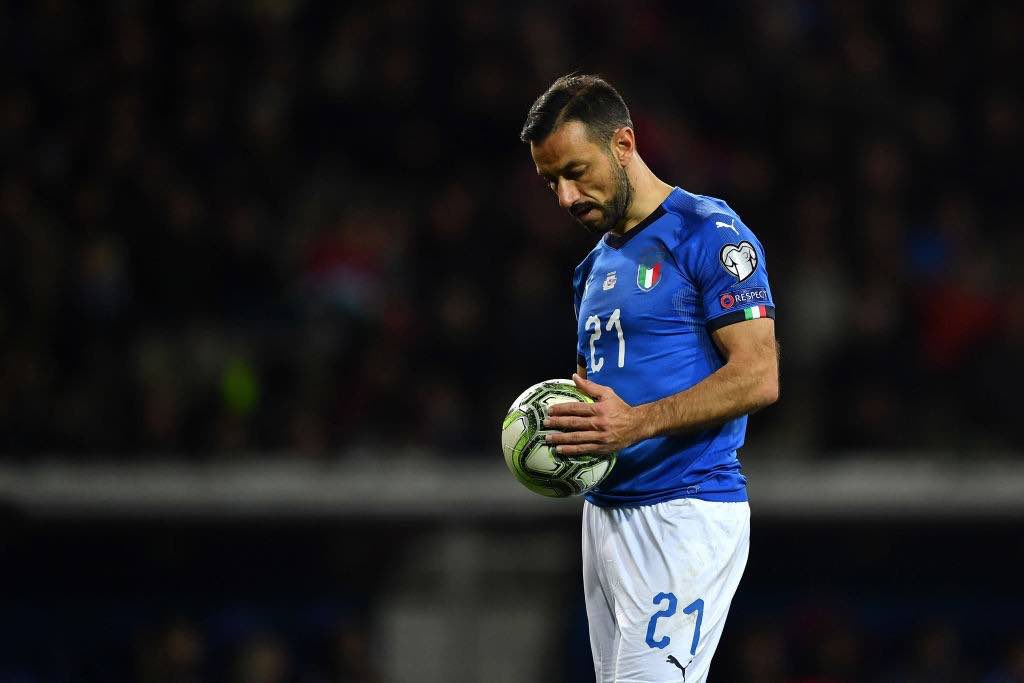 Clearly, Italy are missing that lethal forward which they had for so many years in the past, with the likes of Luca Toni, Alessandro Del Piero, Roberto Baggio et al.
But they do not have to look far to find their number one striker. One who is able to make the difference.
Belotti needs time to adapt to the change in system. He is used to playing in a 3-5-2 with Torino, and Italy tend to play a 4-3-3.
How Important Can Belotti Be?
The simple answer to this is that Belotti has the talent and willingness to be a clear game changer for Italy, just like he is for Torino.
We know this is not as easy as it sounds, for any player. Going up against some of the top international talent, Belotti and Italy need to be at their best, because once the tournament actually begins the opponents will not get any easier.
Once the best XI Italy have are chosen and they are able to become comfortable with each other, they can finally show just how talented they are.
Belotti will have an opportunities to impress when Italy host Greece today. Greece are currently in 5th place in Group J, struggling to get positive results, so this may be the perfect opportunity for Belotti to shine and gain some confidence with the Azzurri.
Italy then play at last place Liechtenstein on Tuesday, which will provide another good opportunity to get the attack rolling.
Keep an eye out for Belotti, who will be out to prove himself on the international stage, and show us all just how important he can be for Italy.