By James Nalton, with Edoardo Ciampelletti.
Georgia is well known in the wider sporting world for extraordinary weightlifters and talented wrestlers who regularly won medals at the Olympic Games, but football is also a major sport in the Caucasian country which borders Russia, Azerbaijan, Armenia, and Turkey.
Almost everybody in Georgia follows football, and there are lengthy discussions around the game on the streets of Tbilisi, Kutaisi, Batumi, and all across the country.
When Dinamo Tbilisi won the European Cup Winners' Cup in 1981, it marked the highest point in Georgian football history with legendary names such as Ramaz Shengelia and David Kipiani, but It seems the glory of Soviet times has passed.
Despite this, the 2019 Erovnuli Liga (the Georgian top division) is one of the most competitive and interesting of the last decade.
Current league standings pic.twitter.com/1IfZ8yts0z

— James Nalton (@JDNalton) October 24, 2019
A newly promoted team, Dinamo Batumi, is top of the 10 team league, and with only five games remaining are fighting for the title with Georgian giants, Dinamo Tbilisi.
Dinamo Batumi is based in the Black Sea city of Batumi, which is usually more famous for its casinos, but in 2019 the football team has also put its name on the map and could become one of the city's attractions.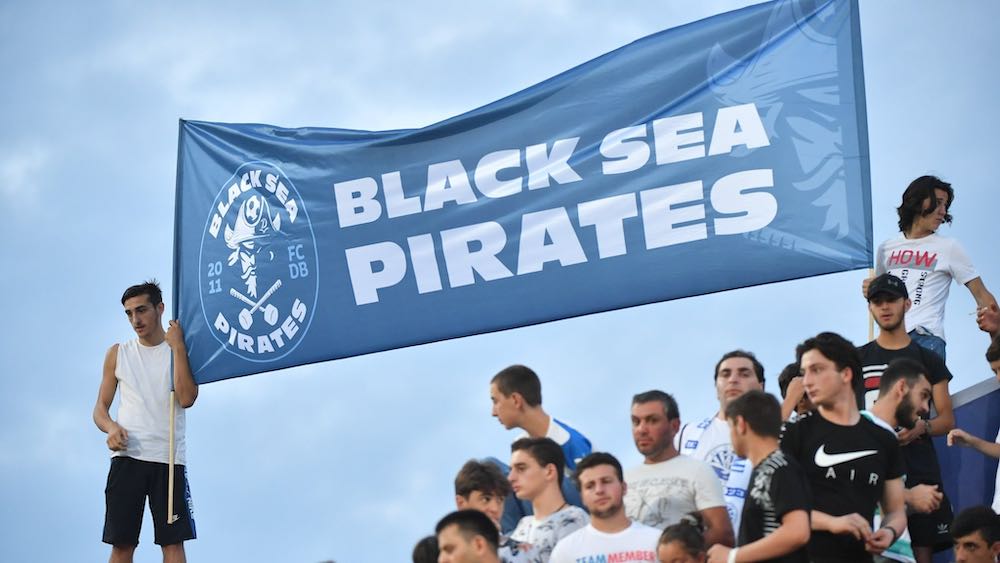 Club treasurer, Edoardo Ciampelletti, told WFi how the club were able to embark on such a great season, fighting for the title despite being relegated to the Georgian second division as recently as 2017.
"After Dinamo Batumi came back to the Georgian premier League in 2018, new investors came in, and that was the decisive factor for the rebuilding of the club," says Ciampelletti.
"A new 20,000 seat stadium for the club is almost ready, and we will most likely play our first game there in three to four months.
"There is also the Angisas sporting centre, which adds new facilities such as rehab gyms and new pitches for the Academy."
Ciampelletti says Caucasian football is very difficult to predict due to the number of variables. Clubs that succeed one year can easily be relegated or be fighting against relegation the next.
One example of this is Samtredia, who won the league in 2016 but are now in the second division. There is little in the way of stability in the competition.
"My first experiences with Georgian football were kind of shocking, some clubs have fields that you don't even see at an amateur or non-league level," adds Ciampelletti.
"Sometimes teams with such facilities play in Europe. Chikhura Sachkhere played in the Europa League preliminary round this season but were forced to play in Tbilisi because their 'stadium' in the city of Sachkhere was not suitable according to UEFA inspectors.
"Similarly, Rustavi, who have won two Georgian league titles and a Georgian Super Cup, have just 1250 seats in their stadium."
Football in this region can be affected by many outside influences, including politics and religion.
Each Georgian club has its pitch blessed by one or more priests at the beginning of the season, and the rituals are often repeated before crucial games.
In Batumi, religious icons marched together with the players to thank the Saints for a great season this year.
This is an area of the world where politics mix with football, especially when Georgian clubs play games in European competition.
Azerbaijan Petrol company, SOCAR, sponsors the Georgian league and a number of Georgian clubs. As a result of this, Armenian TV refused to show the Europa League qualifying game between Georgian side Saburtalo and Ararat Armenia — a result of the Nagorno-Karabakh conflict between Azerbaijan and Armenia.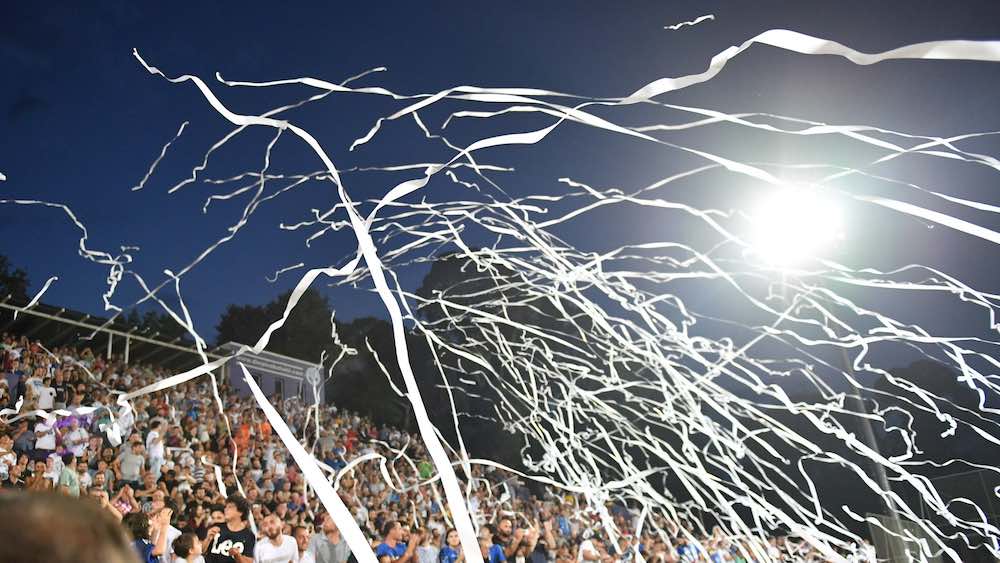 There are a number of success stories in Georgian football, such as the historic Dinamo Tbilisi.
They are the only Georgian team that can boast a European title — the 1981 Cup Winners' Cup — and numerous participations in European football as champions of the Soviet league (twice) and Soviet Cup winners (twice).
In the post-Soviet era, Dinamo Tbilisi have gone on to win the Erovnuli Liga a record 16 times.
Despite their previous success, Dinamo Tbilisi have not won the title for three years now, but unlike some Georgian teams whose form fluctuates season on season, Dinamo Tbilisi remain strong.
They are just a point behind Dinamo Batumi as the season reaches the business end, and could still walk away with the title.
Their owner is Roman Pipia is a leading Georgian investor and one who is also very active in Russia. It's safe to say he and his club do not lack financial resources.
The other side of Tbilisi is represented by the Saburtalo, a team founded in 1999 by former Minister of Sport and businessman Tariel Khechikashvili.
"Football fans would call it a plastic club because in fact it has very little following and the stadium is almost empty," says Ciampelletti.
"Yet Saburtalo is the defending champion."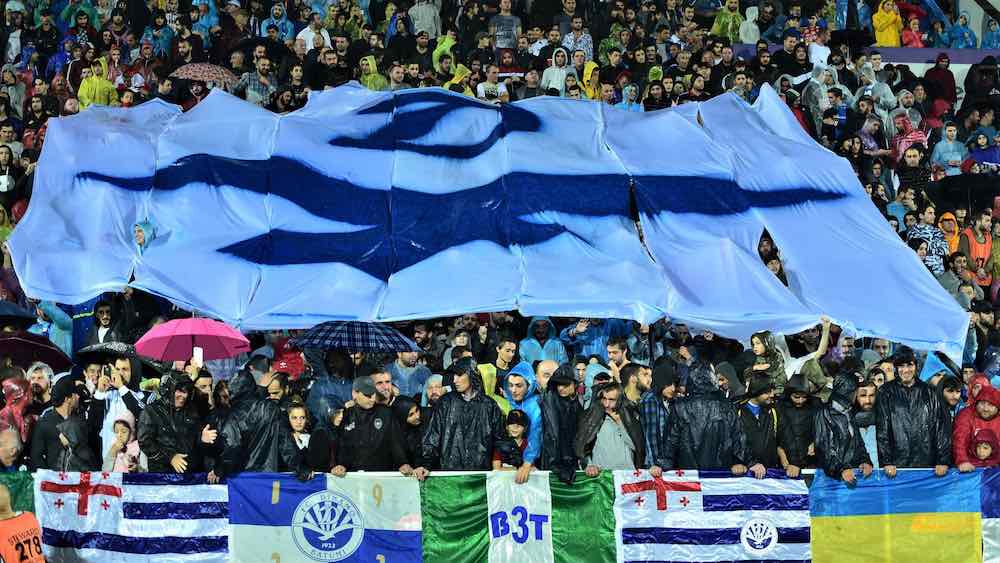 Ciampelletti turns his attention back to his own club, who he says "are fighting for the title with some great tools."
"The star at Dinamo Batumi is Brazilian striker Flamarion Jovino, formerly of Palmeiras U19s," he adds.
"Jovino is absolutely ready for the last six 'finals' and also wants to finish as the league's top scorer. He has scored 15 so far, only two less than Levan Kutalia, Dinamo Tbilisi's star player."
Batumi's coach is the experienced Georgian, Gia Geguchadze. Other notable players include Brazilian, Gabriel Ramos; Nigerian, Benjamin Teidi; and experienced Ukrainian midfielder, Giuli Manjgaladze.
While the club boasts a number of foreign players, the team has a Georgian backbone featuring players such as striker Vladimir Dvalishvili, midfielder Jaba Jighauri, and full-back Giorgi Navalovski.
By November 30 the 2019 season will have finished and the title will have been decided. Will it go to legendary club Dinamo Tbilisi, or will there be a fairytale ending which sees Dinamo Batumi lift their first league title?
---