By Tom Nash in Buenos Aires.
Many football fans around the world, especially in France and Argentina, will remember Marcelo Gallardo from his playing days.
He was an attacking midfielder who broke into the River Plate team in the 90s, and played alongside the likes of Ariel Ortega, Hernan Crespo, and Enzo Francescoli.
He also had spells at Monaco, PSG, DC United, and Nacional of Montevideo. He won 44 Argentina caps in total and had an eye for goal, scoring many spectacular long-range efforts in his career.
He was certainly a successful player, but in future he will be remembered more for his tremendous feats as a manager.
Gallardo kicked off his managerial career by coaching Uruguayan side Nacional to a title in 2012. By August 2015, El Muñeco [The Doll] had won a Copa Libertadores, a Copa Sudamericana, and a Recopa Sudamericana in the first 14 months of his time as River Plate manager — the equivalent of winning a Champions League, Europa League, and European Super Cup in the first year and a half for a manager in Europe.
All this represented a much-needed revival for El Millonario. The world-famous club was still shaken from its historic relegation in 2011 and had not won a continental trophy since 1996. The turnaround in fortunes was stunning.
A lot of people both inside and outside South America began legitimately asking whether Gallardo would be the next great Argentine manager. Four years later we have a very clear answer: Yes.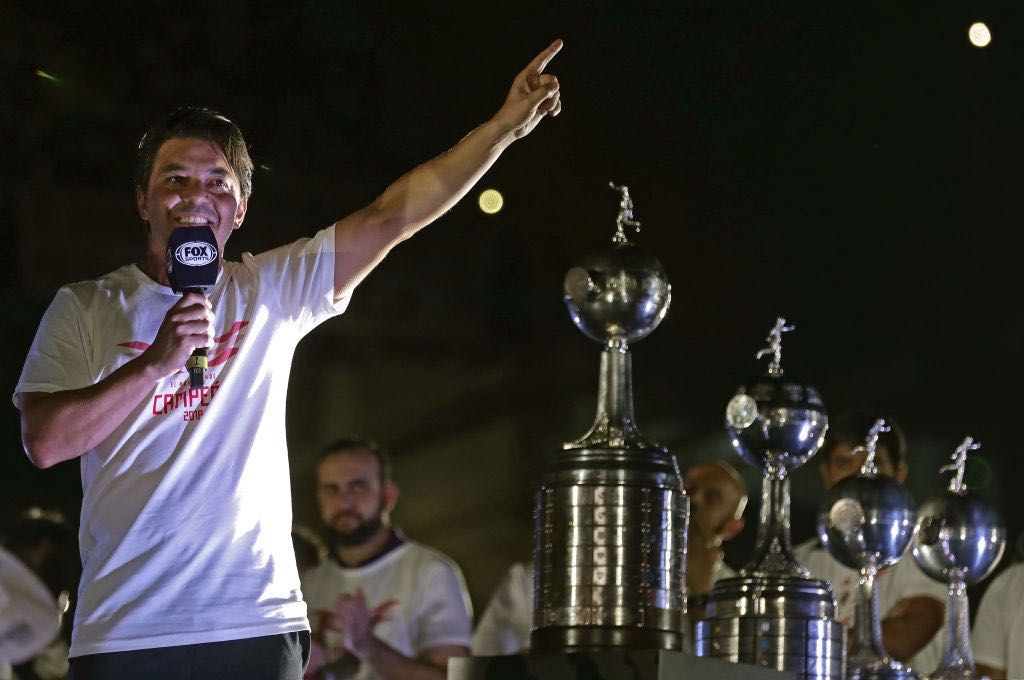 The squad that returned the club to its glory days disintegrated shortly after as its members received higher offers to play in Europe, Mexico, or China. Squad turnover is a huge issue for any South American team, that is the financial reality even for the wealthier clubs on the continent.
As a result of this state of flux, River performed relatively poorly in 2016 and 2017. Some even began to question whether Gallardo's cycle at the helm had come to a natural end after a short but very successful spell.
Far from it. The club stood by him through some dismal form, and 2018 turned out to be the most memorable year in their history.
In March that year River beat fierce rivals Boca Juniors in an Argentine Super Cup, and by late October a seismic event in football history emerged onto the horizon. Both Argentine giants won their Copa Libertadores semi-finals and a two-legged Superclásico would be played to crown a South American champion.
It was the first time a derby of any sort had been played in the final, and it was during this chaotic tie that Gallardo cemented his status as the greatest manager the famous institution has ever had.
Marcelo Gallardo is the most successful manger in our 118 year history. Remarkable.

🏆🏆Copa Libertadores
🏆Copa Sudamericana
🏆🏆🏆 Recopa
🏆🏆Copa Argentina
🏆Supercopa Argentina
🏆Suruga Bank pic.twitter.com/8K5tKG5rFJ

— River Plate in English (@CARP_English) May 31, 2019
His team travelled to La Boca to play the first leg in good form and bullish mood. He, ironically, didn't travel with them.
He had to serve a ban after infringing a previous ban in the semi-final, and CONMEBOL ruled that he was not even allowed into the stadium for the first game of his four-match suspension. Disciplinary issues are a recurring theme of the River Plate manager's career.
Nevertheless, sat nine miles away in his office in Nuñez, he had a huge influence on the titanic showdown.
That day, he made a late decision to switch from the conventional 4-4-2 that had got River to the final and opted to play three central defenders and two wing-backs, a formation the side had not used for months.
The sudden and unexpected switch raised eyebrows even among his own supporters, but the result was a surprisingly open and exciting game given how high the stakes were.
His wing-backs roamed free down the sides of a three-man Boca midfield that was clearly not expecting to face that system.
River went behind despite their bright start but fought back twice and secured a 2-2 draw in the first leg at La Bombonera.
When asked about this tactical shift, and whether it was risky, Gallardo explained that he saw it as the best option for that game given what the opposition was proposing (a 4-3-3).
His players agreed. Javier Pinola moved to the left side of the back three to accommodate an extra centre-back and said afterwards, "I found out on the morning of the game [about the tactical switch]. It's fine, we practiced that system in pre-season. Besides, Gallardo is superior to any coach I know due to his reading of games and how he goes about getting the best outcome."
The return leg, moved to the Santiago Bernabéu after crowd trouble at El Monumental, saw Gallardo improvise again, this time through necessity.
Injuries and suspensions left him with just one fit experienced forward for the most important game in South American football history. That day he used a 4-5-1 formation which got the job done. Two midfielders combined to create the perfect opening for that lone striker (Lucas Pratto) to equalise.
River went on to win 3-1 in extra-time after Boca had a man sent off. The club won the most treasured honour in its history.
"There is nothing above this" Gallardo was filmed uttering in the minutes that followed.
This is the clearest example of one of Gallardo's greatest strengths — his tactical versatility. Although he normally opts for a 4-4-2 formation, he has no problem reworking things radically when the game needs it.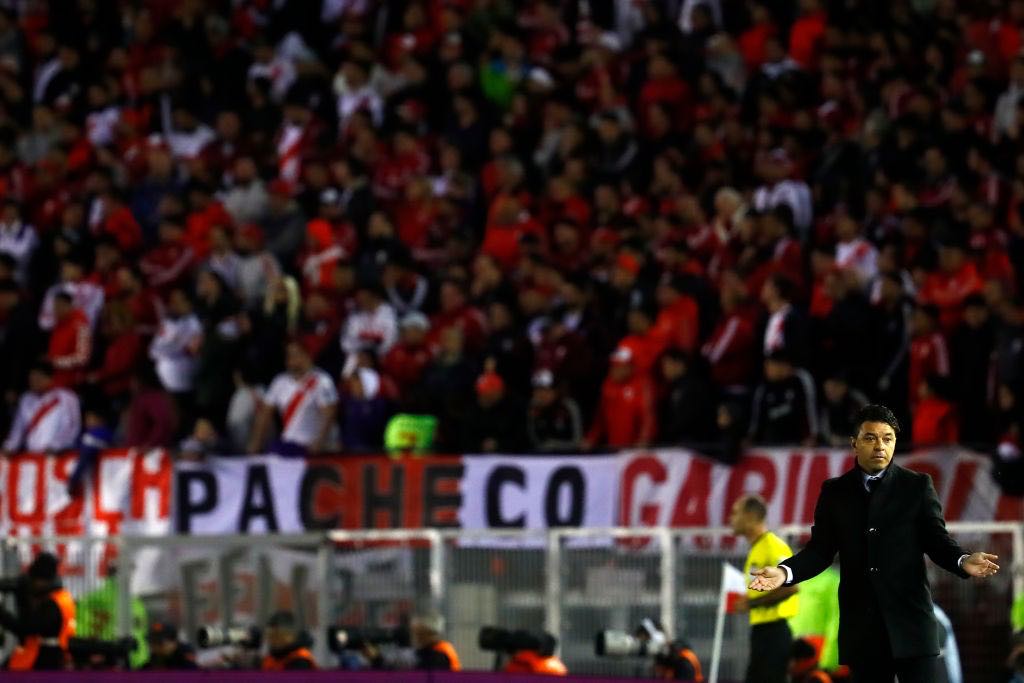 Over the past five years there are a dozen more examples of him naming a surprise player or formation to counter the specific circumstances the team found itself in. He will never be accused of being inflexible, and many consider him the most adaptable of all Latin American managers.
His use of the bench is also legendary, and he has won many critical games with goals from substitutes.
In the example below, the cameras record him outlining to a substitute exactly the goal he wants the team to score after an upcoming tactical switch. Five minutes later, the goal is replicated almost precisely as the manager had envisioned it.
Gallardo at work on Tuesday night:

"Benjamin, we're going to go 4-3-3 and put you on the right, Nico on the left. When you see him free, switch the ball, and come inside to finish the move."

5 minutes later…. pic.twitter.com/oUy6rOTGxq

— River Plate in English (@CARP_English) July 20, 2019
Another of Gallardo's greatest strengths is his ability to motivate players. His River sides will forever be remembered for their capacity to prepare perfectly for big cup nights and produce their best performances.
He has instilled a mentality in his squad whereby the crunch matches invite players to rise to the occasion, not freeze under pressure.
As a rule, his teams turn up when it matters most. In five years El Millonario have reached the semi-final of the Libertadores four times, and are currently in with a chance of making it three finals in five years.
River are without doubt the continental power of this decade which is about to finish.
Possibly the most impressive thing about this feat is that of the crop chasing a place in the 2019 final, only one player formed part of the squad that won the trophy in 2015.
Regularly losing your best talent to European clubs really is the bane of every Argentine manager's job.
His preparation for a big cup night generally involves resting his chosen XI for the days prior to the game to keep their legs and minds absolutely fresh, then getting his team together for two nights in a secluded hotel out of reach of the fans and press. Pilar, Cardales, or some other sleepy village in the outskirts of the massive Buenos Aires metropolis is usually the chosen destination for a tradition which has lasted years.
The club spend a fortune on these unnecessary luxury hotel stays, but his current record in head-to-head ties shows that the strategy is paying off: Played 60, won 49. Of those 60, four were superclásicos, the name given to the Boca-River derby which gets almost Super Bowl levels of coverage in South America. He won all four.
One tactical characteristic of this River Plate team is how the midfielders and full-backs are encouraged to surge forward to finish off attacks.
This is the opening goal of the second round Libertadores tie with Racing in 2018. The assist is by Gonzalo Montiel, the team's right-back, who as a youth player was a central defender that Gallardo has shaped into an attack-minded full-back.
El gol de Pratto para poner el 1-0 en la vuelta de la Copa Libertadores vs Racing. Linda combinación pic.twitter.com/KEcmkIiC16

— River Plate 🇦🇷 (@LaBaandaCARP) August 29, 2018
This is a goal River scored against the same opponent in a league game six months later. The goalscorer is the team's left-back Milton Casco who regularly appears in the opposing penalty area.
With midfielders we see the same pattern. Gallardo often talks about how he likes to see them make late runs into the area unmarked. This goal was scored by midfielder Nacho Fernández against Boca in October 2019.
🔴⚪⚽🎉 Nacho Fernández was on hand to double the #River lead against #Boca! pic.twitter.com/t3WYe757oz

— CONMEBOL Libertadores (@TheLibertadores) October 2, 2019
"That's our team's philosophy, to always be on the front foot, that's how we want to play" he stated after that 2-0 win over Boca.
All these goals reflect the importance the coach gives to quick one-touch passing in the final stages of an attack. He has always believed that once a player pauses a move for just two seconds, that is enough time for the opposition to reorganise their defence and neutralise the threat. Here is another example of that same type of goal vs Patronato in October.
Another superb team move with 3/4 one-touch passes at the end to finish it off.

21 passes and 50 seconds this one lasts. Champagne football🍾 pic.twitter.com/0aM7MmbCNz

— River Plate in English (@CARP_English) October 7, 2019
This sums up Gallardo's style quite well. He is a bit like a savvy poker player playing a good hand.
He has the confidence in both his ability and the tools as his disposal, so plays his hand aggressively knowing that it will often pay off. On the days it doesn't, he'll get knocked out playing the style he believes in.
Representation is another concept the ex-Nacional coach puts a lot of emphasis on. When asked by the media about the crowd applauding his team off the pitch in victory and occasionally in defeat, he often replies that they clearly feel the team represents them.
He explains they see a certain method of play, an attitude, and a professionalism that makes them feel represented. It's clear that he values this idea greatly.
The ex-Monaco player will get a reception worthy of an emperor the day he inevitably decides to stand down and take another offer, and currently has a statue being built in his honour at the stadium. He has won ten trophies since taking over in June 2014 and looks likely to add more.
There is one area where he is still in debt however — league competition.
River have more national titles than any other team in the country (35 since the game turned professional in the 1930s) but have not come close to adding to that tally since 2014.
The explanation is simple. El Muñceo, together with the board, decided to focus their efforts on winning more continental and international trophies, an area where River trail Independiente and Boca historically.
They have achieved this handsomely, bagging a total of seven during his reign so far, but it has come at the cost of their domestic dominance.
As mentioned previously, Gallardo tends to rest his strongest XI before and after key cup clashes.
Consequently, his second choice XI has dropped points time after time to opponents who in theory are much weaker. This usually results in River being well off the pace in the Superliga and having to make up points frantically at the end of the season in order to qualify for next season's main objective, the Copa Libertadores.
In fact, on more than one occasion, River's league performance was so poor that they had to rely on winning cup competitions (the Argentine domestic cup or the Libertadores itself) in order to reach the Libertadores the following year.
Gallardo will owe nobody at River anything the day he decides to move on, but it can't be denied that there is a curious space on his CV where his list of league crowns should be.
Other massive clubs would perhaps be less tolerant of this habit, which may become an issue if he is ever appointed to manage a European giant.
Given the Argentine league's inferiority — both sporting and financial — how have River managed to retain such a talented manager for all this time?
Gallardo clearly enjoys his job at the club where he played his youth football and spent so much of his career, but the board have also incentivised him professionally with a project other clubs cannot offer so easily — an expanded role overseeing the club's academy.
El Muñeco and his close assistants, Matias Biscay and Hernan Buján, now direct an integrated youth system where they are closely involved in the progression of River youngsters as young as 11.
All youth games are recorded so that they can watch any game any of the youth teams play at any time, and they schedule quarterly meetings with the coaches at each level to coordinate closely on development.
The idea the club has is to teach young kids a certain style and philosophy, which can be replicated all the way up to the first team. Gallardo hopes that his biggest legacy will be to leave River in good hands way beyond his stint as manager, and he can often be seen at reserve or youth matches when his commitments to the first team allow him.
Thread on River's youth system and where the club plans to take it. https://t.co/Sq0hDdvyax

— River Plate in English (@CARP_English) September 6, 2019
While European giants could normally take their pick of South American coaches, the case of the ex-PSG man is slightly different. When he was linked to the vacant Monaco job in 2018, he made it clear he was in the middle of a project he valued and felt it was not time to abandon it.
The AFA have also dropped strong hints that they would like him to take the national team job, but their very obvious advances were also met with indifference.
Another recurring theme of the Gallardo reign at River is how he has stood by maligned figures and seen them achieve redemption. Gonzalo 'Pity' Martínez is the best example of this.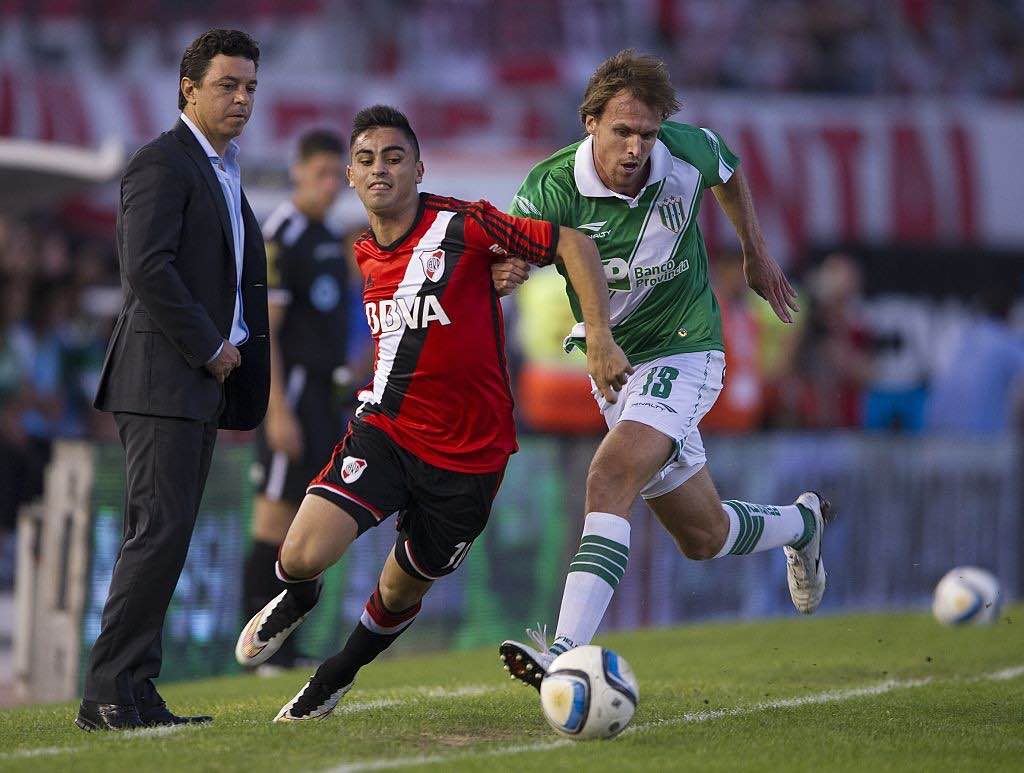 El Millonario signed the talented winger from Huracán in 2015. However, his performances underwhelmed the fiercely demanding fans at El Monumental. They have seen legends such as Alfredo Di Stéfano, Enzo Francescoli, and Ariel Ortega lead the attack, so when a player who is graced with that honour fails to live up to expectations, they are quick to turn critical on them.
Throughout 2015, 2016, and part of 2017, most River fans were convinced that Pity was not up to the job and would rather have seen him sold. Gallardo had other ideas though. His instinct told him to stick with Martínez through adversity as he would be rewarded further down the line.
2017 was Pity's turnaround year. He scored a quite sublime volley in a Superclásico in La Bombonera and raised his game to another level. The year that followed was his crowning glory. He scored a number of key goals on the way to River's Copa Libertadores triumph and left for MLS franchise Atlanta United as a hero at the end of that year.
He departed for North America on the back of being named writers' player of the year in South America with a huge 87% of the vote.
The club more than doubled their investment and made memories which will last a lifetime. Today the mere mention of his name causes River supporters' faces to light up. Gallardo can claim significant credit for the No. 10's rise.
¡GOL DE #RIVER!
El Pity Martínez definió de volea para poner en ventaja al Millonario 1-0 ante #Boca.

¡Seguilo por @442! pic.twitter.com/320qUTMGIZ

— 442 (@442) May 14, 2017
Other players such as Milton Casco, Rafael Santos Borré, and Nicolás De La Cruz have all followed a similar path. Gallardo stood by them in the face of widespread disapproval and was ultimately proved right as they turned into important figures against the odds.
The young manager is now receiving praise from football royalty way beyond the shores of his native continent.
Lionel Messi nominated him as one of the top three managers in the world in the recent The Best awards, and Pep Guardiola despaired that Gallardo was not nominated, saying that his work is incredible and undervalued simply because it is not happening in Europe.
"He gives them consistency year after year even though they lose players. I don't understand how he's never nominated" said the Catalan.
🎙 Guardiola:
"What Gallardo has done is unbelievable. He gives them consistency year after year even though they lose players. I don't understand how he's never nominated for manager of the year. It's as if only Europe exists." https://t.co/5glpEXxD3S

— River Plate in English (@CARP_English) October 4, 2019
Forecasting the rest of the 43-year-old's career is impossible. He is young, talented, demanding, hard-working, attentive to detail, and committed to his job in Buenos Aires for the moment.
But he has indicated in the past that he does not plan to stay eternally. France or Spain would seem like a logical destination given he can speak those languages, although he will receive offers from far and wide.
His current contract runs until the December 2021 elections at the club. Whoever is elected next River Plate president will be desperate to offer him an extension, but if he opts to seek a fresh challenge elsewhere, the scramble will be underway to land one of the best managers on the planet.