By Daniel Lucci.
The 2019 summer transfer window saw some big moves and lots of money spent between top leagues.
Arguably the biggest move was that of Dutch International centre-back, and former Ajax captain, Matthijs de Ligt.
The defender left Ajax for a large transfer fee, reportedly €70m, and headed to current Serie A champions, Juventus.
After starting the Serie A season on the bench against Parma, De Ligt was clearly not happy but stayed professional and realised his time will come.
Unfortunately for Juventus and their captain Giorgio Chiellini, De Ligt's time came a lot sooner than many had thought, and not in the manner they had hoped.
Chiellini tore his ACL in his right knee during a Juventus training session, which gifted De Ligt his first opportunity in Juve's next match against Serie A rivals, Napoli.
Although the Bianconeri ended up winning the match, it was not pretty and not as good a debut for De Ligt as many had hoped. He was arguably at fault for two out of the three Napoli goals, and many fans were not impressed. But that was just the beginning, and since then things have started to look up for the Dutchman.
Juve stumbled out of the gate somewhat under their new head coach Maurizio Sarri, though they looked much more convincing against Inter in the recent Derby d'Italia.
Sarri has attempted to implement more of an attacking style of football, with constant pressing. It was clear De Ligt and the rest of the team were still adapting to these changes for the first few weeks.
Now, Juve have won five straight in all competitions and are still undefeated this season. Not only has the team shown improvements in adapting to this new style, and grown stronger after losing their captain, but on top of that De Ligt has been phenomenal recently.
The young defender's confidence is growing in each game, and his partnership with Leonardo Bonucci continues to get stronger by the match.
After all the banter De Ligt received after his first few rough outings, we are finally seeing the young, extremely talented player Juventus paid all that money for.
At only 20-years-old De Ligt will only get better and gain more experience year on year. Furthermore, learning from top notch centre-backs like Chiellini, Bonucci and assistant coach Andrea Barzagli will only help him improve.
Not only will the defensive legends at Juventus help him grow into a better player, but playing with Virgil van Dijk on the Dutch national team will also help massively.
Champions League winner, Van Dijk, who is arguably one of the best centre-backs in the game right now, will also help De Ligt grow. In order to be become one of the best, you must train and play with the best, which is exactly what De Ligt is doing.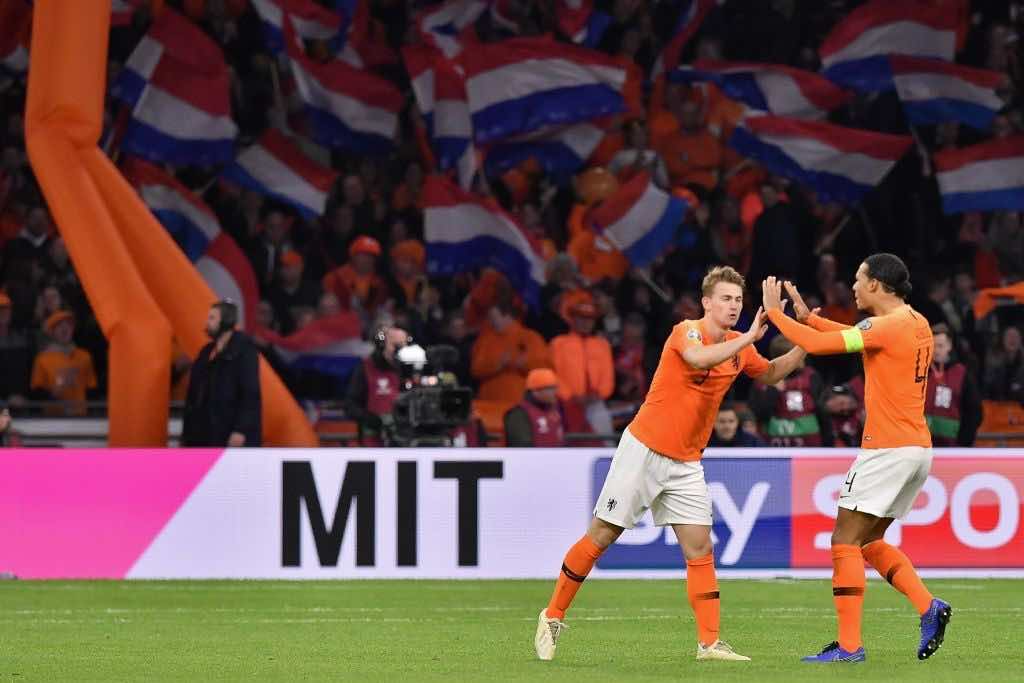 Now 20 years old, De Ligt made his International debut at the age of 17 and has not looked back since.
Already with 19 caps and two goals to his name, the youngster can only get better from here.
It is frightening to think someone still this young is already this good, and continues to improve each match.
Although he is full of promise there will still be growing pains, as that is a part of getting better and gaining experience, but patience is key, especially for a defender.
Patience from the fans to trust and watch him grow, but also patience from the player himself. He needs to be able to grow and perfect his game without getting too down on himself if mistakes happen, but after being the captain of Ajax at only 19-years-old and already showing an incredible amount of maturity at Juventus, there is no doubt De Ligt will become a true professional and one of the best around in his position.
Already a force to be reckoned with physically, dominant in the air and decent with his feet, De Ligt has all the attributes to solidify himself as one of the best centre-backs in world football.
If he continues to progress the way he has, there is no saying what the 20-year-old cannot achieve in his long career.
De Ligt's big test against Inter in the Derby d'Italia was not easy, and he did give up the penalty which gave Inter their one goal. However, in the end it is fair to say he had a solid game. Defensively sound as usual, good in the air and made the correct pass when needed.
Juventini expected nothing less from their new young centre-back and after collecting the win, they will be even happier.
They should expect nothing less than De Ligt continuing to step up his game and rise to the occasion in Serie A and the Champions League for years to come.