By Jerry Mancini.
Not every young footballer will get the opportunity to achieve their dreams and play in a top level professional league. There are circumstances in people's lives that prevent them from having the chance to succeed, whether that be not having the talent to get to that level, or simply not having the resources.
With Kalidou Koulibaly, those circumstances were much different. Early in his career, the central defender started with his local club SR Saint-Die in France, where he was born and raised.
After his time had ended with his local club, he then joined FC Metz where, at the age of 15, he was initially released from the club by the academy manager, Denis Schaeffer.
"At the age of 15, we decided not to keep him because he was too introverted, and his level was a little below our expectations," said Schaeffer in 2012.
"Three years later, he grew up, he became self-confident and we went looking for him."
Being told at a young age that expectations weren't being met, or that being too quiet was not good, could be discouraging. The outcome could affect a player's career depending on how they handle the situation.
Koulibaly, though, was able to emerge stronger from that setback, and prove to Schaeffer and others that he had what it takes to become a professional footballer.
The defender has not only carved out a career at the top level, but is widely considered one of the best defenders in the world.
In the 2018/19 Serie A season, the centre-back won the defender of the year award. It was a notable award to win as it demonstrated that he's developed into a player who is able to compete at a high level, and play with and against some of the best players around.
After being released by Schaeffer and Metz the first time around, his second stint with the club was much more productive. After signing his first professional contract prior to the 2010/11 season, the defender worked hard and earned a promotion, as manager Dominique Bijotat not only added him into the first team, but also made him a starter.
In his first season at the French club, Koulibaly surprised many people, and especially his coach. It took him time to adapt to the game, but he eventually established himself into a good player for the team. Even the occasional injury or suspension didn't stop him from progressing further.
After showing his potential with Metz, he left to sign with Genk in June 2012 and agreed a four-year contract with the Belgian club. Before signing, he also had interest from Anderlecht, but Genk got to him first!
Upon arriving at Genk, he established himself in the first team, where he played regularly throughout his time with the club. Though he occasionally played at right-back, in his second year he established a centre-back partnership with Kara Mbodji.
His ability to play at right-back and even in midfield on one occasion, means he has been able to adapt very well to different situations throughout his career. He helped Genk win the Belgian Cup in 2013, playing the full 90 minutes in the final in which they defeated Cercle Brugge.
Following his time with Genk, Koulibaly moved to Napoli in the summer of 2014. Here he originally benefitted from playing under Maurizio Sarri. The coach's time in Naples helped Koulibaly further advance his game and develop into a more complete player.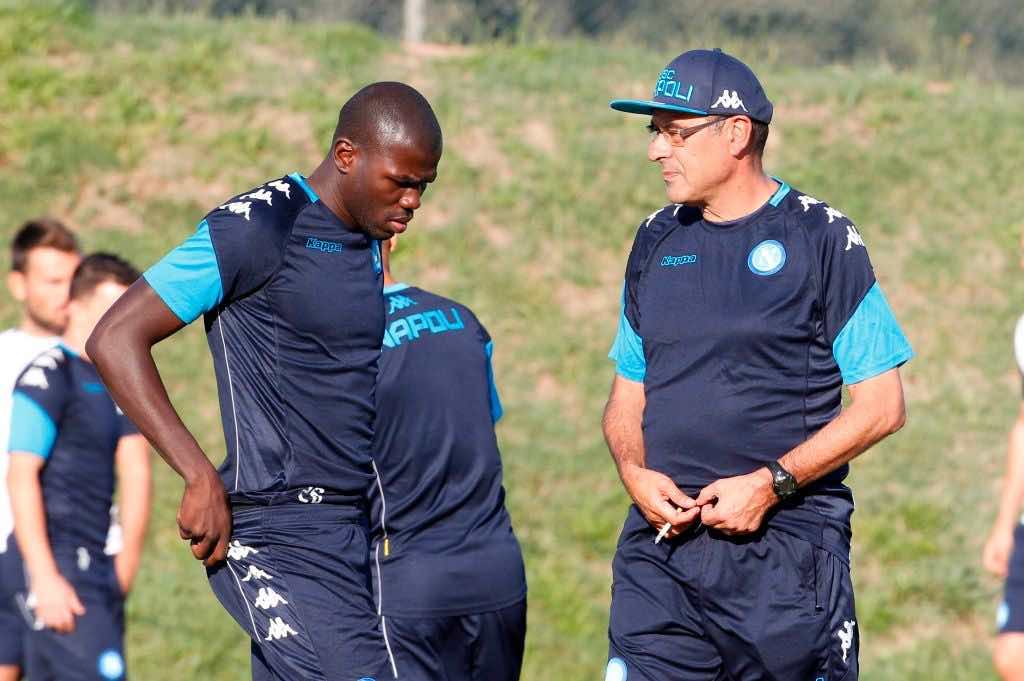 Sarri's coaching methods taught him how to move the ball out from the back, and turned him into a ball-playing centre back. Under this style of play he learned to how join the attack, and how to play out from the back in a possession-based system.
Even though his favoured position is on the left of a central defensive duo, Koulibaly has established himself as a versatile player who can play right or left in a pair, or in a back three. He has developed into an aggressive, quick and physical player who has the ability to read the game and defend well with good positioning.
In a recent game between Napoli and Juventus, he accidentally scored in his own net late into injury time, which led to Juventus winning 4-3. This won't stop him from succeeding as he will start the next chapter in his career.
From being told he is not good enough for the youth team at Metz, to recovering from an own goal against Juventus, Koulibaly has come through a lot of adversity during his career. On top of this there are political issues such as racism, which he was subjected to during a game against Inter Milan last season.
He continues to grow as a player and an individual, and shows that he can overcome many obstacles. Napoli has truly found a leader by example, on and off the pitch, which many teams would wish to have.
Koulibaly has developed into one of the most outstanding players in modern football. Not only has he established himself in well known leagues, but he has also made his mark in international football with Senegal, the country of his parents.
He has made an outstanding career for himself and continues to grow. The French-born Senegalese international should be proud of himself, as he's proved many wrong throughout his journey, triumphed against adversity, and has shown that he rightfully belongs at the top level.