Bundesliga Zeitung, by Andy Wales.
Bundesliga Matchday 8 started with things tight at the top of the table and, remarkably, ended with it being even tighter.
In what is currently shaping up to be the most competitive title race in decades, there are just two points between top spot and ninth.
Despite defeat in Dortmund, Borussia Mönchengladbach still lead the way, but I'll come to that in good time. Instead, I'll begin with those who failed to take advantage.
Bundesliga table after 8 games:
1⃣ Borussia Mönchengladbach: 16 pts
2⃣ Wolfsburg: 16 pts
3⃣ Bayern Munich: 15 pts
4⃣ Borussia Dortmund: 15 pts
5⃣ RB Leipzig: 15 pts
6⃣ Freiburg: 14 pts
7⃣ Schalke: 14 pts
8⃣ Eintracht Frankfurt: 14 pts
9⃣ Bayer Leverkusen: 14 pts

👀

— Get German Football News (@GGFN_) October 20, 2019
The first stop is Bayern, where two talking points emerged.
The first was that they stumbled once again and failed to translate dominance into victory against lowly Augsburg.
The second was a long-term ACL injury to main defender Niklas Süle. The club announced on social media that he suffered an ACL tear in his left knee and was due to undergo surgery. He will be a loss to both Bayern and the German national team, having established himself as the number first choice for both.
With Jerome Boateng, Benjamin Pavard, Lucas Hernandez and Javi Martinez to call upon, Bayern should, on the face of it, be able to cope, but his presence cannot be replicated by any of those mentioned.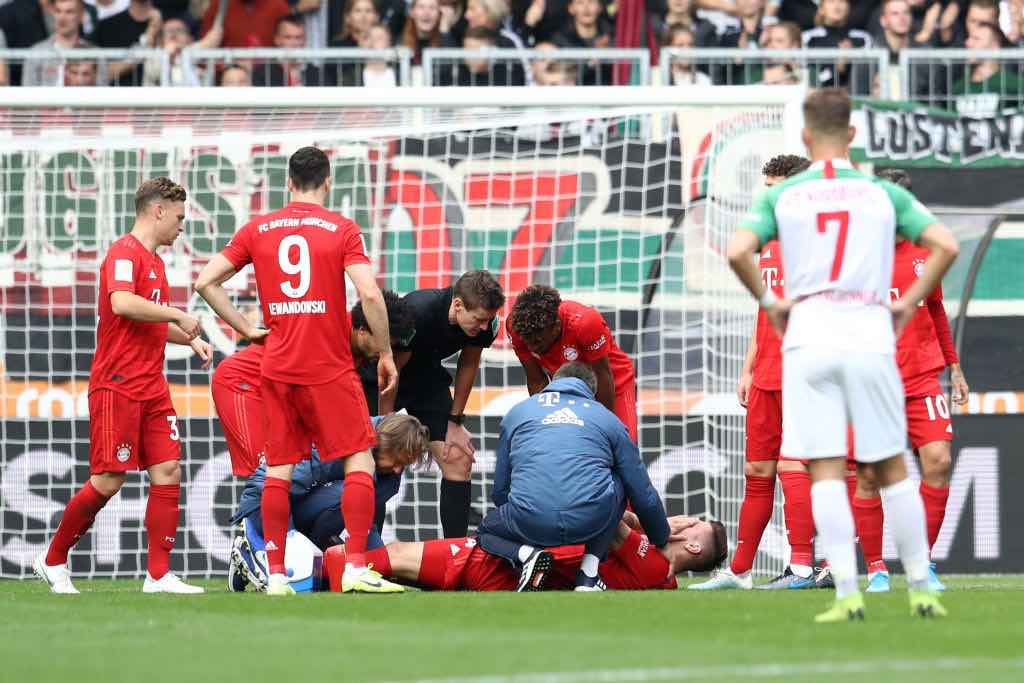 Their already vulnerable defence will come under further scrutiny, and if the likes of Augsburg can expose it, you can bet others will.
Despite this unlikely 2-2 draw, Bayern are only a point behind Gladbach and Wolfsburg, and remain in a good position in the Champions League after beating Olympiakos.
In Greece, Robert Lewandowski took his tally to 18 goals from just 13 games for Bayern this season, an incredible return from a striker who looks as good as ever.
Wolfsburg have, along with Freiburg, been the surprise packages thus far. The inconsistency of the more-fancied teams around them has certainly helped, but credit must be given to both sides. Wolfsburg's draw away to Leipzig was further evidence that the Wolves cannot be underestimated.
For Freiburg, Saturday brought an unexpected defeat away to Union Berlin and this weekend's clash between Freiburg and Leipzig could prove to be a pointer as to where both teams are heading.
Eintracht Frankfurt have now joined this nine-club pack that is divided by just two points. Eyebrows were raised on Friday night as the Eagles comfortably dispatched Bayer Leverkusen 3-0.
Frankfurt were enormous fun to watch last season, but the loss of Sebastien Haller, Luka Jovic, and Ante Rebic inevitably hurt Adi Hütter's side, but perhaps they're showing signs of recovery.
Whilst I doubt they will be able to recapture the highs of the previous campaign, their style and incredible support mean they'll still be worth a watch.
Meanwhile, Leverkusen are like a smooth-talking lothario: they can butter you up and make you smile, but don't get too close because you know they'll let you down.
Their infidelity is defending and has been for years, but their attacking play under Peter Bosz is still able to seduce you.
If Bosz can address the long-standing defensive issues, then they might become a force to be reckoned with. Until then, it'll be more of the same brittleness.
Top Spiel – Dortmund v Gladbach
So, back to the top of the Bundesliga, and that 'top spiel' on Saturday evening that was the headline match-up of the weekend. Leaders Mönchengladbach went to the Westfalen full of confidence, against a Dortmund team struggling to match expectations in recent weeks.
The home side were without Jadon Sancho, due to an internal disciplinary matter after he returned late from international duty. This meant the classy Julian Brandt finally got to start alongside former Gladbach stars Marco Reus and Thorgan Hazard.
Hazard was clearly fired up against his former teammates and thought he'd given the hosts the lead. But VAR showed Reus's heel was offside in the build-up and the goal was disallowed. The decision was not necessarily clear-cut and was open to debate. The role of VAR in football has been a hot topic lately and although the Bundesliga generally operates it well, it remains largely unpopular with fans.
VAR was also called upon to rightly cancel out a late Brandt strike as Reus was obstructing the view of Gladbach keeper Yann Sommer. In truth, Sommer wouldn't have stood a chance of saving it anyway, but it was still the correct call.
It was the non-involvement of VAR that had earlier caused controversy when Mats Hummels appeared to commit a foul Patrick Herrmann. It was not seen by the referee and not flagged up by the video official.
The match was as tight as that call and pulsating throughout, with Dortmund the 1-0 victors, courtesy of Reus. It was a much-needed win for Lucien Favre, but also an example of how Marco Rose's Mönchengladbach team will be a tough proposition this term.
Revierderby Preview
Next up for Dortmund is near-neighbours Schalke in the Revierderby. Three points and a win was good preparation, but the performance was not entirely convincing. For Schalke, their recent run came to an end with a 2-0 loss at Hoffenheim; again, not the perfect preparation.
The Veltins Arena will be the place to be on Saturday afternoon for this huge local derby. There is only one point between the teams in the league and likely to be very little between them on the pitch.
Although David Wagner has encountered this fixture before, as both a player for Schalke and a member of Dortmund's coaching staff, it's his first Revierderby as Schalke boss.
The indomitable spirit he has quickly instilled in this Schalke team means the defeat against Hoffenheim will be of little consequence.
They will be fired up and ready to fight for every ball. That is a quality that should not be taken as a given because it's something that has, at times, being lacking from Schalke in recent years.
With this renewed vigour, and in front of their own ravenous fans, Schalke arguably start as marginal favourites. It means Dortmund are going to have to step up if they want to get something from this fixture.
Any signs of nerves or apprehension will be seized upon and in classic derby style; this could be more a test of character than of quality.
It's a game I am looking forward to watching and I can tell you from personal experience of living just 50 kilometres east of Dortmund, it will be of huge interest to the many fans of both clubs throughout this football-rich region.