Manchester United have only scored more than one goal on one occasion so far this season, in their 4-0 win against Chelsea — and how far away that now seems.
Since then, nine games have seen seven goals scored and eight conceded.
"Today it's again, go 1-0 up and you think 'go on then, get the second,' which is the key now and that is learning curve for these boys as well."
That was Solskjaer's analysis of United's woes up top following their tepid performance against Rochdale in September, whom they squeaked past on penalties, but it could have applied to a number of games since.
It can't exactly be considered a shock, given United's haphazard transfer window. It was bizarre to sell their only recognised out-and-out striker in Lukaku, who, for all his flaws, still managed to post impressive figures of 42 goals and 13 assists in 96 games at Old Trafford.
His departure was then countered with the arrival of a winger, a right-back, and a centre-back. Granted, all positions that United needed to fill. But additions with don't diminish the detriment of losing their best goal scorer.
Failing to replace Lukaku was another abysmal piece of business that Ed Woodward can add to his profile as chief executive.
Although it isn't certain that it was entirely Woodward's fault, as Solskjaer may have felt that having Anthony Martial, Marcus Rashford and Mason Greenwood was enough, the problem, though, is that none of them is fully proven in the centre-forward position.
Either Woodward, Solksjaer, or both were completely wrong in their assessment. A succession of injuries hasn't helped, but it would be wrong to say that injuries are where the problem began.
Solskjaer's approach to attacking relies on two methods. A rapid counter-attack, in which his team sits deep until the opposition's attack breaks down and United can burst forward. This has worked for them this season, and at times they've actually looked threatening.
Or, there's slow and uninspired play around the box, sideways and backwards passing until a ball is finally put into the box, but because of the lack of a proper forward, it fizzles out.
Granted, it was a different team that faced Liverpool on Sunday, but United still only managed to score one goal — a dubious one at that.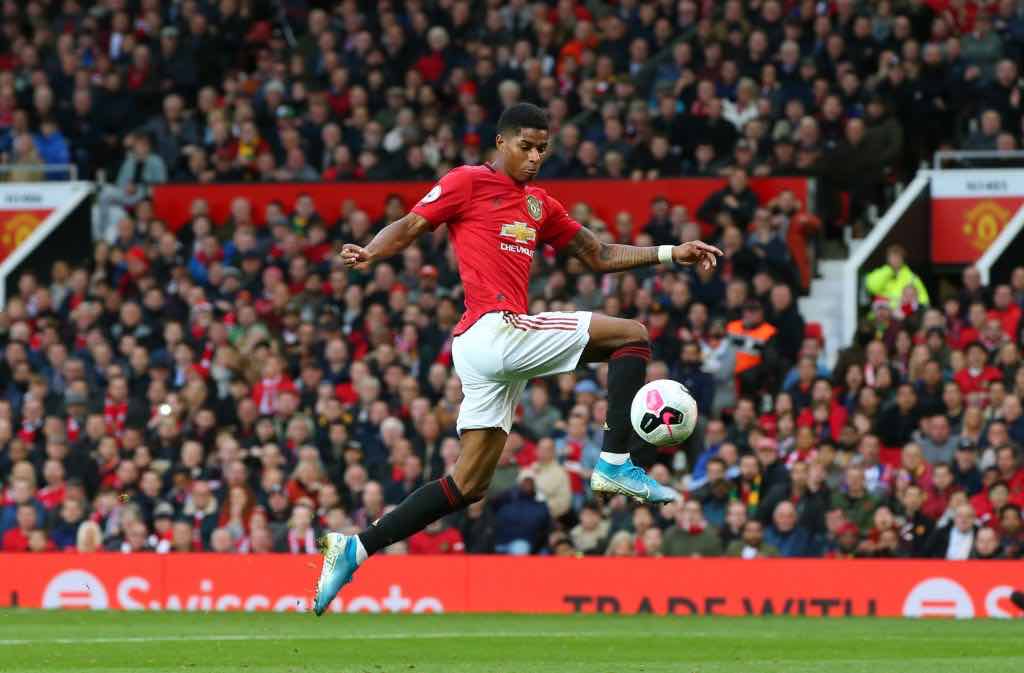 Rashford thankfully broke his duck of open-play goals, and United's tactics of high pressing and quick counter-attacks was able to break down an off-colour Liverpool side. But United still severely lacked an aerial threat and had their own attacks cut short a number of times when holdup play was needed.
Both of these problems can be fixed by signing a striker cut from the same cloth as Lukaku, who, ironically, would've fit superbly into the system Solskjaer is going for.
Lukaku was hardly one of the worst players when he did overlap with Solskjaer as manager, often working well as the hold-up player, bar the occasional poor touch now and then.
An answer to this problem presented itself this summer, for free, which was absurdly passed over: Mario Mandzukic.
United fans might complain that the club shouldn't be after someone who is perhaps beyond his prime, but unfortunately, beggars can't be choosers — and beggars United are.
Mandzukic is only 33 and still has plenty to offer. His track record at every club he's played for shows he's a more than capable target man. At Bayern, 48 goals in 88 games. Atletico, 20 in 43. Juventus, 44 in 162. That's not to mention the assists.
He's also been prolific for the Croatian national team, scoring a goal in the semi-final last summer that will forever haunt English football.
The Croatian is a talented finisher and has the instincts required to pounce upon the opportunities that players like Daniel James are creating. He'd provide an option at corners beyond just Harry Maguire. United are dying for an aerial threat when on the attack, and someone who can provide a deft one-two for a talented player like Martial to run into.
Countless times against Newcastle, United managed to get the ball wide and the ball in was bland and aimless, because there's nobody to actually aim for. It happened again at the set pieces, easily rejected by the Newcastle defenders.
When it comes to the counter-attack, the few moments that Mandzukic can provide by holding the ball up would allow United's players to burst forward – it's no secret you run faster without trying to control the ball.
With James, Rashford and Martial, they don't need another paceman up front, they need an alternative element.
His work rate and defensive contributions aren't anything to be shy about, either. His former manager at Wolfsburg, Felix Magath, once said of Mandzukic: "He's so fit I think he could play back-to-back games without stopping for a minute."
Mandzukic offers experience, he offers quality, he offers endurance; he is exactly the sort of player United need in a turbulent transitional period where the club is struggling for an identity.
He's a target man the club can play toward. He needs to arrive in January.