By Louis Smith.
The Copa Libertadores is the pinnacle of South American club football. It is simply the greatest tournament that the continent has to offer, and many would say it's the best club competition in the world.
It's one fans, players and coaches all dream of winning.
Those dreams became a reality for Uruguayan footballer Sergio Órteman, who helped Olimpia lift the trophy back in 2002 when he was just 23 years old.
Órteman started his professional career in his native Uruguay where he played in the second tier before moving to Olimpia in 2001.
Just one year later he would find himself involved in the biggest game in South America.
Hernán Rodrigo López, Gastón Córdoba y Sergio Orteman. El Rorro reforzaba en el 2002 a Olimpia para la Copa Intercontinental pic.twitter.com/4hemLQEAed

— Marco Ortiz (@marcortizpy) June 9, 2018
Until rule changes for this year, the final was played over two legs meaning players had to prepare for two huge finals.
"For 18 months prior to the Libertadores final, I had been playing in the second division of Uruguay," Órteman told WFi.
"I really did not know the magnitude of those Libertadores matches. The training in between both legs of the final was just like normal weeks of training.
"So, to be honest, I didn't feel nervous. I took it easy as I was only 23 years old.
"It's perhaps because I was so young that I was unaware of what those finals could fully represent."
In the first leg, Olimpia played at home and they were expected to build a lead to take to Brazil. Unfortunately for the Paraguayan side, it didn't go to plan as São Caetano ran out 1-0 winners courtesy of an Aílton goal.
"We played a bad game, in fact maybe the worst in the campaign," reflects Órteman.
"But Nery Pumpido [Olimpia's Argentine manager] gave us support and total confidence that we would be able to turn it around in Brazil. He trusted the team very much."
Feliz cumpleaños Sergio Orteman
🏆Campeón Uruguayo con Peñarol!
🏆 Campeón de America con #Boca
🏆Campeón Paraguayo, de America y 🥈 del mundo con #Olimpia
🥇Mejor jugador de la @Libertadores 2002 y del Clausura 2011 en 🇵🇾
Aquí un inolvidable partido vs #Gremio de Tite (2002) pic.twitter.com/A3Bqb0klME

— Pablo Hernan Pedrero. (@perreski) September 29, 2018
After the first match, both teams had a week to prepare the team for the second leg.
This meant Pumpido could think carefully about what to say to his players to give his side belief that they could turn the deficit and leave Brazil as champions.
"Before the game, he gave us peace of mind," adds Órteman.
"He knew that the pressure was going to get to our opposition and they would be badly affected by this and we had to take advantage of this."
The first half of the second leg, Olimpia found themselves two goals down on aggregate and facing a huge mountain to climb to win the trophy.
Despite this Órteman and his teammates did not give up the belief that they could still win the trophy.
"We felt we were superior in the game," he says.
"We were walking to the locker room at half time and we were convinced that we could turn it around."
In the second half, the positive attitude shown by Olimpia paid off.
Almost instantly after the restart, they got a goal back and eventually pulled level on aggregate to take the game to a penalty shoot-out.
The young Órteman was the second penalty taker, and he slotted his penalty past Silvio Luiz.
"I was very calm when taking the penalty," Órteman adds.
"When we are young we don't realize this situation can change our future and not having the maturity as a player was the reason I was very calm."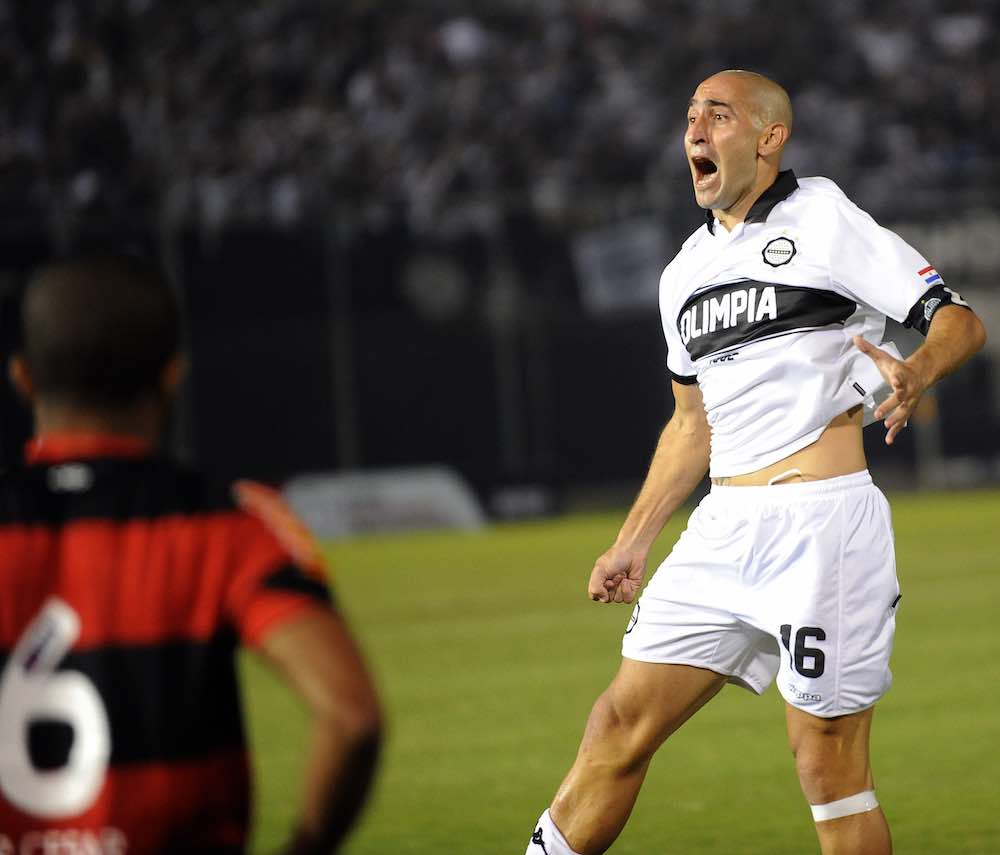 The penalty from Órteman levelled the shootout at 2-2. Following this Marlon missed for the Brazilian side and Rodrigo López put Olimpia in the lead.
Next up was Serginho who blasted his penalty over the bar giving Mauro Caballero a chance to win it from the spot and he did just that.
Órteman and his teammates were clearly delighted at being crowned champions of South America and doing so they wrote their names into Olimpia history.
Being two goals down and coming back to win is difficult in any game let alone a final which added to the sweet taste of success.
The Uruguayan was clearly delighted with the achievement:
"We were losing by two goals and managed to win. The group showed strong character to come back.
"When we scored the winning penalty I didn't know whether to laugh or cry in that moment.
"The cup was won as a team and individually, and it felt very good to win this."
The win sparked celebrations in the locker room after the match and the Olimpia fans created a huge welcome for their heroes when they arrived back in Asunción.
Órteman was unsure how to celebrate at first after the match but once he was greeted by the fans he realised what he had just achieved.
"In the locker room after the game, in those moments you have no idea what you have just done and what it represents," he says.
"We celebrated it but it was nothing over the top. Once we got back to Paraguay then we reality sunk in at what we had achieved as a team.
"When we landed there were people from the runway of the plane saluting and crying it was impressive.
"In South America football means so much, and a victory such as this made our fans happy.
"There were miles and miles of cars and fans from the airport to the street until we reached the city centre where there were even more fans awaiting us!"
For Órteman, the competition had a greater reward. He was awarded the best player throughout the whole campaign; something he believes he couldn't have done without his teammates, and to this day he still praises that Olimpia team.
"At the time they announced me player of the tournament and I did not pay attention to them, I was leaving the place," he adds on winning the award.
"I was just thinking of hugging my teammates and partying with them. Today I am still proud of my teammates for helping me achieve the individual prize."