By Archie Corbett.
As one of Serie A's most talented young players, Gaetano Castrovilli is beginning to turn heads in his first season in Italy's top flight.
The 22-year-old has been putting in some classy performances for Fiorentina, after a two-year loan spell at Serie B outfit US Cremonese. He won his first senior international cap for the Azzurri in the most recent round of international fixtures and, with more caps to follow for certain, just what is it about the young midfielder that's catching the eye of Mancini and co?
Castrovilli has been thriving in Vincenzo Montella's largely striker-less system, becoming a genuine goal threat from the heart of the midfield. With three goals to his name in his Serie A debut season, Castrovilli is joint top scorer for La Viola, sitting level with fellow young midfield starlet Erick Pulgar and defender Nikola Milenkovic.
While also chipping in with a couple of assists this season, Castrovilli's main statistical accomplishment is probably the most basic of them all – his playing time.
Despite not playing a single game for the Tuscan side prior to this season, Castrovilli has started every single match of this campaign and has played all 90 minutes for the vast majority of them.
Montella clearly trusts him, putting him alongside more defensive-minded midfielders in Erick Pulgar and Milan Badelj to act as the prime playmaker in behind the likes of Federico Chiesa and Franck Ribery.
Castrovilli acts primarily as a roaming playmaker who carries the ball from defence into attack. With Montella's insistence on playing the ball out of defence, his role is pivotal in allowing Chiesa to get on the ball in the final third.
Thanks to Castrovilli's quick feet and excellent spatial awareness, he's been able to do this to great effect, turning on a sixpence when in tight spots to avoid high pressing midfielders and attackers.
His quick initial bursts of pace allow himself plenty of attacking opportunities from simply taking the initiative when bringing the ball forwards, drawing in defenders with great success. His skill and trickery combined with ever-improving vision in the final third make him a constant threat to the opposition, continuously allowing him to either skip past a defender or play the ball through the lines to an onrushing attacker.
It's in moments like these where Castrovilli is making his name as a top-class talent.
His ability to turn defence into attack within seconds gives Fiorentina a whole new dimension to their play, giving Chiesa, Ribery and Prince Boateng chances up the other end.
However, due to his inexperience in Serie A, Castrovilli is sometimes caught trying to do too much on the ball. While encouraging his flair and talent to shine through in certain situations, it also leads to him overplaying the ball and losing it in key areas of the pitch.
Having said this, when they are dominating much of the ball, Castrovilli is able to adjust and dictate the tempo of the game, showing calmness on the ball far beyond his years.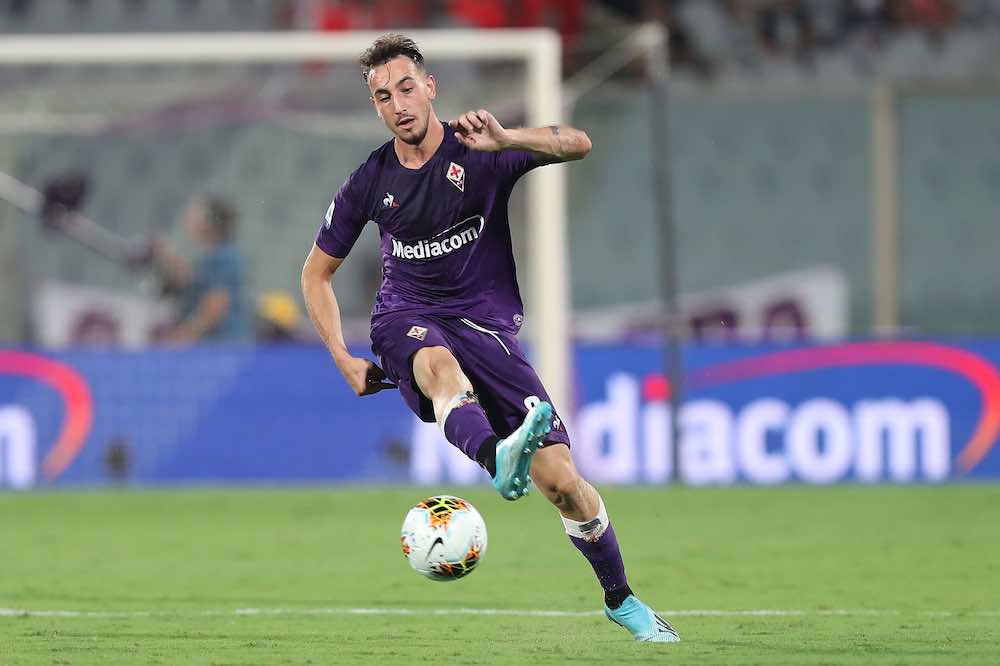 The inconsistencies when trying to force things on the attacking end showed themselves earlier on in the season, but with such a mercurial talent shining through in this Fiorentina side, his decision making will only get better with more and more playing time.
La Viola got off to a rough start to this season, not winning once in their first four prior to turning their form around with impressive wins in Milan and away to Sassuolo.
A disappointing 5-2 loss to high flyers Cagliari just before the last international break was a cause for concern, and subsequent losses to Verona and Lecce only added to this, but Fiorentina have had plenty of positives throughout the early stages of this season; none more so than Castrovilli.
As a result of his outstanding start to this campaign, Castrovilli has been rewarded, winning his first international cap (albeit four minutes off the bench against Bosnia and Herzegovina). Alongside this, he put pen to paper on a new contract until 2024 and has attracted the attention of Europe's top clubs thanks to his brilliant start to life in Serie A.
While the likes of Federico Chiesa and Franck Ribery will be in the spotlight for their performances for much of the season, Gaetano Castrovilli is a name well worth remembering going into the future and will inevitably play a huge role for the Azzurri's upcoming generation of young talent.