By Louis Smith.
Flamengo's Copa Libertadores victory saw their right-back, Rafinha, join an elite list with nine other players who have lifted both the Champions League and the Copa Libertadores.
Here's a look at the players he joined and how they accomplished such an achievement.
Dida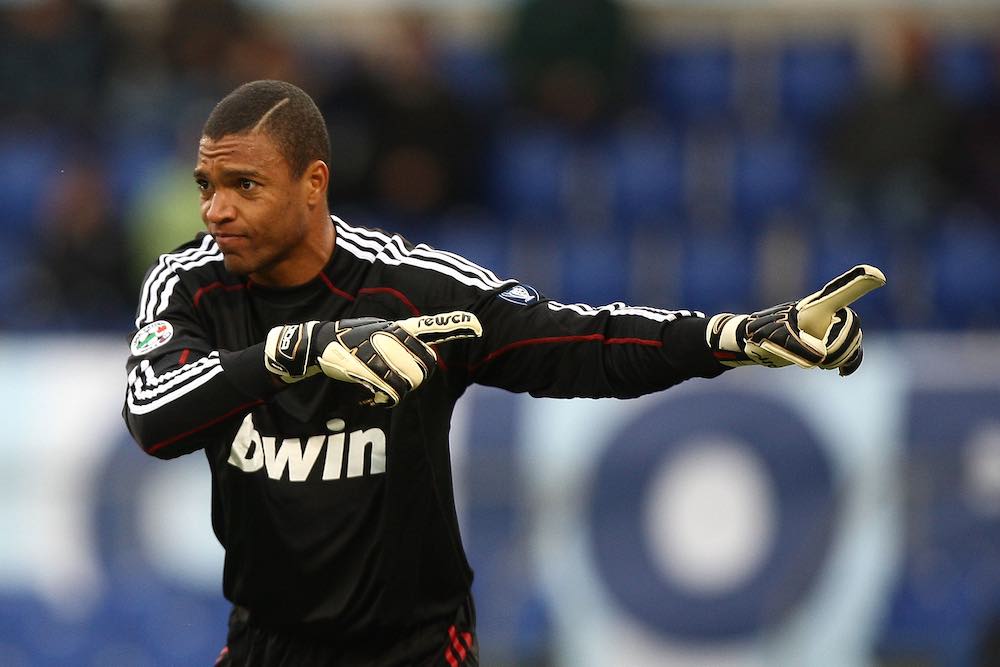 First on the list is former Brazilian goalkeeper Dida. In 1997, playing for Cruizero, he went on to keep two clean sheets in a two-legged final against Peruvian side Alianza Lima.
The game finished 1-0 on aggregate to the Brazilians.
Five years later, playing for Italian giants AC Milan, Dida made his mark on the European game in the 2003 Champions League final.
After 120 Minutes of football, neither Juventus or Milian could find a way past each other — something which was expected at a time when defensive football was still popular in Italy.
This led to a penalty shootout and three penalty saves from the Brazilian ensured his side would be crowned champions of Europe.
This was not Dida's only successful Champions League campaign. He won a second title in 2007, defeating Liverpool 2-1 in Athens, earning revenge after losing to the same opposition in the 2005 final.
Cafu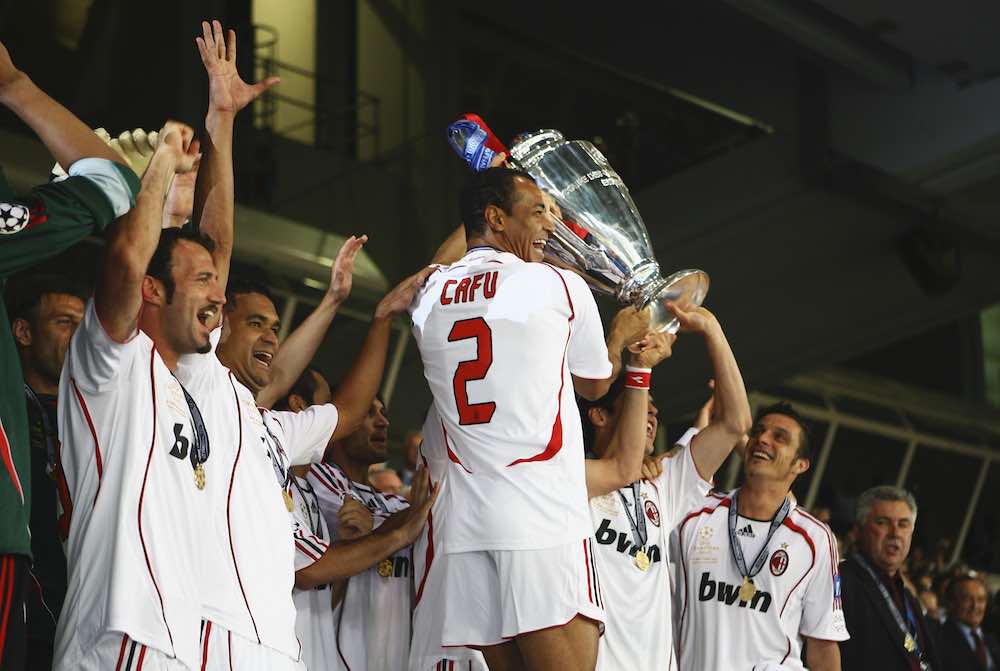 One of the greatest right-backs of all time — it's no surprise that the Brazilian has reached the top of the game in both South America and Europe.
In 1992, aged 23 Cafu earned a Libertadores winners medal by playing both legs of the final for São Paulo against Marcelo Bielsa's Newell's Old Boys.
The first leg finished 1-0 to the Brazilian side, and in the return leg in Argentina a penalty from Eduardo Berizzo gave Newell's a 1-0 win, sending the game to a penalty shootout.
Cafu took a penalty and scored in the shootout as he helped his side win 3-2 from spot-kicks crowning the Tricolor champions.
A year later there was more joy for Cafu and São Paulo as they successfully defended their crown. This time they took on Universidad Católica of Chile where things would be much more straightforward than the previous year.
In the first leg, São Paulo won impressively, 5-1, and the second leg finished 2-0 to the Chilean side, meaning the Brazilians won 5-3 on aggregate. Cafu played in both legs.
It was then 14 years before Cafu won a continental title again, and this time it was the Champions League.
Despite not playing in the final against Liverpool in 2007, he made it on to the bench and featured in the competition eight times in that season to earn a winners medal.
Juan Pablo Sorín
Sorín joined Juventus for the 1995/96 season and only featured twice before being loaned back to River Plate.
Juventus went on to win the Champions League that season with a victory over Ajax on penalties. As the Argentine was part of the squad he earned a medal.
In the Copa Libertadores in 1996 River took on América de Cali. The first leg in Colombia finished 1-0 to the host and he played the full 90 minutes.
In the return leg at the Estadio Monumental, River turned the tie around winning 2-0 with Sorín coming on as a late sub. This meant that within the space of just over a month he had become a double continental champion.
Roque Júnior
In 1999 Roque Júnior played in both legs of the Copa Libertadores final for Palmeiras as they took on Colombian side, Deportivo Cali. In the first match, the Brazilians lost 1-0 away from home.
The second leg saw Palmeiras win the game 2-1 and with the away goal rule not being in place the tie went to penalties.
Júnior scored the third penalty for his side as they overcame their opposition in the shootout in a 4-3 triumph.
Four years later In the 2003 Champions League final, Roque Júnior came on as a second-half substitute for AC Milan as they beat fellow Italian side Juventus in a shootout, meaning Roque Júnior became a champion of both competitions at the same time as his teammate, Dida.
Carlos Tevez 
Before moving to England Tevez was part of a Boca Juniors side who dismantled Santos in 2003.
In game one Boca put in a solid performance to earn them a 2-0 victory giving them something to protect away from home.
Boca was not interested in protecting their lead and instead added to it. Tevez finished off a lovely move to give them clear daylight.
Santos levelled the game with only 15 minutes left on the clock but they were still two goals behind on aggregate. Boca capitalized as the Brazilians tried to throw men forward. They eventually added another two goals meaning the overall score finished 5-1.
In 2008, Tevez was playing for Manchester United as they took on Chelsea in Moscow in the first all-English Champions League final.
Cristiano Ronaldo and Frank Lampard scored the only goals in normal time and after extra time the scorers were untroubled, meaning penalties.
Tevez took the first penalty and set the tone for United by scoring as they went on to win 6-5.
Ronaldinho
One of the greatest of all time, it's no shock that the Samba hero of the 2000s has won both the Champions League and the Libertadores.
He was one of those rare players who conquered Europe before South America.
In 2006, after lighting up Camp Nou for three years, it was time for Ronaldinho to help deliver the famous big-eared trophy to the Barcelona fans for the first time since 1994.
In their way was English side Arsenal who were seeking their first Champions League trophy.
Despite being a goal down, Barcelona turned the game around late in the second half to win 2-1 in Paris, crowning the best player in the world at the time, a champion of Europe.
Seven years later after In 2013, Ronaldinho featured in both legs of the final for Atlético Mineiro as they played Olímpia of Paraguay.
In Paraguay, Olímpia won 2-0 and the second leg saw Atlético Mineiro win the game by the same scoreline, meaning the game had to be settled by penalties. Atlético won 4-3 on spot-kicks, and this is currently their only ever triumph in the Libertadores.
Ronaldinho didn't take a penalty in the shootout after being substituted in the second half.
Neymar
Before moving to Barcelona in 2013, Neymar played for Santos for four years where he spearheaded the side to the Libertadores Cup back in 2011. In the same year, he was crowned the most valuable player.
Peñarol of Uruguay stood in their way. Neymar and Santos took a creditable 0-0 draw back to Brazil.
Neymar opened the scoring in the Pacaembu as Santos ran out 2-1 winners, claiming their third Libertadores title.
At the 2015 Champions League Final in Berlin, Neymar now playing for Barcelona was part of the best front three in the world along with Lionel Messi and Luis Suarez.
Barcelona showed their class and won 3-1. The Brazilian was on the scoresheet as he scored a late 97th Minute goal to ensure the trophy would be returning to Catalonia.
Walter Samuel
A legend to the Boca fans who won the Copa Libertadores in 2000 with the club.
They took on Brazilian powerhouse Palmeiras with the first leg finishing 2-2 in Argentina, meaning Boca had to get a result in Brazil to win the trophy.
With Samuel at the heart of the defence, they did just that as a goalless draw sent the match to spot-kicks in which triumphed 4-2.
After spells at Roma and Real Madrid, Samuel moved on to Inter Milian in the quest for European glory.
Managed by Jose Mourinho in 2010, Inter had arguably the greatest season in their history winning Serie A, the Coppa Italia, and of course, the Champions League, where Samuel played a key role in bringing the trophy back to Millan.
They faced Bayern Munich in 2010 at the Santiago Bernabéu in Madrid winning 2-0 thanks to a brace from Argentine striker, Diego Milito.
Danilo
Another full-back on this list is Danilo, currently playing at Juventus, He may have been a full-back for the bulk of his career, but when he won his first continental trophy he was playing in a completely different position — midfield.
He featured in the same Santos side as Neymar in their victory against Peñarol.
Following the win with Santos, he moved to Europe to play for Porto and after several successful seasons in Portugal, he was picked up by Real Madrid.
In 2016, Danilo came on as a substitute as the Spanish club scored all five penalties to win the match 5-3.
A year later in Cardiff Danilo was an unused sub as Madrid thumped Juventus 4-1 in Cardiff.
Rafinha
The newest member of the list following Flamengo's crazy turnaround against River Plate.
His win in Europe came in 2013 with Bayern Munich when he played two games throughout the competition earning a winners medal.
Bayern beat rivals Borussia Dortmund in an all-German final at Wembley, with a late winner coming from Arjen Robben.