By Daniel Lucci.
Serie A giants Juventus did not waste any time getting who they wanted in this year's January transfer window.
19-year-old Swedish youngster Dejan Kulusevski arrived from Atalanta in a deal which was apparently struck on January 2nd, leaving no time for competition from other teams.
The versatile midfielder, who can play in a variety of positions, has had a phenomenal 2019/2020 campaign with Parma. Kulusevski was on loan at Parma from Atalanta and will now remain there for the rest of the season.
The youngster did not come cheap to Juve as reports suggest they paid €35m plus a potential €10m in add-ons for the Swede.
But in today's market, with some of the large price tags going around, this could eventually turn out to be a steal for Juve.
Yes, he is only 19-years-old at the moment, and will undoubtedly have plenty to learn as he continues to develop, but what he has done and shown during his time at Parma this season has obviously not gone unnoticed.
Parma are currently seventh in Serie A this term with 28 points, and Kulusevski has played a major part in helping them get there.
He currently is tied for second in the team in goals with four and leads the team in assists with seven. Furthermore, Kulusevski has started in all 20 of Parma's Serie A matches and has been involved in roughly 45% of their goals this season. These stats are pretty impressive for a kid who is playing in his first full Serie A season.
If Kulusevski can continue to produce like this for the rest of the season, he will surely have a good chance of getting into the Juventus team starting next season. This would certainly help Juve's slow and ageing midfield.
Where Kulusevski will play for Juve is still up for debate, but being able to bring pace, skill and creativity to a team that is certainly lacking it, could prove to be very important.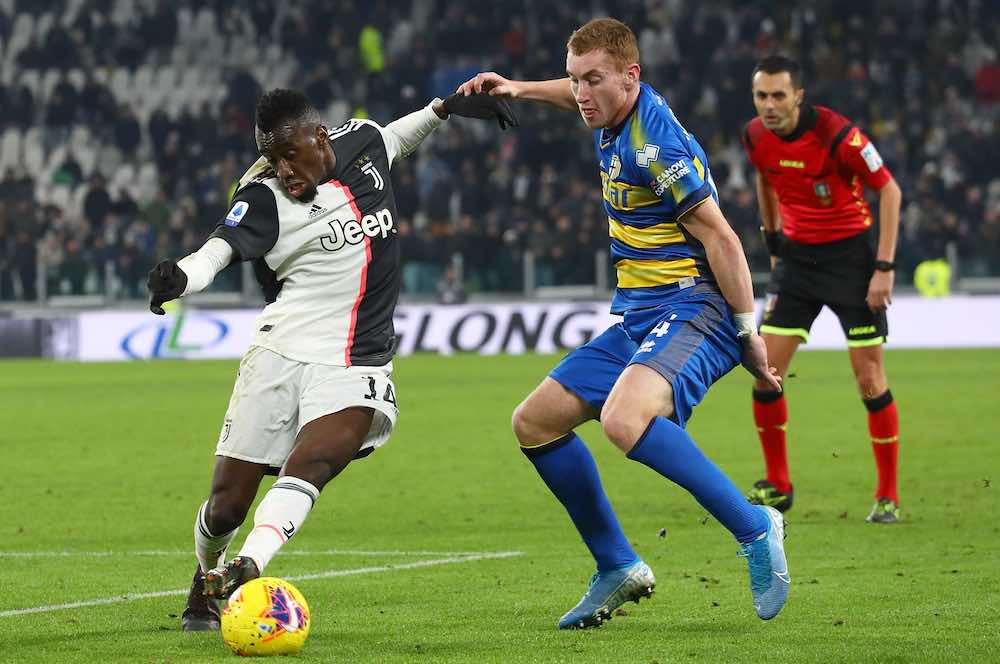 This current Juventus midfield could surely use a superstar or two, and Juve will be hoping Kulusevski can turn into the answer to some of their problems.
Of course their issues are much deeper and will not be completely answered by bringing in one player, but surely the teenager is the start when it comes to revitalizing this midfield.
At this point, Juventini cannot expect too much out of the 19-year-old as he is still a prospect. Nonetheless, if he can continue to progress in the way many believe he will, he could very well turn into the superstar the Bianconeri are in need of.
The towering youngster offers a lot of positive aspects going forward, something in which Juventus' midfield is severely missing this season.
He also brings versatility, something else Maurizio Sarri will certainly love to have in his squad.
Kulusevski can play a variety of positions, such as a box to box midfielder, attacking midfield or on either wing, but preferably the right he enjoys to cut in from the right to have a strike on his preferred left foot.
He will massively help this currently lackluster Juventus midfield and many fans will be hoping he can slot in straight away next season.
The important thing now is to let Kulusevski continue to develop at Parma and play as much as possible because sitting on the bench at Juventus would do neither party any good.
It is clear if he can continue to develop and play the way he has this season, Juventus will have themselves a wonderfully skilled and creative player but at this point, only time will be able to tell how it turns out.
If all the potential Kulusevski possesses turns into reality, the money Juventus paid Atalanta will be worth every single penny, and clubs like Manchester United and Inter Milan, who were also chasing him, will be disappointed in themselves for not coughing up the cash at the right time.
Here is hoping this highly scouted young phenomenon continues to shine for the foreseeable future and shows the footballing world that he is the real deal, paving the way for him to play for one of the biggest football clubs in Europe next season.