By Louis Smith.
On Sunday, the biggest game in Paraguayan football will take place for the first time in 2020 when Cerro Porteño makes the short trip to take on city rivals Club Olimpia.
The buzz in Asunción is beginning to take shape with the hosts confirming on their social media platforms that all tickets have sold out for the match known as the Superclásico.
Both teams have started the season in a similar fashion, winning three, losing and drawing one.
Olimpia Boss, Daniel Garnero, gave his thoughts going into the huge fixture,
"It's a special game, they are those three-point games, but for the fans, it's a different game," he said.
"Regardless of how each team comes, it is a different game. We must be very careful because we are going to face a great team, with a great coach.
"If we want to gain three points we have to be very good, be smart and counteract what the opponent is going to do and emphasize what we can do if we play our best we can harm anyone."
A worldwide audience is likely for this game due to the fact Emmanuel Adebayor could be in line for a debut, but if it is to happen, it will have to be from the bench.
Rumours have emerged of the starting line-up of Olimpia, and if correct Garnero has decided not to include new signing Emmanuel Adebayor who will instead be on the bench.
On the possibility of Adebayor playing, Garnero said, "Emmanuel is in a position to be called upon."
Garnero has opted instead to pick the front paring of Roque Santa Cruz and Derlis Gonzalez. At the age of 38, Santa Cruz is enjoying one of his best-ever starts to a campaign scoring seven times in just five matches.
If you include 2019, the former Manchester City man has scored for ten games in a row, which included a masterclass the last time they met Cerro Porteño when he scored four, ending El Ciclón's title hopes.
"We focus more on what we can do, on doing our job correctly and raising the game as we always play it, and focusing on our virtues rather than looking at what Cerro can do," Santa Cruz said.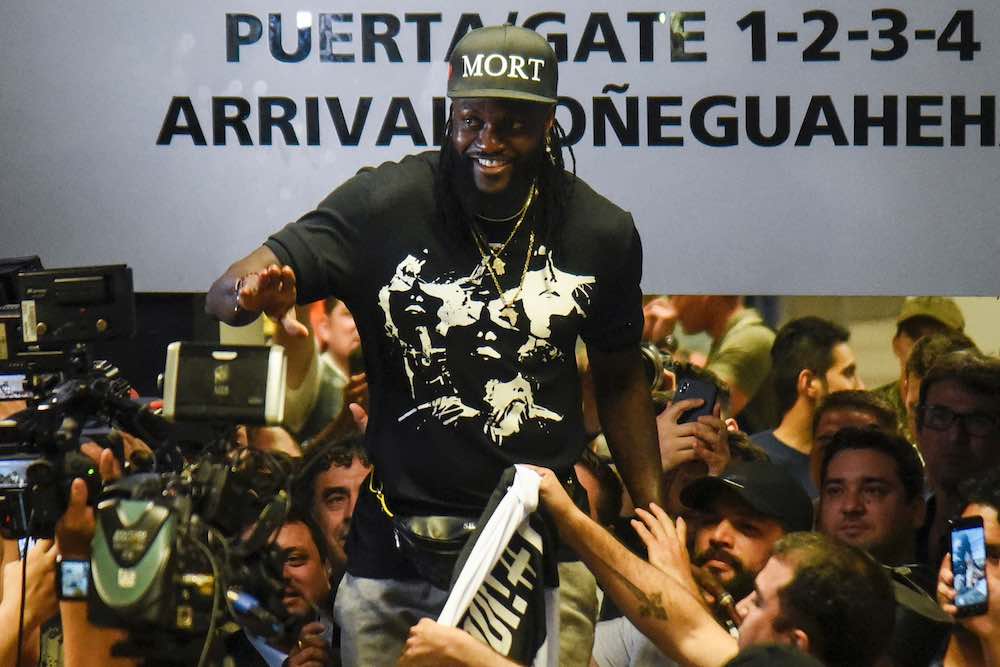 Alejandro Silva, Richard Ortiz and Rodrigo Rojas all who missed Olimpia's win at the weekend have returned to the squad. Tabaré Viudez and Willian Candia ruled out with muscle injuries.
Olimpia XI
Alfredo Aguilar
–
Sergio Otalvaro
Jose Leguizamon
Antolin Alcaraz
Tito Torres
–
Jorge Rojas
Nicolas Domingo
Richard Ortiz
Rodrigo Rojas
–
Derlis Gonzalez
Roque Santa Cruz.
Olimpia have had a full week to recover from their last outing in which they eased to a 4-0 victory over 12 de Octubre, the same can not be said about Cerro Porteño who played midweek and will be hoping that they can improve after two disappointing results.
Cerro raced into a two-goal lead against newly-promoted Guaireña FC and were in complete control of the match, only to find themselves switch off in the last 10 minutes and concede two sloppy goals meaning they had to settle for a point.
Real Madrid loanee Sergio Díaz, was impressive, looking threatening every time he picked up the ball.
On Wednesday in the Copa Libertadores against Barcelona SC, Cerro were doomed from the off as Marcos Caceres picked up an injury early on. Then his replacement, Fernando Amorebieta, picked up an ankle injury shortly after coming on, only managing to last until half time.
To add insult to injury, goalkeeper Rodrigo Muñoz misjudged a free-kick which ended up in his goal seeing Cerro go down to a narrow one-goal defeat.
Cerro boss Francisco Arce, also known as Chiqui, confirmed in a press conference that Caceres is the only player who will miss the game through injury.
Chiqui is no stranger to the fixture having also featured as a player for Cerro.
In 2015 he did the unthinkable by choosing to manage Olimpia, helping them to a league title before leaving in 2016, but now his loyalties once again lie with Cerro.
As a coach, in seven Superclásico, Chiqui has only lost once — good reading if you're a fan of El Ciclón who have not beaten Olimpia in their last six attempts with the last victory coming in May 2018.
The last time Cerro won away from home in this fixture came back in 2016, Chiqui will be trying everything in his power to end this unwanted run.
"There is respect from both sides, but I am sure it will be a great, dynamic game, they have a way of playing and we are finding our way," said Chiqui.
"Garnero — we know each other well, we know what players we have, it's an important game on the pitch, we trust our players.
"I have confidence in all my players, we are all are prepared, we are here to fight anyone. That is the reality."