By Cameron McAlpin.
The feel-good factor is creeping back into Elland Road, and Marcelo Bielsa is the reason why.
Known by his devout followers as El Loco, Bielsa has brought back belief to the fans. While there have been both ups and down during this season, there isn't another manager in the world Leeds would choose.
Leeds United fans have become obsessed with Bielsa. His detailed analysis of the game and his intense tactics are well documented, but Bielsa is also the first manager in a long time to fully connect with the fans, even when he isn't trying to.
Before Bielsa's reign, the Whites faithful had seen their fair share of faces lead Leeds into battle. In the six years before Bielsa, the club managed to get through ten permanent managers.
None of these had the stature of Bielsa, and the fans were not surprised if the board pulled the plug after one wrong result. Bielsa, though, didn't need to worry. After just one game (a 3-0 demolition of Stoke) the Argentine had successfully sold his product.
The fans hadn't seen this level of football for nearly 20 years, and while they came to watch the football, they stayed for Bielsa.
Though still eccentric, at 64 Bielsa isn't quite the mad man he once was. Tales have been told about his antics while manager of Newell's Old Boys, but as at Leeds, the fans of the Rosario based club loved every minute of it.
Leeds, however, got a much more reserved version of Bielsa and it was probably for the best, but while he may have no longer been wielding grenades, his hard-working approach and love for the game resonated with the fans.
Bielsa has been known for his incredible pre-match preparation attention to detail. As well as working the players in the classroom, he ran them ragged on the training ground. From his first game, Leeds looked like a different team, fitter, strong and more focused.
Six months into his second season with the club Bielsa has contained his manic preparation and intense style which has Leeds sitting second. It hasn't all been plain sailing for Leeds, and while the fans, ownership and possibly the players were affected by a dip in form, it was Bielsa who continued to reassure everyone that it was ok.
Since arriving at Leeds, Bielsa has often been a soothing, calming figure. He's an experienced and respected football guru who has been managing since 1992 and has always kept his head even when others didn't.
While a very small proportion of fans resent Bielsa for his attitude after a defeat, the rest of us needed Bielsa to be a reassuring voice.
When Leeds started the season on fire, it was Bielsa who took none of the praise and instead praised the players, fans and anyone without the last name Bielsa, but when Leeds stumbled, only managing one win in seven, it was Bielsa who took all of the blame.
It was he who pointed the finger at himself for the poor run of form and made sure that none of his players were in the line of fire.
In reality, Bielsa didn't deserve much if any of the blame. In almost every match he put his players in a position to win and they couldn't get the job done. That didn't matter to Bielsa however, the team didn't win so in his mind he had failed.
The form has since turned around and joy once again fills the packed-out Elland Road. Because of this, it has reminded me how much I think fans are taking Bielsa for granted.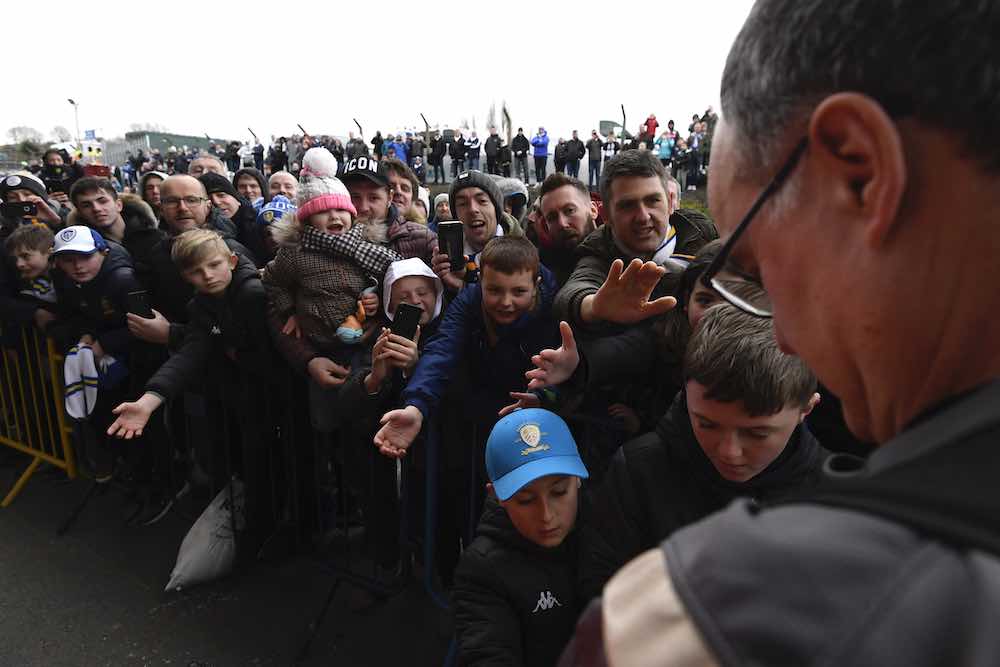 Bielsa is a cult hero in Leeds. Never before has a manager sent Leeds Twitter into meltdown for shopping at Morrisons, turned a bucket into a must-have item, or brought smiles to the faces of grown men for attending an official dinner in his club branded tracksuit.
El Loco is one of a kind. A footballing genius who, despite his nickname, is the calming leader that has not just steadied the ship but transformed it.
He's made many fans fall in love with the game again and more importantly brought hope and belief to a club that desperately needed it.
However this season ends, I think it's important for the fans not to gloss over the job Bielsa has done.
In-between the manic limbs and constant chase for promotion, make sure you take a moment to just sit back, relax and enjoy and appreciate Bielsa.