+18, New UK and Ireland customers only, begambleaware.org, T&Cs apply.
By James Nalton.
In Bruno Fernandes, Manchester United have finally made a move in the transfer market which is almost guaranteed to be successful.
The midfielder joined from Sporting for a fee of €55m which could possibly rise to €80m, signing a deal until 2025 with the option to extend until 2026. It already looks like a shrewd acquisition.
"For me to now play for Manchester United feels incredible," Fernandes said on joining the club.
"My love of Manchester United really started when I used to watch Cristiano Ronaldo play and ever since then I have been a big fan of this great club.
"I have worked hard to get to this moment and I can promise the fans that I will give everything for the badge to help bring us more success and trophies.
"I want to thank Sporting for everything they have done for me. It is surreal to hear the nice words that have been said about me from players that used to play for this team."
Use your football knowledge to make bets on the football stock market – Football Index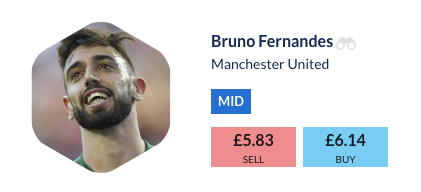 Given United's recent recruitment record, it might be tempting to mark any successful signing down as a fluke, but the Portuguese ticks a lot of boxes for Ole Gunnar Solskjaer's side which had remained unticked for some time.
At the very least United will get the same player who played for Sporting. A pro-active attacker who tries to create and score goals. Someone who is always thinking ahead, and who is also technically proficient enough to step into most teams as their dead-ball specialist.
At the most they will get a player who will be one of their best players in recent years, and could go on to propel them back into the Champions League and to challenging near the top of the Premier League table once again.
Most of Fernandes' strengths have already been on display during his first few games as a Manchester United player, with the most immediate example being his first goal for the club which came from the penalty spot.
Marcus Rashford, Paul Pogba, and Anthony Martial have all missed from the spot for United this season, but when the team were awarded a penalty against Watford last weekend, there was no doubt who would take it. The new signing stepped up and convincingly dispatched the kick past Ben Foster.
Statistically, Fernandes has carried on from where he left off at Sporting.
In the Portuguese league he was averaging 3.5 shots per game and has maintained a similar number at United with 3.3 shots per game on average.
The 25-year-old's pass success has remained on 77%, while his average number of passes per game has risen from 56 to 63. Again, a similar number, and it shows he is already heavily involved in this United team.
When it comes to this type of data the small sample size from just three Premier League appearances, compared to 17 in the Primeira Liga, has to be taken into account, but the early indications are good.
One area he is not yet up to the levels he reached in Portugal are key passes (aka chances created).
He currently averages 2.3 per game in England compared to 3.7 per game prior to the move, but this still makes him United's most creative midfielder, at least judging by this stat, along with Paul Pogba who also averages 2.3 key passes per game.
Fernandes already has two assists and one goal in his three appearances and looks like the type of player United have been crying out for.
The likes of Martial, Daniel James, Mason Greenwood, Rashford when he returns, and Odion Ighalo when he plays, should revel in playing in front of such an enterprising midfield force.
"Bruno's goals and assists stats speak for themselves," said Solskjaer when Fernandes joined the club at the end of the January transfer window.
"He will be a fantastic addition to our team and he will help us push on in the second part of the season.
"We have been tracking Bruno for many months and everyone here has been tremendously impressed with all his attributes and what he will bring to this team.
"Most importantly, he is a terrific human being with a great personality and his leadership qualities are clear for all to see."
United will be looking to qualify for next season's Champions League, and could even do so by winning the Europa League. It's another competition in which Fernandes has excelled this season, having scored five goals in five games for Sporting in the group stages.
Sporting look set to progress against Istanbul Basaksehir, holding a 3-1 lead going into the second leg, while United will be looking to defeat Club Brugge at Old Trafford after securing a 1-1 draw in the first game in Belgium.
It raises the possibility of Fernandes facing his former club fairly soon, but he will now be looking to make the difference in Manchester rather than Lisbon, and the early signs are that he is easily capable of doing so.
Buy shares in Bruno Fernandes on Football Index – bet on the football stock exchange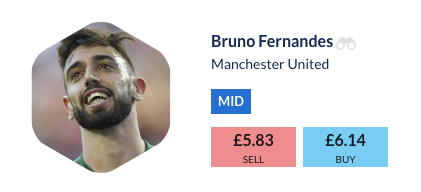 +18, New UK and Ireland customers only, begambleaware.org, T&Cs apply.