James Rowe spoke to OL Reign's English striker Jodie Taylor for WFi. They discussed her time with the Reign, starting out at Tranmere Rovers, representing England, and plans for the future.
---
You signed for OL Reign in 2018, how are you enjoying your time there so far and how would you describe the club?
"Yes, it was been great so far being at the Reign. I keep saying Seattle Reign but we actually transitioned earlier this year and moved 30 miles away to a place called Tacoma.
"I have really enjoyed my time at the club so far. Ever since the NWSL [National Women's Soccer League] started up I heard the Reign were a top club and also heard many great things about the ownership and players, so when the opportunity came to sign here [I took it].
"The NWSL is very different to European leagues that I have played in before, in that every game is challenging from top to bottom in the league.
"The gap between the teams is very small and there is a lot of depth in quality. For instance, during the recent FIFA Women's World Cup in France the league here carried on, and I do not think there are many leagues that would have the quality of players to be able to do that.
"There is also a lot of travel involved between matches, which is challenging, but it is all part of learning and growing as well."
---
You had a spell at the start of your career at Tranmere Rovers. How do you look back on your time there, and do you feel you learned anything in particular that has stood you in good stead for your career as a professional footballer?
"When I reflect and look back on my time at Tranmere Rovers, the club has such a special place in my heart. I started my career there, playing in teams from age twelve and I stayed all the way through until I was 18.
"Tranmere are my hometown club, and I have great memories of my time there both on and off the pitch, and some of my closest friends are girls that I have played with when growing up at the club.
"Over the years the club have remained welcoming. The coaching staff I had are still at the club: Shirley Waring, Louise Edwards, and Steve Williams, and they played a huge part in my development and got me to a level of playing in the English youth setup, too. I owe a lot to them and the club.
"When I was 16 I suffered a bad leg break, and to put it into context back then, the women's game was not professional at all. I was playing senior football from the age of 15 and we trained twice a week and [there was] no money in the game, and it is amazing how much the game has grown from then to now. Never in my wildest dreams did I think that it would get to this point.
"After my leg break, the coaching staff managed to get me in with Les Parry on the men's side to help me with my rehabilitation through the summer. A great gesture from the club that they were able to support me through a really tough time.
"They really set me on my way for the career I have had and I will forever be grateful to them. Even after all this time I still feel connected to the club.
"One of my most special moments came after the European Championships two years ago. We played Russia in a World Cup qualifying match at Prenton Park and I got my golden boot presented to me there in front of my family and friends. It felt as though things had come full circle in that respect."
---
You are a fully-fledged England international having won many caps. How do you reflect on your international career so far? Do you have any special memories or highlights?
"Yes it is an interesting one because a lot of people do not realize this, but I did not get my first cap for England until I was 28 years old, so my international career started at a much later date than normal.
"But it has been a really successful time so far. As a team we have achieved so much, too.
"My first tournament was the 2015 World Cup in Canada. We came away with a bronze medal which was amazing. Beating Canada in front of their home fans in a stadium of 50,000 people and winning a World Cup quarter-final for the first time, against France, and also getting a medal at a World Cup was a very special moment.
"Also in the European Championship where I scored a hat-trick against Scotland in the opening match. I feel like every tournament we play in is special, and especially with the most recent World Cup and the attention it received.
"We had a good squad and I believe that the belief and hunger in our group is the best it has been since I have been involved. We believed we could go all the way and it was a close match against the U.S.A. We went toe to toe with them.
"I have had some great moments and I do not plan on stopping anytime soon."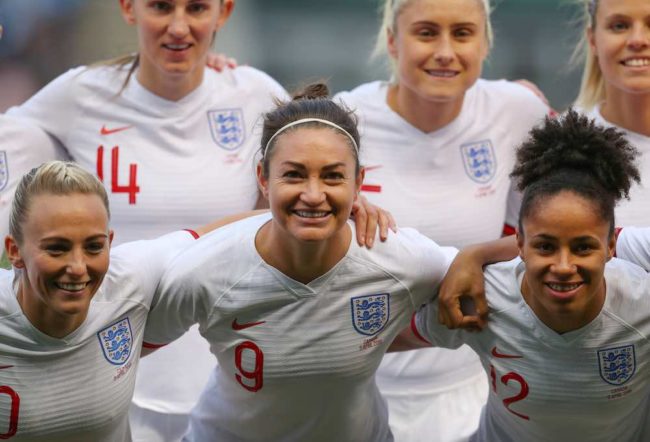 ---
You have accrued a lot of experience at club and international level and have played with many good players. Could you say who are among the best you have played alongside so far?
"I have been fortunate to play with so many good players. Playing in a lot of different countries you come up against many difficult opponents.
"My current teammate, Megan Rapinoe, is a great player.
"I wish I would have had the opportunity to play with Kelly Smith. We crossed over when I was at Arsenal Women and I had an Achilles injury and she was at the end of her career so I never really got the chance.
"Another player that I looked up too was Christine Sinclair. We played together at Portland Thorns and she is so close to breaking the all-time scoring record in international football*.
"She has great movement and finishing and she always remains calm and composed as a striker. I really hope that she beats the record I really do.
"In the England setup, I do not wish to name names just because we have so many great players.
"The one thing I would add is that it is not just about talent. Some of the best teammates I have are the ones that have been the most professional and been diligent and disciplined in what they do and for me that is remarkable.
"My teammate at OL Reign, Michelle Betos, is a goalkeeper who has never played for the national team but she is one of the most professional players I have ever played with. So diligent and he does her research. She goes above and beyond to be the best version of themselves."
---
I can imagine in your position as a striker that you have come up against some very good opponents through the years. Are there any opponents that stand out for you?
"I always look at defenders that I come up against and the challenge that they present right now in the USWL.
"The biggest centre backs are Becky Sauerbrunn of the U.S.A. and I have always admired her as it is always difficult to play against her as she is a great all-rounder and very good on the ball; and also, Abby Erceg, who plays for New Zealand. She is a top centre back.
"I always found it difficult to play against Hope Solo who is the former goalkeeper of the U.S. national team."
---
You mentioned managers earlier in this interview. Could you say which coaches and managers have played a key role in your development as a professional footballer?
"I believe that any club that I have played for, and that includes playing for a lot of managers, I have always taken something from every manager I have played under.
"It is about being flexible and adapting to different coaching styles. Every manager I have played under has taught me something however big or small. I have been very fortunate in my career to play under many coaches and I can truly say that I have learned something from every manager I have played for.
"I am really enjoying playing for Phil Neville in the England national team right now. He is such a great people person and a good coach as well and I really enjoyed the last World Cup."
---
Finally, Jodie, I wanted to ask about the future. When your playing days are over, is there anything in specific that you would like to achieve?
"I will definitely be involved in the game in some capacity, whether that will be coaching or more of a management role.
"I am interested in the psychological and well-being side of players, and I believe that it is an area that is lacking in the women's game.
"The game has gone from not being very professional at all to being very professional, and younger players are coming through, and to help teach them about the stresses involved in that.
"I am just about to finish my UEFA B License through the PFA and that has been going really well. I have enjoyed it and I plan to go on to obtain my UEFA A license.
"When I attended college in the United States I came away with two degrees, one in psychology and one in sociology. The money is nowhere near the men's side either, so it is about planning for the future and post-planning, and I will look at that aspect of things, not just looking at the tactical side of the game, from a performance standpoint too, on and off the pitch, as I have got older I have appreciated that area of the game more.
"I would like to help grow the women's game in future. I will look at all avenues whilst playing and start looking at other areas and see where it takes me in the next few years."
---
*Christine Sinclair went on to break the record in January 2020 with two goals for Canada against Saint Kitts and Nevis to pass Abby Wambach's record of 184 goals.