By Jerry Mancini in Toronto.
When Toronto FC entered Major League Soccer in 2007, it was a proud day for soccer fans in the region as they finally had an MLS team to cheer for.
In the 13 years they have been in the league, TFC have been on a journey which has seen plenty of ups and downs.
In the seven years before head coach Greg Vanney arrived, the club struggled. They were successful in the Canadian Championship but failed to make the MLS playoffs once during that time.
Since Vanney's arrival in 2014, the club has seen a run of five successful seasons from 2015 onwards. In his first full season with TFC, they advanced to the MLS playoffs for the first time in their history and in the following four years saw great success.
After finishing runner's up in the 2016 MLS Cup, 2017 brought a hugely successful season which saw the side win the double of Supporters' Shield and MLS Cup, also adding another Canadian Championship for good measure.
Participating in the Concacaf Champions League in 2018 as a result of the previous year's success, TFC made it all the way to the final where they were defeated by Mexican side Guadalajara on penalties.
Vanney has instilled a winning mentality at the club since his arrival and has made players such as Sebastian Giovinco, Michael Bradley, Jozy Altidore club legends, as they bought into his system and what he stands for.
In the most recent match, when Toronto faced New York City FC last weekend, Vanney reached a new personal milestone winning his 100th game with the club.
"I'm pleased for what the 100 wins stand for," he said after the game.
"Over the course of these 100 wins we've raised trophies and [reached] eight finals in the last four years.
"We've been in it every year. We won a Supporters' Shield and an MLS Cup. All 100 of them are special in their own way, tonight included.
"I'm happy with the guys that I get to work with because they are the ones who win the game. I try to set them up to understand what the game is going to look like and give enough for them to execute.
"They're the ones who go on the field and make it happen. A lot of these guys have been here since the first win and are here still, and I'm proud of them. My job is to give them a framework and win games."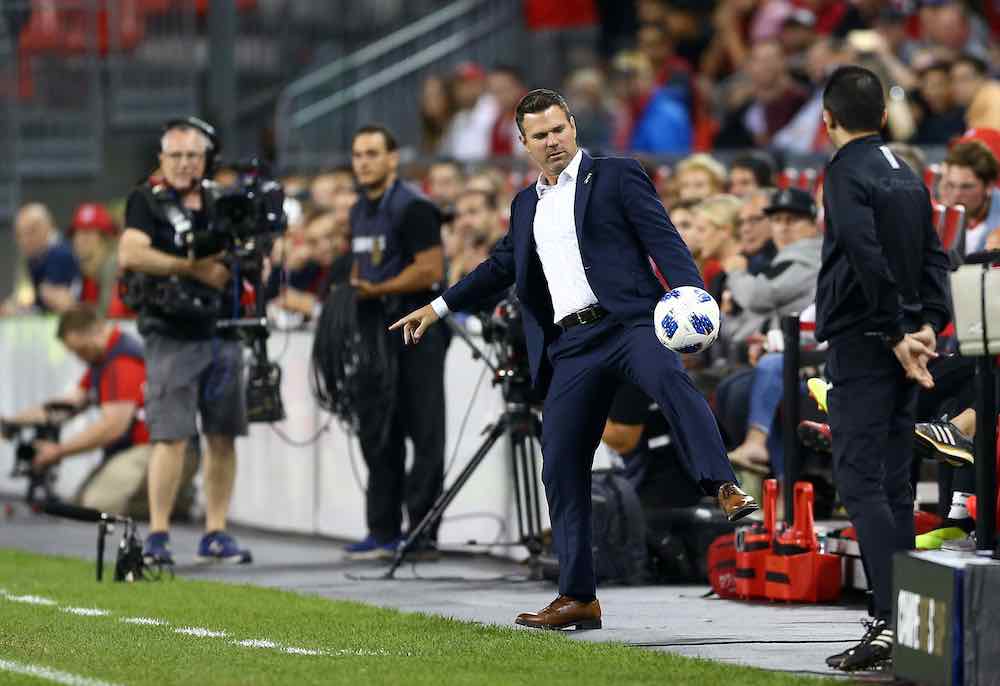 Vanney has always shown confidence in, and commitment to his squad and, as he alludes to, some players have chosen to stay with Toronto throughout his time here. One player he has helped develop during this time has been Richie Laryea.
"He's the one that brought me along, with his staff and front office, so I'm very thankful for him," said Laryea when asked about his coach.
"He clearly knows what he's doing to get 100 wins. He's built a very good foundation since he's stepped foot into this building. I hope he gets 100 more here. He's big for me and I know all the guys feel the exact same way.
"He's usually calm and composed and he makes sure that were calm and composed [too] so it's easy for us to execute."
American striker Altidore has been able to play under Vanney in his five full seasons with the club. The player and manager have accomplished a lot together and Vanney has been instrumental in Altidore's success since his return to MLS following a stint in Europe.
In his time with Toronto, the striker has scored 56 goals in 111 league appearances and has also been a part of the team's success throughout the years. Altidore has always looked up to Vanney and has a lot of respect for his manager and what he's accomplished.
"Couldn't be happier for him," said Altidore. "We had a little moment for him. His vision, his way of wanting to play football, even with sometimes not the most talented group, he finds a way to get a group that works hard together for him.
"It's a testament to what he's built here and as much as we've had some great players come here in the past four or five years. None of it happens without a man with such a vision and a strong personality like him."
Vanney has managed 227 games with the club in total and is its most successful manager in the club's history by some distance. In many ways, he has defined Toronto FC, and has helped them become one of the most successful teams in MLS.