By Joe Fischetti.
The second leg of the Champions League Round of 16 tie between Napoli and Barcelona was originally scheduled to be played on March 18.
With all leagues, including the Champions League, suspended due to the COVID-19 outbreak, what better time to revisit the first leg of this tie?
There were plenty of storylines heading into this fixture. Both clubs had to this point underperformed expectations in their respective leagues.
Napoli were expected to compete for the Scudetto but entered this match in 6th place in Serie A. After a poor run of form, Napoli replaced manager Carlo Ancelotti with Gennaro Gattuso, a manager who had never coached in the Champions League.
Barcelona entered the match top of the table in La Liga, yet many would consider their season a disappointment. Fortunately for Barcelona, their rivals in Madrid have also underperformed, so the clubs continue to battle for La Liga supremacy.
On January 13, Barcelona replaced manager Ernesto Valverde with Quique Setien who, like Gattuso, had never coached in the Champions League prior to this match.
That said, both clubs seemed to be finding form. Napoli had won six of their last seven in all competitions, including victories over Lazio, Juventus, and Inter.
Barcelona had won five of their last six matches and was coming off an impressive 5-0 victory over Eibar. A game in which superstar Lionel Messi scored four goals.
Indeed, it was Messi that dominated the pre-game headlines. The striker is without a doubt the best Argentinian footballer since Maradona. Maradona is considered nothing short of a God in Naples, with murals and paintings of the two-time Scudetto winner scattered throughout the city.
Here, Messi was playing his first-ever match at the house that Maradona built, the Stadio San Paolo.
It was clear from the opening whistle that Napoli's game-plan was to defend and counterattack, and they did so with great effect. When Barcelona had possession, all ten outfield players were behind the ball, playing and moving as a cohesive unit.
The zone defence and rigid structure was very difficult to penetrate, forcing a frustrated Barcelona squad to attempt passes over the top, which often landed comfortably in David Ospina's hands.
Though Barcelona dominated possession, when Napoli had the ball they looked threatening. The Azzurri played quick passes to work their way up the pitch, and when they conceded possession were quick to hustle back.
Much to everyone's surprise, Napoli struck first. In the 30th minute Dries Mertens sent a sublime curling strike past an outstretched Marc-André ter Stegen to give Napoli a 1-0 lead. The goal was Mertens' 121st for Napoli, tying Marek Hamsik's club record.
After scoring, Mertens ran to the camera behind the goal and danced with his tongue out, an ode to his good friend and Napoli staffer Tommaso Starace.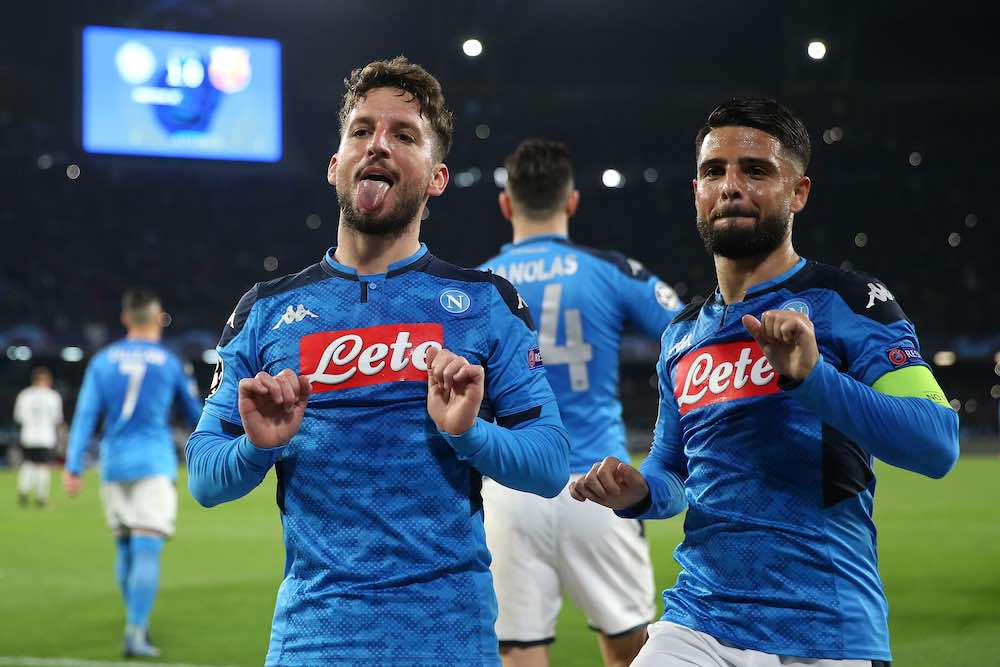 Napoli nearly doubled their lead in the 42nd minute when Kostas Manolas' low strike narrowly missed the near post. Barcelona went into the break down 1-0.
The pace and intensity of the game picked up in the second half. In the 48th minute, Sergio Busquets caught Dries Mertens with his studs up, earning himself a yellow card. As a result, Busquets will miss the second leg of this tie.
Mertens sustained a knock on the play, and after playing a few more minutes was unable to continue. The Belgian was replaced by Arkadiusz Milik in the 54th minute.
Only a few minutes later Barcelona would break through what had been an impenetrable back line. Arturo Vidal dropped deep to receive a pass from Messi, pulling Maksimovic out of position and creating space for Busquets' through-ball.
Mario Rui was late to pick up Nelson Semedo's perfectly timed run, and Giovanni Di Lorenzo was late to push up, playing Semedo on side. Semedo played a one-touch pass to Antoine Griezmann and the Frenchman finished a well-worked goal by the Blaugrana to draw level.
Napoli responded well after conceding the equalizer, creating two excellent scoring opportunities in the span of two minutes, forcing ter Stegen to make two very important saves.
Neither side created many opportunities after that. Tempers flared in the 88th minute after a reckless, late challenge from Vidal on Mario Rui. After the two players locked heads, Vidal received a double yellow, the first for the challenge and the second for the altercation with Rui. As a result, Vidal will join Busquets in the stands for the second leg.
Napoli were not able to capitalize on those final few minutes with the extra man and the match ended a 1-1 draw.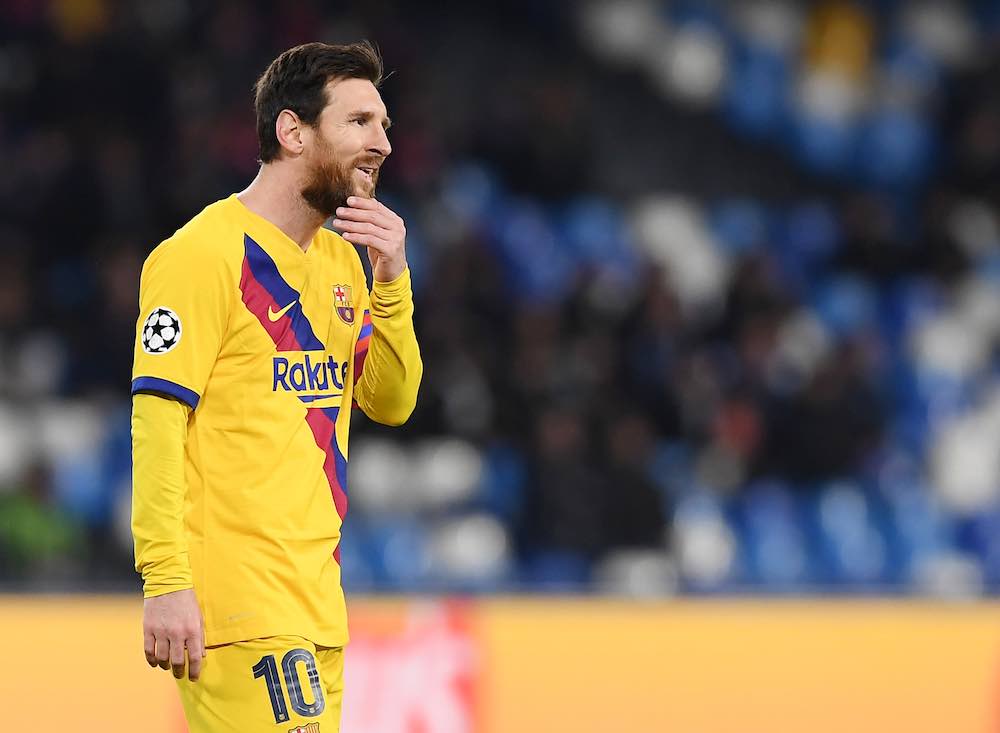 This match demonstrated how important fans are to a football match. The Stadio San Paolo was buzzing with excitement from start to finish.  When Barcelona had the ball, they were met with jeers and whistles from the Napoli faithful. When Napoli had possession, the fans encouraged their team with songs and cheers.
After the match, some were critical of Gattuso and his defensive approach. The critics suggested the Partenopei missed a golden opportunity to take advantage of a poor Barcelona performance. Some of this criticism was warranted, as Barcelona have yet to lose a match at the Camp Nou this season, with a record of 17 wins, two draws, and no defeats in all competitions.
The critics presume that if Napoli were more aggressive, they would have still defended well, and this is by no means a given. Napoli's Achilles heal early in the season was the counterattack. Playing a more open style would have exposed Napoli's weakness and given one of the most potent strikers on the planet an opportunity to counterattack.
Gattuso also recognized the importance of scoring the first goal. After Napoli's 3-2 loss to Lecce, Gattuso commented on the team's poor mentality after conceding the first goal.
Others praised Gattuso, appreciating the effectiveness of his tactics. While Napoli chose to defend and counter, they ultimately created more scoring opportunities than their opponent.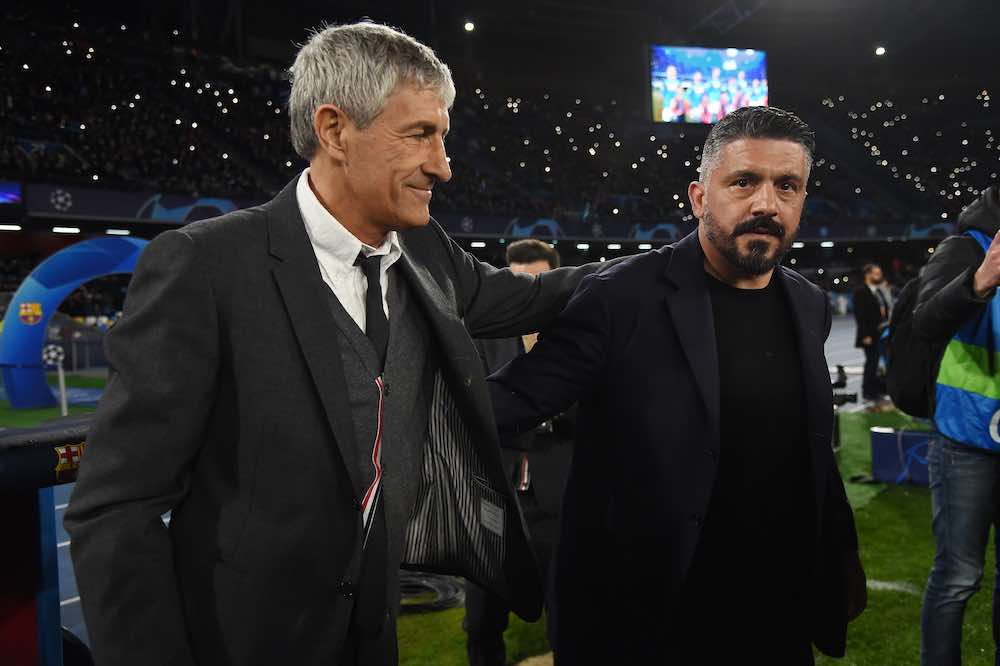 Napoli's back line of Giovanni Di Lorenzo, Manolas, Maksimovic and Rui were superb. Other than the breakdown leading to Griezmann's equalizer, nothing got past the wall they put up. Messi, arguably the best player in the world, was non-existent in this match.
Napoli will visit the Camp Nou for the second leg with nothing to lose. Though some Napoli (and Serie A) supporters were disappointed with the draw, few expected this result prior to the match.
Expect a much more offensive style from Gattuso's men in the second leg. Having conceded an away goal, Napoli need to score. The Azzurri can afford to play an open style from the start of the match.
Though a clean sheet would be ideal, Napoli can afford to concede a goal, as a 1-1 draw would force extra time and possibly a shootout, where anyone can win.
With Busquets out and players like Demme and Ruiz playing at a high level, Napoli are more than capable of winning the midfield battle, even at the Camp Nou.
With the second leg yet to be rescheduled, Luis Suarez will have time to return to health and restore the three-headed monster alongside Messi and Griezmann.
One can only hope there will indeed be a second leg.