By Daniel Lucci.
A playmaker. A set-piece specialist. An architect in midfield with pinpoint passing accuracy. These, combined with wonderful vision, are just some of the attributes which make Andrea Pirlo an Italian all-time great.
The deep-lying midfielder accomplished an incredible amount during his long career, both at club and international level.
Pirlo was crucial to all the teams he featured in. The Maestro was able to make things tick every time he was on the pitch, and every time he was on the ball. No other Italian, and few other players anywhere, were able to offer the type of attributes he did.
Mostly known for his time at AC Milan and Juventus, Pirlo emerged as a youth player at Brescia, and also spent some time at Inter Milan during the early days of his career. Then, in the twilight of his playing days, he travelled to the United States to play with New York City FC before retiring in 2017.
Pirlo was voted footballer of the year three times in Italy, won Serie A on six occasions, is a two time European Supercup winner, two-time UEFA Champions League winner, among many other achievements.
Not only was he recognized as a top club player, but he was also able to demonstrate his wonderful play on the international stage, too.
The regista was able to represent Italy throughout his career at many different levels. In 1994 he featured for Italy U15s and never looked back. He featured in all Italy youth teams, along with the Olympic team at the 2000 Olympics in Sydney, winning a Bronze medal.
He was named Italy captain at the 2000 U21 European Championship, a tournament the Azzurri went on to win, and after which Pirlo was named player of the tournament.
He was recognized as a top talent from a very young age, and everyone was able to realize just how talented he was once he began to feature on the international stage at senior level, making his much-anticipated debut in 2002.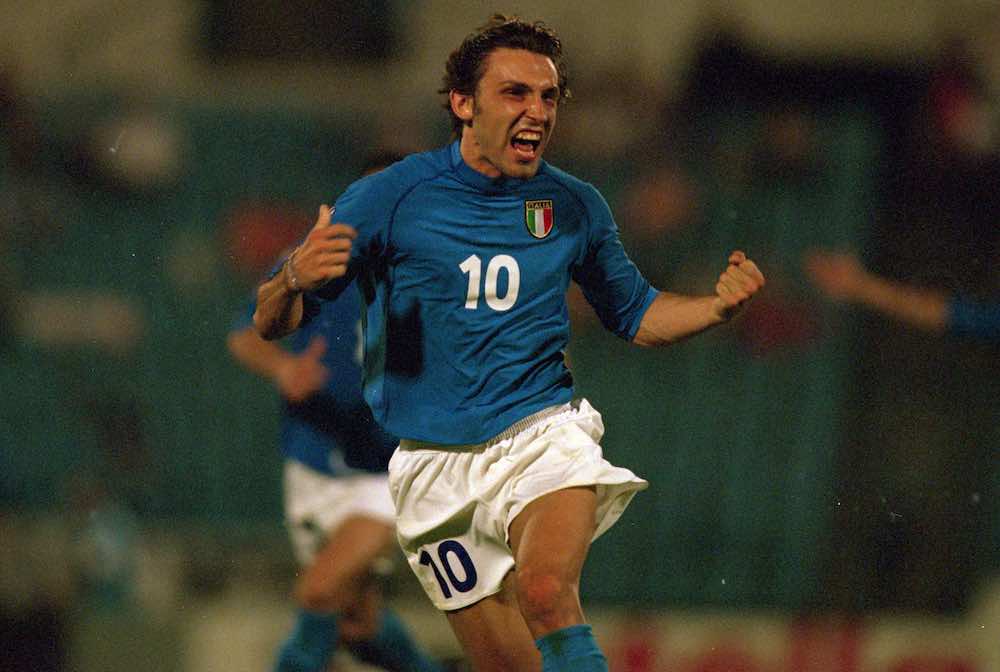 Pirlo went on to make 116 appearances for Italy during his 13-year international career, scoring 13 goals. His 116 caps put him fifth on the list of most-capped Italian players.
Making his debut in September 2002, under coach Giovanni Trapattoni, he went on to represent Italy at three separate European Championships and three World Cups. Although Pirlo was able to impress throughout his time with the Azzurri, undoubtedly his most cherished moment was when he was able to lift the World Cup in 2006.
During Italy's 2006 journey to World Cup glory, Pirlo featured in all seven matches, being substituted only once. During this tournament, he was able to collect one goal and three assists, along with scoring a crucial penalty in the final against France.
Furthermore, he was named Man of the Match on three occasions — more than any other player — and was named in the 2006 World Cup All-Star squad.
Pirlo will undoubtedly go down in Azzurri history as one of the top talents and arguably the best Italian midfielder to ever take the pitch.
Italy great Roberto Baggio, when asked about Pirlo, said: "His vision, what he can do with the ball, and what he's able to create, make him a true superstar. Andrea has something which you don't see very often."
Former Barcelona captain and Spain great Xavi once stated: "There is no player in the world right now that shares Pirlo's talent, I have always been a fan and admirer."
The praise from many football legends proves just how pivotal he was to the success of his teams on all stages, and his collection of trophies are evidence of a successful career.
Although recognition of talent from other footballers is always a sign of respect, the words of admiration and friendship from teammates shows Pirlo was not just a talented footballer, but also a humble person.
Despite never being able to play together at the club level, Daniele De Rossi did not mince his words when describing the influence Pirlo had on him.
De Rossi, who was also part of the 2006 World Cup team, said this of his former teammate: "Pirlo has touched my soul because we played with each other for over 10 years. He is an example and he deserves all the respect he gets."
Though they may have battled each other at club level, they became warriors, champions and friends by representing their nation together.
The praise and respect for Pirlo throughout the footballing world is endless. A talent with so many attributes is rare, which is why we may never see a player like him ever again.
A true composer of football. A game-changer. A winner at both the club and international level.
Grazie Maestro.