James Rowe spoke to former Manchester United midfielder Luke Chadwick for WFi. They discussed his time at Manchester United, playing in Belgium, the best players he played with and against, and the coaches and scouts who helped him along the way.
---
You retired from professional football in 2016. How are you enjoying retirement and how is life after football?
"After retiring from professional football I found it really hard when I stopped playing and I struggled at times, but I eventually managed to get over that period and now I can enjoy life much more."
---
You came through the youth setup and went on to make first-team appearances for Manchester United. How do you look back on your time at the club and do you have any highlights or special memories?
"The highlight was actually getting into the Manchester United first team after signing for the club as a 15-year-old.
"I am from Cambridge so I would travel up to train with at Manchester United at the weekend and then I would return home.
"When I turned 16 I moved up to Manchester. It was an incredible experience to be part of that club and being part of a first-team squad of world-class players day in and day out."
---
You had a loan spell at Royal Antwerp in Belgium. How do you look back on your time abroad and did you learn anything in particular that stood you in good stead for your professional football career?
"Yes, my time in Antwerp was one of my most enjoyable experiences of my playing career. I just felt so free and I could go out and express myself on the pitch.
In terms of the lifestyle, it was an amazing experience as a 19-year-old to live and play football abroad. It was great to experience a new culture and style of football and I enjoyed every minute of it.
"The style of football is slightly different in Belgium in terms of the pace of the games, as I was used to playing a very fast and direct style of football.
"I found myself having an impact on games and putting in good performances and it really stood me in good stead for returning to England and getting in the first-team squad at Manchester United."
---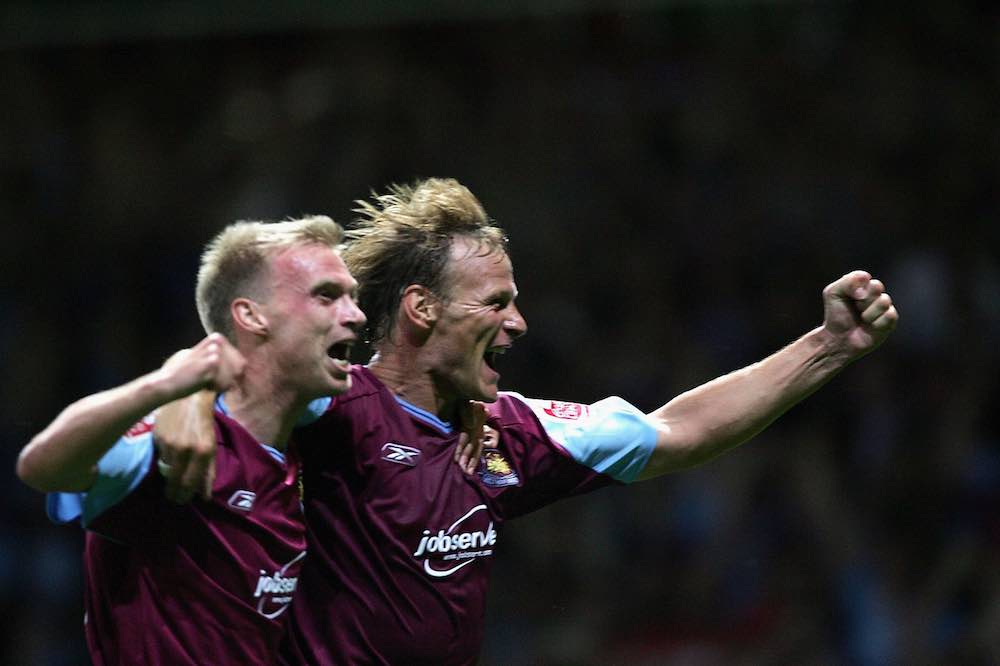 "You played two seasons for West Ham United. How do you look back on your time at the club and do you have any special memories or highlights?
"Well, I moved to West Ham from Manchester United, and before that I was on loan at different clubs. I wanted to get back down South in order to be closer to my family.
"I started really well at West Ham and managed to be part of the squad that got promoted. The manager at the time, Alan Pardew, was under massive pressure and there was a lot expected of him and the club. We went on to defeat Cardiff City in the play-off final and gain promotion to the Premier League.
"I really enjoyed my time at West Ham. We had a good squad of talented players, too."
---
You accrued a lot of experience at club level in England playing in the Premier League and different levels of the English football pyramid. Could you say who are among the best players you played alongside in your career?
"The best player I ever played with was Paul Scholes, and I think almost every footballer that has played alongside him would say the same.
"He was just always one step ahead of opponents in terms of ball patterns and he knew where everyone was on the pitch.
"He could play one-touch and he could shoot accurately from distance. He was able to do everything and he had such a tremendous football brain. He is definitely the best player I ever played alongside.
"He was a quiet and unassuming man who would come in and do a job on the pitch. He was just so focused and a great man to play alongside.
"A quiet man off the pitch but he certainly did his talking on the pitch on a regular basis."
---
I can imagine in your position as a midfielder that you have come up against many difficult opponents through the years. Are there opponents that stood out for you?
"I think back to when I was younger, playing as a wide player. I played wide right quite a lot and a player who I found it hard to play against was actually in training every day, and that was Mikael Silvestre.
"He was so strong and quick that I would say that he is the hardest full back I had ever played against.
"I was also lucky enough play in a match against Arsenal at Old Trafford where Thierry Henry and Patrick Vieira were playing. The calibre of those players and the talent that they had was unbelievable and both players would be up there in terms of being the best players that I had played against."
---
"Finally, Luke, could you say who were the coaches or managers that meant a lot to you and played a key role in your development as a professional footballer?
"There was a scout at Manchester United called Ray Medwell, and he originally took me to the club. He was instrumental in scouting for Manchester United and being able to get me up there, as there were times where I could not get to Manchester and he was a great help.
"Youth team coaches such as Eric Harrison and Jim Ryan, and then the main man — Alex Ferguson. He was just an incredible man and the best manager that I ever played under. He had an incredible aura about him where you always wanted to run through a brick wall for him and he was the one man that you did not want to let down.
"He was without a shadow of a doubt the best manager I ever played under. His Manchester United, in general, were all about the hard work first and then the talent would come through. The habits of always working hard in training every day with the attitude of working as hard as possible and then that would transmit into competitive games."