James Rowe spoke to Boavista's Nigerian midfielder Nwankwo Obiora for WFi. They discussed his time with Inter Milan, winning the Africa Cup of Nations with Nigeria, and facing Luka Modric.
---
You signed for Boavista in 2018. How are you enjoying your time at the club so far, and what would you say are the strengths of this Boavista team?
"I am really enjoying my time here so far. Boavista is a traditional club with lots of culture and a good history here in Portugal.
"They have a big fan base too. It is a pleasure to be part of a club with such a good history.
"One of the biggest qualities with have as a team is the never say die attitude we never give up. It does not matter if we are losing or how badly the game is going we never give up. We always keep fighting together as a team."
---
You had a season playing for Inter Milan, one of the biggest clubs in Italy and in world football. How do you look back on your time there, and do you have any special memories or highlights?
"Yes, looking back on my time at Inter Milan it was a wonderful experience for a young player coming all the way from Africa to play and be involved at a major club like Inter Milan.
"I enjoyed every single minute of it and every bit of it. I have lots of special memories during my time there but the most special one has to be my first Champions League match against Tottenham Hotspur at White Hart Lane in London that certainly is right up there in terms of highlights in my career so far."
---
You have been fully capped by your country of Nigeria. How do you look back on representing your country and do you have any highlights or special memories?
"Yes, It is every player's dream to represent their national team and although I was capped by Nigeria at youth international level at under 17, under 20 and under 23 level, when I was capped by the first team of Nigeria was an amazing experience and everything that I could have hoped for.
"I have lots of memories and special times. The biggest was winning the African Cup of Nations with my country. That for me is the most memorable highlight of my career so far."
---
You have accrued experience playing professional football in Romania, Italy and now Portugal, as well as international level. Could you say who are among the best players you have played alongside so far in your career?
"Well, that is an easy question the best players I have played alongside will be the players I played with at Inter Milan.
"Big players such as Samuel Eto'o, Wesley Sneijder, Javier Zanetti, Esteban Cambiasso, Gabriel Milito and Júlio César.
"It was scary and fantastic at the same time for a young player coming into a dressing room with lots of big names like that. They were the biggest players I played with and I cherish my memories of playing alongside them."
---
I can imagine in your position as a midfielder that you have come up against many good opponents through the years. Are there any that stand out for you?
"Yes, going back to my first Champions League match against Tottenham Hotspur I was fortunate enough to encounter Gareth Bale and Luka Modric in the same game.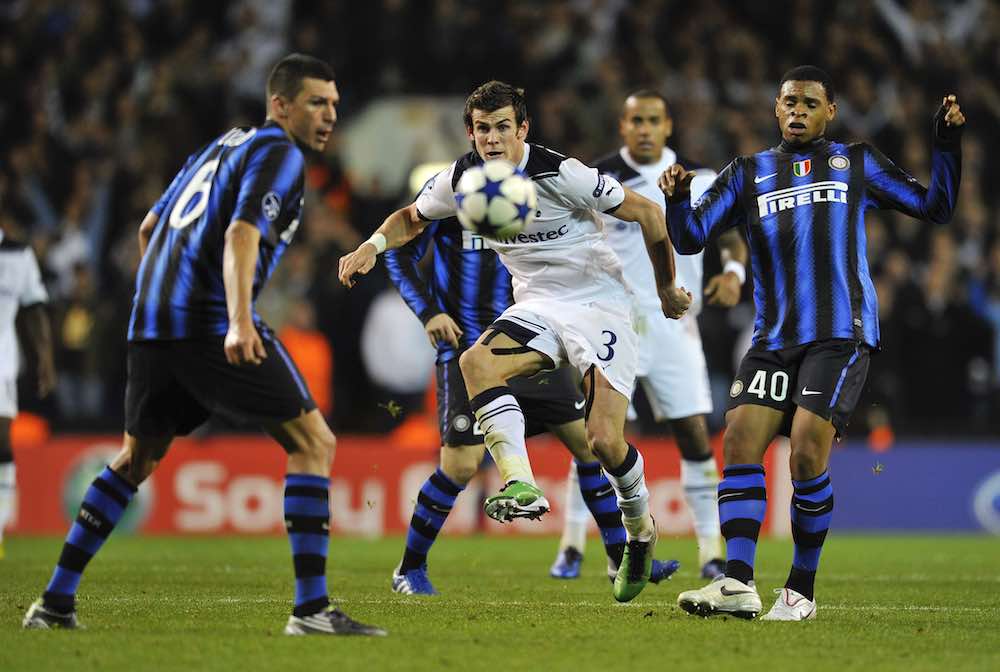 "It was crazy to play against Luka Modric. He was at his peak, in my opinion, before he went to Real Madrid and he is one of the most difficult opponents I have faced in my career so far.
"Gareth Bale also played really well in that match and gave me a tough time. These two players are certainly the toughest that I have encountered so far in my career."
---
Finally, Nwankwo, could you say who are the coaches and managers who have played a key role in your development as a professional footballer?
"That is a tough question. I have had lots of good managers over the years and good coaches too, but the manager who I hold very dear to my heart is Rafa Benitez at Inter Milan.
"He was the one who took my from the youth team to the first team of Inter Milan and he taught me many things and gave me lots of good advice in such a short period of time too.
"The things that he taught me are always in my head and I have brought them with me throughout my career.
"Of all the big managers and good coaches I have encountered in my career, he has certainly played a key role in my development."