By James Nalton.
Nigeria are regularly one of the most impressive teams at FIFA's youth football showcase, the U17 World Cup.
The West African nation's five wins in eight final appearances mean they are the most successful team in the history of the tournament, even ahead of the mighty Brazil who have appeared in six finals, winning four.
In the five editions held between 2007 and 2015 Nigeria only missed out on the final once and lifted the trophy three times, such is the quality they boast at this level and the regularity with which they produce promising young footballers.
That most recent triumph, at the 2015 U17 World Cup in Chile, witnessed the first steps of Victor Osimhen on a global stage which could be his for many years to come.
Yet to turn 17 at the time, Osimhen scored in all seven of his country's games at the tournament. By the end of it he led the scoring charts by some distance with 10 goals.
After winning his first senior cap in 2017, a relative lull followed. As a result, he missed out on a place in Nigeria's 2018 World Cup squad, but time was, and is, on his side.
Osimhen's spell with his first European club, Wolfsburg, didn't go as he might have hoped, but a stint on loan with Belgian side RSC Charleroi saw him play over 2000 minutes of senior football and score 12 goals in 25 league games.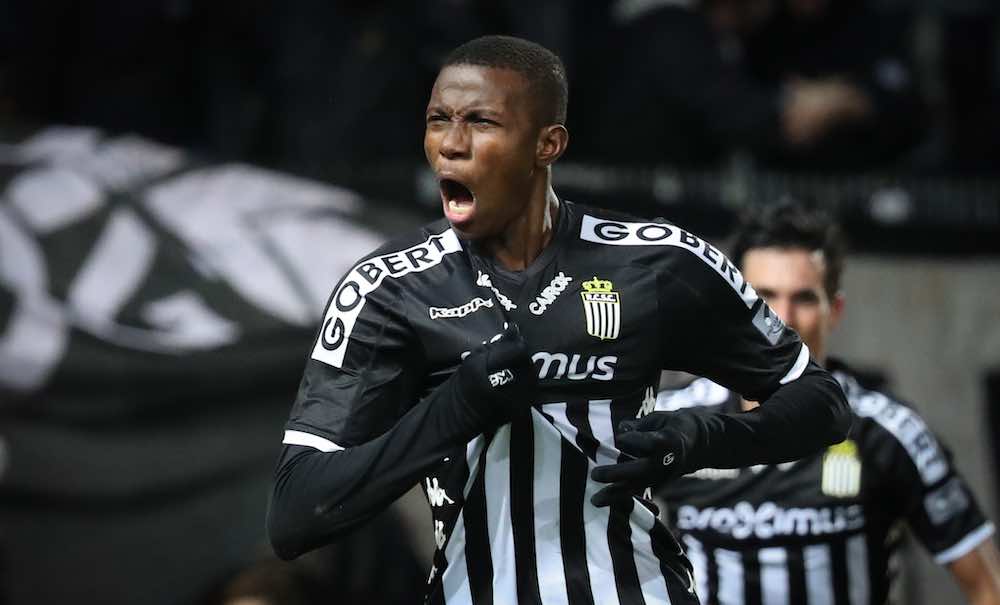 It was enough to alert Ligue 1 side Lille and their manager, Christophe Galtier, who was beginning what would turn out to be an impressive rebuild of the club from northern France. When looking to continue this build, they realised Osimhen had the ideal skill-set and raw materials to lead their line.
And after less than one season in France, thanks to a number of impressive displays domestically and across Europe, clubs around the continent's big leagues are now lining up to take a closer look at the striker.
Champions League Experience
Of all the teams clamouring to snap up the 21-year-old, Chelsea are the ones who have been able to witness his ability first-hand when the teams met in the Champions League.
Osimhen's profile has shot up dramatically this season thanks to Lille's involvement in the tournament, and despite his side's struggles in the competition generally, the forward has still been able to display his talents.
Lille only managed a point from their six games in that group with Chelsea and other tough opponents, Ajax and Valencia. In their first meeting with the English Premier League side, at the Stade Pierre-Mauroy, Osimhen scored the equaliser from Jonathan Bamba's corner, rising between two Chelsea defenders to head past Kepa.
Tammy Abraham had given Frank Lampard's side the lead before Willian eventually secured the win, but it was a good first impression from Lille's Lagos-born forward.
There wasn't an opportunity for Osimhen to make a further impression over in London as he remained on the bench at Stamford Bridge during another 2-1 defeat. By that time, it was impossible for Lille to lift themselves off the bottom of Group H, so they rotated their squad to give others a run-out.
Osimhen's other goal in the group, against Valencia, showcased his reading of the game going on behind him, his anticipation, and strong finishing ability.
Victor Osimhen goal for Lille vs Valencia in the Champions League 🇳🇬⚽️ pic.twitter.com/ZzHu5Zfops

— James Nalton (@JDNalton) April 27, 2020
It's this all-round dynamism, coupled with a hefty dose of ability and tactical intelligence, which has made him a wanted man across Europe.
Before going into his strengths, it is important to note that there is plenty in his game which needs ironing out and there have been occasions where he hasn't performed to the level he would have liked, but there is a determination to improve and a desire to be in the right environment to do so, which has been evident from an early age.
As a teenager playing for the Ultimate Strikers Academy in the Nigerian capital, he was presented with the opportunity to move to English Premier League side, Arsenal, but instead chose to sign for Wolfsburg.
"It's true that a big team like Arsenal wanted me and I feel honoured to be invited over," he told BBC Sport in 2016. "But personally I feel Wolfsburg is a ladder for me to reach my professional goals.
"Yes, Arsenal are a good team for young players, but Wolfsburg is the best club for me. This is the best place for me to learn and develop because my heart is here with Wolfsburg.
"The club's plan for my career is very encouraging and I believe with God on my side I can grow to become one of the best players in the world."
A Lille More Action Please
As alluded to earlier in the piece, it didn't quite work out for him in Germany, but it was an important stage in his development nevertheless.
His time at Charleroi was the first real indication beyond that impressive U17 World Cup as to what type of players he is, and Lille spotted someone perfect for their style.
Someone with good speed and a high work rate who would work well in a pressing system once more familiar with the tactical side of things.
A player who, at 6ft 1in (186cm), could act as a target man if needed and provide a threat in the air from set-pieces.
Someone who could make intelligent runs into space in front and behind a defensive line.
And there is already a signature Osimhen goal.
He waits until it becomes clear that a midfielder has the chance to play a through-ball in behind the opposition defence, and arcs his run into that space.
Once through on goal he will let the pass do the work, if it is good enough, before looking for a lofted or chipped finish over the onrushing goalkeeper.
These goal-poaching instincts and desire to be the goal-scorer above all else, are shown in his touches per 90 minutes. He has fewest in the Lille squad with just 27.7, even fewer than goalkeeper Mike Maignan, but it's not unusual for forwards of this ilk to have few touches in a game.
To put this in perspective, Chelsea's Tammy Abraham averages 29.7 touches per 90, while Leicester City's Jamie Vardy, who is similar to Osimhen in his ability to latch on to passes in behind the defence, averages just 20.7 touches per 90.
This is not something to worry about and isn't a weakness in Osimhen's game. He has shown himself more than willing to help the team out in deeper areas, and will regularly drift wide or take up positions where he can use his height to act as a target man.
This was even evident during his time at Charleroi, as shown in the actions map below from Smarterscout, with the blue blocks indicating short passes, and the concentration of white blocks in the area showing his prolific penalty box work.
Back to this season, he has been involved in more aerial duels than any of his team-mates, by some distance, with 248 contested so far this season. Though this indicates some target man usage from Lille, it's not something they are overly reliant on — they are 13th in Ligue 1 when it comes to the number of passes made over shoulder height — but if they need a target to hit, it is usually Osimhen.
Much of his work in this regard is now done in the right channel, as shown in the heat-map below. This is because Lille's formation, while it looks like a 4-2-3-1 on paper, can very often turn into a 4-2-2-2 or 4-4-2, with attacking midfielder Jonathan Ikoné regularly drifting into the front line or Loic Remy joining Osimhen up front for a more orthodox strike partnership. The Nigerian drifts to one side to make space for his teammate(s), act the target man, and hold up the ball.
His style of play has some downsides, especially when looking at the data, but it wouldn't take too much of a swing in the other direction to turn them into positives.
Those runs off the last defender mean he can easily be caught offside if the timing of the run is slightly off, and he's been flagged 33 times in the league this season. Across Europe's 'big five' leagues, only Timo Werner has been caught offside more often, but this hasn't stopped the German becoming one of the most highly sought after forwards in world football.
Getting in good positions means plenty of chances, but Osimhen also misses plenty. 39% of his shots find the target, which while nothing to worry about, is still somewhat on the low side.
He has scored 13 goals this season. His total xG stands at 14.8 — a difference of -1.8. To use Werner as the comparison again, the Leipzig man has 21 goals from an xG of 14.1, a difference of +4.6, and 47% of his shots hit the target.
Shooting Summary
A player who gets into great positions to score, likes to execute lofted shots with his right foot, and is also able to win headers at set-pieces.
12% of his efforts on goal are with his weaker left foot.
He's statistically similar to many elite strikers in that many of them also miss a large number of big chances.
He would need to convert a few more chances to reach that elite level, though. He could easily do so if playing in a dominant team at the top level, and could even do so with Lille. Getting more shots on target would help, but some top players have a similar shot accuracy.
Link-up Play?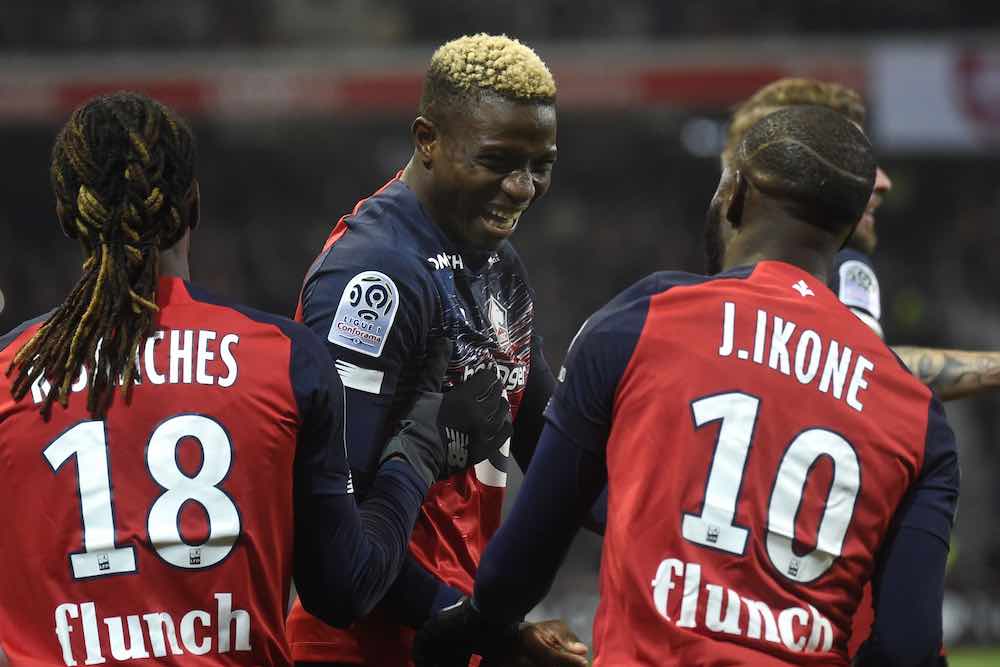 What about creativity?
On the face of it, there isn't much, and you wouldn't call Osimhen a creator, though he does have four assists so far this season.
He has the worst pass success rate in the Lille squad (63%) and his lack of touches doesn't scream playmaker, but he averages 0.8 key passes (chances created) per game from an average of just 14.5 passes, which gives him the second-best key pass to pass ratio in the Lille squad (just behind Yusuf Yazıcı).
Despite his relatively few touches in a game overall, only Paris Saint Germain's Kylian Mbappe has more touches in the box across the season. These can present an opportunity to create as well as score chances.
73 of his 158 actions in the penalty area have been shots, and his shot map this season for Lille (below), is similar to the shot-map from the previous campaign with Charleroi.
Leading The Press
Where Osimhen really comes into his own, and what will be of interest to many coaches and scouts across Europe, is his work off the ball in defence.
Pressing from the front is now a requirement of any forward playing at the very top level, and many of the game's top managers now use pressing from the front as a major attacking weapon.
This has become an important part of Lille's tactics under Galtier, with both Osimhen and Ikoné featuring among the top ten in Ligue 1 for pressures applied in the final third — i.e. closing down and pressuring the opponent high up the pitch — and the Nigerian leads the way for this stat across the whole of the French top flight.
He's also in the top 3% in Europe, as shown in the graph below, from @DAHughes_.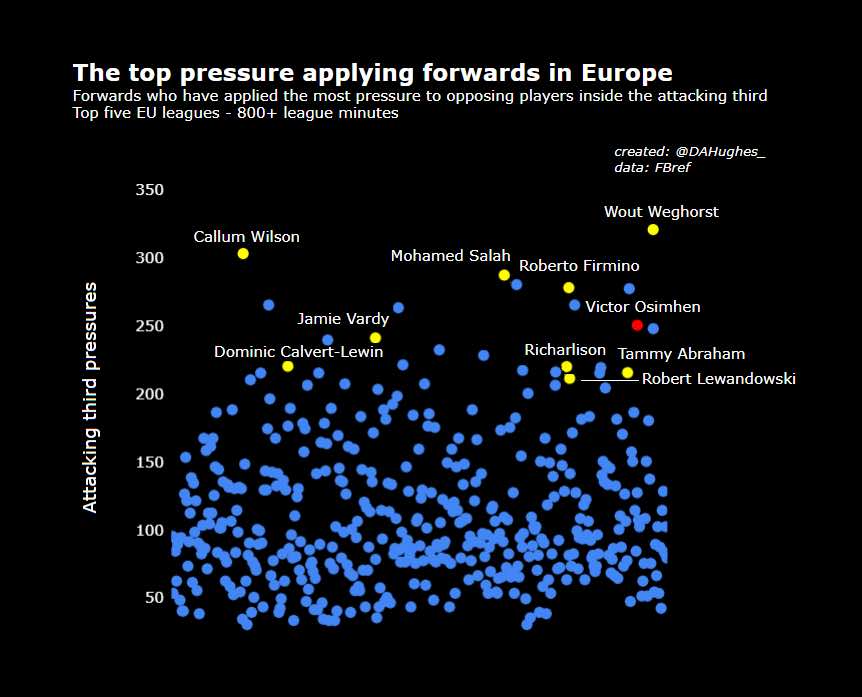 In isolation, this statistic merely shows the number of times a player has closed down an opposition player high up the pitch, but a team boasting more than one player with high numbers for this stat suggests organised pressing rather than sporadic closing down.
Indeed, Lille have applied more pressures in the final third than any other team in Ligue 1, with 1242, some distance ahead of the next best team, PSG on 1164, and Osimhen is the pressing leader from the front.
Other Notes
Osimhen only attempts 1.42 take-ons per 90 minutes and is successful 42% of the time. Taking players on is not really his thing at the moment — partly because he's often so high up the pitch already — but that's not to say it won't be in the future.
If Lille are able to remain in continental competition, then there is no reason for him to move at the moment, unless an ambitious club comes along with a regular place for him in the first team.
The next move will be an important one for his career, but he has a good thing going at Lille.
4 goals in 9 caps for Nigeria, and looks set to be a regular in squads going forward.
Comparisons
Andrea Belotti
Tammy Abraham
Jamie Vardy
Timo Werner
Dominic Calvert-Lewin
Writing about Victor Osimhen at the moment and have said quite a few of these things about him… Will do well to reach Eto'o levels but if he gets even halfway there he'll have done well.

— James Nalton (@JDNalton) April 25, 2020
Future
Despite plenty of interest in his services, Osimhen is still thinking about his career more in terms of his own development as a footballer, rather than a move to a club which might be more high profile but could see him sat on the bench.
It's the same mindset which saw him turn down Arsenal as a teenager in order to pursue a more gradual career path.
He simply wants to continue enjoying playing the game on a regular basis, and though he has ambitions to play for the biggest club, game time remains his most important consideration.
"Of course, one day I'd like to play for a big club in England," he told the Independent earlier this month.
"I've spoken to Odion [Ighalo] about it. He gave me very good advice, he's a legend and a big brother.
"My goal is to play at one of the biggest clubs in the world but now I'm very happy in Lille. My priority is to play a lot of games. Signing for a big club and being on the bench is not exciting for me."
It's a sensible outlook from a potentially sensational player and one who will definitely be worth looking out for once football resumes.
---
All data from Fbref unless stated otherwise.