By Daniel Lucci.
Even though former Italy striker Fabrizio Miccoli has now hung up his boots for retirement, the questions surrounding him and his controversial career have not subsided.
There is no denying Miccoli was a very talented striker and goalscorer throughout his career, so how come an attacker who scored 103 career Serie A goals only won 10 caps for Italy?
The simple answer is, because of the situations he got himself into off the pitch.
The Details
Miccoli had a lengthy career with a variety of clubs, most notably with Juventus, Fiorentina, Benfica, Palermo and Lecce.
His biggest breakthrough came during his time at Palermo, even becoming their captain. However, before that, it was during his stint with Juventus that he first got himself into hot water.
In the mid-2000's, Miccoli and former Juve general manager, Luciano Moggi, did not see eye to eye, and this caused problems for all parties involved.
In the book Sport Italia: The Italian Love Affair with Sport by Simon Martin, Moggi is quoted saying to Miccoli that he was only in the national team thanks to him [Moggi] and that could disappear from his horizons in a moment.
That threat did not appear to concern Miccoli who later went on to testify against the GEA World, a consultancy company which operates in the sports business industry which Moggi was said to be heavily involved in. This eventually led to the further uncovering of the Calciopoli scandal.
After missing out on the World Cup-winning team in 2006, Miccoli went on to score goals with ease and in the 2009/10 campaign and had a career-season with Palermo, scoring 19 goals and adding eight assists in 35 Serie A matches.
This should have booked his place in the Azzurri team heading to the 2010 World Cup, but in a shocking twist, Italy coach Marcello Lippi made some surprising selections, leaving out the creative talent and goalscorer.
It remains to be seen exactly why Lippi made this decision. It is possible that it was based on attitude, but the decision might also have been influenced by executives above the manager. Of course, this decision did not sit well with Miccoli, who strongly deserved to be in that squad.
"Why am I not being called up to the national team?" asked Miccoli.
"You would have to ask Lippi. I must be honest, it hurts because at the very least I would like to be considered."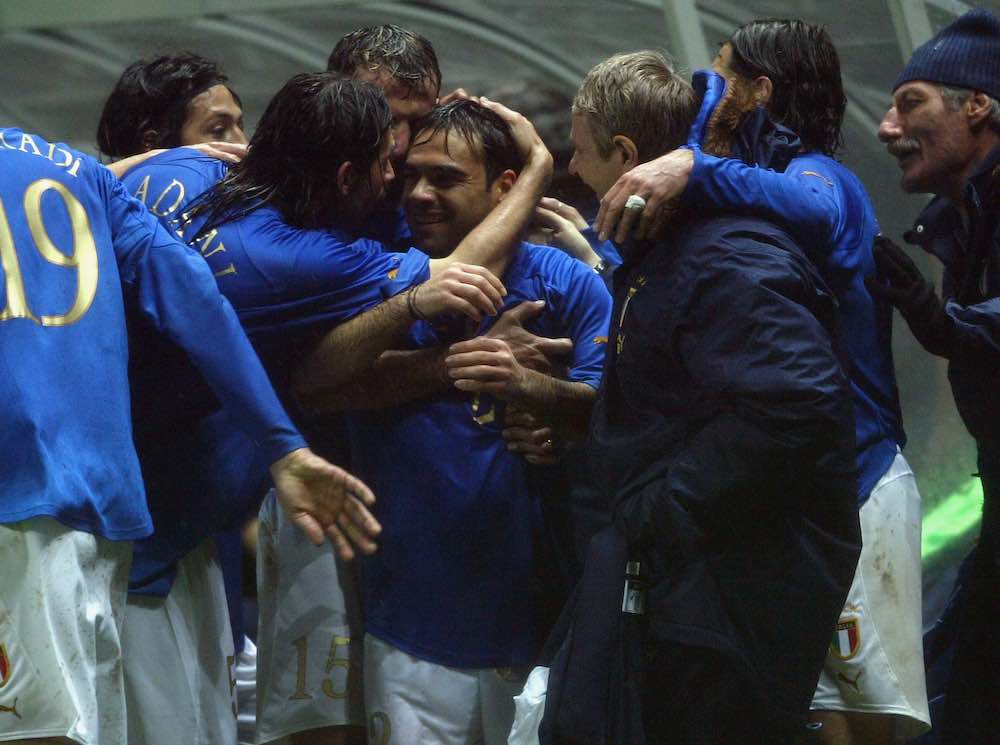 Furthermore, he was never again considered. As Moggi warned him a few years prior, it led to the end of his International career.
Miccoli did not make another appearance for the Azzurri after 2004. Even though he was capable of scoring goals at all levels and could have been one of Italy's top attackers, he was never again given the opportunity to prove himself on the International stage.
The exact reason as to why Miccoli never got another call from the Azzurri was, again, never given but chances are that if he never testified against GEA World a few years earlier, he would have most likely made many more than 10 appearances for Italy.
The former Palermo captain had bundles of skill and was one of Italy's most promising forwards during the 2000s but it seems he essentially shot down his own international career when he decided to testify against Moggi and others.
However, just when people were moving on from that scandal, Miccoli once again found himself in more hot water.
Mob Ties
After years of service at Palermo, fans worshipped Miccoli until rumours started to come out regarding his ties with the Italian mob.
The 2012/13 season did not go so well for either Palermo or Miccoli, and after it finished he was investigated by the police in regards to his connections with the mob.
It was reported the striker had purchased four SIM cards, and it was reported he had given one of those cards to Mauro Lauricella, who was the son of a mobster on the run.
Later on, further information came out that Miccoli had asked the mobster to collect some money owed, even if that meant using violent actions to do so.
It did not end there. Phone call recordings of Miccoli and the mobster later emerged, and this essentially put an end to Miccoli's time in Palermo — once seen as the king in the city, he once again hindered his own career after getting involved with the mob.
Although he went on to play a few more seasons with Lecce and in Malta after he left Palermo, the support for Miccoli was never nearly the same.
He has since been sentenced to three-and-a-half years in prison for aggravated extortion. Miccoli, along with his lawyers, have denied all claims and will be appealing the decision to the Supreme Court.
What Could Have Been
There was no denying Miccoli's talent. The attacker, although short in stature, was blessed with strength, pace, smooth dribbling and was a wonderful finisher. He surely would have been a helpful addition to the Azzurri in 2008 and beyond.
He could have been a hero for the Azzurri, just like he was for Palermo before his unfortunate departure. He was talented enough to make a difference on the pitch, if only his antics off it didn't lead him down a disastrous unclear path.
Testifying, links to the mob, mob phone calls and potential jail time will be a large part of what Miccoli's career will be linked to, but some may remember what a brilliant striker he was.
It will always be a case of what could have been if he had just focused on football.