By Billy Brake.
With a lack of live football action to entertain fans, transfer rumours have taken up even more space in the footballing sphere. Manchester United, still very much in the midst of a long-discussed rebuild, will need to make a few savvy deals to ensure a place in next season's top four, so regularly feature in the rumour mill as a result.
One of the rumours most regularly touted across all media platforms has been Man United's links with Borussia Dortmund's English winger, Jadon Sancho, but he would come with a hefty price tag, and is valued at £105.3 million according to Transfermarkt.
After comments such as "ignore this if you're coming to United" and "sip water if you're joining United" during his Instagram Live sessions, Sancho's responses — as he did indeed ignore that and sip water — only added fuel to the fire.
Given his price tag, Man United may be forced to look elsewhere, and at the other end of the scale there are a few other notable free agents who could provide United with something extra, and some of the things Sancho may have offered.
Dries Mertens – Napoli – Forward
Current salary: £130, 200 per week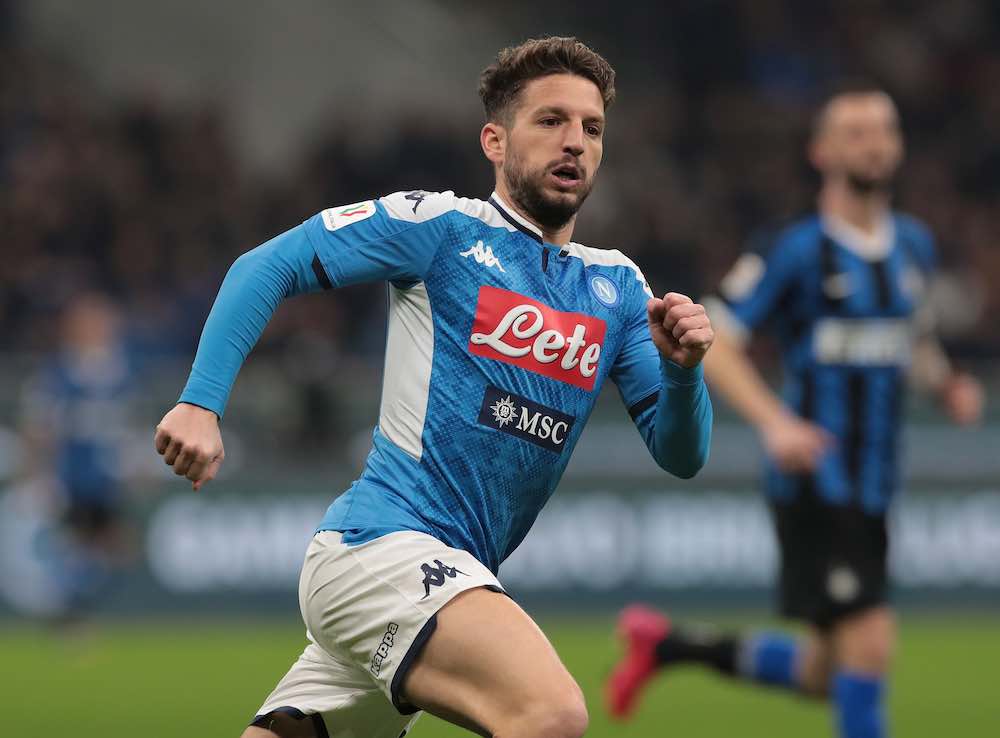 The talented Belgian has been a staple of Napoli's attack since he first signed for the Italian side and has gone on to score an impressive 121 goals in 311 games. He is now level with Marek Hamšik as the club's record goalscorer.
Though United haven't struggled for goals this season, their scoring record is the worst in the top five by seven, having scored 44 in total.
While Marcus Rashford looks to have come into his own and the emergence Mason Greenwood stands the club in good stead, the addition of Mertens would take some of the weight off of Anthony Martial's heavy through the middle.
Edinson Cavani – PSG – Striker
Current salary: £320,000 per week
Cavani has positioned himself as one of Europe's elite strikers season after season, initially with Napoli and now with PSG. He's scored 200 goals in 301 games for the side from the French capital.
A potential return to Napoli is possible for the Uruguayan, having supposedly turned down offers from a variety of South American sides but, either way, Cavani is said to be after a three-year deal in order to keep himself in te picture for Uruguay ahead of the 2022 World Cup.
His high wages will likely be off-putting to many clubs, particularly given he is 33 years old. However, he offers a serious goal threat just as Mertens does, and could prove to be an invaluable mentor to the young players at United, none more so than emerging starlet, Greenwood.
If he can cut back on the salary, it might be a smart decision for United.
Willian – Chelsea – Winger
Current salary: £120,000 per week
Chelsea's 2015/16 Player of the Year appears to be coming to the end of his tenure at Stamford Bridge, and interest in the Brazilian has already come from Arsenal — speculation fuelled by Pierre-Emerick Aubameyang's possible departure from the Gunners.
Willian's agent has also supposedly said a move is likely, and with Chelsea not keen to put another three-year deal together for the 32-year-old it might be a prime moment for United to add some title-winning pedigree to their squad. A player who could play on the right, where United have been weakest in attack, could be a good choice should the Sancho transfer not happen.
Mario Götze – Borussia Dortmund – Attacking Midfielder
Current salary: £165, 500 per week
Still three years shy of 30, Götze is likely to have a substantial amount of playing time left in his career, provided injuries don't waylay him.
Germany's 2014 World Cup hero will find himself at a loose end this summer and could be a useful addition to United's midfield, which might find itself particularly light should Paul Pogba depart for Real Madrid or return to Turin with Juventus.
His stats this season don't shower him with glory, having only netted three times in 19 total appearances, largely as his attacking opportunities have become shortened due to the emphatic form of Sancho and Erling Braut Håland.
However, Götze could still prove a shrewd and experienced pair of feet to support the young United squad, particularly if Ole Gunnar Solskjær looks to bring more academy players into his side.
Giacomo Bonaventura – AC Milan – Midfielder
Current salary: £63, 000
Bonaventura has been at AC Milan since 2014 when he signed for the Rossoneri for €7m from Atalanta. In that time, he's turned out 171 times for the club and established himself as a reliable player in a side that has otherwise fallen from former glories.
He may not be the midfield engine that United require to establish themselves once more, but he would provide a strong transition to that stage, as well as filling a useful central role that Nemanja Matic may soon vacate as he gets older.
Additionally, the controlled game of the Italian would provide balance to the aggressive rush of Bruno Fernandes and the defensive prowess of Scott McTominay and Fred, both of whom had standout seasons at Old Trafford.