By Dharnish Iqbal.
In 2005-2006 footballing giants Juventus were the disgrace of football.
The Old Lady, amid the Calciopoli scandal, were forcefully relegated to the second tier of Italian football, leading to a mass exodus of high profile players.
The man that was appointed to kick start their revival back then, is now one of the two biggest threats to their reclaimed nine-year dominance.
Lazio, and Antonio Conte's Inter, are the biggest threat to Juventus since Maurizio Sarri's Napoli in the 2017/18 season.
Back then, Sarri was gaining glowing reviews for Sarriball in Naples, pushing Juventus within inches of the title. Fast-forward two years and he is at the helm of Juventus – making for a blockbuster, soap-opera-like narrative.
It is Lazio who sit a point behind Juventus, with the Nerazzurri nine behind with a game in hand on the top two after the chaos of the coronavirus forced the last round of games to be played behind closed doors.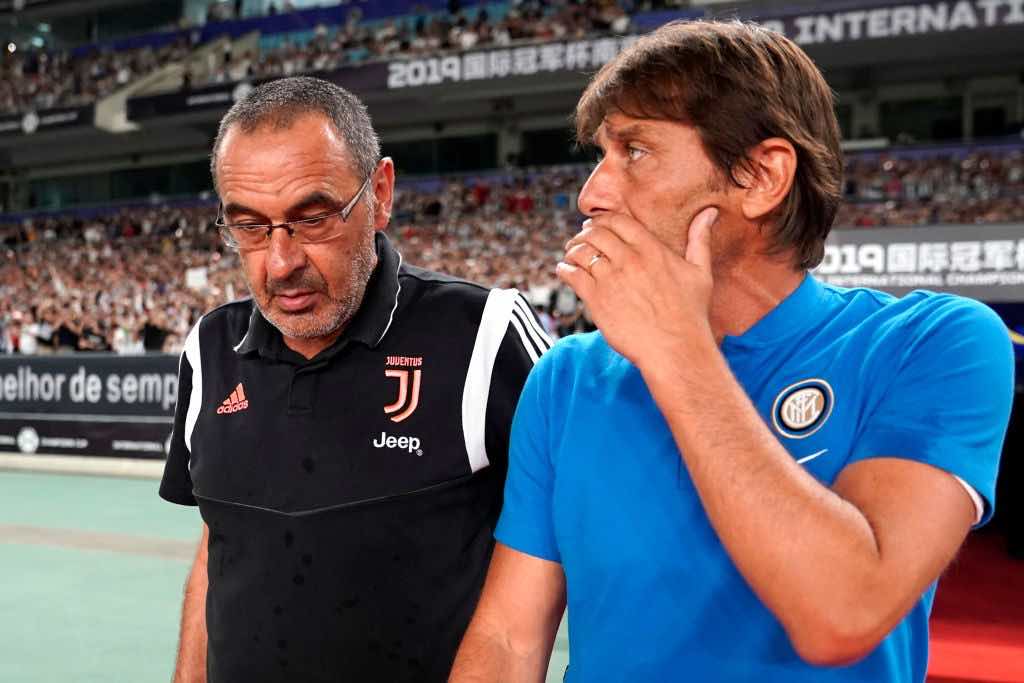 Although, the crucial 1st vs 3rd tie was devoid of the Turin noise, it was certainly not lacking importance.
The heat was on Sarri after a tumultuous night in Lyon, which is why the Derby d'Italia victory was a welcome breather and Sarri's most important in his short reign so far.
Juventus claimed a much-needed win in a surreal top-of-the-table clash, but they have looked largely unconvincing this season. There have been alarming factors that will leave a lot for Sarri to ponder during the current suspension of football.
Even Jurgen Klopp is baffled at Juve's shortcomings with the squad they can call upon: "I can't work out why they aren't ten points ahead in Serie A," he said.
The proof was in the pudding in Sarri's post-match rant about movement and his team's inability to move the ball quickly against Lyon, which is the biggest obstacle Juventus face.
The players either don't understand or are finding it very difficult to come to terms with Sarriball. Sarri's conference screamed of a man losing patience — and with the Champions League and Serie A reaching an important phase, his team doesn't look like a Sarri-managed team. This is an ageing squad, which is showing, as the mobility and fluidity is a complete juxtaposition to Sarri's Napoli.
Under Max Allegri, the team was capable of finding an early goal then closing games out professionally. Against teams such as Hellas Verona, for example (their last league loss), they looked rigid, tepid, eerily similar to Louis Van Gaal's Manchester United. Square pegs in round holes.
An example of erroneous tactics was the brilliant use of Mattia Zaccagni against Juan Cuadrado in their last league loss. Cuadrado is not a natural full-back, and time and again he was constantly exposed and Verona deserved their victory.
Sarri is notoriously stubborn and holds his tactics as gospel. If it wasn't for Cristiano Ronaldo's heroics, Juve would be plunged into danger.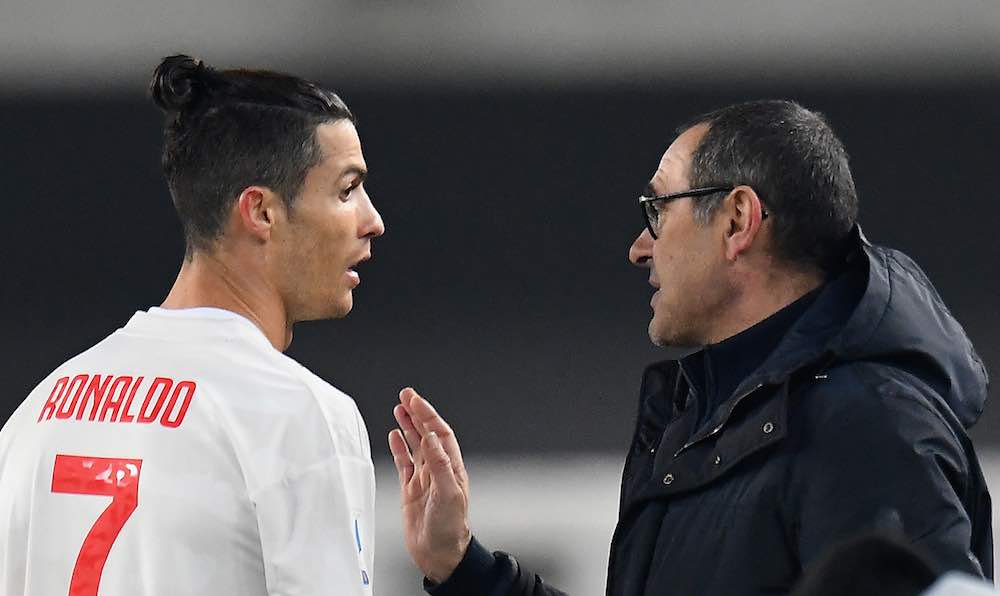 With Ronaldo's fabulous solo effort vs Verona, he masterfully got Juventus out of jail once again, creating something from nothing. He has staggeringly scored 21 of their 48 goals this season. You would expect more from a team with Higuain and Dybala to call upon.
Taking all this into account, Conte will be relishing the challenge to maintain a title challenge till the death. Another manager who has stuck to his tactics, but is reaping the benefits rather than feeling frustrated. Operating in a typical 3-5-2 formation, with Conte gesticulating furiously on the touchline, it has been trademark Conte.
Inter failed two crucial acid tests to their two title-chasing rivals away at Lazio and Juventus recently, dealing a major blow to their title ambitions. It could be seen as knocking the stuffing out of them and possibly spoiling Conte's record of maiden title wins at major European clubs. Despite this, the work done in his short tenure must be applauded, as his Midas touch is clear to see throughout the team.
Watching Inter this season provides throwbacks to his Juventus or Chelsea sides; determined, steely, miserly, the players invoke their manager's fiery passion.
Leading the line is a resurgent Romelu Lukaku, who is playing like a man possessed with a point to prove, he has formed a deadly and likeable partnership with Lautaro Martinez, whose performances have led him to be heavily courted by Europe's top suitors.
The summary of Luakaku's season was on show in his impressive Milan derby performance. Lung-busting runs against defenders with menacing pace, consistently bulldozing players off the ball.
Andrea Pirlo was quoted as saying: "He [Conte] makes you play better than you can."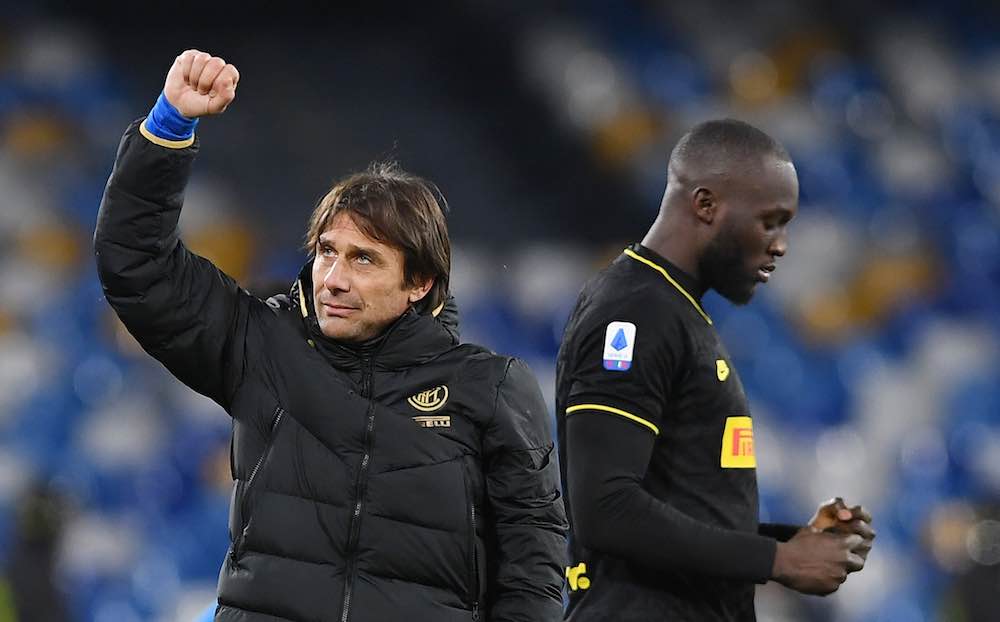 Thinking back to players such as Victor Moses and Marcos Alonso in Conte's Chelsea reign, one can't help but look at the transformation of Antonio Candreva and Stefan De Vrij and draw similar parallels.
Conte has succeeded in dragging players who were waning, (Marcel Brozovic) or looking lost (Milan Skriniar), hitting the reboot button, and benefitting from giving them a renowned sense of drive. This ethos fits with the shrewd manner in which Inter operated in the market, assembling a posse of ex-Premier League players frustrated or on the fringes to instil a new joie de vivre in them.
Inter added valuable experience and guile to the squad which will be useful in their current situation, needing to dust themselves off and go again. As Conte said himself, other than Diego Godin, none of the squad had won a league title in Europe's big leagues.
There is a theme of redemption in the air in one way or another for many team members and even for the manager, who was rather unfairly sacked at Chelsea and now faces his previous employers.
Conte has been vocal in the press, calling fans who want to remove his star from the Juventus Hall of Fame as 'ignorant', clearly showing there is no love lost on his part.
Although Juventus may have stalled Inter and Conte's momentum for the time being, they will be wary of a fired-up, opportunistic Conte preying on Juventus' shortcomings. As the surprising underdog he can be menacing, as he showed in England.
This brings us to Lazio and their electric title charge. Helmed by Simone Inzaghi who has built the team over four years with an assured 3-5-2 formation, their season so far is a result of what can be achieved once patience and time are given to a manager — a rare case in football these days.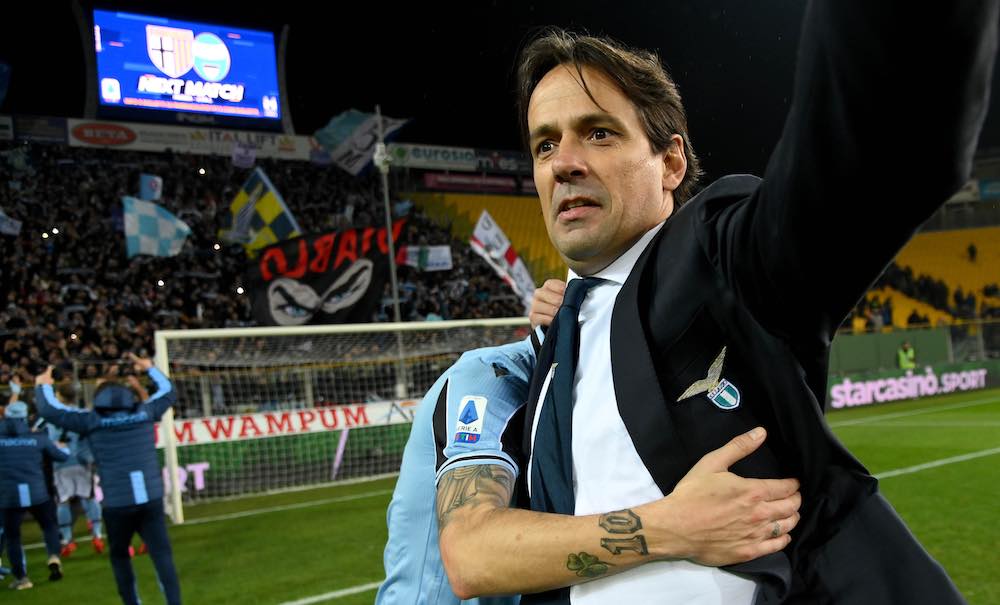 Inzaghi has coached Lazio to be relentless and versatile going forward. Boasting the best defence in the league, plus their brilliant, constant movement, enables them to be a tactical football chameleon, making them hard to beat and tough to defend against.
Similar to Chris Wilder's Sheffield United, Lazio can use Stefan Radu and the pacey Luis Felipe as overlapping, ball-playing centre-backs, coupled with the tireless wing-backs, Manuel Lazarri and Senad Lulic, to overload attacks and provide options for crosses.
With the defence marshalled by the standout centre-back Francesco Acerbi, they can play out from the back, beating the press by providing short passes to Luis Alberto who has thrived in a deeper role this year as the top assist getter in the league.
Alternatively, Lazio frequently use long balls to make the most of Sergej Milinkovic-Savic's physical presence, able to use the direct route allowing the Serbian to hold the ball up and begin the move in an instant, with former Liverpool man Lucas Leiva providing extra defensive cover.
The much-revered Milinkovic Savic, who no doubt will be chased in the transfer window, has enjoyed a brilliant return to form. Able to fulfil his defensive duties and be a vital threat up front having a better understanding of being a key cog in the Lazio team.
Inzaghi has Europe's most in-form and arguably complete forward to call upon in Ciro Immobile. Usurping the likes of Robert Lewandowski, Leonel Messi, and Ronaldo, he has a staggering 27 league goals and leads the race in Europe's Golden Shoe. It is turning out to be an unstoppable and special season for King Ciro.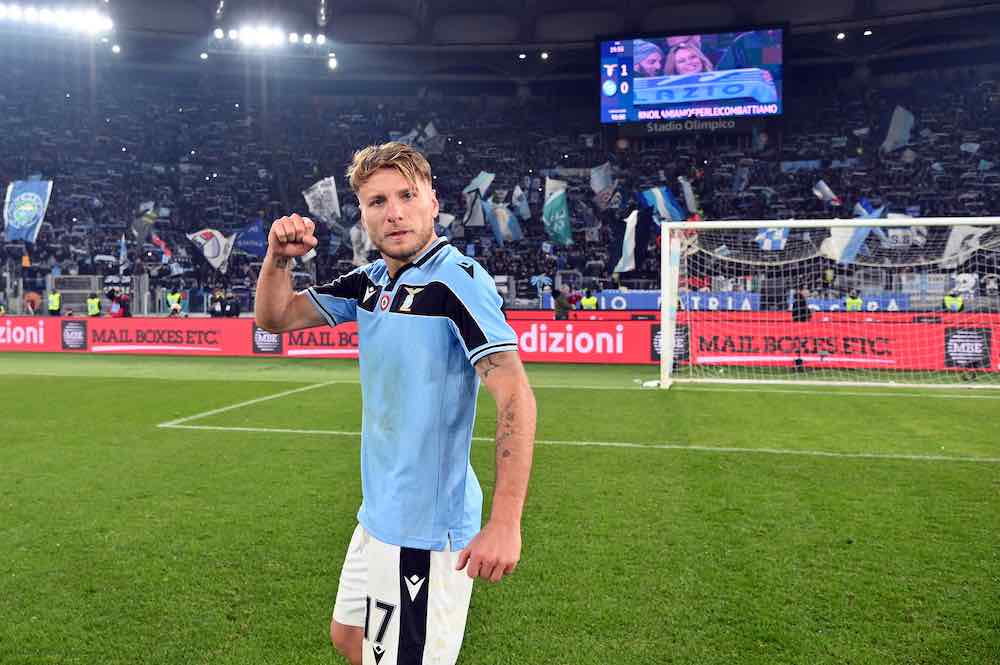 Immobile completes the trifecta of top-quality forwards for the three clubs, and he is the pick of the lot.
It took Immobile a few dwindling seasons after his breakthrough year with Torino in 2013/14 to become the recharged, driving force for the Biancocelesti scoring 94 times in 131 league games.
Magnificent in the air and icy cool with his finishing, his runs off the ball have made him a lethal and complete centre forward.
His manager shares this trait of imperturbability. As Lazio scored the second against Inter Milan cameras panned to Inzaghi on the touchline gesturing for calmness. He realises Lazio must keep their feet firmly on the ground.
Lazio announced their title challenge was to be taken seriously with major scalps against Juventus and Inter this season, showing in big games they can stand up and be counted. Even needing to grind out results in games where they don't play well, which was on display in the Rome Derby where they managed to clinch a point despite not being totally at the races.
There has been frequent mention of Sven Goran Eriksen's last Scudetto-clinching star-studded Lazio side, which Simone Inzaghi was part of. How momentous it would be if he were to be able to continue and produce the same result this year.
Juventus rightfully remain the favourites, having the guile which comes from winning many previous titles, while Ronaldo relishes situations such as these. There are chinks in the armour, though, and this season, like no other, will have Juventus looking over their shoulders with Inzaghi and Conte in hot pursuit.
With the coronavirus looming over football and just about everything else, it would be a crying shame if the season were to end unresolved as, finally, Serie A fans have an enthralling title race that they have been clamouring for.