By Cain Smith.
In recent years, the German Bundesliga has been seen as one of the go-to leagues for younger players to develop. Players who have the potential to reach the very top of world football, but just need to hone their skills and tactical awareness, regularly choose Germany.
In the Bundesliga, there is not quite the great pressure that comes with playing in the English Premier League, but the standard is still of a high enough level that promising stars can grow into more rounded world-class players.
Jadon Sancho is a prime example of what the league can offer a young, raw talent. He is likely to get his move to the Premier League in the summer, to either Manchester United or Chelsea, after two very impressive campaigns in the Bundesliga.
Here are five other Bundesliga players currently 23 years old or younger, who fans, and indeed other clubs, across Europe, should be paying attention to.
Alphonso Davies – FC Bayern
After recently extending his contract with Bayern until 2025, Alphonso Davies is clearly a young player to watch out for.
The 19-year-old burst onto the Bundesliga scene as a left-back this season, having previously played as a winger in Major League Soccer with Vancouver Whitecaps. He has thrived in this attacking full-back role for the dominant Bundesliga leaders.
He has also shown impressive defensive capabilities, with 2.9 successful tackles and 1.34 interceptions per 90 minutes.
He is a natural threat going forward, with 3.83 successful dribbles (the best of any fullback in the top five leagues) and 4.33 passes into the final third per 90.
It will be fascinating to see whether Davies will continue to operate as a left-back next season, and if he does, whether he can maintain this high level.
The Canadian looks like he has a perfect skill set to thrive in this full-back role for Bayern.
Marcus Thuram – Borussia Mönchengladbach
The 22-year-old has had a great first season in the Bundesliga after joining from Ligue 2 side Guingamp in July 2019. The versatility in his game is handy for Marco Rose's tactics. He can act as a centre-forward, play with his back to goal, and also be effective in wide areas running at defenders.
Thuram has 2.6 successful dribbles per 90, and has also registered ten assists in all competitions this season. This gives him 0.31 assists per 90 in the Bundesliga, which puts him in the top 10% of wingers across Europes top five leagues. He averages an xA (expected assists) per 90 of 0.28, showing that this high number of assists isn't just down to luck.
While he had an impressive season, it was only his first in the Bundesliga. The 2020/21 season will be one for Thuram to continue his progress. With teams such as Chelsea sniffing around him, another solid campaign for Borussia Mönchengladbach could bring a move to one of Europe's bigger clubs.
Julian Brandt – Borussia Dortmund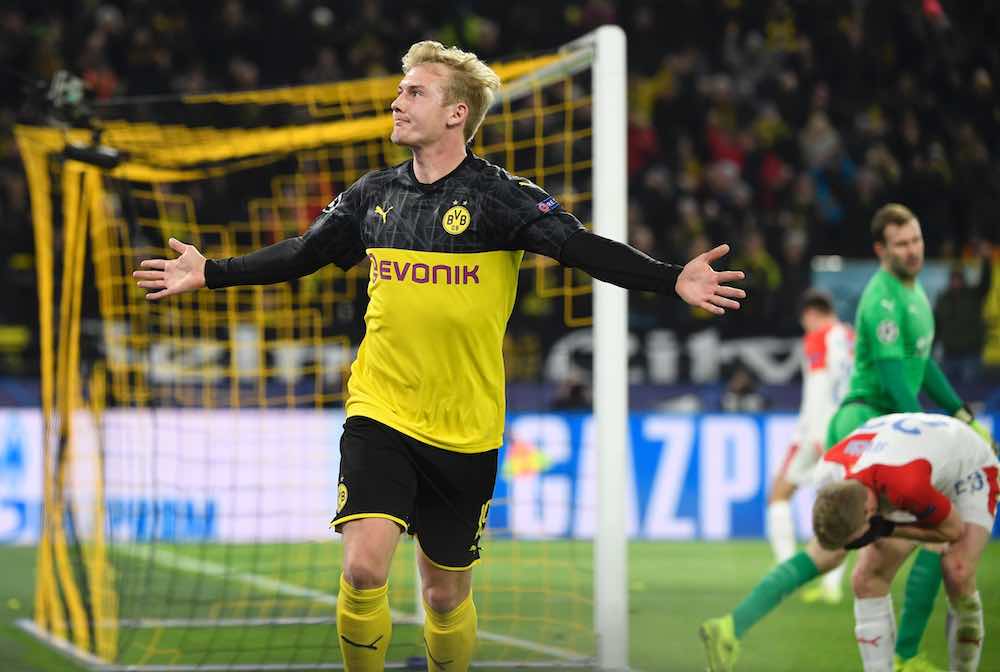 The 2019/20 season has been Julian Brandt's first with Borussia Dortmund after joining from Bayer Leverkusen for £25m. It has been a successful one in the main, but there is definitely room for improvement.
He has operated in midfield, which has led to a reduction in goal contributions. He managed three goals and three assists in the Bundesliga this campaign whereas last season he managed seven goals and 14 assists for Leverkusen.
Brandt's importance now lies in deeper areas. The German is a solid progressor of the ball, predominantly done through his dribbling — he's dribbled 2.62 times per 90 on average throughout the season.
It will be fascinating to see whether Brandt will continue to play in this deeper role — and whether he can improve further in it — or whether he will play as a No. 10 or winger, as he did successfully for Leverkusen.
Either way, Brandt will now be more settled into the Dortmund side and is likely to have another exciting season in Germany next year.
Kai Havertz – Bayer Leverkusen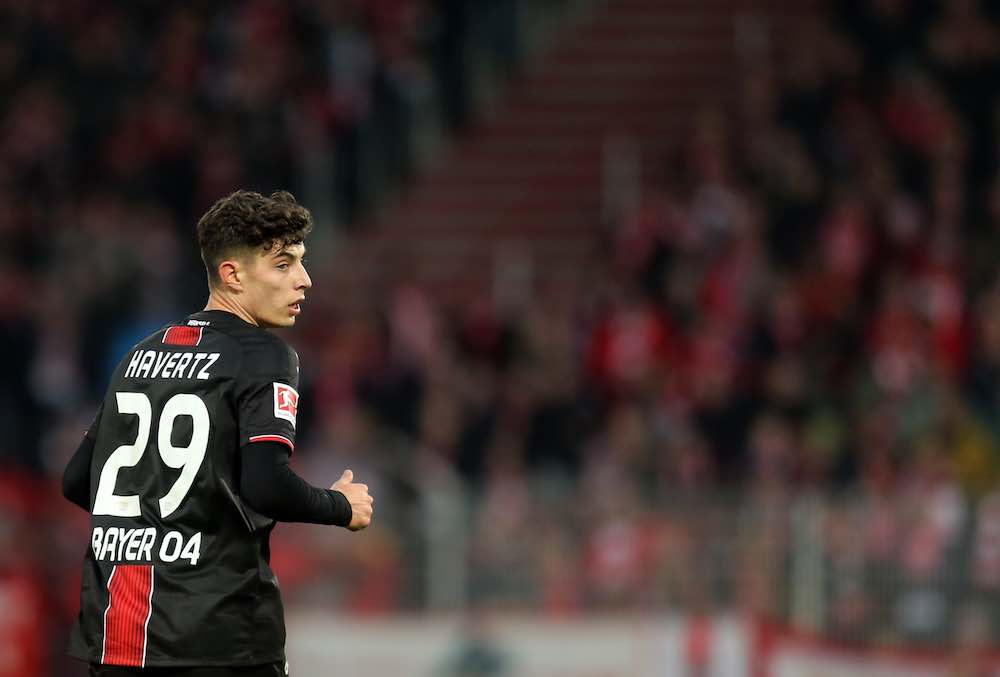 Although Havertz is currently only 20 years old, he will be going into his fifth year of consistent first-team Bundesliga action next year.
The German has been one of the most exciting youngsters in Europe during the past couple of seasons, and a move to Bayern seems increasingly likely in the next transfer window.
Havertz would find it more difficult in the Bayern system with a high level of competition in attacking areas and a larger emphasis on defensive actions in order to win the ball back as soon as possible.
Yet, with the natural talent that the playmaker possesses, the chances are that he will have huge success if he moves across to defending champions. If he was to stay in Leverkusen, he could also be pivotal to a potential title push. Both scenarios would be engrossing and worth paying attention to.
Erling Haaland – Borussia Dortmund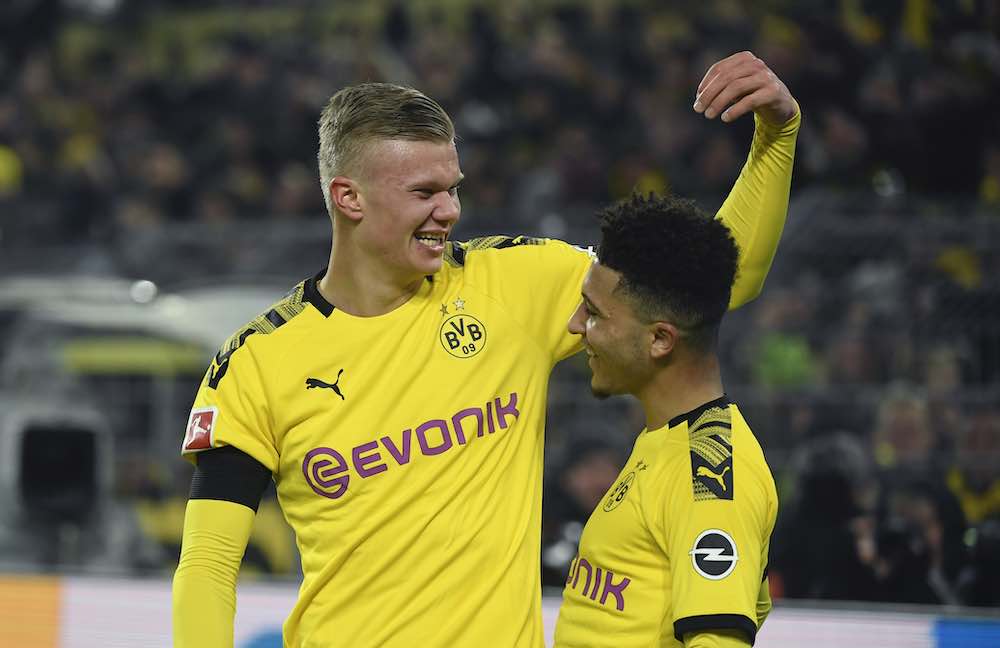 Manchester United was keen to sign the Haaland last January but the Norwegian chose Borussia Dortmund instead, as it was the better option for his development, as alluded to in the opening paragraphs. So far, it has seemed like a great choice.
Haaland's start with Dortmund was incredible as he scored a hat-trick on his debut from the bench and then continued to average 1.58 goals per 90 minutes from January onwards. Not bad.
He also impressed in the Champions League with 10 goals in eight matches throughout the competition this season. Two of these came in the exciting home win against Paris Saint Germain in the knockout stages, which Dortmund ultimately lost after two legs.
With Sancho likely moving on from Dortmund, it is expected that Haaland will take the spotlight next season. His breakthrough campaign has been very impressive, at both Dortmund and RB Salzburg, but it will be interesting to see whether the 19-year-old can continue at such a high level.
If he does, there is no doubt that he will go onto play for one of the European giants in the near future, and he does have a €75m release clause in his contract with Borussia Dortmund…