By Cain Smith.
Jadon Sancho left Manchester City for Borussia Dortmund back in 2017. At 17 years of age, it was a brave decision for the English player to make, leaving his family back in England and having no experience in the senior game.
Fast forward to 2019/20 and Sancho has 16 goals and 18 assists for Dortmund in only 32 games this season, and is one of the most wanted players among the top clubs in Europe.
"I think he has the feeling that the club does have a good future," Dortmund chief executive Hans-Joachim Watzke told the BBC. "In my opinion, I don't think he wants to leave.
"It's not a question of money. For us, it would be the best position if he stays at Borussia Dortmund.
"We have enough money. We want to have titles. I think this team has a lot more potential with Jadon than without Jadon."
Regardless, Sancho continues to be linked with a move away, but how has the 19-year-old Sancho reached these heights so quickly?
His Time At Man City
Following a spell at Watford, Sancho joined the City Academy in 2015 at 14 years of age. Although he was young, he did not come cheaply as Man City had to pay an initial fee of £55,000 for the teenager, which would rise to £500,000 with add ons.
In 2016/17, Sancho made himself known at City through his goals and assists in the U18's and then in the U23's. He scored 20 goals and made 7 assists that season.
Sancho was not only getting high numbers, but he was also showing that he was an elite dribbler and passer through the youth games. He was also part of the England squad that won the U17 World Cup in 2017.
It was clear Sancho felt he was ready to be part of the Manchester City senior squad. This led to problems in City finalising a contract with the player. Sancho wanted assurance of game time, and City could not give him that.
Although it was planned for Sancho to join the first team on their pre-season tour, due to the contract situation he did not go. He then tried to force a transfer away.
His attempt was successful on transfer deadline day when Borussia Dortmund decided to buy the English Teen for £8m.
Developing At Dortmund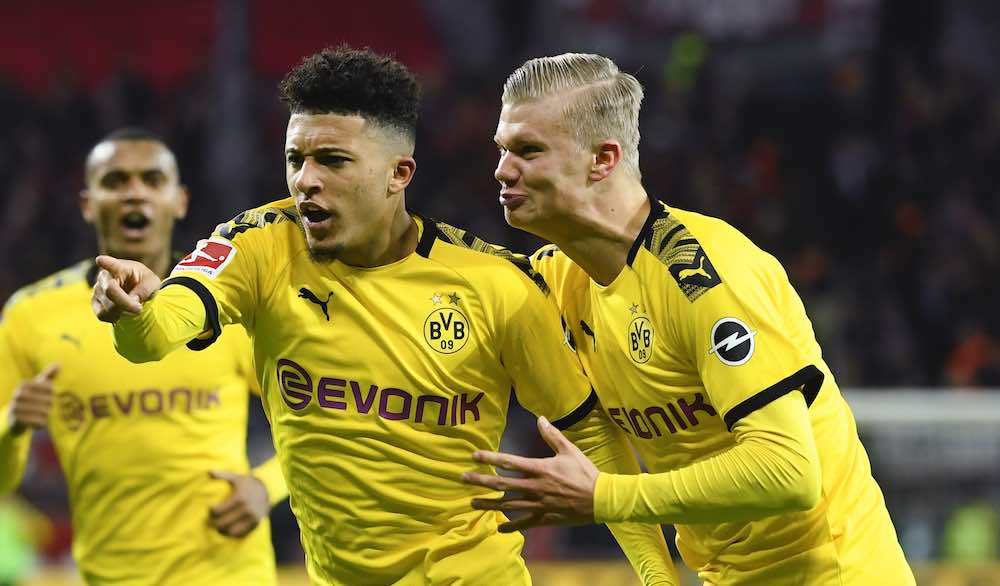 His first season at BVB was one of development. He began the season with the youth team and played all group games in the UEFA Youth League. He made his first-team debut on the 21st of October, coming off the bench against Eintracht Frankfurt.
Sancho was unable to play regularly for the first team in this campaign as he had knee ligament troubles through the middle of the season.
The youngster eventually got his break and ended the season by starting the final four games. The first was against Bayern Leverkusen on April 21, 2018. This game showed Sancho's talent as he registered his first goal, as well as getting two assists in a 4-0 win. It was clear he was ready to play.
Dortmund trusted the youngster, and at only 18 he was heavily involved in the side in the 2018/19 season. He played 34 games in the Bundesliga and repaid the club's trust in him with 12 goals and 17 assists — an exceptional return in his first full season of senior football.
He also scored his first Champions League goal against Atletico Madrid in a 4-0 win in the group stages.
Becoming One Of The Best
This season, Sancho has gone up another level. The young star already has 13 goals and 15 assists in 21 Bundesliga matches. Thanks to these extraordinary numbers, the 19-year-old has ensured BVB have a chance of winning the Bundesliga title.
He has even proven his talent in the Champions League this year, with regular good performances, most recently against PSG.
Before the game, Sancho drew praise from Neymar, who said:
"Borussia Dortmund is a team with plenty of quality players. They have a special player, who is new but who is very good whose name is Sancho."
The winger is proving that City were wrong to let him go. Joining the Bundesliga side at only 17 was a brave decision to make, but it has proved to be the right one.
Sancho's Next Move
His wonderful season in Germany has led to great interest in his services from across Europe. The player himself has previously admitted that he 'wouldn't mind' a return to England.
Manchester United, Chelsea and Liverpool are all interested in the 19-year-old. United and Chelsea would both want him to be the main star as part of their rebuilds, and Liverpool would be looking at Sancho to potentially replace Mohamed Salah if he was to leave for Madrid.
The ball is certainly in Sancho's court to where he will be going next year, as no top club would say no to having the talent that he possesses.