By Chris Smith.
The old-timers might still have their place in MLS but nowadays, it is a league which has very much become a breeding ground for talent.
Following on from our recent Eastern Conference feature, here is one rising star (aged 22 and under) from every MLS club in the Western Conference:
Colorado Rapids: Cole Bassett
Position:  Central midfield
Age:  18
As far as teenage midfield talents go in MLS, there are few more promising than Colorado Rapids' Cole Bassett.
At just 18 years old, Bassett already has 26 MLS appearances under his belt, scoring three goals during that time, while he's already spent time training in Europe with the likes of Arsenal and Freiburg.
Bassett is a multi-faceted central midfielder, happy to sit deep and dictate tempo, while also being capable of switching play with long, diagonal passes – according to FBref, the Littleton-born teenager played the third-highest number of switched passes per 90 minutes (1.61) among Rapids players during the 2019 season.
Furthermore, he's an incredibly mobile player and ranked second among Rapids players for pressures applied on the opposition per 90 (29.2) minutes last season.
Such well-rounded midfielders are in high demand nowadays, thanks to the decreasing use of No.10s and higher demands on deep-lying midfielders to become playmakers. Expect Bassett's name to pop up in Europe sooner rather than later.
FC Dallas: Paxton Pomykal
Position:  Central midfield
Age:  20
Sticking with midfielders, Paxton Pomykal is one of a whole host of talented youngsters making their way at FC Dallas right now, alongside the likes of Jesus Ferreira and Reggie Cannon.
What sets Pomykal apart from his aforementioned teammates is his incredible grace in possession, making him by far one of the easiest players to watch in North America right now.
As you can see from his 2019 actions map below – courtesy of Smarterscout – Pomykal excels as a box-to-box midfielder, taking the ball deep inside his own half and working his way out of trouble with a mixture of brilliant dribbling, sharp short passing and precise long passing.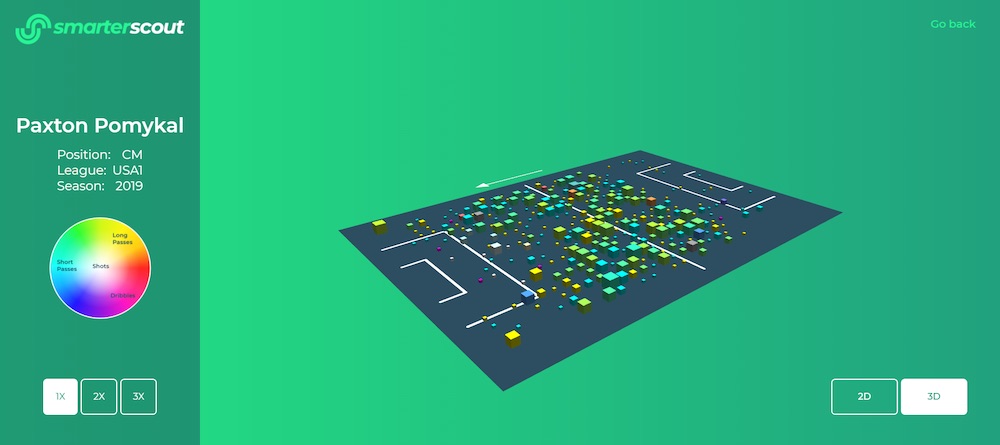 Pomykal does need to add more goals and assists to his game, but the rhythm he brings to Luchi Gonzalez's side cannot be understated.
Furthermore, and rather surprisingly for a player standing no taller than 5ft 7in, Pomykal is excellent at breaking up opposition play, making the third-highest number of tackles (88) among FC Dallas players during the 2019 MLS season, despite ranking 10th for minutes played (1,892). Smarterscout rated his defending quality at 63/99 for the 2019 campaign.
Statistically, Pomykal is fantastic while he passes the eye test with consummate ease – with his first senior USMNT cap coming late last year, expect his stock to keep rising in the coming years.
Houston Dynamo: Marcelo Palomino
Position: Central midfield
Age: 18
Houston Dynamo aren't stacked with young talent at senior level right now, but coming through the club's youth ranks is 18-year-old midfielder, Marcelo Palomino.
Coming in at just 5ft 5in tall, the diminutive playmaker with superb dribbling skills, often leaving opponents standing with a quick turn or nutmeg.
Palomino also has an eye for a defence-splitting pass and looks to get himself in front of goal as much as possible. According to  Dynamo senior VP and GM Matt Jordan, Palomino has been the standout player for the club across various youth levels.
"Marcelo has grown up in our academy program and was a standout at each age group to earn this opportunity with the First Team," Dynamo senior VP and GM Matt Jordan said upon signing Palomino to a Homegrown deal.
"We understand this is a process, and we look forward to this next step for Marcelo. We also look forward to seeing him continue to compete for opportunities within the national team program as he continues to grow and develop.
"I'd also like to recognize the hard work of our Academy staff over the years to help prepare Marcelo for this next step in his career."
Seriously, take a few minutes to watch his highlights reel, you won't regret it.
LA Galaxy: Efrain Alvarez
Position:  Attacking midfield
Age:  17
It takes a lot to gain praise from Zlatan Ibrahimovic but, aged just 17, Efrain Alvarez had the giant Swede gushing with praise after a series of cameo appearances during 2019.
"He's by far the biggest talent from everybody [in MLS]," Ibrahimovic said in July.
"Because he thinks football. He has that football in him, and it's natural. It didn't come by him training or something. [Anyone can] have the training, the physical [work] and all those things that you put together [to become a better player], but you cannot have that football in you. He has it.
16-year-old Efrain Alvarez stole the show in his MLS debut on Saturday night for the LA Galaxy 🔥 pic.twitter.com/f7YPnIApkP

— FOX Soccer (@FOXSoccer) March 5, 2019
"He goes on the field, and you see when he plays, he's all natural: the way he thinks, the way he moves the ball, the way he touches the ball. By far the best player in MLS. He just needs his game time, and he will show it also. "
In just 520 minutes of MLS play last season, Alvarez provided 12 key passes and three assists, while his dribble success rate of 64.7% is very impressive for a player his age – Alvarez made his senior LA Galaxy debut aged just 16, providing an assist in a 2-1 win over Chicago Fire.
Alvarez provided flair and excitement to what was, at times, a rather stagnant Galaxy side last season and already, there is a battle between the United States and Mexico to tie him down at international level.
Los Angeles FC: Brian Rodriguez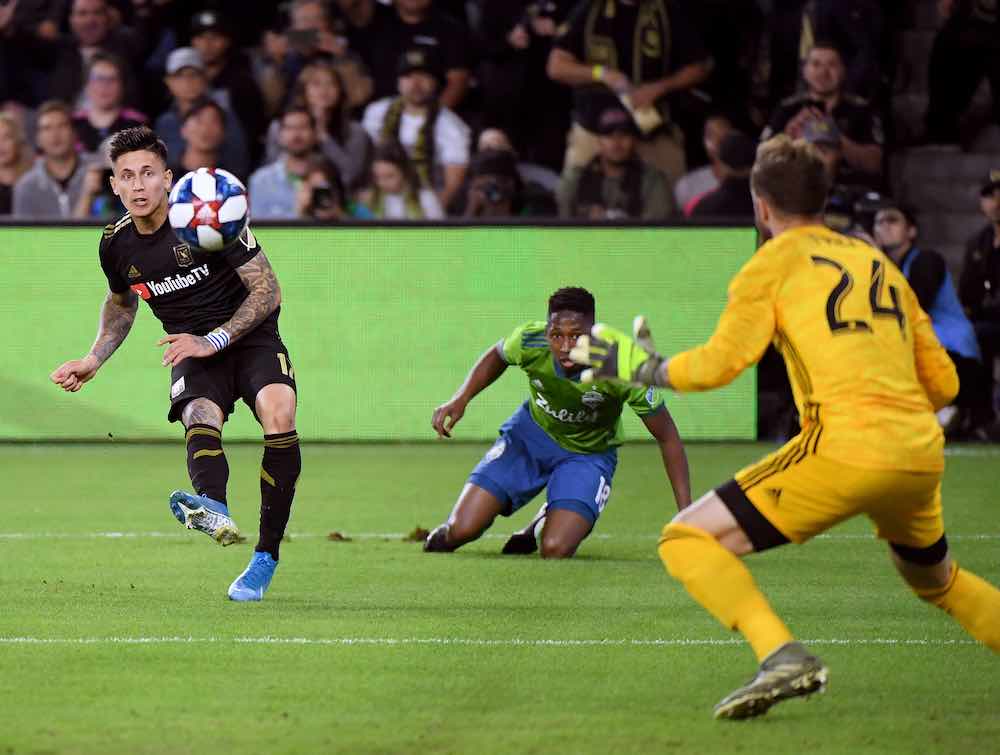 Position:  Winger
Age:  19
While fellow Uruguayan youngster Diego Rossi has thrived at LAFC, it's taken a little longer for Brian Rodriguez to find his place in MLS, but there's no denying his talent.
The 19-year-old arrived at LAFC for the 2019 season for a club-record $ 11.5m fee and initially buckled under the weight of that price tag.
Brian Rodríguez turns Aaron Long inside out following a counter-attack. 1-0 Uruguay #USMNT #LAFC pic.twitter.com/YsfGPbs4aQ

— James Nalton (@JDNalton) September 11, 2019
However, at international level, he already has three goals in six senior caps for Uruguay, while he's started to show signs of his talent at club level, with no LAFC player completing more dribbles than Rodriguez (8) in the opening two games of 2020.
Rodriguez is direct, skilful and devastatingly quick and if he can provide a more consistent end product, he could be the final piece in the jigsaw as Bob Bradley looks to bring MLS Cup to the Banc of California Stadium.
Minnesota United: Thomas Chacon
Position:  Attacking midfield
Age:  19
Another Uruguayan, Thomas Chacon already has 72 caps at youth international level to his name and looks set for a bright future with Minnesota United and beyond.
The 19-year-old is an extremely gifted playmaker, able to combine with teammates in small spaces, while his ability to operate on the left, right and through the middle as a No.10 makes him an incredibly useful squad member – a quality which isn't lost on manager Adrian Heath.
"We're really excited about Thomas. He can play wide left, wide right, number 10 – number 10s cost a fortune in the modern game, we think we've got one for the future we'll develop into being a top number 10, "he said upon signing Chacon.
"[He's] coming from an unbelievable country where players play with this incredible desire to be successful and we're really excited to have him."
He's clearly had a positive effect on those around him, too, with teammate Raheem Edwards saying recently: "Thomas is a talented player. He's young. But he's going to grow into his football. He has that 'it' factor. "
As with any young player, Chacon has a lot to learn and needs to work on his final ball. However, the raw talent is there for all to see and the teenager looks set for an exciting career.
Nashville SC: Jack Maher
Position: Center-back
Age:  20
Nashville SC were incredibly busy building the roster for their inaugural MLS season over the winter and one of their first signings was young centre-back, Jack Maher, picked up in the SuperDraft.
Maher has since been loaned out to USL club Charlotte Independence to give him first-team experience, but not before he impressed teammate and MLS veteran Dax McCarty, who recently named him among the league's most promising talents.
What a moment for No. 2 pick Jack Maher!

Nashville SC's general manager and supporters surprised him at his house as a welcome to the club 🙌 pic.twitter.com/ENeyiFJAu1

— ESPN FC (@ESPNFC) January 9, 2020
"I've got to give a shoutout to Jack Maher, our No. 2 overall draft pick. I've trained with this kid, I've seen him play," McCarty said.
"He has a ton of potential. He's got a ton of talent, he's a really good passer, I really like that. He needs to get a little bit stronger, but that kid has a really, really bright future ahead of him for Nashville, hopefully for many years."
His ability on the ball should serve Maher well as a modern-day centre-back and he'll be keen for the season to resume so he can start getting minutes under his belt.
Portland Timbers: Cristhian Paredes
Position: Central midfield
Age: 21
Having been on loan from Club America since February 2018, Cristhian Paredes impressed Portland Timbers enough for them to make the deal permanent earlier this year.
The 21-year-old is a dynamic, box-to-box midfielder, equally capable of recycling possession with short passes as well as moving the ball upfield with his dribbling skills — as can be seen in his 2018 actions map below — while he also netted four times in 23 MLS appearances last season, showing a keen eye for goal.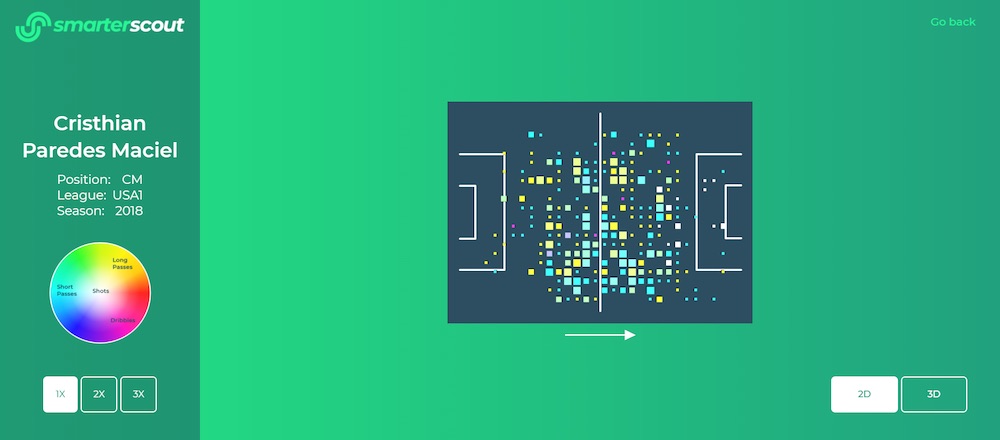 Paredes — capped six times for Paraguay at senior level — has an incredible amount of energy and has the potential to become the lungs of this Timbers side, especially as Diego Chara advances into his 30s, a trait highlighted by manager Giovanni Savarese upon his permanent signing.
"Cristhian has been an important component of our roster and we made it a priority to have him back on the team," Savarese said. "He's a two-way player who covers a lot of ground. He's a player with a very high ceiling in this league."
Real Salt Lake: Jeizon Ramirez
Position: Forward
Age: 19
With Jefferson Savarino moving to Atlético Mineiro in the off-season, Real Salt Lake moved quickly to bring in fellow Venezuelan forward Jeizon Ramirez from Deportivo Tachira.
The 19-year-old arrived in Utah with 66 games and seven goals already under his belt as a professional — helping Tachira qualify for the Copa Libertadores — and although he only managed two minutes on the pitch during the first two games of 2020, he's very much seen as an exciting prospect.
Able to operate anywhere across the forward line, Ramirez combines pace and skill to forge goalscoring opportunities for himself, while he's also unselfish in creating for others.
Losing Savarino, who scored nine goals last season alone, was bound to be a blow for RSL, but if Ramirez can hit the ground running quickly, his speed and skill should ensure their attack loses none of its potency.
San Jose Earthquakes: Cade Cowell
Position: Forward
Age: 16
Already the fourth-youngest signing in MLS history, Cade Cowell scored his first professional for San Jose Earthquakes in a 2-1 friendly defeat to Monterrey in March 2019 and from there, things have just been getting better.
Although in a 5-2 loss to Minnesota United, Cowell made his competitive debut for the Quakes as a half-time substitute for Danny Hoesen at just 16 years and 150 days old — a club-record.
During the 45 minutes he was on the pitch, Cowell completed a match-high three dribbles, had two shots on goal and looked genuinely assured in possession, given his tender age.
"My impressions are positive," manager Mathias Almeyda said when asked about Cowell's debut. "I think that in every team I have been in, I have always tried to support the younger players.
"This is a young player with lots of talent, who has a great future and my idea is to help him grow little by little. I think that, not only for San Jose, but for the U.S. Men's National Team, there's a promising player called Cade who has a great future and that we'll be helping little by little."
Cowell already holds a host of records — it'll be interesting to see how he adds to them as his career develops.
Seattle Sounders: Danny Leyva
Position: Central midfield
Age: 16
Able to operate at No.6, No.8 and No.10, 16-year-old Danny Leyva is already making waves Stateside, having become MLS' third-youngest player after making his Seattle Sounders debut against Montreal Impact in June 2019.
Leyva played the majority of his 413 MLS minutes in a deep-lying role last season and demonstrated great calm in possession, completing 85.5% of his passes and gaining a rating of 93/99 for his link-up play from Smarterscout.

Furthermore, his defending quantity was also rated at 65/99, while his defending quality received a score of 80/99. Leyva made 2.4 tackles per 90 minutes during 2019 and clearly demonstrated his ability to balance playmaking with the grittier side of the game required as a No.6.
"He's shining," Sounders teammate Cristian Roldan said of Leyva in August 2019. "He's not just sticking around to survive. He's thriving, he's doing everything in his power to get better and that confidence means a lot.
"His willingness to showcase himself at an early age is very difficult. I experienced that and it was very difficult for me to dribble at players or play forward and not be afraid to make a mistake. Danny is doing all of those things."
With an MLS Cup winners' medal under his belt before even turning 17, the sky is the limit for Leyva, who is working under one of the league's most meticulous coaches in Brian Schmetzer.
Sporting Kansas City: Gianluca Busio
Position: Attacking midfielder/forward
Age: 17
Gianluca Busio only turns 18 in May but already, he's entering his third professional season with Sporting Kansas City.
During that time, he's notched up four goals and two assists in 31 MLS appearances, as well as a further 11 in 24 at youth international level with the USA.
An attacking midfielder, Busio likes to get on the ball deep in opposition territory, combining with teammates and dribbling his way into the box before getting shots on goal, as can be seen in his 2019 actions map below.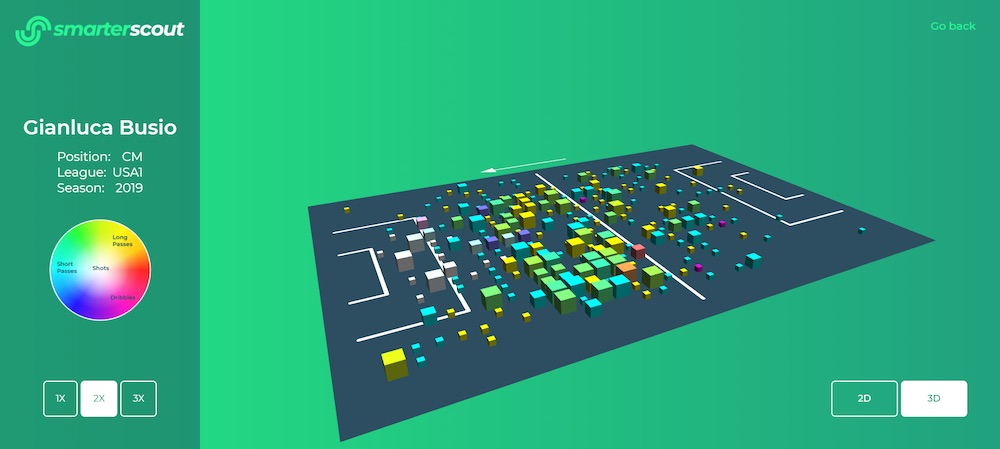 This season, he's already proving his worth, coming off the bench and making a vital interception which led to Erik Hurtado's late goal in a 3-1 win over Vancouver Whitecaps while veterans Daniel Salloi and Botand Barath remained seated in the dugout.
"When he came on, for a kid his age, 17, to come into a game like that …" manager Peter Vermes said of his contribution. "Game's 2-1 and we need him to now be in part of a field where he's got to be able to go both ways in the midfield.
"And with a team who right now is trying to get back into the game, is playing home, home opener, all those things, for him to play as calm as he was — good on the ball, picking the right choices, to make a pass, whether it's a penetrating ball to keep possession, whatever it might be."
One to remember for Gianluca Busio! 🌟

It's the first goal the @SportingKC 16-year-old has scored at home. 🏠#SKCvMTL pic.twitter.com/rGtXI4diK5

— Major League Soccer (@MLS) March 30, 2019
According to SKC's European scouting director, Edward Burleson, the likes of Manchester United and Inter Milan are already sniffing around Busio and given his achievements already, combined with the fact he can play as a No.10 and anywhere across the forward line, who would blame them?
Vancouver Whitecaps: Ryan Raposo
Position: Forward
Age: 21
Arriving from League 1 Ontario side Vaughan Azzurri in January, Ryan Raposo was a relatively understated signing for Vancouver Whitecaps. However, with two goals in pre-season, fans soon started to wonder if they had a genuine talent on their hands.
Raposo followed that up with a fine debut showing in the Whitecaps' shock 1-0 away at LA Galaxy, replacing Cristian Dajome in the 67th minute and combining brilliantly with full-back Ali Adnan, who then assisted Toisant Ricketts' winner.
Raposo ➡️ Adnan ➡️ Ricketts ➡️ BACK OF THE NET!!!!!

LA 0-1 VAN | #VWFC pic.twitter.com/YwKjIZo2G4

— Vancouver Whitecaps FC (@WhitecapsFC) March 8, 2020
"I've heard from almost every coach at a youth level, that 'you're too small, it just won't happen for you, blah, blah, blah.' So I've kind of heard that my whole life," Raposo said after the match. "So the fact that I did travel and got some minutes and proved myself … that's what soccer and life is kind of about: Taking (your) chances when given."
Raposo is clearly tenacious and determined, while he showed real technical ability with his pre-assist against the Galaxy. Vancouver may just have picked up a real diamond in the rough here.