By Louis Smith.
In April 2017, the youth coaching staff at Asunción-based side Club Olimpia were filled with pride when one of their players, Richard Sánchez, made his professional debut aged 21. And ever since that day his career has continued on an upward spiral.
During his debut campaign, Sánchez cemented his place in Olimpia's midfield, making 26 league appearances and scoring four times as they secured qualification for the Copa Libertadores.
Sánchez rapidly became recognized as an important figure and a fan favourite, helping Olimpia secure back-to-back titles for the first time in the club's history in 2018 when they triumphed in both the Apertura and Clausura phases of the domestic league.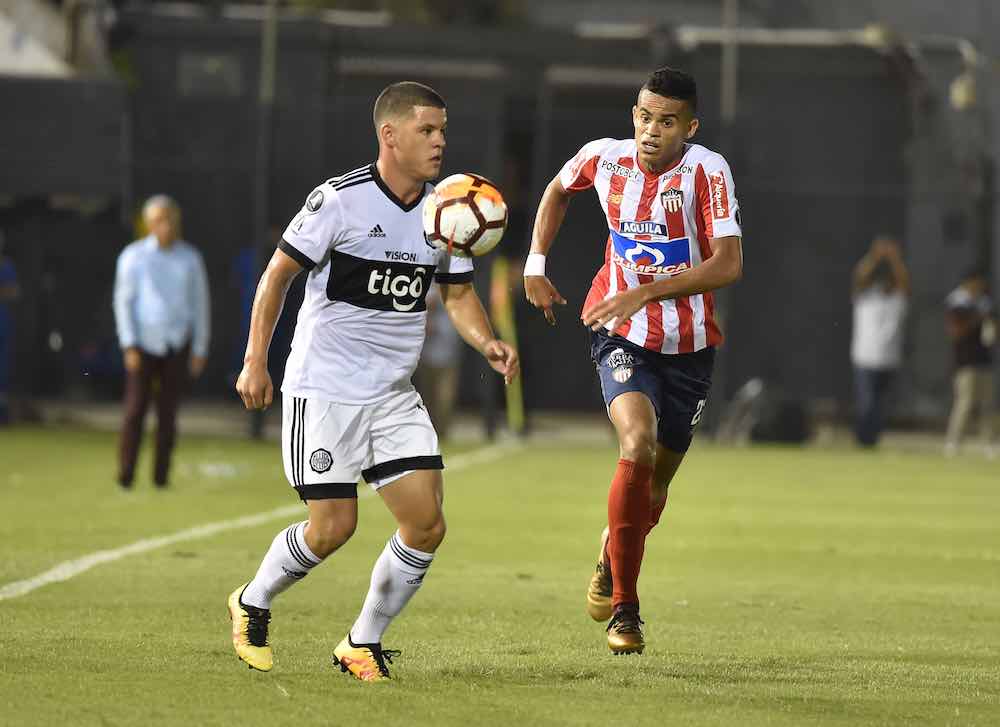 The following year, he followed the same path, picking up another league title as Olimpia began to show their dominance in Paraguayan football, with Sánchez at the heart of their midfield.
"To make my debut at a huge club like Olimpia was a dream come true," Sánchez told WFi. "My time at Olimpia was super good.
"It went extremely well thanks to God and also to the fans who were always supporting me. They were on the street greeting me in a good way and I think I won the respect of all the people of Olimpia."
Sánchez's hard work, willingness to learn, energetic play and top-class performances didn't go unnoticed by national team head coach, Eduardo Berizzo, who called him up to the Paraguay squad for the 2019 Copa America.
"The truth is that I felt very excited and very happy because I was fulfilling a dream that I had since I was a child," Sánchez said of this international recognition.
"It feels excellent to work with Berizzo. He is a coach who emphasises intensity. You have to train intensely so that, in games, you can go out and put pressure on your opponent.
"He's a technician of great intensity and since he came to the national team he's contributed several things in such a short time. He's a coach who likes young and healthy players, players who, above all, want to learn."
On his first international start, Sánchez repaid Berizzo's faith in him, scoring a wonderful goal from just inside the box.
"It was the best thing that could have happened to me, scoring a goal for my country on my debut, and against Argentina," adds Sánchez.
"I didn't know where to run or how to celebrate, the only thing I could do at that time was scream very loudly!"
A majestic set of performances in the Copa America alerted Mexican giants, Club América, who eventually made a move for the 24-year-old. For a young promising player in the Paraguayan league, it is difficult to say no when a Mexican club come calling.
"The truth is that growing as a footballer and a person is what every player wants in order to succeed, and that's why I left Olimpia to come to América," he said.
"For me, 2019 was a very beautiful and wonderful year, I don't know if it was the best year, but I really liked it.
"My son was born, I was a triple champion with Olimpia, I went to the national team, I made my debut, and I scored a goal; and then I signed for Club América."
Sánchez has made a confident start to life in Mexico thanks to the high energy levels which enable him to act as a dynamic box to box midfielder.
He has shown he can live up to the standard of Liga MX, and featured in the last 19 games for América before the Covid-19 interruption.
"The truth is that here in Mexico the game is more intense compared to the game in Paraguay, they're very fast players who bring desiquilibram [the ability to change a game and unsettle opponents]," he adds. "I think as a whole the intensity is the main difference."
The transfer to Mexico has given Sánchez the chance to compete in different continental competitions.
In Paraguay, Olimpia competed in the Copa Libertadores, a tournament in which they have struggled in recent years. In Mexico, América compete in the Concacaf Champions League where Mexican clubs are always the favourites to win.
"Playing in the Libertadores was very hard because it's super different, even from Paraguayan soccer," he said. "It's much more intense and I learned to play against experienced players, and that helped me increase my confidence going forward.
"The Concacaf Champions League and Copa Libertadores also have a difference because the Libertadores is much more intense, you have to compete against very large teams against very good players.
"I think that is the difference in the intensity is because there are more challenges in the Libertadores than in the Concacaf [Champions League]."
More and more Paraguayan players are choosing to move to North American football, and in turn, this can see them gain attention from European clubs.
"My goal is to continue here in América, to play here for one or two more years and be a fundamental player for the team, and be a pillar for the coach," Sánchez says of his immediate plans.
"Then I would like to take a step to Europe. This is something I want the most, and it is a dream I want to fulfil."