James Rowe spoke to Gateshead's Welsh left-back Scott Barrow for WFi. They discussed his current club, an important spell at Macclesfield Town, and the coaches and players he has encountered in his career to date.
---
You signed for Gateshead FC in 2017. How are you enjoying your time there so far and how would you describe a club such as Gateshead FC?
"I am thoroughly enjoying my time at Gateshead FC so far. When I signed it was a long way from where I am from in Wales. I initially signed in order to progress my career but I love the place in all honesty and the area too.
"Gateshead are a fantastic club who are now back on their own feet now. My family also comes to visit regularly. Gateshead FC are a family club run by the fans. There was a time not so long ago where the club almost went out of existence.
"I am really enjoying my football too and I would say that I have been in some of the best form of my career, partly because I am enjoying my football so much. It has been fantastic so far."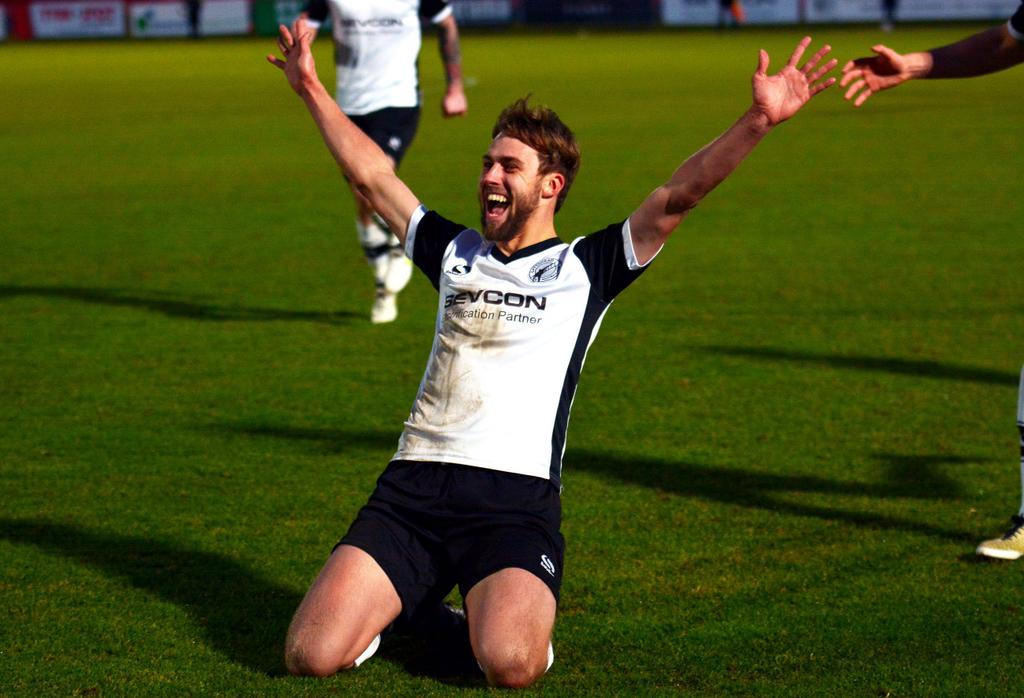 ---
You made many appearances for Port Talbot Town. How do you look back on your time at the club?
"I look back on my time at Port Talbot Town with fond memories, and it was the club that gave me a chance as a young player to play men's football.
"I suffered a bad injury early in my career. I fractured my femur, and you realize that it is kind of serious. I was about 5 minutes away from losing my leg. Fortunately, I was well attended to by doctors and I managed to make a recovery, and that is why I enjoy football so much.
"I made my debut on my birthday at the age of 16, going on to have experience in the Welsh Premier League and help them qualify for Europe.
"When I first got into the first team, I was a little bit star-struck as I was playing with players who I used to watch on TV. Playing in such an environment made me become a man. I learned a lot from fellow players and the manager, and any time that I am back in the area I always go back to the club to say hello."
---
You had a season playing for Macclesfield Town. How do you look back on your time at the club, and do you have any highlights or special memories?
"My whole memory of Macclesfield Town was just getting myself back playing that season, and the club gave me the chance to do that.
"After going on trial at the club I was offered a pay as you play contact. The money was not great but I did not care about that. I was just pleased to be back playing football regularly and get back to my previous level.
"I had a great manager in John Askey, who believed in me. He also looked after me and I went on to play many games and hit good form. I managed to come back a stronger and fitter player.
"We went on to just miss out on the play-offs on goal difference. When I look back I don't think I would be where I am in my football career today if it was not for Macclesfield Town."
---
You have accrued a lot of experience so far in your career in Wales and England. Could you say who are among the best players you have played alongside so far in your career?
"I have been fortunate to play with many good players. Oli McBurnie, who is now at Sheffield United, we played together when he came on loan to Newport County and you could see even then the prowess that he had in front of goal.
"Aynsley Pears who is now at Middlesbrough.
"I think as a professional and overall, I would say that the best player I played with was a lad called George Pilkington at Macclesfield Town.
"He is probably the most professional player that I have played with. He would train very hard and he was physically stronger too, and it was sometimes difficult to get the ball off him in training. He could face every situation as a defender."
---
I can imagine in your position as a defender that you have come up against many good opponents. Are there opponents that stand out in terms of talent and ability?
"I remember playing in the FA Cup for Tamworth against Everton and coming up a very young Seamus Coleman, and you could even see the quality that he had then.
"Royston Drenthe was also playing for Everton at the time and he was also a very good player.
"Ben Marshall was also a standout opponent. I played against him for Newport County against Blackburn Rovers and I was very impressed by him."
---
Finally, Scott, could you say who are the coaches and managers that have played a key role in your development as a professional footballer?
"In my career, my father has played a massive role and was someone that I looked up to in football. He was also my manager at Briton Ferry Athletic.
"Wayne Davies gave me my debut at Port Talbot Town and that set me on my way as a professional footballer.
"John Askey at Macclesfield Town took a chance on a player [who had been] out of the game for almost two years. He showed a lot of confidence in me that I could play at that level and that helped me to always look to improve myself as a player.
"Steve Watson, a former Newcastle United and Everton player, was my manager at Gateshead FC and he has since gone on to become manager of York City. He was a manager that allowed me to express myself.
"Current Gateshead manager, Mike Williamson, is also an influence with what he has achieved in his playing career particularly at Newcastle United.
"Having come so close to a career-threatening injury I always enjoy my football and play with a smile on my face."