James Rowe spoke to former Charlton, Chelsea, Benfica, West Ham, and Rotherham left-back Scott Minto for WFi. They discussed life in the media after football, his time in Portugal, and the host of talented players he's played with and against.
---
You retired from playing in 2006 and you now do media work for Sky Sports among other roles and commitments. How are are you enjoying life on the other side of football in the media and how is life for you away from the pitch?
"People sometimes ask me if I miss playing, and I actually don't. After more than 20 years playing professional football. In terms of how I am now still involved in football on the media side, I still get that buzz of live TV and it is a good substitute for going out and playing a game in front of a crowd.
"I think the older you get, towards the end of your career, it does get tougher. Football has become faster and you pick up injuries and the like. In the end, mentally, I was ready to quit when I did.
"I always wanted to get to 35, which I did, but I did not know what I wanted to do, and I did not realize that I would end up doing what I am doing now.
"I am absolutely loving it. I do not miss playing because I am still in football with live TV, and you hear the countdown to going live on air that is the buzz when playing in front of people.
"I am loving life at the moment. I have three young children and anything not football related I try to stay with my family as much as possible because the children grow up so quickly and I want to be around them as much as I can."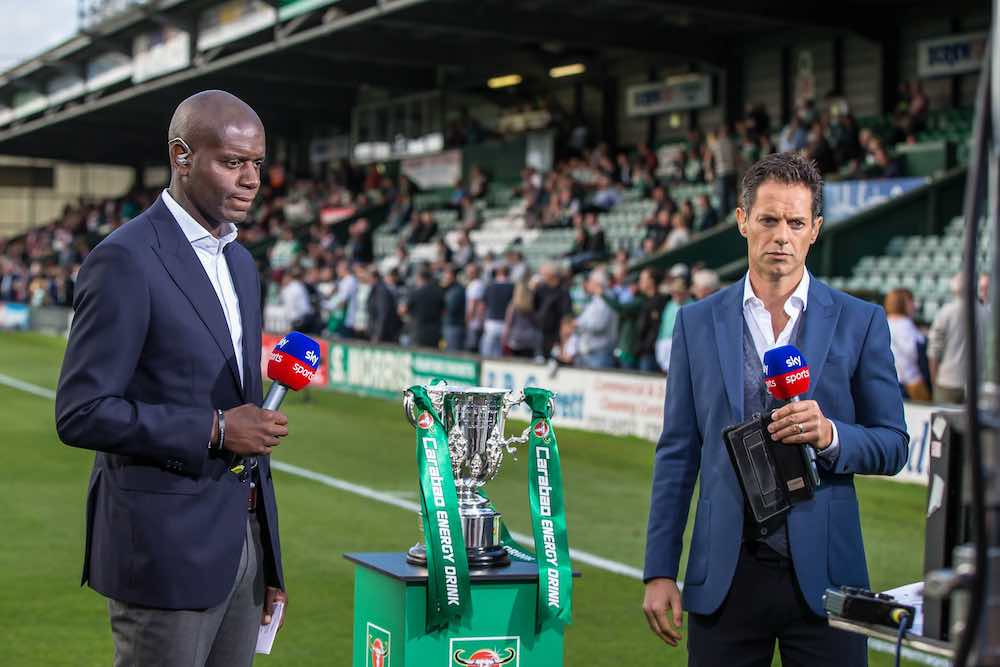 ---
You came through the youth setup and went on to make many appearances for Charlton Athletic in a five-year spell. How do you look back on your time at the club? Do you have any highlights or special memories and what does the club mean to you?
"I left school and joined Charlton Athletic at 14, which nowadays is too late to join a club. I became an apprentice and after a year and a half, I signed my first professional contract.
"I look back on my time at Charlton Athletic like my first love. Everything went really well and it was just a fantastic club and I really enjoyed the family atmosphere. We were always trying to stay up in the top flight and in my second full season, we got relegated. It was a question of still playing at a good level, but if you were good enough you are old enough.
"My youth team manager was Colin Clarke and my first team manager was Lennie Lawrence, and they both showed a lot of faith in me.
"I became a regular at the age of 18 (in what is now the Championship). It was just a great start for me. My debut was at the 'Old Den' and I went in late on Terry Hurlock after two minutes. Any professional players know that you do not do that at any time! He did not get me back, the right-back Keith Stevens did, and I had stud marks of my hips for about 18 months after the tackle.
"The biggest highlight was going back to The Valley in December 1992 when we played Portsmouth. It was not a great game. We won 1-0 and Colin Walsh scored the winner. It was not about the game it was the occasion and the fact that the Charlton Athletic fans had a home game.
"Even though it was all around me I still did not quite appreciate what it meant for the club. I was still a young lad at the time of only 21. You do know but you don't quite know with people coming up to you what it means to get back to The Valley.
"I also think that it was one of the most important games and periods in Charlton Athletic's history to get that ground back, and to think that I was involved at that particular time was absolutely amazing.
"I really loved my time at Charlton Athletic and I have got amazing memories from my time at the club."
---
You played abroad for one of the biggest clubs in Europe and the biggest in Portugal in SL Benfica. How do you look back on your two seasons at the club, and do you have any special highlights and memories from your time in Portugal?
"I love that fact that I played for all the clubs that I did. Chelsea have gone on to become one of the biggest clubs in Europe, and I was part of the 1997 FA Cup final where we won Chelsea's first major trophy for 26 years, which gave me the biggest day in my football career.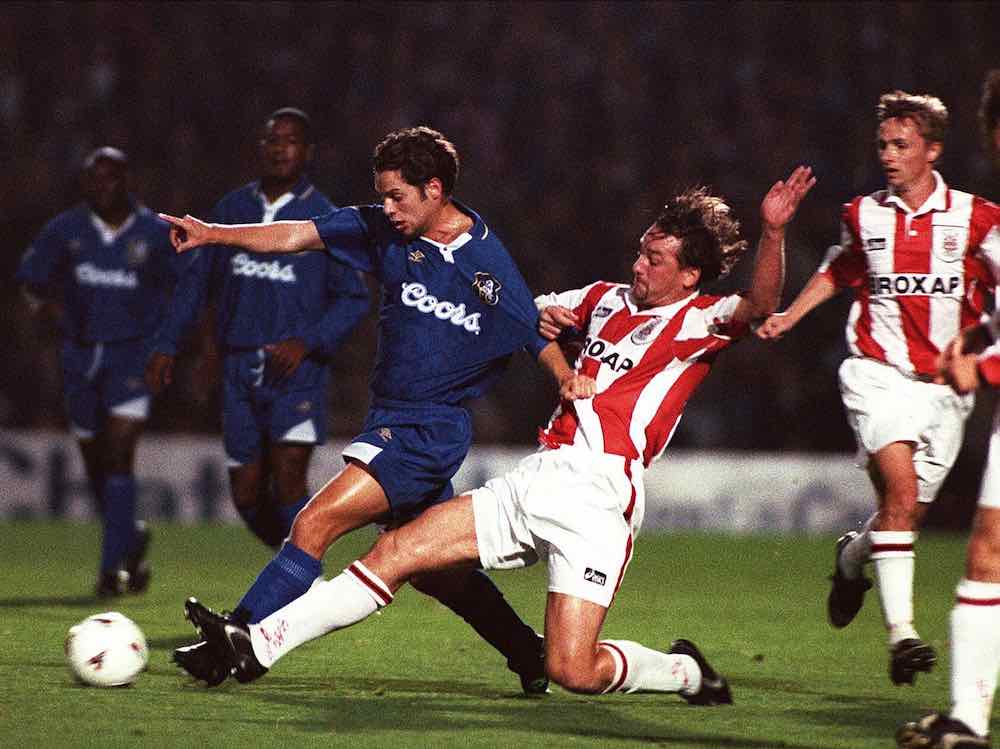 "I look at Benfica though as the biggest achievement of my career. Going abroad to one of the biggest clubs in Europe, and definitely the biggest club in Portugal.
"5000 people watched our first training session. 80,000 people watched our pre-season game against Lazio, which was absolutely incredible because it is almost seen as a presentation game of 'these are our new players for the season going forward.'
"Going abroad you are never quite sure about what is going to happen. I certainly did not learn Portuguese at school although, I always liked languages and I always admired people speaking English when it was not their first language.
"Firstly I wanted to do as well as I could on the pitch, but secondly learn the language. I would not say that I was fluent but I could more than get by, and I think that helped me a lot, both within the club but also in a lifestyle situation too.
"I look at that time, coming off the back of winning the FA Cup thinking I do not know one person here and I don't know the language, but just go for it. It was a fantastic opportunity to go abroad and it may never come round again and to play for one of the biggest clubs in Europe, I have to say it went even better than I expected.
"I felt that I integrated myself in the dressing room very well. I carried on the form that I had at the end of the previous season and I was playing first-team football all the time. I was told that Valencia were going to come in for me, only after three games I sustained a serious knee injury and I was out for four months.
"I did not hear anything after that but to be honest part of me thought I do not want to go to another foreign club now and start all over again, and I was happy.
"When I returned to fitness Graeme Souness became the manager and I really enjoyed playing under him. We went on a great run. We were not quite able to win the title, but we finished second and qualified for the Champions League the following season.
I experienced Champions League football and I made some great friends. Off the pitch the lifestyle, living in Portugal, the weather was really nice. A lovely time in my life and it was my biggest achievement in my career to do well in a foreign country."
---
You played at different levels in England, Portugal and also experienced European football. When you look back on your career could you say who are among the best players you played alongside?
"The three best players I ever played with were: number three, Paolo Di Canio at West Ham United who was just an incredible player.
"He could be 20 yards from goal facing a defender and a goalkeeper and ten seconds later both the defender and the goalkeeper are on their backsides and he was rolling the ball into the back of the net.
"He was not lightning quick which just goes to show how technically gifted he was.
"Number two was Ruud Gullit, who came from AC Milan in Italy and his knees were allegedly shot. Well if his knees were shot at 33 and he was past it, and he was still that good then, blimey, how good was he in his prime?
"You could just not get the ball off him. He ended up becoming my manager, too, but as a player, he was physically incredible, left foot, right foot, he could head the ball. I think he wanted to play sweeper and he was pushed into midfield by then player-manager Glenn Hoddle, and I just remember him dominating games on regular basis and thinking how good must he have been when he was in his prime.
"When Ruud Gullit became player-manager he was just so relaxed and one of the best players ever to kick a ball. At the time I did not realize that he was a Windsor Davies fan (best known for his role as Battery Sergeant Major Williams in the TV sitcom It Ain't Half Hot Mum) and he would come in and say in a Windsor Davies voice 'hello lovely boys, let's have some fun' and it would almost be a daily thing to use a Windsor Davies catchphrase!
"That season we had absolute fun and the most enjoyable season of my career. We ended up winning the FA Cup in the end, and he played a massive part in that, so well done to him.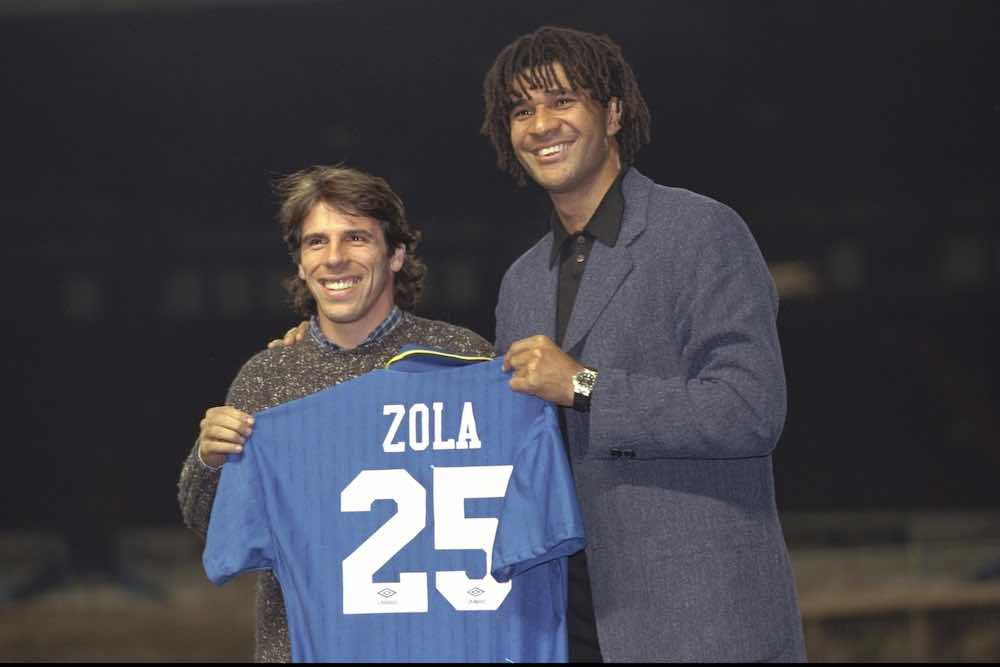 "The best player I ever played with was Gianfranco Zola. He came in 1996 from Italy and we were thinking that it is going to take a season for him to get used to it, and was he coming just for money at the age of 31…
"Not only was he often the best player on the pitch but one of the nicest guys off the pitch. He lived right and he made sure that he was primed for the games in the Italian way of life.
"He would still always come on the Christmas night out. He would not drink but he would be there as part of a team spirit because he knew that team spirit was very important. He would have the meal and as we would go off to the nightclub he would go home.
"We had top-class players in our side: the likes of Gianluca Vialli, Frank Leboeuf, Roberto Di Matteo and Mark Hughes, and it was not just 'give Franco the ball and let him do his magic,' but it was almost like that.
"He just had so much skill and he came into English football and hit the ground running. He was absolutely brilliant and a fantastic professional too.
"I would certainly give a mention to Glenn Hoddle. He was technically the best player I ever played with because his left foot was as good as his right. We used to do this thing in training where the player had three touches to keep the ball in the air with each touch hitting a different part of your body, for example, foot, thigh, and shoulder, and in his case, the ball never touched the floor."
---
I can imagine in your position as a defender you played against some very difficult opponents through the years. Are there opponents that stood out for you?
"In terms of opponents, coming up against forwards such as Eric Cantona, Mark Hughes, Thierry Henry, Dennis Bergkamp, and [in terms of] the wingers I came up against the standout name was David Beckham.
"He was really good and technically gifted as well as being very clever within the first yard or two that, if you tried to get tight to him, he would play one touch. If you stood off him a little bit he would take a touch and whip one of his world-class crosses in for Andy Cole, Dwight Yorke or Teddy Sheringham.
"If he did not see the ball much he would go inside and play as another central midfielder and as a full-back you were often wondering about your next move and potentially about vacating the space in behind me, so he asked you questions even if he was not in the game too much.
"A player who gave me the most difficult game of my career was Anders Limpar. He was one of those players who could just be hit or miss on any given day. I played against him in one particular game and I just could not get close to him, even when standing off him or going in for a tackle.
"He was a technically excellent player with a low centre of gravity where he had me that game. He was absolutely fantastic.
"I also remember playing in the Cup Winners' Cup for Chelsea away against Club Brugge and Gert Verheyen, their winger, did not play as a typical winger but kept asking questions of how and when to position himself.
"He would start wide and then run in behind, and as a defender you have to try and look at the ball and the man at the same time.
"He was asking questions and it was really difficult to get through the game and make sure that you are staying onside but not letting him get behind and having a free run at the goalkeeper."
---
Finally, Scott, you already mentioned Ruud Gullit and Glenn Hoddle, but when looking back on your career could you say which coaches and managers played a key role in your development as a professional footballer?
"The first coach I would like to mention was my youth team coach at Charlton Athletic, Colin Clarke. I have to give him a mention because I was a 15-year-old kid still at school when he saw me, believed in my talent and then put me in the FA Youth Cup team, which was basically an under-18s team and the biggest cup in the academy system.
"It is the equivalent of the FA Cup in the senior team. He put out a 17-year-old in the team and replaced him with me as a 15-year-old, so when we played the rounds of the cup I would be at school in the morning and ask school for the afternoon off because of the game in the evening. They let me do it because they saw that I had a good chance of becoming a professional footballer.
"At the end of that season he said to me, 'within 18 months you are going to be in the first team,' and having just turned 16 I thought, no chance, but he was right. I played first-team football 18 months later so he was the one that developed me.
"Lennie Lawrence gave me my debut. Alan Curbishley was a very good manager and arguably Charlton Athletic's greatest ever manager. He was very organized, even for his time in the early 90's.
"His training was good fun and as we good closer to match day it would be working on the opposition 11v11 and team meetings. He had great attention to detail and a player that the players liked having been player-coach and then joint-manager before taking on the role himself.
"He was someone who knew us all. I remember we played an away match against Tranmere Rovers and my grandparents were living in Birkenhead, and I said to Curbs, 'I don't often get the chance to see my grandparents, is there any chance of instead of eating with the lads tonight can I go and see and eat with them and then come back to the team hotel?' And he said yes. A lot of managers would have said no so he understood the human side as well, of me being able to see my grandparents who lived 250 miles away. He was very understanding.
"He knew football and was himself a very good midfielder.
"Glenn Hoddle, who revolutionized Chelsea, in my opinion, was the best manager I ever played under tactically, and I still say that he could manage England in future because his football brain is so good and when working with top end players, he was absolutely spot on.
"Back in the day with Chelsea and England he was maybe less patient with people, and because he was so good and he knew what he wanted.
"I loved playing under Ruud Gullit, and he was someone that you listened to. When he spoke you shut up. His calmness and the enjoyment he brought to Chelsea that season played a massive part in us becoming the team that we did, and winning the club's first major trophy in 26 years.
"I loved playing abroad under Graeme Souness at Benfica, and I was a Liverpool fan as kid, being born on the Wirral. He was also a fantastic player as well.
"Harry Redknapp, who at west Ham United gave me my highest-ever Premier League finish. We finished fifth in that 1998/99 season.
"All the managers I played under, played their part but in terms of the tactical side Glenn Hoddle was the best.."