By Daniele Etefia.
A chiming sound emanates from the monumental clock on the top of the Veneranda Fabbrica del Duomo di Milano. 6pm it is. A taxing closure to the 1999/00 summer transfer window.
Sporting directors, players and agents have been on the rampage for three dramatic months. It was during a golden era of Serie A — multi-millionaire owners, Brobdingnagian sponsors, and ample revenues.
Twenty years later, a look back on standout deals which broke records across the board.
The Big Transfers
Milan smashed their club's record transfer fee to sign Andriy Shevchenko for €23.9m from Dinamo Kyiv.
Milan director Rezo Chokhonelidze polished off a shrewd deal with the Ukrainians as early as May.
At 22, Sheva was the hottest youngster in Europe, having netted 122 career goals already, and also finished as Champions League top scorer that same year.
The spotlight was never too far from the fashion capital of the world, as crosstown rivals Inter broke a world transfer record to acquire Lazio's Christian Vieri for €46.5m. A squad of Vieri, Ronaldo, Roberto Baggio, Alvaro Recoba and Ivan Zamorano was drooled over by many fanatics in Milan and beyond.
It was Massimo Moratti's Inter second world-record breaker in three years.
Franco Sensi's Roma gifted new coach Fabio Capello a €25.8m highly rated Italian striker, Vincenzo Montella, from relegated Sampdoria, while Lazio snatched Argentinean maestro Juan Sebástian Verón from high flying Parma for €30m. Parma, in return, invested €28m on last season's capocannoniere, Márcio Amoroso, from Udinese.
Inter Strengthen All Areas – Lazio Spend Wisely – Juve's New Cycle
Inter's main priority has always been winning titles and they were ready to splash money. Prior to the signing of Vieri, they had spent €19m on Juventus No. 1 and Serie A keeper of the year, Angelo Peruzzi.
They also bought defenders Laurent Blanc and Cyril Domoraud from French side Marseille for a combined fee of €13m.
The focus was on improving the defence, especially with Giuseppe Bergomi's retirement. €7m was spent on highly-rated Greek left-back, Grigorios Georgatos from Olympiacos.
Inter took a trip to Madrid and got Vladimir Jugovic — €2m, and Christian Panucci — €9m, from Atlético and Real respectively. Midfielder Luigi Di Biagio arrived from Roma on deadline day.
After Lazio sold Vieri due to disagreements between the forward and club president Sergio Cragnotti, they aimed for a marquee player as a replacement. Nicolas Anelka was the target, but he rejected the Biancocelesti in favour of Real Madrid.
Bids for Hernán Crespo and Claudio López were rejected by Parma and Valencia respectively, though they joined the Lazio the following year.
In the end, it was a 23-year-old Simone Inzaghi, now manager of the club, who replaced Vieri. Inzaghi had just completed his debut Serie A season with 15 goals in Piacenza colours.
Lazio also splashed €30m on Verón, and got Diego Simeone as part of the Vieri deal with Inter for €10.9m.
Interestingly, all the players Lazio secured with the Vieri cash scored on the last day of the season to help them clinch scudetto in a 3-0 win over Reggina.
The Biancocelesti were on hand to build the best midfield in Europe with Pavel Nedved, Sérgio Conceiçao, Dejan Stankovic, Matías Almeyda, Veron, Simeone, and Nestor Sensini who arrived from Parma for €7.5m.
Juve suffered a disastrous campaign in the previous season, finishing 7th. As a result, some names were laid off including Thierry Henry, Didier Deschamps, Angelo Di Livio, Simone Perotta and Peruzzi. It was Carlo Ancelotti's first full season, but his first signing was made halfway through the previous season — the rising Gianluca Zambrotta from Bari in a deal worth €8m plus Perotta.
Their biggest signing of the summer was Darko Kovacevic from Real Sociedad for €17m. The Serbian striker had enjoyed a successful campaign by finishing as one of the top scorers in the UEFA Cup with eight goals, plus 16 in La Liga.
Juve also signed Dutch goalkeeper Edwin van der Sar on a free transfer, and Nigerian midfielder Sunday Oliseh from Ajax for €10.9m.
Milan Invest In Youth And Roma's Much Improved Mercato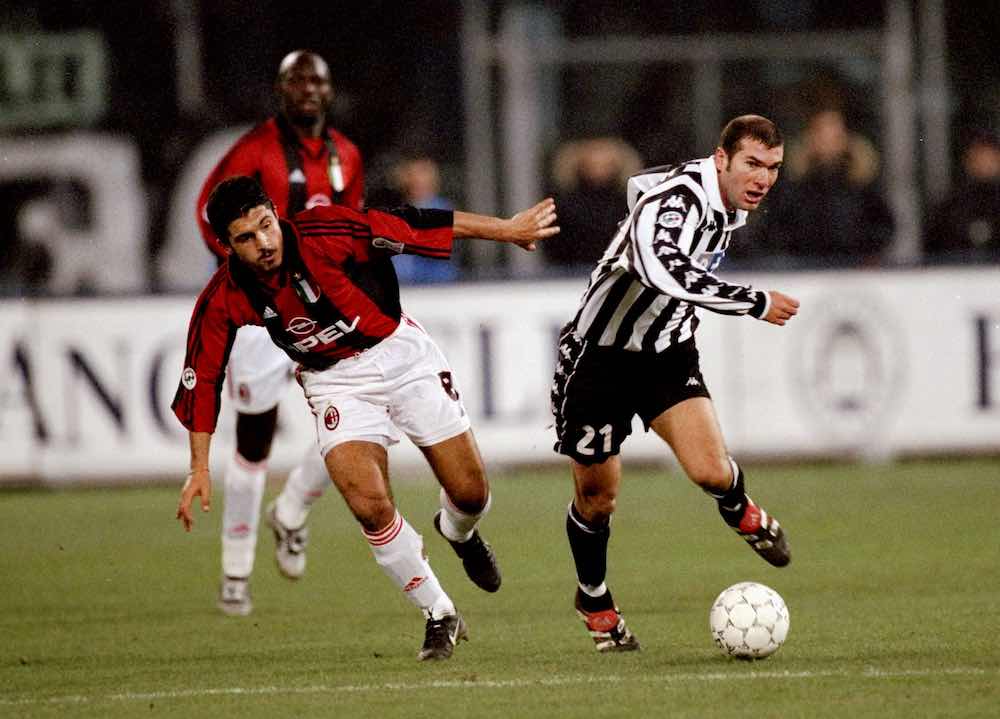 After the arrival of Shevchenko, Milan made more smart purchases in the shape of Gennaro Gattuso, 21, from relegated Salernitana for €8m, and Serginho, 27, from São Paulo for €8.9m.
17-year-old defender Fabricio Coloccini arrived from Boca Juniors for €7.5m. It was a wrong move for the teenager as he had to face competition from established players like Paolo Maldini, Alessandro Costacurta, Roberto Ayala, and Luigi Sala for a starting berth.
Roma President Franco Sensi drafted out high expectations for the season, as a result, he brought in a high profile coach, Fabio Capello to turn his dreams into reality.
He made a statement signing in Vincenzo Montella. €5.5m rated Belarusian defender Sergei Gurenko was acquired from Lokomotiv Moscow. Roma were furious after Juve lured Oliseh to sign for them despite agreements reached, they got Cristiano Zanetti instead in a co-ownership with Inter.
Zanetti became a success at Roma while Oliseh played only 8 matches for Juve, and was transferred to Dortmund the following year.
Parma, Fiorentina, and the Others
Parma under Calisto Tanzi, the owner of Parmalat — a company globally known for suffering Europe's biggest bankruptcy — were one of the powerhouses of European football. They had won the UEFA Cup and Coppa Italia, adding to a 4th place finish under the stewardship of the legendary Alberto Malesani.
They resisted offers for Crespo, Lillian Thuram and Gigi Buffon, and had signed Lorenzo Amoroso in a big-money move to strengthen the attack.
The club also brought in Argentinean playmaker Ariel Ortega for €4m from Sampdoria. 23-year-old Marco Di Vaio was snapped from Salernitana after completing the season with 12 goals. French midfielder Ousmane Dabo also arrived from Inter for €15.4m.
Fiorentina's main priority in the window was keeping their star player, Gabriel Batistuta. They signed striker Enrico Chiesa (Federico Chiesa's father) for €14.5m in an effort to convince Batigol to remaine with the club.
Veteran striker Abel Balbo also arrived from Roma. La Viola also signed 1997 Ballon d'Or runner up Predrag Mijatovic from Real Madrid for €12m.
Other Italian teams were making signings in accordance to their ability and economical status.
Perhaps another big move in Italy that didn't involve a Serie A team or money was Serie B side, Atalanta, signing Argentinean International Claudio Caniggia on a free transfer. A move made purely out of love. The legendary player went to Serie B in a bid to retake his darling Atalanta back to Serie A.
The Aftermath
Inter were the highest spenders in the window and had spent over €100m on players. Despite all this, they were still unable to win the scudetto and were even out of the race before April. Eventual winners Lazio spent about half of Inter's money.
Milan invested in players that became the pillars of the team for the next decade. Juve started a new cycle but lost out on the Scudetto on the final day.
Serie A spent over €400m on transfers that summer, in what remains one of the most exciting windows in European football.