By George Nash. 
Despite gracing a rather unhealthy number of Oceana cheese rooms, as a largely tone-deaf bloke from the West Country, there isn't much of Bryan Adams' iconic ballad 'Summer of '69' I can really empathise with.
I've never owned a six-string. I can't say I've ever played something until my fingers bled (with the possible exception of Mario Kart: Double Dash on the Nintendo GameCube). I've certainly never had a girlfriend whose mother had a porch. And, if you believe the theories being bandied online about what the song is really about, then any common ground quickly becomes almost non-existent.
"That summer seemed to last forever," is perhaps the one line that feels somewhat relatable, however. For me, that came in 2002. Specifically, the month of June, when the FIFA World Cup made its inaugural visit to the Far East. As a wide-eyed 10-year-old who lived and breathed the beautiful game, four weeks felt like four years, in the best way possible.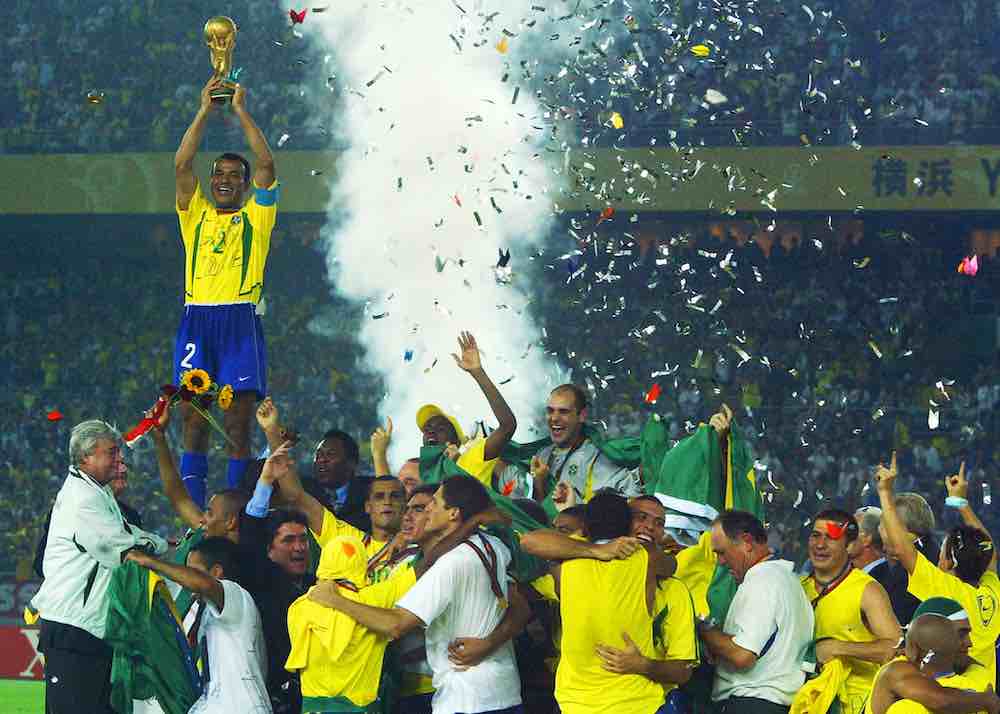 Nearly two decades on from that evening in Yokohama, when Brazil's marauding right-back Cafu held aloft his second World Cup trophy (and his nation's fifth), it remains the tournament I revisit most often.
In these unprecedented times of lockdown and social distancing, with the majority of sporting events put on hold and little to fill the evenings beyond watching golden age episodes of The Simpsons and perpetually failing to acquire the signature of Tuncay Şanlı on Championship Manager '07, more than ever I find myself returning to the goals, the drama, and the controversy of 18 years ago: moments that continue to fascinate and enthral me more than any other football event to date.
Objectively, 2002 was a landmark year in FIFA World Cup history. It was the first tournament of the new millennium. It was the first to grace Asian soil. The first to have countries sharing hosting responsibilities. The first to permit 23-man squads. And, for the nations of China, Ecuador, Senegal, and Slovenia, the first time they had ever experienced life at a World Cup finals.
Remember watching the opening game of the 2002 World Cup?

Senegal weren't given a hope against the World Cup holderspic.twitter.com/9sdFboT2OH

— Classic Football Shirts (@classicshirts) May 30, 2020
As a fresh-faced pre-teen, 2002 also marked a series of personal firsts. While Euro 2000 plays out in my memory like a blurry, elliptical day-dream, jolting randomly between hazy images of an ill-timed Phil Neville slide tackle and David Trezeguet's half-volley against Italy in the final, the 2002 World Cup was the first tournament I watched in its entirety.
It was also the first sporting event where I began to comprehend and embrace the magnitude and significance of what I was witnessing. Naturally, it was the action unfolding on the pitch that I came for, but for the first time, my mind began to tail off towards matters on the other side of the white line. I imagined the streets of Seoul and Tokyo, the venues at Daegu and Osaka, flooded in colour, alive with exuberance, littered with adoring fans, each one with a beaming smile permanently etched across their face.
I imagined the blissful blend of sounds and smells, basking in a world momentarily united: from the street food to the soft drinks; from the deafening roar of the sea of South Korean fans to the passionate percussion of the Senegalese supporters. I sat there in naïve optimism that my hometown of Chippenham — a community with a population of under 50k and famous for being the birthplace of Jeremy Corbyn and where Eddie Cochran died — would one day be chosen to host such a historic event. If the Far East, then why not Northwest Wiltshire?
It was also the first tournament where I had ensured every prerequisite of any young World Cup fanatic had been duly met. I had read absolutely anything and everything I could about the tournament. I educated myself on every team, studied each team's chance of progressing to the knockout stages and learned the names of every nation's touted star (from the Belgian talisman Marc Wilmots to Slovenian maverick Zlatko Zahovič to Mexico's graceful forward Jesús Arellano).
I had memorised the groups off by heart and meticulously plotted the pathway towards potentially monumental clashes between the game's biggest hitters. The walls of my bedroom were plastered with a multitude of magazine cut-outs and player posters, creating a crinkled collage of unashamed fanboy obsession and decimated matt emulsion, much to the dismay of my mother.
Then came the obligatory, seemingly insurmountable task of completing the sticker album. With our weeks' worth of saved pocket money, my brother and I stockpiled packets of Panini stickers, delicately tearing away the yellow packaging and carefully removing the paperbacks with the skill of a master artist.
For hours we would pore over our duplicates, arguing for even longer over whose stickers belonged to who before laughing our way to resolution over the unfortunate photographs they had ended up using (you're welcome at the Nash household any time Pavel Pardo, aka 'Rabbit Man').
When only a few gaps remained, I wrote to Panini personally, politely requesting they send me the stickers I needed to complete my collection. When they finally arrived, they were accompanied by a short letter of touching gratitude, thanking me for choosing their brand of sticker. At the time, I was blissfully ignorant to the fact that thousands of other committed collectors will have undoubtedly received an identical note. I was so overwhelmed by the kind words that I quietly climbed the stairs to my room and cried.
It wasn't to be the only time I would that summer, either. Having invested so much in the build-up to the tournament, it is perhaps hardly surprising that the 2002 World Cup was the first time I wept while watching football. In following England's qualification campaign with the persistence and dedication of a bloodhound, I had learned first-hand the immense emotional power international football tournaments bring.
Under the stewardship of stoic Swede Sven-Göran Eriksson, the England team had me gifted some jubilant highs.
Even at age 27, few memories will remain embedded in my memory with the same vivid joy as Emile Heskey coolly slotting home goal number five in Munich and me subsequently leaping into my dad's arms from the living room table, where just a year before I had cracked my head open pretending to be a Pokémon.
Or the image of his dark, perm-like hair bobbing in the warm autumn air as he raced down the garden path to embrace me as commentary of David Beckham's last-minute goal against Greece blasted from his cranky old Volvo.
Or our frantic escapades to the patch of grass at the front of our house during half-times, where together we'd utilise every one of those precious 15 minutes trying (and mostly failing) to emulate what we'd just witnessed on screen. "And what about your weak foot?" he'd ask softly every time I thought I'd mastered the Maradona turn or the Roberto Carlos banana shot.
Memories of this ilk would continue to be forged in the finals themselves, where England finally exorcised the demons of both '86 and '98 by beating fierce rivals Argentina, then helmed by Marcelo Bielsa, in 2002's infamous group of death.
As I watched on a crackly television set at a family friend's cottage at the foot of Mount Snowdon, Beckham was once again at the centre of the heroics, crashing home a penalty on the stroke of half time after Michael Owen had been brought down by Mauricio Pochettino — then sporting a rather dazzling head of thick, untamed hair.
My unadulterated education in striking barnets wasn't limited to South American centre-halves, of course, as Beckham and his thin, spiky mohawk sprinted towards the England fans in celebration while the simple, instructive, immortal words of John Motson — "Hold the cups and glasses back home … you can smash them now because Beckham has scored" — blurted from the television screen.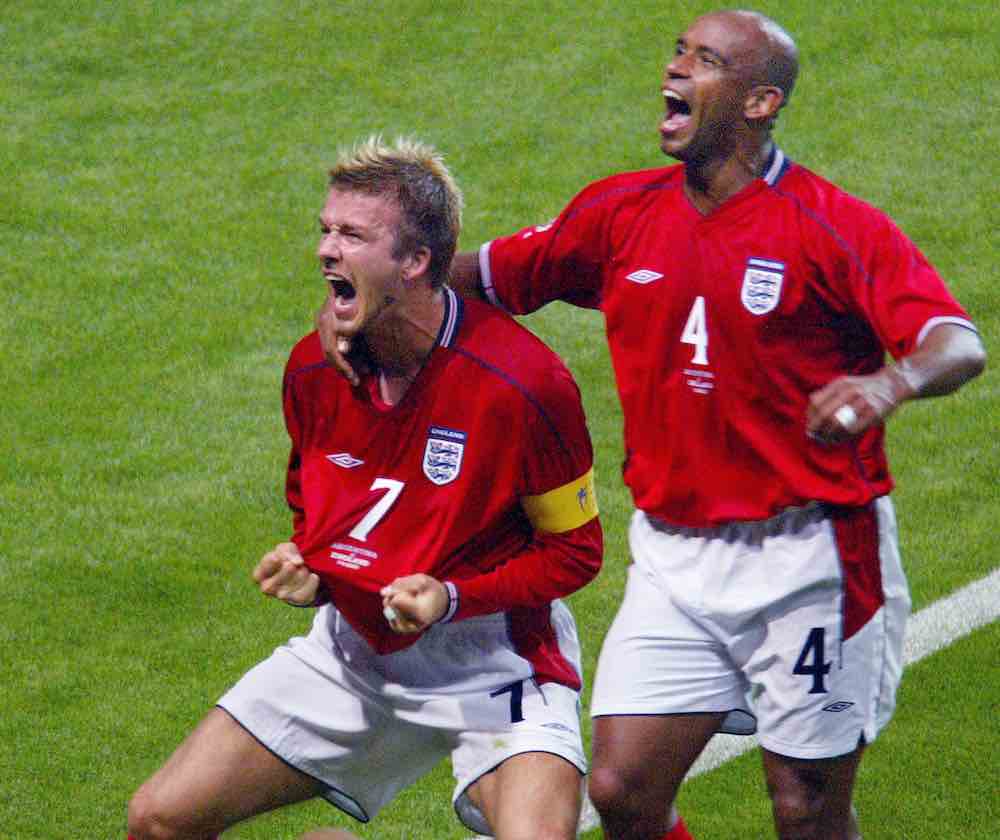 But amid the elation, sickening nerves will forever define my memory of that nail-biting second 45 minutes. Every time the ball was at an Argentine's feet I panicked, cowering restlessly at the living room door, at once too anxious to watch and too captivated to truly look away.
When David Seaman pulled off an instinctive point-blank range save from pantomime villain Pochettino late on in the game, it remains the closest I've ever come to properly fainting.
But, if it wasn't on that day in Sapporo, then, in typical England fashion, the painful lows would arrive not long after. Their quarter-final clash with the mighty Brazil — the game that would supposedly decide (and ultimately prove) who would go on to win the tournament — played out like a plaster being pulled prematurely from a wound.
Early optimism — Owen's goal on 23 minutes sent a wave of hushed 'what ifs' circulating around the Year Six classroom where the entire primary school had congregated to watch — was soon replaced by cutting pain as Rivaldo slotted home on the stroke of half-time after a passage of play that began with Beckham dramatically jumping over the ball as it seemed to be rolling harmlessly out of play (a decision I don't think my Dad has ever quite forgiven him for). Then came the final, merciless blow: a moment of cunning dead-ball brilliance from a skinny, buck-toothed Brazilian with a similar name to Ronaldo that ensured England would progress no further.
Minutes after the final whistle, I was sobbing uncontrollably in the playground. Like the very worst bully, Ronaldinho had reduced me to a snotty, salty, sniffling mess in front of all my friends. With a single kick of a football thousands of miles away, I'd never felt hatred for a player quite like this before. It was all beautifully ironic, of course, because in less than three years' time I would be spending countless hours trawling through YouTube (then in its infancy), marvelling at Fort Minor-soundtracked compilation videos of the very same man.
Since then, speaking candidly, I've always enjoyed watching football when England aren't playing. Cynical is probably the right word to describe my attitude towards England at major tournaments, but, even with the addition of copious alcoholic beverages and wild, drunken, but no less endearing atmospheres, to this day, it's never the England games I look forward to most at a World Cup.
Instead, I crave those captivating contests where I have no allegiance either way. It's these games I come back to most often, and, in the case of 2002, regularly relive the thrill of watching the plucky upstarts of Turkey going toe-to-toe with the Brazilian old guard, giggling uncontrollably at the unashamed impertinence of Rivaldo's face-grabbing theatrics. Or the co-hosts, courtesy of a wonderful Park Ji-sung goal, condemning much-fancied Portugal to an early plane ticket home.
And, for as long as I can remember, it's the underdog stories that I've enjoyed above all others. To me, Robin has always been infinitely more intriguing than Batman. I've always rooted for the geeky, eccentric friend in horror films. And I've always been a firm believer that ice cream, not custard, is the rightful accompaniment to apple crumble. The 2002 World Cup was paradise for me: an underdog's breeding ground that I suspect will never be matched for drama.
There's often no stranger fiction than reality, and in 2002 that notion was proved at almost every turn. While the tournament may have ended in rudimentary fashion — a tussle between the ruthless, European efficiency of Germany and the expressive, spontaneous South American flair of Brazil — everything leading up to the final had been anything but. From a Zizou-less France being toppled sensationally by newbies Senegal on the opening day, to the USA defying the odds in Group D, to Turkey and South Korea's historic runs to the semi-finals, it was a tournament defined by shocks, complete with unlikely heroes and Machiavellian villains.
There was Roy Keane and his infamous pre-tournament bust-up with manager Mick McCarthy, leading to his well-documented dismissal from the Ireland squad on the eve of their first game.
There was the tragic heroism of Michael Ballack who, in almost identical fashion to Paul Gascoigne 12 years earlier, picked up a booking in the semi-final that would cruelly rule him out of the next game. But instead of on-pitch tears, the stoic Ballack would go on to score the only goal of the game, sending his country to the World Cup final he knew he would not be a part of — and a stage he would never again grace in his career.
Then there was Ahn Jung-hwan, the forward in Guus Hiddink's spirited, super-fit South Korean side, whose Golden Goal that sent the Azzuri packing in the Round of 16 came soaked in Shakespearian tragedy. Ahn, as coincidence would have it, played his club football for Perugia in Serie A. The day after his goal, the club's hierarchy threatened to sack him, with late chairman Luciano Gaucci defiantly proclaiming, "that gentleman will never set foot in Perugia again."
In hindsight, it's hard to ignore the torrid time Italy had with officials throughout the tournament (the Ecuadorian referee who oversaw the game would be imprisoned on drug smuggling charges in New York nine years later). But for 10-year-old me, the magic of the co-host's unforgettable run to the last four masked what was unquestionably an injustice for both Giovanni Trapattoni's team and South Korea's quarter-final victims Spain.
Not long after the tournament had concluded, and El Fenomeno had gotten the better of Golden Ball winner Oliver Kahn and laid to rest the looming spectre of four years before, I stumbled across a VHS (crikey, remember those?) down a crowded aisle in Woolworths (crikey, remember that?) lurking behind a copy of Eight Legged Freaks (just crikey). It was The Official Review of the 2002 FIFA World Cup. I bought it immediately. For 6 months it never left my VHS player.
It might seem like hyperbole, but the 2002 World Cup proved to be a formative experience for me. For 31 glorious days, I was transported to a place of wonder, to a land of excitement where I was exposed to some of the finest storytelling ever told.
With the joy, the trepidation, and the memories imprinted on my mind so vividly 18 years later, the tournament continues to wield a power over me that renders players like Junichi Inamoto, Oliver Neuville and Nelson Cuevas household names.
I've never owned a six-string. But I can tell you without a moment's hesitation who scored when Turkey played Senegal at the 2002 World Cup.
İlhan Mansız, for those wondering. He's now a figure skater.