James Rowe spoke to former Chelsea, Sunderland, and Swindon defender Gareth Hall for WFi. They discussed his new venture with AiSCOUT, his time with Chelsea, representing Wales, and being coached by Don Howe.
---
You retired from playing professional football in 2001. How are you enjoying retirement and how are you enjoying your current role as Head of Football Operations at AiSCOUT and could you elaborate on that?
"After retiring at Swindon Town in 2001 I moved the family back to our base in Surrey. I also played part-time for Havant & Waterlooville under former Coventry City and Republic of Ireland player Liam Daish, and then Farnborough FC.
"Whilst I was playing part-time football I started to do my coaching qualifications. In 2006 my daughter started to attend Gordon's School which is a boarding school and they had a great reputation. After a few weeks, the staff asked me to take a couple of football sessions and I started to coach and build up friendships over time.
"As time has gone on I am still working there 14 years later. I am now head of football operations. When I started at the school football really was not on their radar, it was more rugby, but as time has gone on we have increased it and have been able to influence and pass on my experience.
"We have been to county finals and national semi-finals at under 18 level and it is a great place to work.
"My wife is also sixth form administrator at the school. I have been lucky that I have found a place where I can influence young guys playing football and I have learned a lot at the school. They are a very disciplined school which was also an ex-military school, and it has been a major part of my life.
"A fellow parent approached me three years ago because of my contacts at Chelsea and scouting influence with former Chelsea player David Lee. He was also head scout at Arsenal. Darren Peries and I put this app together which is kind of like a Right Move app for players who play at grassroots level because there was not enough information out there that the clubs were asking parents about their kids.
"Over the last three years we have built it up and AI Scout is due to be launched in May. Our partners are Chelsea FC, The Welsh FA and the Sri Lankan FA, because it is a way of finding players especially for the football associations.
"Wales, for example, are limited on their budget so they are looking for players that are eligible to play for Wales 14 and 15-year-olds, and once you download the app all the information is in there. All they will need to do is put the details they want in the app and it will come up and they can they tell their scouts and be more productive in terms of finding these players and it works for all clubs.
"I am really excited about the project. IBM is one of our partners as are Loughborough University and the app has received major investment and will start in May with first a player app and then scouting.
"It is very in-depth and we along with Chelsea and the Football Associations think AiSCOUT is going to change the way that players are scouted."
---
Gareth Hall of Chelsea pic.twitter.com/CMiL5vGn80

— The League Magazine (@Theleaguemag) February 26, 2015
You mentioned Chelsea FC. You had a ten-year association making many appearances for the club. How do you look back on your time there and do you have any highlights or special memories?
"We are Surrey people so the biggest club for us was Chelsea, and my father took me to my first game in 1978, Chelsea vs Liverpool in the FA Cup, and Chelsea won 4-2.
"I remember him rolling his sheepskin coat up for me to stand on to see the game as we watched in the Shed End. I remember it vividly and it was one of those moments where you think this is what it is all about in terms of the atmosphere and Chelsea winning the game.
"I grew up in Surrey and I had trials at Aston Villa and Tottenham Hotspur. Gwyn Williams from Chelsea asked me to go for a trial. The club used to train at Battersea Park on a Tuesday and Thursday night back in those days, on the red Astroturf.
"My Dad wanted me to go to Aston Villa and I said no, I said that I loved the atmosphere of Chelsea and the boys really accepted me and the training was fun and everybody was down to earth. It just suited me and I loved it, and I signed for the club at the age of 16.
"I grew up with some great lads there, David Lee, Graham Stuart, Frank Sinclair, Eddie Newton… I have some great memories throughout my time at the club up until I left in 1995.
"Chelsea FC are a fantastic club that means a lot to me. I even go to watch them regularly around 15 times a season.
"As a former player and a fan looking in the great work that Frank Lampard and Jody Morris are doing means that the club are in safe hands at the moment because they are guys that have been through the club, know the system and are ex-players as well.
"You can see that the results they have been getting are down to the work they put in on the training ground, which is fantastic.
"I wished I had stayed at Chelsea my whole career, to be honest, but time moved on and I moved on to Sunderland in 1995."
---
You moved on to sign for Sunderland after a subsequent loan spell. You went on to spend two seasons there. How do you look back on your time at the club and do you have any special memories or highlights?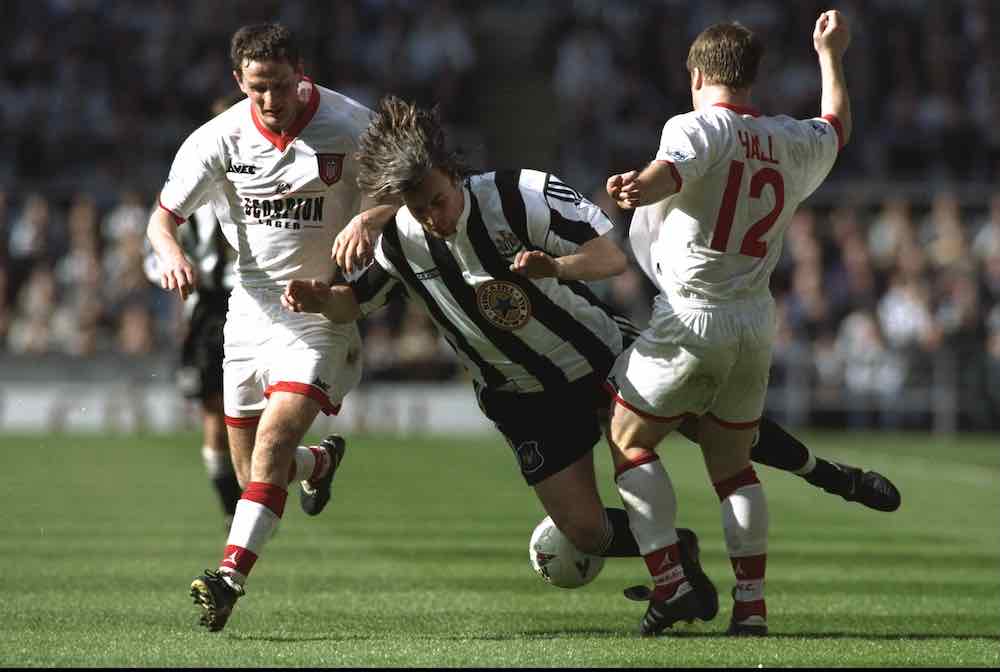 "Yes I joined the club in the December on loan from Chelsea with a view to signing permanently and they were absolutely flying at the time. I joined a group of players that were very hard working under a superb man-manager in Peter Reid who I still see every now and again and Peter Reid was the main reason that I went to Sunderland.
"My family and I were a long way home I had just got married and we had a six-month-old daughter at the time. It was a wrench for us to leave home but my wife backed me up and said if you want to go, let's go.
"I loved my time at the club and we managed to get promoted at the end of that first season and I played around 15 games. After relegation from the Premier League I stayed at the club but Sunderland are a fantastic football club with absolutely fantastic supporters.
"We were never looking to spend more than three years up there but I would never say that it was a poor decision. It was the right decision for us at the time as a family and we look back on it with fond memories. We still have friends up North and I learned a lot about being at a different football club.
"Sunderland was not dissimilar to Chelsea in terms of certain elements of the expectations. They were also moving to the new Stadium of Light stadium which was a big thing for the club. I look back on fantastic times there."
---
You have been capped by Wales. How do you look back on representing the country and what are your highlights and memories of playing international football?
"I was lucky to get involved in the Welsh national team. My mother is Welsh originally from Caerphilly in South Wales, and I got into the Wales national team setup quite early in my career. I was quite young when they asked me to go and play a match in Yugoslavia at Vetch Field in Swansea and it was a decision that I do not regret at all but I admit I entered into international football too early.
"I met some fantastic people and I played with some great players Ian Rush, Mark Hughes, Neville Southall, Kevin Ratcliffe, Pat van den Hauwe. All these players were top players at the time and I was only 18 then so it was a real milestone for me to be involved in such a squad.
"I did not play as many games as I wanted to but I think that was down to the fact that Wales had such good players at the time. How they did not qualify for a major tournament is beyond me as we had a good team and it was nice to be part of that and give me a boost at an important part of my career.
"Terry Yorath was a great manager who helped to guide me and I learned a lot from him. Playing with such great players really helped my career.
"The biggest highlight for me we went on a summer tour of Malta and Italy and we won 1-0 against Italy in Brescia. Ian Rush scored. I look back at the programme and Paolo Maldini and Franco Baresi played and you never think of it at the time but you look back now and you think wow! we won 1-0 in Italy. It was amazing and the night out celebrating was also brilliant."
---
I can imagine in your position as a defender that came up against some very difficult opponents through the years. Are there any that stand out for you?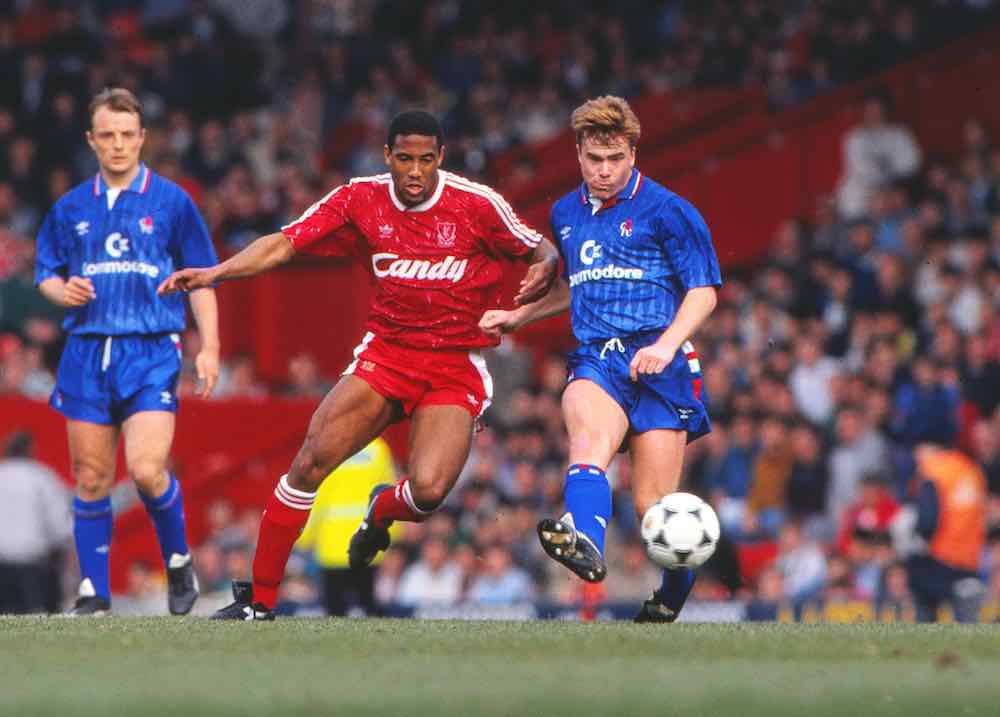 "Yes, the first player that springs to mind is Anders Limpar who used to play for Arsenal, and I came up against him when he played for Everton. He was always difficult because he was good with both feet and very quick and nimble. He would come in on his inside. He could do it all in attacking defenders in different ways with both feet. He was a good player.
"Another player would be John Barnes. His left foot was a wand but he could drop deep as well and you did not know whether to get close to him or drop off. He was also physically strong, a real specimen where it was difficult to get the ball off of him."
---
Finally, Gareth, you already mentioned Peter Reid and Terry Yorath, could you say who were the coaches and managers that meant a lot to you and played a key role in your development as a professional footballer?
"Going back to my time at Chelsea we had around nine different managers during my time there. Bobby Campbell was an influence because we were young guys at the time, and myself, Jason Cundy, David Lee, Damian Matthew, Frank Sinclair and Eddie Newton, we needed guidance and was he was good in that he knew what he wanted out of his players.
"When Don Howe came to the football club with Ian Porterfield he probably had the biggest impact on us as young players because he was such an excellent coach. He lived and breathed football and he started introducing us to sitting down and watching videos in the evening when we were at the hotel for an away game.
"We were watching AC Milan with Baresi, Maldini and Costacurta, and how to defend. He would eat, drink and sleep football and he would say 'have a look at that back four, watch these videos' and over the period of a season he really influenced us. He is the best coach I had in my time as a player, without a doubt.
"His knowledge was superb and he could get his message across as well. Some coaches have the knowledge but the art is getting it across to the players in a simple form they can understand. It is like teaching in the classroom.
"If you are putting on a training session you want to make it engaging for all the players so they can understand it and if they are understanding it and enjoying it they will remember it and get something out of it, and Don was one of them.
"We used to look forward to his sessions and I remember we won 1-0 at Everton to go second in the league and he was absolutely buzzing and he told us that was our best performance of the season and he started pouring out brandy for us in paper cups because it was such a cold day and he would say: 'Get those drinks out lads you have been absolutely fantastic today,' and little things like that you remember.
"Unfortunately he had a problem the Sunday after that game and we did not see him for six months, which was a crying shame, and in the end he left the football club. If he had stuck around for another year I think we would have all stayed together. He was a massive influence.
"We got so much out of his training sessions and he would say things like: 'I can't kick the ball for you, I can give you an idea or an option, and then it is up to you during the game to make the right decisions,' and that is where you become a good player or an average player.
"He put the onus back to the players. He would organize things and set things up. We had some fantastic games with him and it was a joy to come into training. Don Howe loved football and I am glad that I came across him during my time in football because he was a proper football man.
"Peter Reid also had great man-management [skills] and he treated you like a man and expected you to give your best out on the pitch. If you did that he looked after you off the pitch, which was fantastic."