The man of the moment, Jadon Sancho, has been tearing up the Bundesliga and Champions League this past season. The pacy winger has shown his brilliance on both flanks.
He has been proficient ever since breaking into Dortmund's first team at the age of 17, scoring 30 goals and assisting a further 38 in 73 games in the Bundesliga.
Such prolific numbers at the age of 20 meant that various big teams came knocking, and have been clamouring to sign the English youngster.
The biggest interest has come from Manchester United, Chelsea, and Liverpool, but is Sancho really worth the hype?
The Numbers
Make no bones about it, Sancho has the potential to become the best winger in any team he goes to in Europe.
His 30 goals and 38 assists in 73 games means he has a goal Involvement per game of 0.93, almost one goal a game.
In the Champions League, he has three goals and three assists in 15 games, but his main impact comes around in his playmaking and his ability to set-up his team-mates for quality chances.
Sancho is very two-footed, meaning that he is versatile on both wings. This is shown by the assist map below:
This ability to thread good passes, along with the finishing of team-mates like Erling Haaland, helps exemplify his quality as a player.
Sancho has 0.60 assists per 90 overperforming his xA90 (expected assists per 90) of 0.36. In the Bundesliga, Sancho makes 3.04 successful dribbles per game, with a dribble success of 55%.
For any youngster, these are phenomenal statistics which should only get better with time. The graph below shows Sancho's skills.
Another important thing to look out for is how Sancho leads in terms of passes into the penalty area and pass success. He plays a lot of clever balls into the box, allowing his teammates to finish.
Style Of Play
Sancho primarily plays as a right-winger in 4-2-3-1 or 4-1-4-1 formations. However, he also plays as a left-winger in the 4-2-3-1 due to his two-footedness.
He often starts wide and drifts centrally. He uses his pace to beat defenders and play passes into the middle for strikers or midfielders. An example of this is his assist from Marco Reus against Bayer Leverkusen.

As shown above, Sancho beats Leverkusen's Wendell before playing in a pass into the box. Paco Alcacer dummies Jonathan Tah, and the ball falls to Reus, who finishes.
Another example is seen in Sancho's assist to Paco Alcacer against Köln. Sancho runs and outpaces the left-back and pulls the keeper out of position. He immediately squares the ball to Alcacer who finishes in the empty net.

Both examples show two common strengths — pace and dribbling skill, allowing Sancho to get in an optimum position to perfectly time and place a pass. This means that he has tactical understanding as well, placing him as an undisputed starter in Lucien Favre's side.
Another aspect of Sancho is his ability to cut inside and shift his momentum easily. This means he can easily beat defenders in a split-second by cutting inside and baiting defenders into following him. An example of this is below:

As shown above, Sancho cuts inside and regains his momentum quickly. The defenders, who have committed to the tackle, take a bit longer to regain their momentum. This delay allows Sancho to play a pass to Marius Wolff who can finish with ease.
Comparisons
Jadon Sancho vs Kylian Mbappe
As shown above, Mbappe clearly beats Sancho in terms of goal-scoring and shooting, but the Englishman is clearly better than Mbappe in terms of playmaking. Sancho exceeds his xA90, while Mbappe doesn't, and has more KP90 and xGBuildup90, which indicate key passes and involvements in buildup respectively.
Jadon Sancho vs Serge Gnabry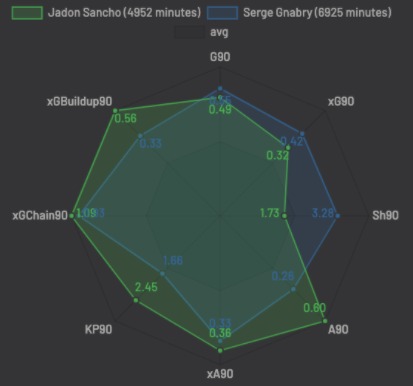 Sancho's playmaking prowess is further on display here where he exceeds Serge Gnabry in terms of A90, xA90, KP90, xGChain90 and xGBuildup90, all of which are key indicators of playmaking and passing abilities. He is also close to Gnabry, who is having a tremendous season for Bayern.
Jadon Sancho vs Lionel Messi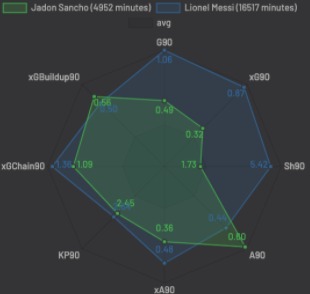 It is unfair to compare a youngster to the GOAT, but Sancho puts up numbers that rival Messi's. Sancho outperforms Messi in terms of assisting and playmaking, against a Messi that plays deeper and gets involved in playmaking more than before.
Conclusion
Sancho is on track to become one of the greatest players of all time, and shows the positional ability and tactical awareness which could destroy Europe's greatest defences.
Sancho should remain with Borussia Dortmund to further his development before switching teams in a big-money transfer.
If he does leave, he should be heading either to Chelsea, where Frank Lampard has been developing talented British youth like Tammy Abraham, Mason Mount, and Billy Gilmour; or to Manchester United, who have been rebuilding and would love to have a player with the calibre of Sancho in their team to play alongside youth prospects like Mason Greenwood and Marcus Rashford.
Ultimately, Sancho has been one of the best-attacking players this season and is well-deserving of the hype around him. He should become one of the greatest wingers in a few years time, alongside Kylian Mbappe and Ousmane Dembele.