James Rowe spoke to Arsenal defender Louise Quinn, who has recently announced she will leave the club when her contract expires this summer.
They discussed her time with the London club, playing football in Sweden, and representing the Republic of Ireland.
---
You signed for Arsenal in 2017. How are you enjoying your time at the club and what would you describe as the strengths of this Arsenal Women's team?
"Yes I am coming up to nearly three years since I signed for Arsenal and it is one of the best things that could have happened to me in terms of my football career.
"To play for such a prestigious club that is always aiming high and wanting to win trophies. Also in the way that the club and the team go about [their business], it is extremely special.
"Coach Joe Montemurro has brought that fine balance to the team of playing with freedom and recruiting great players and personalities. They are good people and that creates a good atmosphere around the training ground and is also represented on the pitch.
"Arsenal are a very special club and I have really enjoyed my time [there]. I definitely still have a few more years left in me, but I have also changed my game in recent years and that is testament to the coaching we receive at the club.
"I just want to push myself as far as I can go and get the most out of myself as a player."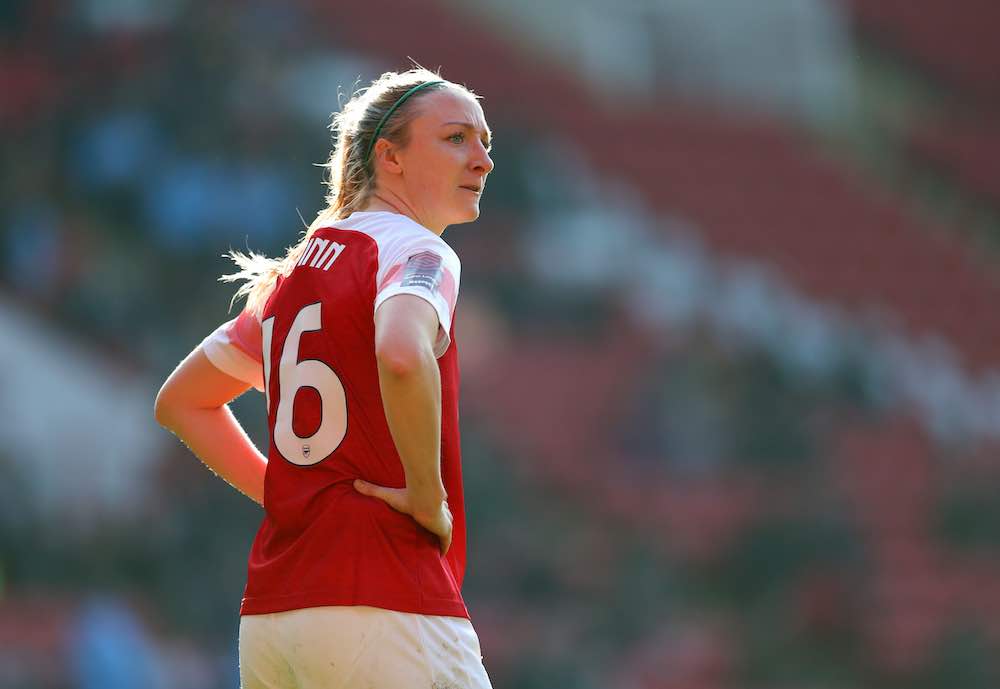 ---
You played four seasons in Sweden for Eskilstuna United. How do you look back on your time at the club and you have any special memories or highlights?
"Yes I played for Eskilstuna United for four seasons and that was a place and a team that I have very fond memories of.
"To me that kind of environment showed me how to grow a team from a Swedish second division. The team up to a top division team that eventually went on to compete in the Champions League.
"It was a very different dynamic and style to what Arsenal is, but it suited me to a tee. It was absolutely perfect as a player in the way that we played worked really well with my style of football, and we went from getting crowds of 200 to then over 6,000 and having to put extra seats in the stadium.
"We won the second division and got promoted to the top division — Damallsvenskan  — and in our first season, we finished seventh. Then the following season we went on to finish second and compete in the Champions League against teams such as Glasgow City and VfL Wolfsburg. For me that was a massive journey.
"I could not have asked for a better journey and path to get me where I am now. Eskilstuna United still have a very special place in my heart and I still talk to the girls there and I always try to go back and visit. Even if it is this little town in a small city in Sweden and I would not be in the position I am today if I had not played for the club. I loved every minute of my time there."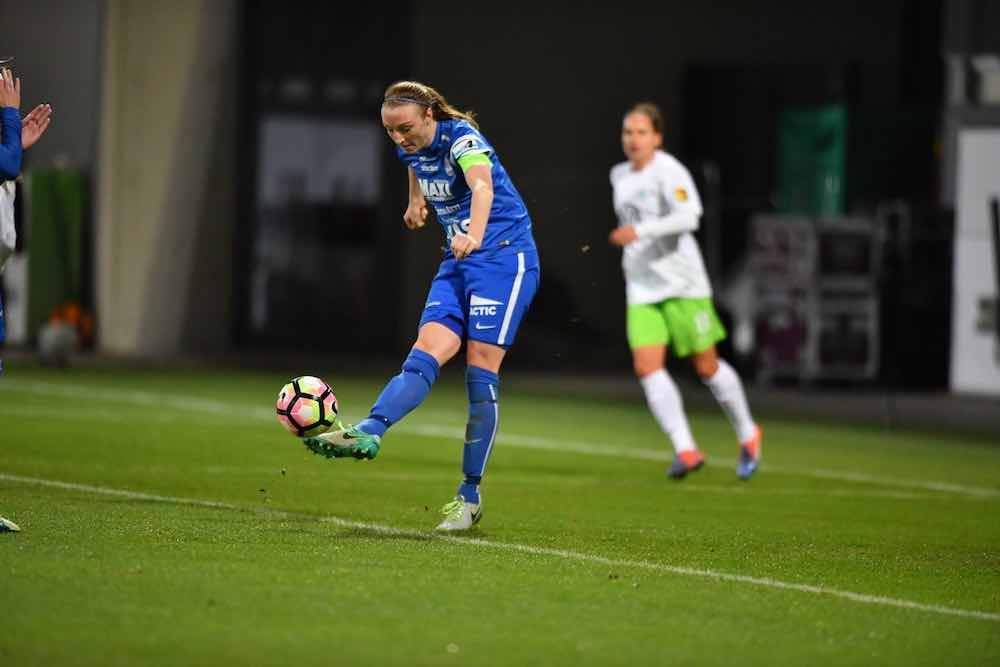 ---
You have been capped and made many appearances for your country, Republic of Ireland. How do you look back on your time representing your country and do you have highlights or special memories so far?
"One of the reasons I play football is that pride to represent my country. I think it is the highest achievement a player could get to. It makes me incredibly proud to wear the green jersey for as long as I have done. It has been one of my favourite and proudest things to do, and I want to represent my country both on and off the pitch.
"We are still fighting extremely hard to qualify for our first major international tournament which is the ultimate goal, and we have put ourselves in a position to qualify at the moment. I remember drawing with the Dutch women on their home pitch in Nijmegen. It was a great feeling and a great moment, and scoring against Germany in the first minute of the game was a brilliant moment for me.
"Our recent home game against the Ukraine, where we won 3-2 in front of our biggest crowd to date… I take pride in the performances of the Republic of Ireland team because that is the most important thing.
"I love to wear the green jersey and although we have some up and down moments, there really is nothing better than representing Ireland."
---
You have accrued experience playing in Sweden, England, and also international level. Could you say who are among the best players you have played alongside so far in your career?
"I have been very lucky, when I started out in my career, to play alongside the likes of Ciara Grant, also an ex-Arsenal player. I also played many years with Emma Byrne.
"At the moment in the Irish team we have so many talented players. With my club and country I get to play with Katie McCabe. We seem to not be able to get rid of one another at the moment!
"We have an excellent talent in the Irish team by the name of Denise O'Sullivan, who plays for North Carolina Courage in the NWSL. She is one of the most complete footballers I have ever played alongside.
"During my time in Sweden, I had a fantastic centre back partner in Vaila Barsley, who at times never got her chance at international level which is such a shame, although she thankfully got her chance later in her career with Scotland and went on to play in the European Championships. She had lots of good qualities including talents, guts, and determination.
"In this current Arsenal team, if you ask me, Kim Little is a key player both on and off the pitch. She is the ultimate professional and a brilliant captain. You can try to get the ball off of her if you want, but you are not going to get that ball off of her!
"Those are some of my teammates that stand out. I hope I have not offended anyone by missing anybody out! I have been so lucky because those players push me on and make me train harder so that I can be a little bit more like them."
---
I can imagine in your position as a defender that you have come up against some very good opponents through the years. Could you say which opponents stand out?
"Yes, of course. One player I often crossed in my career when I played in Sweden and then we ended up playing in Germany quite a bit in the World Cup and European Championship qualifiers, was Anja Mittag who plays for RB Leipzig.
"She always seemed to cause me trouble and seemed to score and make my life hell anytime that I would play against her.
"I had complete respect for her and I thought that she was brilliant. She has really got the most out of her career and she kept playing as long as she can.
"When people were saying that she was coming towards the end of her career, I kind of disagreed. She is absolutely still causing me massive amounts of trouble and I just used to love playing against her as well.
"Vivianne Miedema, who I get to train with every day — I have played against her a lot at international level and she is just a fantastic player. She can already tell what you are going to do before you do it. She is an extremely talented player.
"Ellen White is also an excellent player, and if you give her two touches on the ball she is going to punish you. There are many opponents where you try to take their best qualities."
---
Finally, Louise, you already mentioned Joe Montemurro at Arsenal, but could you say who are the coaches and managers who have meant a lot to you and played a key role in your development as a professional football?
"Yes I think I have been very lucky as well. I do try and want to stay with the teams that I play for as long as I possibly can, and once I come into a team I want to stay there and do my best for them. In that aspect, I have not had too many managers, but that is in a good way.
"When I first started with Peamount United FC I had a coach in Eileen Gleeson who was my coach for around seven years. Now she is the assistant coach for the national team, so just to be linking up with her again is actually really special, and going into international camps and seeing her again has been brilliant.
"I had the same manager in Viktor Eriksson for my entire time at Eskilstuna United, and he trusted and believed in me completely. He liked my style of play and the way I played the game, and that gave me confidence. Anything I needed he would always help me out, and I got on really well him.
"Now here at Arsenal we have Joe Montemurro, and he has a great eye for the game. How he puts the game across is so intelligent.
"Vera Pauw is currently in charge of the Irish team and is doing great things, as did Colin Bell before her. He really put that winning mentality into the side. Vera Pauw has really simplified the game for us and put it across to the national players really well. She manages to get the best out of everyone.
"I am thankful to have been coached by some absolutely brilliant managers so far in my career."